The Fee Is Free™. Only pay if we win.
America's Largest Injury Law Firm
Protecting Families Since 1988
$15 Billion+ Won
800+ Lawyers Nationwide
Free Case Evaluation
Tell us about your situation so we can get started fighting for you. We tailor each case to meet our clients' needs.
Results may vary depending on your particular facts and legal circumstances.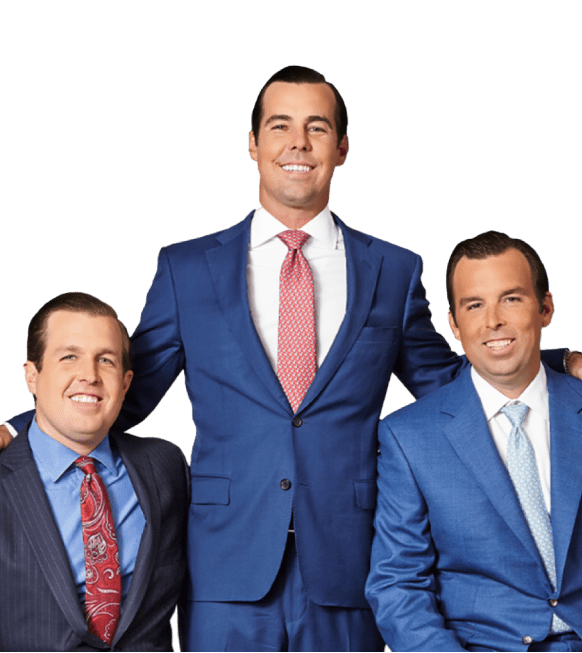 Car Accident Whiplash Injury Lawyer in Fort Myers, Florida
The pain can be instantly excruciating or dormant for a few days before you start to feel a piercing sensation in the area around the neck. Regardless of how the pain develops, sustaining one of the types of whiplash injuries can lead to a prolonged period of recovery that requires extensive treatments and physical therapy sessions. If you sustained a whiplash injury from a car accident in Fort Myers, you should be proactive and immediately get in touch with one of the whiplash lawyers at Morgan & Morgan.
Whiplash injuries develop as the result of a strong, sudden back-and-forth movement of the head caused by the impact of an auto collision. Although whiplash can develop because of other types of physical trauma, the injury is most commonly sustained because of the intense impact of a car accident. Whiplash injuries can take many forms, such as the result of a rear-end car accident or an auto collision that involves another vehicle making contact at the side of your car. Whiplash injuries range in severity depending on the speed of both vehicles at the time of the crash.
Whiplash injuries can lead to lifelong physical issues that include constant pain and the inability to turn the neck just a few degrees in either direction. Sustaining one of the many types of whiplash injuries can force you out of work, as well as make you change your career path to a position that relies much less on physical labor. Medical bills pile up while you stop earning as much money as you did before the auto collision. This means you have to find a way to recover from the financial losses generated by a whiplash injury.
At Morgan & Morgan, our team of whiplash lawyers has helped clients recover more than $15 billion in compensation since we opened our doors back in 1988. We understand how whiplash injuries can produce catastrophic financial losses that possibly require taking drastic action such as filing for bankruptcy. Instead of panicking after a car accident that caused you harm, you should schedule a free case evaluation with one of the whiplash lawyers who is a part of the Morgan & Morgan personal injury team.
Scroll down for more
Recent verdicts & settlements
Results may vary depending on your particular facts and legal circumstances.
How it works
It's easy to get started.
The Fee Is Free™. Only pay if we win.
Results may vary depending on your particular facts and legal circumstances.
Step 1

Submit
your claim

With a free case evaluation, submitting your case is easy with Morgan & Morgan.

Step 2

We take
action

Our dedicated team gets to work investigating your claim.

Step 3

We fight
for you

If we take on the case, our team fights to get you the results you deserve.
---
Client success
stories that inspire and drive change
Explore over 55,000 5-star reviews and 800 client testimonials to discover why people trust Morgan & Morgan.
Results may vary depending on your particular facts and legal circumstances.
FAQ
Get answers to commonly asked questions about our legal services and learn how we may assist you with your case.
Morgan & Morgan
As an injury that often develops after a rear-end car accident, whiplash occurs when the soft tissues such as muscles and ligaments located in the neck area stretch well beyond the normal range of motion. While stationary at a traffic signal, a vehicle rear-ends you with considerable force. The result is the muscles and ligaments that support the neck extend far enough to cause intense pain. Whiplash symptoms do not always appear right away. It can take several days for dormant whiplash symptoms to develop.

The severity of whiplash symptoms is the direct result of the force of impact felt when two motor vehicles collide.

What Are the Common Symptoms of Whiplash Injuries?

The most common symptom of whiplash is intense pain in the neck area. The level of pain can start as mild before developing into excruciating pain that requires medication to treat. You also might experience stiffness in the neck, as the muscle and ligaments have tightened considerably because of stretching beyond the normal range. The most serious symptoms of whiplash injuries involve pain quickly spreading in the upper back, as well as through the arms and shoulders. If you feel numbness or tingling sensations in one or both arms, the injury you sustained might include damaged nerves as well.

Whiplash is sometimes linked to head trauma, which means you might feel dizziness or acute fatigue. Blurred vision and ringing in the ears also signal the presence of whiplash in conjunction with another type of injury located in the upper body. If you experience sudden stints of irritation and/or depression, whiplash might be one of the contributing injuries that have produced your mental health symptoms.

How do Healthcare Providers Diagnose Whiplash?

Receiving a diagnosis for whiplash represents the most important type of physical evidence to present when you file a civil lawsuit that seeks monetary damages.

Your physician first asks a few questions before putting you through several diagnostic tests.

How did you get hurt?
Where do you feel pain?
How intense is the pain?
If you were involved in a car accident, how strong was the impact?
Is your neck stiff?

Your doctor also conducts a physical examination before turning to advanced diagnostic tools to determine the severity of your whiplash injury. Imaging tests such as an X-ray, a CT scan, and an MRI scan might cause damage and/or inflammation to the nerves, muscles, ligaments that allow the neck to move in all directions. Your physician also determines whether you suffered any damage to the spinal cord.

One of the goals of conducting imaging tests is to verify you do not suffer from a degenerative disease, such as a type of arthritis.

Treating whiplash injuries involves a wide variety of techniques that depend on the severity of the injury. Regardless of the severity of whiplash injuries, the primary three goals of a treatment program are to manage pain, improve the limited range of motion in the neck, and most importantly, to get a patient back to completing normal daily activities that include tasks done in the workplace.

Pain Management

Your physician might create a treatment program for whiplash that includes one or more pain mitigation efforts. You might just need to rest for a couple of days. However, resting too long, especially in bed, can delay recovery from one of the types of whiplash injuries. You might have to apply a heat pack or cold pack for 15 minutes several times throughout the day. Taking over-the-counter medications like Advil or Tylenol might mitigate your pain. If you suffer from severe symptoms that were caused by a car accident, your doctor might write a prescription for a stronger pain medication. The most serious cases of whiplash injuries require interventions such as muscle relaxants and injections to numb the intense pain located in the neck area.

Exercise

The reason why too much rest can impede your recovery is that your neck needs to be exercised to restore its strength and full range of motion. Before you perform neck exercises, your doctor might recommend that you apply a heat pack or take a hot shower.

Here are the common exercises performed by patients that suffer from whiplash symptoms:

Roll both shoulders
Tilt head slowly from side to side
Bend your neck towards the chest
Rotate neck slowly in both directions

Physical Therapy

For more serious cases of whiplash, a patient might undergo physical therapy. A physical therapist helps you complete exercises that strengthen your neck muscles and ligaments, as well as improve your posture and restore normal neck movements. Some whiplash cases require intensive interventions, such as undergoing transcutaneous electrical nerve stimulation (TENS). This procedure applies a mild electrical current to the area of the skin where muscles and ligaments have stretched beyond their typical limits. However, TENS is used as a temporary technique in conjunction with other types of treatment methods.

How Does a Whiplash Lawyer Prove Fault?

You must prove two elements when filing a claim that seeks monetary damages. First, you have to show the court and the other party's attorney the results of your diagnostic tests. The results of your diagnostic tests must clearly show you suffer from the symptoms of whiplash injuries. Second, your whiplash lawyer from Morgan & Morgan must demonstrate the other party committed one or more acts of negligence that caused the car accident.

Contact the Nearest Law Enforcement Agency

You can help your whiplash lawyer by getting law enforcement involved in the investigation of the auto collision. The arriving officer or officers conduct a thorough investigation that determines the cause of the car accident. After completing its investigation, the law enforcement agency that responded to the vehicle collision releases a formal police report that contains the evidence your attorney needs to prove fault.

Victims of whiplash injuries sometimes cannot remain at the scene of the accident to gather and organize evidence. The official police report helps prove your case.

Collect and Organize Evidence

If you feel healthy enough to remain at the scene of the car accident, take photographs of the accident scene for your whiplash lawyer to review. You also should take photos of any damage done to your vehicle, as well as the injuries you sustained. Even the smallest details like tire marks and paint scratches can indicate which party should assume legal liability for causing the auto collision.

Talk to Witnesses

Witness accounts of the car accident can provide legal support for your whiplash lawsuit. What you need to do is get the names and contact information of each witness. Your whiplash lawyer will schedule interviews with each witness to determine which ones can provide the most persuasive testimony during a civil trial. Your legal counsel also wants supportive witnesses to discuss your case during depositions.

Contact a Whiplash Lawyer

Recovering from whiplash injuries takes a considerable amount of time and effort. You should focus on recovery while one of the personal injury attorneys from Morgan & Morgan handles your case. You have to file a civil lawsuit before the expiration of the statute of limitation, which runs in most states between two and four years. However, you should act with a sense of urgency by filing a civil lawsuit long before the deadline

When you search for the best whiplash lawyer, you should check off certain criteria on a list. You want to work with an attorney who has compiled years of experience litigating personal injury cases, with some of the cases involving whiplash injuries. Another important criterion is hiring legal counsel that responds promptly to your emails, phone calls, and text messages. Personal injury cases including those that concern whiplash injuries require you to interact frequently with your whiplash lawyer. Make sure any attorney you consider to represent you charges legal fees on a contingency fee basis, which means your whiplash lawyer gets paid when you get paid.

Schedule a free case evaluation today with one of the whiplash lawyers at Morgan & Morgan to start on the road to recovering your financial losses.
Scroll down for more
Load More