Personal Injury
Personal Injury Lawyer Claims & Lawsuits
Rating Overview
Based on 1718 Reviews
The Fee Is Free™. Only pay if we win.
America's Largest Injury Law Firm
Protecting Families Since 1988
$15 Billion+ Won
800+ Lawyers Nationwide
Free Case Evaluation
Tell us about your situation so we can get started fighting for you. We tailor each case to meet our clients' needs.
Results may vary depending on your particular facts and legal circumstances.
Nationwide Results
Porter Ranch Gas Leak
After SoCalGas's negligent oversight led to a leak of 5.7 billion cubic feet of gas in 2015, Morgan & Morgan recovered $1.8 billion for the 30,000 affected residents of Porter Ranch.
Jacob T. Rodgers v. City of Gainesville D/B/A Gainesville Regional Utilities
Summary 
In one of the first personal injury trials since the end of the Pandemic, Morgan & Morgan recovered $120 million for a client that was paralyzed by a city utility vehicle.
Estate of Frank Townsend v. RJ Reynolds, et al.
Summary 
After a family lost someone to lung cancer, our compassionate attorneys took their case and recovered $91 million in the fight against Big Tobacco.
Morgan Stanley Data Security Litigation
Summary 
Morgan & Morgan reached a $60 million class action settlement on behalf of those who had their data compromised by behemoth, Morgan Stanley.
Stephen Davis v. Levon Clark, Ricardo Williams, Marty Grifka and Derek Pak
McAdams v. Monier Lifetile, LLC
Case Summary
Morgan & Morgan's attorneys reached a $44 million settlement in a class-action lawsuit against Monier, an organization that made false claims about their faulty roofing tile products.
Coleman v. Martinez
Case Summary
After a delayed C-section caused a newborn to suffer a brain injury during childbirth, Morgan & Morgan recovered $38 million for the affected family.
Gold v. Lumber Liquidators
Case Summary 
Our team represented clients who sought to recover damages from Lumbar Liquidators after the company provided faulty flooring materials, resulting in a $28 million settlement on their behalf.
Clemmons v. ECORE et. al, Philadelphia County
Case Summary
Our team secured a $26,202,500 verdict—an enormous victory and a strong message to trucking companies who fail to take the proper precautions when maneuvering dangerous vehicles on our roads.
Brink v. Ruiz
After a long fight for justice, Morgan & Morgan finally obtained a successful, confidential settlement for Dustin Brink with the Defendants' insurance company.
Results may vary depending on your particular facts and legal circumstances.
Nationwide Results
Jacob T. Rodgers v. City of Gainesville D/B/A Gainesville Regional Utilities
Estate of Frank Townsend v. RJ Reynolds, et al.
Morgan Stanley Data Security Litigation
Stephen Davis v. Levon Clark, Ricardo Williams, Marty Grifka and Derek Pak
McAdams v. Monier Lifetile, LLC
Gold v. Lumber Liquidators
Clemmons v. ECORE et. al, Philadelphia County
Results may vary depending on your particular facts and legal circumstances.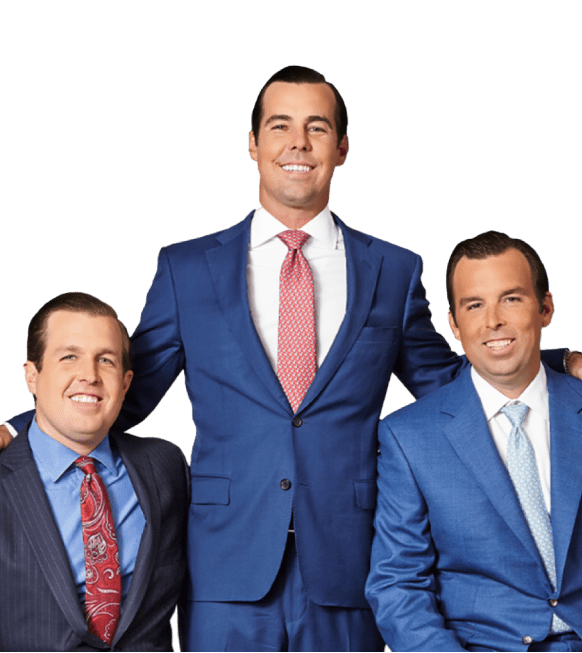 Personal Injury
If you're injured in an accident and want to file a personal injury lawsuit, you'll probably have two big questions: (1) How much is my case worth? (2) How much does a lawyer cost?
The short answers are (1) it depends on your injury; and (2) with a contingency-fee lawyer, there's no fee unless we win for you. But that's just the start. More elaborate answers to these and other questions about personal injury lawsuits are on this page.
Why File a Personal Injury Lawsuit?
How Much Is My Personal Injury Case Worth?
Compensation (Damages) in a Personal Injury Lawsuit
Types of Personal Injury Cases
What Your Lawyer Does in a Lawsuit
Your Role in a Lawsuit
Steps in a Personal Injury Lawsuit
What Is a Personal Injury Settlement
How Much Does a Personal Injury Lawyer Cost?
Statutes of Limitations for Cases
Scroll down for more
How it works
It's easy to get started.
The Fee Is Free™. Only pay if we win.
Results may vary depending on your particular facts and legal circumstances.
Step 1

Submit
your claim

With a free case evaluation, submitting your case is easy with Morgan & Morgan.

Step 2

We take
action

Our dedicated team gets to work investigating your claim.

Step 3

We fight
for you

If we take on the case, our team fights to get you the results you deserve.
---
Client success
stories that inspire and drive change
Explore over 55,000 5-star reviews and 800 client testimonials to discover why people trust Morgan & Morgan.
Results may vary depending on your particular facts and legal circumstances.
Recent verdicts & settlements
FAQ
Get answers to commonly asked questions about our legal services and learn how we may assist you with your case.
Personal Injury Lawsuit FAQ
Where to find information about Personal Injury Lawsuits

Why File a Personal Injury Lawsuit?

Personal injury lawsuits serve a crucial role. When you suffer an injury that someone else caused, you could be left with massive medical bills, lost wages, and other expenses that shouldn't be your responsibility.

The change to your life could range from an inconvenience to something you're not sure you could crawl out from. Either way, that's why personal injury lawsuits exist: You, the plaintiff, can hold the negligent person or business accountable and get the compensation you deserve and need.

Contact a contingency-fee attorney today if you've been injured and want to file a personal injury lawsuit to receive compensation.

We've Won Billions for Our Clients

Our attorneys at Morgan & Morgan have won $15 billion for our clients. Here are just some of the verdicts we've obtained for the people:

$47 million in a car accident case in which our client was hit by a pick-up truck going the wrong way. (2013)
$25 million in a motorcycle accident case in which our client suffered a serious brain injury. (2013)
$11 million in a car accident case in which our client suffered long-term brain damage in a collision with a Papa John's Pizza delivery driver. (2013)
$8 million in a car accident case in which our client was seriously injured when the defendant struck her car from behind while driving. (2017)
$3 million in a personal injury case in which our client was struck by her own vehicle in CarMax parking lot due to a salesperson's negligence. (2018)

While past results don't guarantee future outcomes, what these verdicts show is that we will fight for you to potentially get the compensation you need to cover your bills and keep you from financial ruin. If you or a loved one were injured, you shouldn't have to worry about keeping a roof over your head while you recover and get your life back on track.

How Much Is My Personal Injury Case Worth?

You could be wondering how much your personal injury case is worth. The value of your case depends on a few key factors: the circumstances of your accident, the severity of your injuries, and limits on insurance coverage, among other things. The primary driver behind case value is how much the plaintiff could get in the damages, including:

Past medical bills;
Future medical bills;
Lost wages;
Loss of earning capacity;
Loss of consortium; and
Pain and suffering.

Some of those considerations might not have a clearly articulated value at first. However, based on our attorneys' past experience, they could offer an estimated case value after assessing your medical records, police records, statements, and other evidence, such as the progression or regression of your physical and mental state after an accident. The whole picture can provide a window into what to expect from a personal injury lawsuit.

Compensation for Damages in a Personal Injury Lawsuit

As mentioned above, plaintiffs can get compensation for certain types of damages related to their injuries. Essentially, personal injury lawsuits are filed to seek compensation, also known as "damages," for the harms plaintiffs have suffered. The idea is that an injury victim is compensated so that he or she doesn't have to bear the financial burden of the consequences of another's actions.

There are several different types of damages you could get in a personal injury lawsuit, some of which are "economic" and tied to specific costs incurred in the aftermath of an injury, and "noneconomic," which are more subjective. What is available and how (and if) they are limited depends on where you live and/or where the injury occurred.

Medical Bills Those involved in a personal injury accident might need to get medical care. This can include tests, treatment, hospital stays, and outpatient care to address immediate injuries. However it doesn't always end there. Medical care could also be required on an ongoing basis, especially if there are serious or permanent injuries. Overall, this can be expensive. The injured can face medical bills that are thousands or even hundreds of thousands of dollars. Damages assessed against the defendant in a settlement or trial should, ideally, cover all of this.

Lost Wages You were injured and you had to miss work. Maybe it was just a matter of using some sick time to go to doctor's appointments or perhaps you were in the hospital and had to take a lot of time off. Or you were injured so severely that you can no longer work. Whether it's the loss of a few days or the inability to work going forward, you could be entitled to compensation for those lost wages.

Pain and Suffering This category of compensation is calculated and awarded based on the depth and breadth of the pain and suffering you've endured — your type of injury and what medical treatment was required. To get this kind of compensation, which can exceed a million dollars in a jury trial, the plaintiff will need to have as much evidence as possible to prove the impact of an injury caused by the negligence of another.

Medical records, which can show diagnoses, prescriptions, clinical visits and hospital stays, are a major way of showing both the extent and duration of recovery from an injury. This only works, though, if you are proactive about your treatment and communicate with your physician in a comprehensive manner. It can also be helpful to take photos and videos of your injuries and keep written records of your symptoms.

In gathering sufficient evidence that accurately represents your condition, you are providing information the court (or even an insurance adjuster) could use to estimate how much money you should get for pain and suffering. In court there generally isn't a single, standard calculation used to assess a dollar amount on pain and suffering, although you will read about a "multiplier" calculation around the internet. Essentially, a jury could award compensation for pain and suffering based on fairly subjective factors, such as the credibility of the plaintiff's testimony and whether they even like the plaintiff. Having records and related evidence can help bolster your case for pain and suffering compensation in the face of these subjective factors.

Emotional Distress This type of compensation is related to an injured person's mental and emotional state following an accident. After all, severe injury isn't exclusive to a person's exterior. Depending on the nature of the accident, a personal injury victim could suffer anything from anxiety and depression to severe mental trauma, such as post-traumatic stress disorder. Acquiring damages from emotional distress typically requires you to have comprehensive and accurate records from your therapist, psychologist, or psychiatrist, as well as a diagnosis of a specific psychiatric condition.

Wrongful Death Wrongful death claims are civil actions filed by survivors of an individual or individuals killed in an accident due to the negligence or misconduct of another individual or party. Survivors are left without the love, support, and income of the deceased family member, and courts can award compensation accordingly.

The compensation provided by an award of damages for wrongful death can help ease the financial burdens associated with the loss of a loved one. Compensation awarded is designed to cover the lost income, leftover bills, and funeral expenses survivors face because of the death of their family member. It is also designed to help compensate for less specifically quantifiable aspects of a wrongful death, such as the sudden and unnecessary loss of someone's spouse or parent. For example, laws will generally refer to this as something like "lost parental companionship, instruction, and guidance" for children who survive their parents.

Loss of Consortium If you or a loved one are in an accident and injured to such an extent that you can't truly carry on a complete relationship with your spouse or partner (or them you) — or one of you were killed in an accident — you could be eligible for compensation for loss of consortium (AKA "loss of companionship").

Punitive Damages: Making an Example of the Defendant Plaintiffs in certain states could be eligible for punitive damages, a type of award that punishes defendants whose injurious actions were particularly egregious. This differentiates this type of compensation from other damages, which are primarily designed to make the injured plaintiff whole again.

Not only does a punitive damages award punish the defendant, but it also can serve as a deterrent that dissuades other parties and companies from engaging in similar activity. For the court to award such compensation to a plaintiff, the actions must have been either intentional or the result of wanton and willful misconduct. An example of such a defendant is an insurance company that acts in bad faith or a medical professional that commits malpractice. As noted above, not every state allows punitive damages awards and, in some that do, there are caps on how much a jury can award a plaintiff.

 

Types of Personal Injury Cases

Here are some of the most common types of personal injury lawsuits our firm handles.

Motor Vehicle Accidents Accidents involving cars, trucks, motorcycles, boats, and other vehicles are among the most common type in the United States. Often, these personal injury claims stem from another motorist's negligence. Whatever the cause or whomever was negligent, these accidents can have lifelong impacts. Even crashes that might at the time feel as if they're not that bad could require long-term medical care.

You would file a personal injury lawsuit in this instance to pursue compensation for immediate medical bills that stem from the crash and future medical expenses, such as rehabilitation. There are also damages available for lost wages, because of an inability to work and the lost ability to work in the future, along with compensation for the physical and emotional suffering you've endured.

One example of this is a case in which a Morgan & Morgan client was riding his motorcycle when a drunk driver, driving in the wrong lane, hit our client head-on. This caused life-altering injuries, for which we were able to secure $47 million to cover his lifelong expenses. (Medical bills and the loss of earning potential can add up quickly.)

Slip & Fall Accidents/Premises Liability Slip & fall lawsuits are a bigger deal than some think. After all, you didn't just fall for seemingly no reason. This isn't just a matter of you being a clutz. Those who slip and fall on someone's property may find themselves with an injury that could have been avoided had the property owner not neglected to repair their broken facilities. Sometimes a grocery store or restaurant fails to clean up spilled food, drink, or cleaning solution. A railing could be loose. Steps could be loose and in poor condition. The list goes on.

This type of fall can cause an injury that lingers, resulting in costly medical bills and missed work. A legal team handling slip & fall lawsuits  will use evidence such as photos, video, and medical records to prove that negligence caused your injuries, thereby getting you compensation. You and your family shouldn't have to suffer because someone was lackadaisical about keeping their property safe for visitors.

Wrongful Death Wrongful death cases are unnecessary tragedies. Compensation for these horrific personal injury accidents caused by the actions of another can fall under a few different categories. There is the usual compensation for current and ongoing medical bills and expenses and lost wages that one can get in any personal injury lawsuit.

Then there are those reserved for survivors of people who died because of the negligence of another. Plaintiffs can seek compensation for funeral costs. They can also seek compensation to account for the sudden and enduring loss of household income that comes with the death. Compensation is also available for pain and suffering, as well as the loss of companionship. These damages can help the family obtain some degree of peace of mind after a sudden loss.

Given all of that information provided above, it's crucial for survivors to pursue legal action as soon as they can. Thinking about a lawsuit when you've just lost a loved might seem uncomfortable, but it's important to ensure you get the justice you deserve as a survivor.

Brain and Spinal Cord Injuries Some of the most horrifying and heartbreaking types of injuries that can stem from motor vehicle and other personal injury accidents are those to the brain  and spinal cord. In personal injury cases involving these specific injuries, you could sustain potentially permanent physical and/or mental damage in the form of cognitive impairment, paralysis, and a host of other conditions.

If a negligent person or company injures you or a family member, all of you are victims to their carelessness. However, you won't have to try to hold these negligent parties accountable alone. You can hire a contingency-fee attorney who, along with their legal team, will work tirelessly for you.

Using evidence such as medical records, photographs, videos, and other documentation, in addition to medical expert depositions, your legal team will build a case to bolster your claim to receive compensation to cover damages such as past and ongoing medical bills, pain and suffering, loss of life's enjoyment, and lost wages.

Birth Injuries Birth injuries  are particularly devastating for your family. A negligent mistake by an obstetrician or other medical professional can result in physical injuries to a newborn, and it can also lead to lasting conditions, such as cerebral palsy, paralysis, and brain damage. This can be traumatic to the children and the parents, as well as a major financial strain on the family.

A personal injury lawsuit related to an injury to a newborn during birth gives your family the potential to recover compensation for tangle and intangible damages, such as a lifetime of medical bills and the loss of life's enjoyment for the child.

At Morgan & Morgan, we have handled many cases like this, investing time and energy on a contingency-fee basis in order to get your family justice. For one family, our attorneys were able to secure a $38 million verdict  from a doctor and hospital responsible for birth injuries associated with a delayed C-section. One birth injury is too many, but when they do happen we're available to help families hold medical professionals accountable for negligent practices.

Burn/Fire Injuries Fire and burn injuries are some of the most dangerous and life-altering injuries a person can suffer. Imagine if your life or a loved one's were irreparably changed for the worse, because of a chemical fire caused by unsafe working conditions or an apartment fire that occurred because of a landlord cutting corners with fire safety?

Apartment tenants burned because a landlord didn't install and/or maintain proper fire safety equipment and enable proper fire safety measures, a scalding beverage, faulty electrical wiring, and many other hazards can cause horrific burns. Whether it's one that heals or a burn that causes lifelong scarring and trauma, you have a right to hold the negligent party accountable for injuring you.

Burn injuries can result in astonishingly high medical bills — both for an immediate hospital stay and for ongoing treatment. Additionally, you can miss work and suffer profound pain and suffering for the rest of your life.

These are often life-changing injuries, and whether they happened to you or a loved one, you'll likely feel angry and even helpless about it. The biggest insult to injury of all — it's all so much suffering that was someone else's fault.

Our fire and burn injury attorneys have recovered millions of dollars for victims of negligent landlords and employers. They have experience with the sensitive nature of these cases, and can work with fire experts who can help your legal team build your case.

Dog/Animal Bites Dog bites and attacks have the potential to be far more serious than they may seem. If someone's pet attacks you, then you might be able to file a lawsuit against the animal's owner and, if applicable, their homeowners' insurance.

As with other personal injury cases, with dog and animal bite lawsuits you could be entitled to compensation from the liable party to cover expenses like medical bills, lost wages, and even the emotional distress that stems from the harrowing incident.

Laws determining liability for a lawsuit vary by jurisdiction. Generally, an animal's owner is liable for the destructive actions of the animal — whether they were aware of a dog's aggressive personality or not. However, in certain states the law assigns a degree of liability based on certain factors, such as whether or not the victim provoked the animal and where the attack occurred.

Negligent Security If you shop at a store, go to school, attend a concert, or park in a parking garage, and suffer an injury or death because of negligent or inadequate security practices, you can file a lawsuit seeking to obtain compensation.

Generally, the property owner will be the one liable for the injury or wrongful death suffered, if the property owner could have reasonably provided security but failed to do so. In other words, you wouldn't file a negligent security lawsuit against the perpetrator of a shooting, rape, or assault, but instead you'd sue the landlord or property owner.

How foreseeable the offense was and if it were preventable are primarily what determine a property owner's liability. For example, if there were a door or gate that should have been locked but wasn't, and an outside party entered a premises and attacked someone, that's negligent security. The owner had a duty to keep guests safe.

Other examples of negligent security:

There is a repeat security issue for which an alarm system or other measures should have been installed and carried out, but the responsible party did nothing;
There was a need for adequate lighting, metal detectors, and security staffing, and the property owner installed no such things.

In some circumstances, such as a mass shooting, assigning liability to pay compensation can be quite complex, even if it is possible. Other cases are a bit more cut and dry. An experienced negligent security lawyer and their legal team will be able to navigate these waters with a clear idea of what to look for and how to help you.

Your lawyer and the lawyer's legal team are at the front lines of your fight to get the compensation you deserve in a personal injury suit.

First, they will assess your case to best determine how to fight for you. They will:

Gauge the depth and breadth of your injuries and the negligent circumstances involved;
Investigate the scene of the accident;
Question witnesses;
Request documentation;
Work with medical experts;
Review documents, photos, and videos; and
Work with experts who can reconstruct the scene of the accident.

That's not all, though. They will use all of that information to go head-to-head with the defendant's attorneys to get you the best compensation possible. Oftentimes this happens in a settlement meeting, but if the big corporation or insurance company won't budge, our attorneys are trained, experienced, and ready to go to court. (Whether in a settlement or at court, we've been able to win compensation many times over the defense's initial low-ball offers.)

When you're the client in a personal injury case, there are only a few things you need to do, including:

Don't admit fault for your injury;
Continue getting treated by your doctor;
Document any ups and downs you encounter because of your injury; and
Give your attorney any documentation you have that can help your case: police report, insurance documents, and photos or videos you have of your injuries or the accident scene, among other things.

Steps in a Personal Injury Lawsuit

After you consult a medical professional and start considering a personal injury lawsuit, there are a handful of standard steps to take. These are central to cases involving motor vehicles, slip and falls, and other personal injury accidents.

Reach Out to a Lawyer: Contact an attorney with years of experience handling personal injury cases. As mentioned above, they have a strategic approach toward assessing cases to determine whether you are able to pursue a personal injury claim and how much you could get in a case.
Building Your Case: After you sign a retainer agreement, your attorney and legal team will begin looking over every aspect of your case — your injuries and the circumstances that caused them, the evidence, your employment history and wages, your family's circumstances, and any other elements that will bolster your claim.
Settlement Negotiations: Your attorney will send what is called a "demand letter" to your insurance company or other party, laying out your case for damages. Oftentimes, this is where your lawyer can get you a suitable personal injury settlement that will help make you feel whole again.
Filing Your Lawsuit: However, if the other party offers a low-ball amount or outright rejects a reasonable settlement, then your legal team will switch gears and be ready to file a lawsuit to try to get you the best compensation possible.
Discovery: This is a period of time when both sides of a lawsuit share documents and other evidence, as requested. During this time is when your attorney will go after every possible piece of documentation the other side has that could help support your case.
Trial: When a case can't be settled, it goes before a judge and jury. It is during this time that your attorney will argue your case, which includes interviewing expert witnesses. Given our track record of securing millions upon millions of dollars in jury verdicts, insurance companies and other parties oftentimes aren't excited about having to face Morgan & Morgan in a courtroom. In fact, our law firm has a mock courtroom in which our lawyers regularly conduct trial practice. Your legal team isn't afraid of a courtroom.

Personal Injury Settlement

A personal injury settlement occurs when your attorney and opposing counsel come to agreement on the damages you'll get to cover medical bills, lost wages, and other expenses. Your actual settlement amount will vary depending on a host of circumstances, including your level of injury, the type of accident, your employment situation, and what sort of bills you've incurred as a result of someone else's negligence. Your attorney will fight for you at no upfront cost with no hourly fees, but will take a reasonable fee from your final recovery.

The process isn't instantaneous: Your attorney won't take the first offer, but will instead go back and forth with opposing counsel to get a dollar amount that is suitable to your circumstances. Once the parties agree on an appropriate amount, it can take up to six weeks to get your money.

Settlements Aren't Taxable — Most of the Time

Settlements in a personal injury lawsuit aren't taxable under state or federal law. There are some exceptions depending on the nature of the claims — if an emotional injury claim didn't arise from a physical injury, for example. Your attorney will help you clarify specific tax questions.

Most personal injury cases settle, especially when companies see that they're going up against us. Morgan & Morgan has the resources, track record of success, experience, and talent to bully the bullies, and insurance companies and other parties know this. So they are often more than willing to give our clients what they need and want. We've been at this for 30 years and have seen it all, and use that to your advantage.

If the insurance company still wants to fight, we're of course ready. Our attorneys have a lot of experience fighting insurance companies in court — and we have on many occasions scored hundreds of thousands or millions of dollars for clients offered low-ball settlements.

Many personal injury lawsuits have strict deadlines embodied in the law — these laws are called "statutes of limitations." In some states, you have as little as a year or two after your accident to file a lawsuit. If you wait too long to file, then a personal injury law firm can't take your case and you won't be able to pursue compensation for your injuries.

If you've been injured and you face medical bills and can't work, and want to try to get your life back on track, you should consider contacting a personal injury attorney today. You could lose out on compensation if you wait too long and miss a deadline.

How Much Does a Personal Injury Lawyer Cost?

Personal injury attorneys like those at Morgan & Morgan don't charge hourly rates or generally any fees at all up front. Instead, they work on what is called a "contingency fee" system, which means that they only get paid if they win your case.

This is an ideal arrangement for plaintiffs. It allows injured people to gain access to a quality attorney they might not have otherwise been able to afford had they been required to pay an hourly rate.

Consider this: The power dynamic in these cases is often one individual versus a Goliath insurance company or other large corporation that has lawyers on retainer. The contingency-fee structure at Morgan & Morgan levels the playing field, giving the injured access to a firm that has the size and heft to bully the bullies.

If your legal team wins your case for you, only then will you pay them. They take a reasonable fee from your recovery, although in certain case types the defendant will be the one to pay your attorney's fees. In either instance, you're not paying anything up front.

If you or a loved one were injured, contact Morgan & Morgan's personal injury attorneys today for a free, no-risk case evaluation. You can't and shouldn't have to fight this battle alone.
Scroll down for more
Load More