The Fee Is Free™. Only pay if we win.
America's Largest Injury Law Firm
Protecting Families Since 1988
$15 Billion+ Won
800+ Lawyers Nationwide
Free Case Evaluation
Tell us about your situation so we can get started fighting for you. We tailor each case to meet our clients' needs.
Results may vary depending on your particular facts and legal circumstances.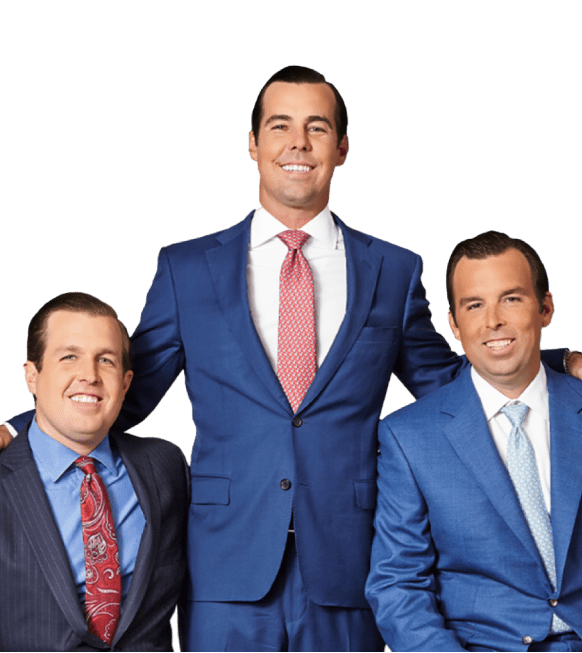 Gainesville Personal Injury Lawyer
Gainesville is one of North Central Florida's largest cities, with more than 140,000 residents. However, that number doesn't represent the influx of tourists that flock to the city every year, students that attend the University of Florida, and Florida Gators fans. Including those numbers, millions of people travel through the area annually. As a result, there are plenty of opportunities to be hurt through the negligent actions of another individual, whether it be a car accident, an assault because of negligent security, or a boating accident.
When you need the help of experienced personal injury lawyers in Gainesville, Morgan and Morgan Law Firm offers some of the finest. You deserve to have the best representation in your legal matter, and our results speak for themselves. We try more cases than most law firms, our resources available to help clients are unmatched, and we have delivered winning outcomes to the tune of more than $15 billion in our history.
We believe that every client should be entitled to the best chance of success. That's why we have attorneys specializing in every area of personal injury law. We take the burden of arguing and negotiating with hostile parties off your shoulders and pursue justice on your behalf so that you can recover the maximum amount of compensation available.
How Do You Prove Negligence in Gainesville, Florida?
We understand that it's essential to be compensated after an accident or incident results in some injury to you or a loved one. However, not all accidents automatically permit recovery for financial damages. Florida laws require that injured parties prove negligence was a factor that resulted in their injuries. Proving negligence requires the following elements be met:
A duty of care was owed to the plaintiff
The defendant violated the duty of care to the plaintiff
The plaintiff's injuries were caused by the defendant's breach of duty
The plaintiff suffered damages as a result of the breach
Let's break this down into a real-life scenario. Suppose you suffered financial losses because of a data breach at your accountant's office. One of the employees opened an email they shouldn't have that installed spyware into the system. As a result, a cybercriminal stole your identity and opened credit cards and other accounts in your name, causing a tsunami of financial hardship and frustration.
The accountant had an implied duty to keep your data safe. That's element one. The accountant violated their duty when they allowed spyware to be installed in their system. There should have been strict company protocols and security measures in place to anticipate such an event, but there were not. That's element two. Next, the data breach was a direct link to the criminal stealing your information (element three). Because of their negligence, you lost money and suffered emotional distress (element four.)
Of course, depending on your legal matter, there may be other nuances to negligence. For example, we live in a no-fault insurance state that dictates parties may not sue each other for injuries from a motor vehicle accident unless a certain threshold of injury is met. Likewise, the victim of a slip and fall accident has to show that a property owner was aware of a dangerous condition and didn't do anything to repair or warn visitors of the hazard that led to their injury. Still, almost every personal injury case involves the concept of negligence and fault.
Negligent actions (or, in some cases, inactions) revolve around whether the defendant acted in a manner that a reasonable person would under similar circumstances. For example, suppose you were seriously hurt in a car accident that allowed you to step out of Florida's no-fault insurance law. In that case, a jury might look to see if the other driver ran a red light or broke any other traffic laws. Another example is medical malpractice. A great deal hinges on whether your doctor used judgment that would not reflect the standards of their profession. Instead, they did something that no other reasonable doctor would do if confronted with the same situation.
Methods to Prove Negligence
Generally, negligence is proven through evidence, whether direct or circumstantial. Direct evidence is usually something material or matter-of-fact, like eyewitness testimony, police reports, emails, texts, photos, videos, and such. Circumstantial evidence, however, requires individuals to put the pieces together through what evidence has been presented. Here are a few examples.
Direct Evidence:
Security cameras show you slipped and fell because of debris in a department store walkway.
An eyewitness testifies they saw a driver texting on their phone right before they hit your car.
A coworker witnessed you being harassed after you filed for workers' compensation.
You have a video recording of your elderly mother describing abuse at her nursing home.
A doctor indicates in your medical records that your carpal tunnel syndrome is directly linked to your job as a data processor.
Circumstantial Evidence:
An eyewitness sees a person fitting the description of the defendant vandalizing your property.
Skid marks indicate a negligent driver did not react in time as a reasonable driver would.
An accident reconstructionist uses their skills to demonstrate fault in a car accident.
An employee in your mother's nursing home overhears how much another employee hates taking care of your mother, who is later suspected of abusing her.
A property owner has been shopping around for contractors for months to fix "a broken staircase," indicating they were aware of a dangerous condition.
Civil litigation is far different from criminal cases in that the evidentiary standards are lower. Instead of proving your case beyond a reasonable doubt, as in criminal cases, a civil case only requires showing that a conclusion must be met by a preponderance of the evidence. Here is what these terms mean:
A preponderance of the evidence - This means that the evidence the plaintiff puts forth is more than likely to demonstrate what happened accurately. A jury might be instructed to rule in the plaintiff's favor if the evidence is 51% or more supportive of their argument.
Beyond a reasonable doubt - This is the highest standard of proof which is usually the requirement for criminal convictions, and rightly so. It means the prosecution must demonstrate that the only conclusion that can be arrived at is that the defendant committed the crime, and no other logical determination could be made based on the evidence.
While proving a civil case is not as difficult as a criminal one, our personal injury lawyers in Gainesville will be able to anticipate what kind of arguments the defendant will put up in an attempt to sway the jury to their favor. You must be able to foresee and prepare for the potential defenses that will be put forth so your strategy pokes holes in their arguments.
Scroll down for more
How it works
It's easy to get started.
The Fee Is Free™. Only pay if we win.
Results may vary depending on your particular facts and legal circumstances.
Step 1

Submit
your claim

With a free case evaluation, submitting your case is easy with Morgan & Morgan.

Step 2

We take
action

Our dedicated team gets to work investigating your claim.

Step 3

We fight
for you

If we take on the case, our team fights to get you the results you deserve.
---
Client success
stories that inspire and drive change
Explore over 55,000 5-star reviews and 800 client testimonials to discover why people trust Morgan & Morgan.
Results may vary depending on your particular facts and legal circumstances.
Recent verdicts & settlements
FAQ
Get answers to commonly asked questions about our legal services and learn how we may assist you with your case.
Gainesville
What Does a Personal Injury Attorney Do?

Getting hurt can be a frightening experience, but your legal team can walk you through the claims process from start to finish. They can provide a sense of comfort, confidence, and composure that makes the process less stressful. While we focus on recovering compensation, you can focus on recovering from your injury.

How Long Will My Case Take?

Every case has unique characteristics, so there's no standard timetable for arriving at a settlement or jury verdict. No matter how long it takes, Morgan & Morgan attorneys will fight diligently on your behalf. We can:

Assess the cause and severity of the injury
Gather evidence including police reports and medical records
Use our experience to determine the full value of your case
Establish the short- and long-term implications of your injury
Negotiate with the insurance company
Prepare the case for trial if a settlement can't be reached

Our attorneys aren't afraid to go to trial if the other side won't negotiate fairly. Our jury verdicts are 20 times greater than the pre-trial settlement offers we receive.

What Types of Compensation Are Available?

You might be surprised to find the range of damages available in personal injury cases. The insurance company will likely attempt to minimize them so they can pay you as little as possible, but our legal team will fight for the full compensation you deserve.

Here are some examples of damages often awarded to injury victims:

Current and ongoing medical bills
Lost of wages or employment
Loss of earning capacity
Property damage
Pain and suffering

How Does Comparative Negligence Impact Personal Injury Claims in Gainesville, Florida?

Another common argument we run across is a defendant will contend that you have some or all of the responsibility for your injuries. Florida is a comparative negligence state. This means if you share responsibility for your damages, any compensation you receive will be reduced by the degree of fault you're assigned. Florida observes the pure comparative negligence rule, which means that even if you were mostly to blame for your injuries, if the other party had any responsibility, you could still recover a percentage of damages. It all comes down to what percentage both parties are assigned.

Here's a hypothetical situation. Suppose you're at a party standing outside on a deck with some old college buddies, and everybody's drinking. Everybody starts singing The Gator's fight song and rambunctiously jumping up and down. Now, the host knew the deck had seen better days but couldn't have anticipated five people would be bouncing around on it. The deck comes crashing down, and you break your arm in the fall. In a situation like this, you may bear some responsibility because had you not been drinking, you might have noticed the deck was a little rickety.

Of course, our job is to downplay your involvement and focus more on the fact that another party's negligence was the primary factor in the incident.

What if My Case Has More Than One Party?

Injury accidents frequently involve more than one other party, even if you don't yet realize it. In cases like these, things can get complicated quickly. Our personal injury lawyers in Gainesville can help you sort it out. For example, suppose you were severely injured in a motor vehicle collision involving a commercial truck. In that case, the relevant parties might include the driver, the trucking company, a parts manufacturer, and the business in charge of loading the cargo. Figuring out which party, if not all, to go after is a difficult task that frequently involves investigating each of them.

Suppose you were mugged in a hotel parking lot. Your instinct might be to go after the hotel owner for negligent security. But here is how it can get complicated. Maybe they did hire adequate security but through a third party. The security contractor failed to vet their security guards appropriately, and while you were getting mugged, the person that was supposed to be patrolling the parking lot was sleeping in their office. Let's presume you went after the hotel without understanding all the factors of the matter. In that case, you might waste precious time and money pursuing the wrong party. At Morgan and Morgan, our personal injury attorneys know from extensive experience to consider all possibilities and accordingly investigate beforehand. 

What Kind of Cases Do Morgan and Morgan Handle?

We've gone over a few scenarios where you might need the help of personal injury lawyers in Gainesville. Still, that's just the tip of the iceberg concerning the kinds of cases we handle on a regular basis. Here are other areas where we offer personal injury representation:

Motor vehicle accidents (cars, trucks, motorcycles, trains, buses, golf carts, and more)
Product liability (dangerous, faulty, and misleading)
Premises liability (private, public, city, county, and federal)
Medical malpractice
Boating accidents
Dog bites
Sexual assault
Sex trafficking
Wrongful death
Nursing home neglect and abuse
Business litigation and malpractice  
Labor and employment litigation
Workers' compensation
Civil rights and liberties
Class actions
Data privacy violations
Defamation
Mass arbitration
Mass tort
Veterans benefits
Social Security Disability
Veterans benefits

If you're unaware, Morgan and Morgan is homegrown in Florida. For more than 35 years, we've called The Sunshine State our headquarters, and although we've grown to include offices across the U.S., we're still a family-owned business. Even though we're one of the largest law firms in North America, we take pride in sticking to our roots because we were founded on the idea that everyone deserves the best representation possible when there's a lot at stake. We know just how much it means for our clients to be able to get the kind of compensation they need for proper medical care and fair payment for pain, suffering, and other losses.

Whether you suffered a slip and fall injury at Publix or the Winn-Dixie, or you were in a car accident in one of the notoriously dangerous Gainesville intersections, we can provide the quality legal counsel you need to win compensation for your injuries. Likewise, if your legal matter is more focused on mistreatments such as workplace harassment, wrongful arrest, or defamation of character, we have the legal chops to make the wrongdoers pay.

Worrying about the cost of our legal services is not something we want our clients to do. That's why we work on a contingency fee basis. This means that you only pay for our help if we win a verdict or are able to negotiate a favorable settlement for you. Our fee comes from the proceeds, not directly out of your pocket, so there's no upfront investment. There's no reason to gamble on the outcome of a legal matter on your own when you can have experienced and battle-tested help just a click away. Contact us for a free and confidential case evaluation today.

¿Usted tiene preguntas acerca de su caso en español?

Los abogados de lesiones personales de Morgan & Morgan entendemos lo importante que es resolver todas sus preguntas legales en el idioma en el que usted pueda entender mejor. Por eso contamos con una sección de Preguntas Frecuentes en nuestra página de abogados.com. Recuerde que en caso de ser victima de un accidente y necesitar ayuda legal, usted cuenta con los abogados de Morgan & Morgan. Siendo el bufete de abogados de lesiones personales más grande de los Estados Unidos, contamos con los recursos y la experiencia que usted necesita para defender sus derechos. ¡La justicia es derecho de todos!
Scroll down for more
Load More