The Fee Is Free™. Only pay if we win.
America's Largest Injury Law Firm
Protecting Families Since 1988
$15 Billion+ Won
800+ Lawyers Nationwide
Free Case Evaluation
Tell us about your situation so we can get started fighting for you. We tailor each case to meet our clients' needs.
Results may vary depending on your particular facts and legal circumstances.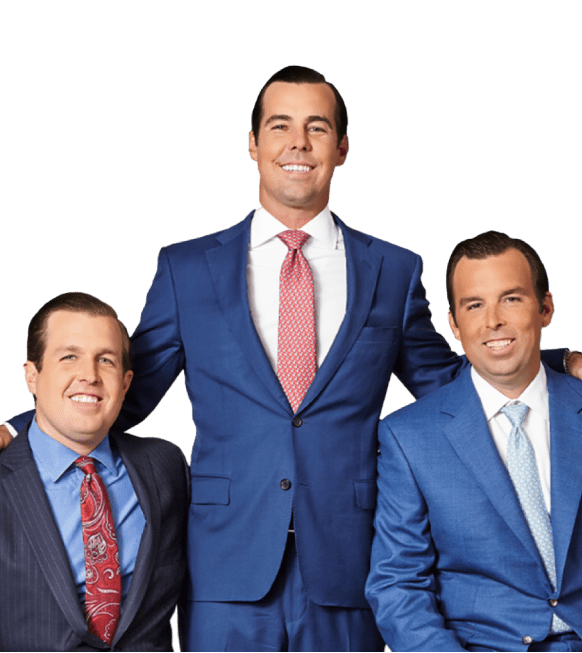 Bradenton Personal Injury Lawyer
Accidents happen every day all over America, leaving innocent people with painful injuries that can persist for years to come. From slippery surfaces to workplace hazards and the open road, there are more places to risk an injury than not—you can even find yourself injured in your own apartment complex. It's not always a life or death situation, of course, but even minor accidents can leave you with more damage than you'd expect and potentially change the way you go about your life.
If you find yourself injured after an accident you didn't cause, your first step is to seek medical attention to determine the extent of the damage. Next? Call a personal injury lawyer in Bradenton sooner rather than later. The following steps in the process are complicated, to say the least, and are even more difficult to handle if you're dealing with an injury on top of it. They'll help you file paperwork, meet deadlines, and advocate for rightful value during settlement negotiations or a trial, which can all improve your odds of reaching the finish line with the compensation you need to recover.
There are thousands of law firms in Florida, with each one having its own approach to personal injury law that allows victims of negligence to advocate for their rights after accidents they didn't cause. Some operate in only specific areas of personal injury law, whereas others provide a more "jack-of-all-trades" service for their clients, but one firm shines through the crowd as the frontrunner option for anyone that finds themselves as a victim after an accident in Bradenton—Morgan and Morgan.
With $15 billion recovered, decades of experience, and no upfront retainer fees, anyone looking for a car accident lawyer in Bradenton can find the help they need at our firm. We have slip and fall lawyers, car accident attorneys, and legal professionals for any violation of personal injury law, with a proven track record of settlements and verdicts to back up our claims. Our team knows how to work up cases the right way, preparing for the possibility of a trial from day one, and can consult subject matter experts to help back up your claim. The perfect combination of resources, experience, and expertise, Morgan and Morgan is the clearcut choice to fight back against a negligent party who exposed you to a risk of injury.
There might be thousands of car accident lawyers in Bradenton, but there's only one Morgan and Morgan. Complete a free, no-risk case evaluation to get started.
Scroll down for more
How it works
It's easy to get started.
The Fee Is Free™. Only pay if we win.
Results may vary depending on your particular facts and legal circumstances.
Step 1

Submit
your claim

With a free case evaluation, submitting your case is easy with Morgan & Morgan.

Step 2

We take
action

Our dedicated team gets to work investigating your claim.

Step 3

We fight
for you

If we take on the case, our team fights to get you the results you deserve.
---
Client success
stories that inspire and drive change
Explore over 55,000 5-star reviews and 800 client testimonials to discover why people trust Morgan & Morgan.
Results may vary depending on your particular facts and legal circumstances.
Recent verdicts & settlements
FAQ
Get answers to commonly asked questions about our legal services and learn how we may assist you with your case.
Bradenton
Why Hire a Bradenton Car Accident Lawyer?

Here's a fact you might not be aware of: People who hire a personal injury attorney generally recover three times as much money for their claim as those who don't. The fact is, insurance companies will often do anything they can to protect their bottom line, including denying legitimate claims and offering lowball settlements.

The auto accident attorneys at Morgan & Morgan understand how to effectively negotiate with insurance companies. Our legal experts have ample experience valuing claims and know how to reach a fair settlement offer. Our ample resources allow us to take on even the biggest insurers. If they're not willing to negotiate in good faith, we'll present your case at trial.

There's no risk to you: We work on a contingency fee basis, meaning there's no cost to get started, and we get paid only if you win.

How Much Is My Case Worth?

You might be in a difficult spot financially following your injury, especially if you're unable to go to work. You might be wondering how much your case is worth. The short answer is, it's impossible to know without reviewing the facts. However, over the course of three-plus decades, Morgan & Morgan has recovered more than 15 billion for clients just like you. We've shown time and again that we have what it takes to secure favorable settlements and win cases that go to trial.

How Long Will My Case Take?

Car accident cases and other types of personal injury claims are complex, and therefore, settlements and trials can take months, if not years, to conclude. One common tactic the insurance companies employ is stalling and drawing out the process in the hope that you'll grow impatient. While it may be tempting to settle quickly, it's important that you never settle for less than your case is worth.

The Morgan & Morgan Difference

You may have seen the ads on television or passed the billboards on your commute, but we're not any ordinary big law firm. We got to where we are today by treating every client like family, and we maintain that mentality to this day. From start to finish, our legal team will treat your case with the attention to detail it deserves. You can rest assured knowing that you'll enjoy around-the-clock access to our legal team throughout the process.

At Morgan & Morgan, we're dedicated to bettering the communities we serve. We're active with many local charities, including Hungers End Food Pantry and Blessing Closet, a food pantry right here in Bradenton. It serves 500 to 600 families each month and partners with other outstanding organizations to deliver essentials such as groceries and clothes to people in need.

What Kind of Situations Can a Personal Injury Lawyer Help With?

Personal injury law involves situations where someone's negligence causes any form of harm to a third party, including bodily, emotional, and financial damages. There are many subcategories of personal injury law, with each handling a different set of circumstances. Here are a few of the more common situations that fall into this type of law:

Slip and fall accidents
Motor vehicle accidents
Worker's compensation disputes
Employment discrimination
Medical malpractice
Product liability
Fire burn injuries
Toxic and environmental mishaps

The at-fault party in personal injury matters ranges from individuals to sizable corporations, but the bottom line is that they harmed a third party through their carelessness. If you were involved in any of the situations above or you're unsure of whether your case qualifies as a personal injury matter, a personal injury attorney in Bradenton can help you sort through the details and find a solution.

What Kind of Damages Can You Recover Through a Personal Injury Lawsuit?

Every case is different, and many factors determine which damages you're able to recover. However, you should expect to recover any economic damages that you suffered as a direct result of the accident itself, as well as non-economic damages and punitive compensation if it applies. Here are a few of the more common damages sought for recovery by accident victims in Bradenton:

Medical expenses
Lost wages
Emotional damages
Pain and suffering
Diminished earning capacity
Rehab and therapy benefits
Funeral costs (in the case of wrongful death)

The jurisdiction your accident occurred within plays a major role in your recovery and how you handle the steps immediately after your injury. For example, Florida places a cap on the amount of non-economic damages you can recover from an at-fault party, set at $750,000. You won't be able to seek restitution in surplus of that limit, even if it would be warranted in other states. If you're concerned about your ability to recover the fullest extent of the damage you're entitled to, contact a personal injury lawyer in Bradenton and ask their opinion on the situation for a more detailed, specific response.

How Much Does a Personal Injury Lawyer in Bradenton Cost?

The price of representation varies from law firm to law firm. Some are more expensive than others, of course, but there are two different approaches to pricing seen across the legal arena. First, you'll find "retainer fees," which are upfront costs that you must pay to retain an attorney for your case. They range from hundreds of dollars to thousands, with larger, more established firms on the higher end of the pricing spectrum. However, this approach places a financial barrier between victims and their rightful compensation. If they can't afford the upfront cost, then they likely won't choose you to advocate for their rights, so why would you want to limit the number of people you can help?

At Morgan and Morgan, we chose to take a different route. Rather than shackle you with even more expenses during a financially constricting period of your life, we take our fee from the favorable settlement or jury award at the end of your case to ensure that anyone can afford our representation. That's right; you pay nothing upfront to team up with America's largest personal injury firm. Not only does our contingency keep the costs low on your end, but it also motivates everyone involved to maximize your recovery, even if the odds seem grim.

How Do I Choose a Personal Injury Lawyer in Bradenton?

Every firm is different. Some are smaller, family firms, which provide their clients with the utmost attention. These firms have achieved momentous things in Bradenton, saving victims from lifetimes of suffering after serious accidents, but they generally have fewer resources at their disposal compared to a much larger organization.

However, these bigger firms can't provide the same level of attentive service as smaller firms, which can leave their clients feeling like a number in the system. That's not to say that clients haven't found success through these firms, as there are vast examples of large, established firms reaching successful outcomes after seemingly impossible trials. It's a trade-off and a decision you'll have to make before selecting the personal injury lawyer in Bradenton that fits your circumstances.

Fortunately, there's an easy answer right in front of you—Morgan and Morgan. We have offices from coast to coast, which allows us to advocate for victims of negligence with the attention of a small firm and the resources of a corporate giant. We started as a family firm, and after decades of success, we may have increased our legal power, but we've never sacrificed what made us who we are today. We fight for every client like a family member would because, without your rightful compensation, you could endure years of pain and suffering, all because a negligent third-party acted carelessly. That's unacceptable, but with us at your side, you can advocate for every penny you deserve with a near-endless supply of resources behind you.

How Do I Know if I Have a Case?

Determining whether your accident qualifies as a personal injury matter isn't always easy. In some cases, you might only have a hunch that someone's carelessness led up to your accident, or you may not know that negligence played a role entirely. There are hundreds of legal contingencies that play a role in the legality of your situation, but the bottom line is simple. If a third party's actions breached their "duty of care," which is a legal obligation to care for the safety of a person or property, or they acted intentionally recklessly, you could be dealing with a personal injury claim.

If you're unsure, here are a few questions to ask yourself:

1. "Would my injury have occurred if someone had acted according to their duty of care?"

Property owners, landlords, and medical professionals have a legal "duty of care" over their property, clients, or those within their premises. For property owners and landlords, a breach of duty of care can look like unmaintained walkways, improperly lit parking lots, slippery surfaces, and hazardous areas. Medical professionals have a different duty of care, meaning that they have a duty to provide adequate care and treatment to clients under their supervision. In either case, a breach of duty of care could expose someone to injury and spark a personal injury claim.

2. "Was the at-fault party acting recklessly leading up to the accident?"

Reckless, distracted, or intoxicated driving are all reckless ways to operate a vehicle. If someone is acting in this manner and they cause injury to another motorist or pedestrian, they could be held liable for the damage they caused.

3. "Should someone have repaired the hazard that caused my injury?"

As stated above, property owners have a legal liability to ensure that their property is safe for anyone who lives on or traverses their premises. Once they know of a hazard or a situation that can become hazardous, they have a "reasonable" amount of time to act on that hazard and make the area safe. This can include physically fixing a dangerous area or posting a precautionary sign to warn people of the danger.

4. "Would I have been treated differently if I was a different race/sex/religion?

Discrimination occurs in workplaces all across the country and, unfortunately, right under our noses. If you suspect that an employer is treating you unfairly because of a protected characteristic, you should speak with a personal injury lawyer in Bradenton to explore your options.

The easiest way to determine if you have a personal injury case is to speak with an attorney about your situation. They have the legal background to notify you of any violations that may have occurred and, more importantly, help you build a case to hold the at-fault party accountable.

Contact a Personal Injury Lawyer in Bradenton

In the most difficult moments of your life, Morgan and Morgan has your back. Suffering an injury is painful in itself, but finding out that your injury could have been prevented is even more disheartening. Fortunately, you might not have to shoulder the financial burden of your accident with the help of a personal injury lawyer in Bradenton, especially if you team up with Morgan and Morgan. We have the experience, resources, and mindset to never settle for less than you deserve, and we mean that. Our team has reached multi-million dollar settlements and verdicts from pennies-on-the-dollar pre-trial offers, helped the victims of class action lawsuits advocate for their collective harm, and gave victims a voice when others didn't want to respect their rights. Now, we're prepared to advocate as relentlessly as we have in the past and, most importantly, help you return to the life you lived before the accident occurred.

Don't gamble with your representation. Team up with America's largest personal injury firm and give yourself the best possible chance of success. Complete our free, no-obligation case evaluation to get started. 

¿Usted tiene preguntas acerca de su caso en español?

Los abogados de lesiones personales de Morgan & Morgan entendemos lo importante que es resolver todas sus preguntas legales en el idioma en el que usted pueda entender mejor. Por eso contamos con una sección de Preguntas Frecuentes en nuestra página de abogados.com. Recuerde que en caso de ser victima de un accidente y necesitar ayuda legal, usted cuenta con los abogados de Morgan & Morgan. Siendo el bufete de abogados de lesiones personales más grande de los Estados Unidos, contamos con los recursos y la experiencia que usted necesita para defender sus derechos. ¡La justicia es derecho de todos!
Scroll down for more
Load More