The Fee Is Free™. Only pay if we win.
America's Largest Injury Law Firm
Protecting Families Since 1988
$15 Billion+ Won
800+ Lawyers Nationwide
Free Case Evaluation
Tell us about your situation so we can get started fighting for you. We tailor each case to meet our clients' needs.
Results may vary depending on your particular facts and legal circumstances.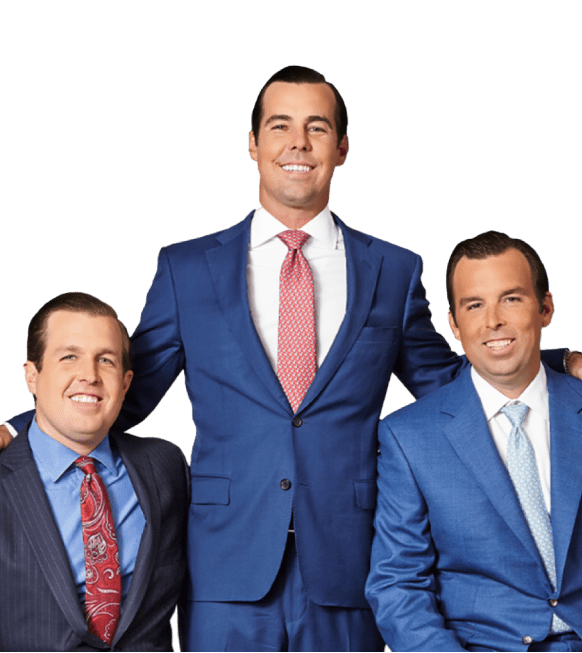 Charleston Personal Injury Lawyer
Most of our clients in Charleston, WV, come to see us after they've already faced significant trauma due to someone else's negligent actions. It gets worse when they discover how complicated insurance claims are and how unfeeling the insurance claims adjusters can be. We understand the upheaval you and your family are going through right now and want to offer our help.
When you or a loved one have been subjected to injury, pain and suffering, and other financial and emotional losses, our personal injury attorneys in Charleston, West Virginia can do wonders to rectify the situation. Morgan and Morgan know how insurance companies work. We understand the processes and laws that will influence the outcome of your legal issue.
Your personal injury lawyer will be a powerful advocate for you, whether through negotiations or representing you in court. You deserve to have your rights protected and to get the maximum compensation achievable. Our goal is to make sure this happens. With more than 900 lawyers nationwide specializing in different aspects of personal injury law, you can be assured of getting the right fit for your needs.
To learn more about how we can help, contact us today for a free, no-obligation case evaluation.
You Can Count on Morgan and Morgan to Attain Justice
The Charleston, WV, personal injury lawyers at Morgan and Morgan are trial-tested and battle ready. While the insurance company's lawyers can be aggressive, so can we. In fact, our law firm has taken on everyone from titans of industry to the government. You deserve equally aggressive and capable representation regardless of the scope of your personal injury needs.
You can also be assured that your case will get the attention it deserves. We empower our attorneys with the resources and support staff often required for complex cases. This sets us apart from many law firms that force their lawyers to take on more than they can handle and don't provide the resources required for your best chance for success.
We are proud of our track record. In fact, over the past 35 years, our clients have been awarded billions in damages. You don't get that kind of volume and results by being a less-than-stellar law firm. Our success allows our clients to get on with living and move past their injuries with as much dignity and fortitude as compensation can provide.
You deserve justice when someone else's thoughtless and negligent actions impact your life in a negative way. Our sole purpose as a law firm is to ensure our clients' lives are improved by our services.
Scroll down for more
How it works
It's easy to get started.
The Fee Is Free™. Only pay if we win.
Results may vary depending on your particular facts and legal circumstances.
Step 1

Submit
your claim

With a free case evaluation, submitting your case is easy with Morgan & Morgan.

Step 2

We take
action

Our dedicated team gets to work investigating your claim.

Step 3

We fight
for you

If we take on the case, our team fights to get you the results you deserve.
---
Client success
stories that inspire and drive change
Explore over 55,000 5-star reviews and 800 client testimonials to discover why people trust Morgan & Morgan.
Results may vary depending on your particular facts and legal circumstances.
Recent verdicts & settlements
Results may vary depending on your particular facts and legal circumstances.
FAQ
Get answers to commonly asked questions about our legal services and learn how we may assist you with your case.
Charleston West Virginia
Why Hire a Charleston Car Accident Lawyer?

When you're injured in an accident, a major obstacle stands between you and the compensation you deserve: the liable party's insurance company. Oftentimes, insurance companies deny claims or make lowball offers in the hope that the victim will opt to settle and get the process over with.

The fact is, people who hire personal injury attorneys typically recover three times as much compensation as those who don't. That's because personal injury lawyers understand how to negotiate effectively. Our car accident attorneys aren't afraid to take on any insurer, no matter how big. Morgan & Morgan will give you the best shot at a fair settlement, and if an agreement can't be reached, we'll go to trial. We work on a contingency fee basis, meaning there's no upfront cost to you, and we get paid only if we win.

How Much Is My Case Worth?

Auto accident cases and other personal injury claims vary as do their outcomes. One factor remains consistent: Insurance companies will do everything in their power to pay as little as possible. While it's impossible to predict how much a case is worth without knowing the specifics, you should never settle for less than your claim is worth. Morgan & Morgan attorneys fight for compensation including:

Past, current, and future medical bills
Lost wages and reduced earning capacity
Pain and suffering
Rehabilitation costs
Punitive damages
And more

How Long Will My Case Take?

Because personal injury cases are complex and insurance companies are often unwilling to pay up, settlements and trials can take months, if not years, to complete. Even cases that appear straightforward may be drawn out by the insurance company to get the victim to settle for less. That's why it's essential that you have a highly skilled personal injury lawyer on your side. Morgan & Morgan attorneys are dedicated not only to resolving your case quickly but, most importantly, achieving the best possible outcome to help alleviate your financial burden.

What is The Morgan & Morgan Difference

Chances are, you've seen the billboards and watched the ads. You might even be aware that Morgan & Morgan has a long track record of success, having recovered more than $15 billion in damages for injury victims. Yet despite our ample size and resources, we've remained dedicated to treating all our clients like family. You can count on us to be by your side each step of the way during this difficult time and provide 24/7 access to our legal experts. 

What Is a Personal Injury Case?

Legally speaking, personal injury comprises any physical or emotional injury a person sustains due to negligence, intentional wrongdoings, or reckless actions of another individual or entity. Most often, it arises because of some accident. However, personal injury can also result from purposeful actions like assault or defamation. It can also arise from injury to property rights. Typically you're entitled to bring a case in Charleston, WV, under the following grounds:

Negligence - West Virginia personal injury law is dependent on the legal concept of the duty of care. Individuals have a duty to others to act using reasonable care to avoid causing harm to others. When this duty is violated, and another person comes to harm because of their actions (or, in some instances, failure to act), they may be financially liable to pay the injured party for expenses and losses due to their negligence.

A typical example of negligence is when there is a car accident. Someone or something is responsible. If a driver runs a red light and hits another vehicle that had the right of way, the person that broke the law is the negligent party. The red light runner had an obligation to obey the law. While they may have missed the light change because they were distracted and didn't do it on purpose, this doesn't absolve them of their duty of care. When they ran the red light, they breached their duty of care. Any property damage resulting or injuries to the occupants is their responsibility to pay under the legal concept of negligence.

They would be liable to pay for any medical expenses, repair or replacement of the other driver's vehicle, along with any additional costs and losses incurred because of the accident.

Strict liability - Most personal injury cases require the plaintiff (you) to prove the other party behaved negligently, resulting in your injuries. However, under the doctrine of strict liability, negligence isn't a requirement to prevail. Commonly, cases that involve animal attacks, extremely hazardous activities, and defective products fall under strict liability. The term can be translated to mean absolute liability. Another way of saying it is it doesn't matter whether precautions were taken or the other party followed the law. They can still be held responsible for any injuries as a result. You don't have to prove fault.

For example, in cases of dangerous or defective products, you're not required to prove that the manufacturer or anyone involved with the design, distribution, or retail was reckless and failed to test the product adequately. If you were injured and were using the product as intended, you could have cause to file a lawsuit for your damages.

Dog bites are another issue that falls under strict liability. West Virginia's dog bites statute states that dog owners will be held strictly liable if they allow their dog "to run at large" and the dog bites someone, even if they weren't aware their dog would be aggressive. They still have to pay for any injuries to the dog bite victim. However, different rules apply if the victim was bitten on the dog owner's property. This is known as the "one-bite" rule. Under these circumstances, West Virginia requires a claimant to prove the owner was aware of the dog's aggressive nature and that it could reasonably cause injury to others.  

The last instance where strict liability may come into play is extremely dangerous activities. This means the activity was inherently dangerous, and there was an abnormally large risk of harm coming to others regardless of whether they took precautions or followed the law.

For example, suppose the owner of a demolition company decides to store explosives at their home in the suburb of North Charleston. Keeping explosives in a suburban home is so dangerous that an explosion is likely to occur. If someone is injured because of this heedless move, the demolition company owner would be strictly liable for all damages.  

Intentional wrongs - The final ground for a personal injury lawsuit is an intentional wrong, also known as an intentional tort. An intentional tort commonly revolves around an action like assault or battery. While these are crimes, and the perpetrator may be ordered to pay restitution to their victim, many people don't realize they have grounds for a personal injury lawsuit as well. However, the difference between negligence and intentional torts should be explained.

For example, suppose you're out with a group of friends and decide to share an Uber. When you go to exit the vehicle, one of the other passengers doesn't realize your hand is still in the doorframe, and they slam it shut, breaking your fingers. That is a clear-cut case of negligence. The other party may not have been paying attention. However, they still harmed you, and you would be justified in seeking damages for medical expenses, lost wages, and pain and suffering.

On the other hand, suppose you were sharing the Uber with these friends and got into an argument over politics. One of them is so enraged by your political beliefs that when you get to your destination, they shove you out of the vehicle, and you break your jaw along with some teeth. While this person would deservedly face criminal charges, you would also be within your rights to file a personal injury lawsuit.

Other intentional torts are defamation and intentional infliction of emotional distress. Although these are generally more difficult cases, Morgan and Morgan are prepared to examine the facts of your case and provide you with legal options.   

How Would Comparative Negligence Impact My Personal Injury Case in West Virginia?

You may have heard the term comparative negligence before. It generally means that you bear a portion of the fault for your own injuries. For example, in a car accident, suppose the other driver failed to yield in a roundabout. Still, you were traveling significantly above the speed limit at the time of impact. In that case, you would share in the fault for the accident. However, West Virginia observes a modified comparative negligence system that limits the percentage of fault a claimant can have to pursue legal action.

You must bear less than 51 percent of the fault to recover compensation from an at-fault party. Likewise, whatever award you might receive would be diminished by the percentage of responsibility you have in the accident. Here is an illustration from the example above. A jury decides you are 30 percent at fault for the roundabout accident. Your damages total $100,000, including property damage and medical expenses. The amount you receive would be $100,000 - 30% = $66,667.

For this reason, it's imperative to have a personal injury lawyer with a skill set that includes the power of persuasion. They must be able to minimize your culpability and put the focus on the other party's negligence.

How Can I Get the Most for My Personal Injury Case in Charleston?

The most substantial chance you have to recover meaningful compensation is working with an expert attorney who is well-versed in the personal injury laws of West Virginia. They can advise on the steps you need to take on your side, like seeking prompt medical care and documenting expenses and losses. Our attorneys will investigate in-depth to uncover and preserve every piece of evidence that can strengthen your case.

There are many issues at play in a personal injury case. We understand this because our law firm has handled legal problems for a wide variety of claimants. Whether your matter concerns medical malpractice, nursing home abuse, a motor vehicle accident, or violations of employment or civil rights laws, we've got the staff and resources to prioritize your case.
 
You can expect a personalized experience and sincere dedication to your case. We know how much this means to you, and you have a lot at stake. That's why we always put our client's best interests first. We consistently deliver for people just like you with favorably negotiated settlements and winning verdicts. You don't have to pay more to work with some of the best personal injury lawyers in Charleston, West Virginia at Morgan and Morgan, so why would you take a chance with a smaller, less established law firm? We're waiting to hear about your case and are ready to put our expertise to work for you.

Car accident claims and other types of personal injury lawsuits can be financially devastating. It might be tempting to accept whatever settlement the insurance company offers so you can begin paying off your medical bills and other expenses. But you're better off in the long run with the help of a personal injury lawyer. Let Morgan & Morgan fight to secure your financial future. Reach out to us today by filling out a free case evaluation. Remember, it costs nothing to get started, and it's free unless we win.

¿Usted tiene preguntas acerca de su caso en español?

Los abogados de lesiones personales de Morgan & Morgan entendemos lo importante que es resolver todas sus preguntas legales en el idioma en el que usted pueda entender mejor. Por eso contamos con una sección de Preguntas Frecuentes en nuestra página de abogados.com. Recuerde que en caso de ser victima de un accidente y necesitar ayuda legal, usted cuenta con los abogados de Morgan & Morgan. Siendo el bufete de abogados de lesiones personales más grande de los Estados Unidos, contamos con los recursos y la experiencia que usted necesita para defender sus derechos. ¡La justicia es derecho de todos!

The information on this website is for general information purposes only. Nothing on this site should be taken as legal advice. Viewing does not constitute an attorney-client relationship. No representation is made here about your specific rights in any specific matter. Every case is different and must be judged on its own merits. Prior results do not guarantee a similar outcome. Additional information can be found by clicking on the Terms and Conditions link below.
Scroll down for more
Load More