The Fee Is Free™. Only pay if we win.
America's Largest Injury Law Firm
Protecting Families Since 1988
$15 Billion+ Won
800+ Lawyers Nationwide
Free Case Evaluation
Tell us about your situation so we can get started fighting for you. We tailor each case to meet our clients' needs.
Results may vary depending on your particular facts and legal circumstances.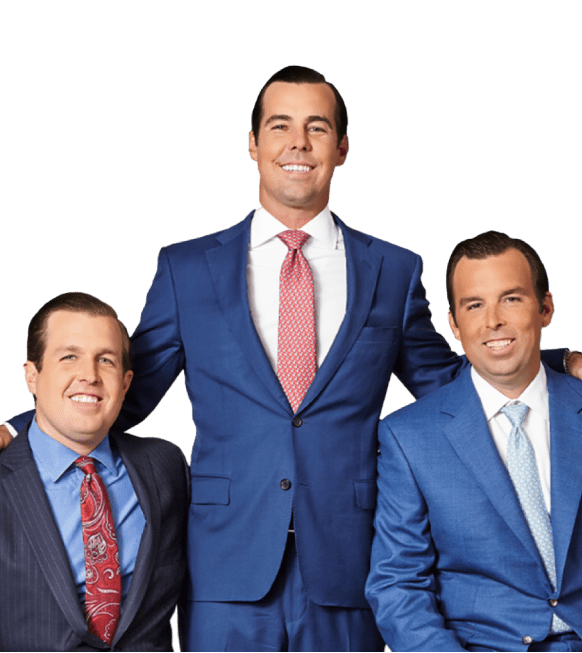 Titusville, FL Burn Injury Lawyers
Burns are some of the most terrible injuries because they are painful and can cause lifelong scarring and disfigurement. A person can suffer burn injuries anywhere there are open flames or hot surfaces, but also, individuals can be burned through chemical exposure or electrical accidents. Frequently, people can have burn injuries from car crashes, but it's not just because of fire. Airbags can cause chemical burns because of the release of alkaline chemicals. Burns are one the most common injuries in a vehicle accident, and a good burn injury lawyer knows how to handle these specific types of claims.
At Morgan and Morgan, we have a team of burn injury lawyers that will be by your side through all phases of your burn treatment and recovery. Our Titusville, FL, burn injury lawyers will fight for your rights and try to recover compensation to make moving forward easier for you and your family.
Scroll down for more
Recent verdicts & settlements
Results may vary depending on your particular facts and legal circumstances.
Scroll down for more
Results may vary depending on your particular facts and legal circumstances.
How it works
It's easy to get started.
The Fee Is Free™. Only pay if we win.
Results may vary depending on your particular facts and legal circumstances.
Step 1

Submit
your claim

With a free case evaluation, submitting your case is easy with Morgan & Morgan.

Step 2

We take
action

Our dedicated team gets to work investigating your claim.

Step 3

We fight
for you

If we take on the case, our team fights to get you the results you deserve.
---
Client success
stories that inspire and drive change
Explore over 122,576 5-star reviews and 800 client testimonials to discover why people trust Morgan & Morgan.
Results may vary depending on your particular facts and legal circumstances. Based on Select nationwide reviews
FAQ
Get answers to commonly asked questions about our legal services and learn how we may assist you with your case.
Morgan & Morgan
What Is the Most Common Burn Injury?

A thermal burn is the most common type of burn injury. They are caused by direct contact with a heat source, such as boiling liquids, open flames, and steam. Electrical burns follow and can happen when a victim comes in contact with a faulty exposed wire, by mishandling machinery, or touching an electrified liquid. Next are chemical burns, which result when a person comes into contact with a synthetic corrosive substance that damages soft tissues. Lastly are radiation burns which may occur from a faulty tanning bed or during some forms of medical treatment.

What Kind of Burn Accidents do Morgan and Morgan Handle?

When you're looking for the best Titusville, FL, burn injury lawyers, it's natural to expect them to be experts at handling any kind of burn injury accident lawsuit. At Morgan and Morgan, we handle the following types of burn injury accidents:

Motor vehicle accidents
Workplace injuries
Defective products
Electrical accidents
Trucking accidents
Explosions
Apartment building fires
Locked fire exits
Fires at public venues
Scalding water and pipes

How Much Does It Cost to Treat a Burn Patient?

The costs of treating a burn patient will depend on the severity of the burns. Here is a breakdown of how doctors classify burns:

1st-degree burns - The epidermis, which is the uppermost skin layer, is red and painful.

2nd-degree burns - The skin is blistered and may rupture, causing the skin to ooze and can be painful.

3rd-degree burns - The epidermis and underlying dermis, which includes nerve tissue, are damaged. Because of the nerve damage, the victim may not feel pain. Still, there is a risk of infection without proper treatment.

4th-degree burns - The burn is deep and may involve muscles and bones, and the burn area is often charred and blackened.

Most of us will suffer first-degree burns simply from cooking or handling mildly corrosive chemicals. For these, we might use an antibiotic cream and move one. However, it's not uncommon to have second, third, or fourth-degree burns when people suffer more severe accidents. Fourth-degree burns are the worst because they may penetrate all the skin layers and damage underlying tissues. With fast access to medical care, these victims can live; however, burn treatment is very costly in the United States.

Moderate burns may cost six figures to treat, while severe burns may run into the millions, and that's with no complications. However, it's uncommon for there to be no complications with severe burns, and victims need to be treated in special burn centers. Complications require blood transfusions, skin grafts, and extra fluids to aid healing. Sometimes skin grafts will fail, which extends the treatment and healing process and adds to the medical costs.

The psychological aspect of burn injuries will usually have to be addressed, as it's very common for burn victims to experience emotional trauma. Treatment for emotional well-being can likewise be very costly as it may take years of therapy.

What Are the Long-Term Effects of Severe Burns?

Catastrophic burns like severe 2nd-degree, 3rd-degree, and 4th-degree burns can heal but will leave permanent scarring and can be disfiguring. Burns often leave contracture scars, which happen when a large area of skin is damaged or lost. The scar formation pulls the edges of the skin tightly together, which can affect joints, tendons, and muscles, causing decreased mobility and may result in chronic pain.

Severe scarring is disfiguring because the skin has an abnormal appearance. It can appear shiny and thin and may look melted. Large areas of tissue may have to be removed along with limbs and digits to help the healing process, which results in further disfigurement. Scarring over large areas of the body will affect pores, and burn victims may have trouble regulating the temperature of their bodies. Severe scarring can also lead to nerve damage which may impact the victim's ability to feel and puts them at risk for further injuries.

Who Is Responsible for My Burn Injuries From a Titusville, Florida, Apartment Building Fire?

You might be entitled to compensation if you were burned in an apartment building fire. According to a 2021 report from the National Fire Protection Association, between 2015-2019, 26 percent of fires occurred in home environments. According to the report, fires in the home are attributed to five causes: cooking, smoking materials, heating equipment, electrical distribution, lighting equipment, and intentional fire setting.

Apartment building owners and management have a duty toward their tenants to protect them from fires. To be held liable for a burn injury, the landlord must have been able to prevent the fire, or there is evidence to suggest the landlord knew there was a risk of fire. That means the landlord must have noticed a hazard, or the hazard existed long enough that they should have known about the danger.

Landlords are responsible for ensuring their buildings are up to code because the chances of fire increase in buildings that are not up to code. They are further required to follow the Florida Fire Prevention Code. If your building lacked fire warning or fire alarm systems or the systems were faulty, you might have cause to sue your landlord for your injuries. Although Florida winters are typically mild, landlords may attempt to control heating costs by regulating thermostats. This may cause tenants to seek other remedies for heating, such as portable radiators. If the fire resulted from the landlord manipulating thermostats, they might be liable for your injuries.

The fire inspector's report should reveal the reason for the fire and is an essential piece of evidence to use in a lawsuit for negligence.

Can a Titusville, Florida, Business Owner Be Held Liable for Burn Injuries?

Titusville business owners must protect the public from hazards on their property and ensure the business is reasonably safe for visitors. Business owners can't place liability on a third party, like an electrician, even if the third party creates a situation that would result in burns. Here are some examples of when a business owner could be held liable for burn injuries:

A patron of a spa is severely burned when they get into a hot tub
A customer trips and falls into an open fire pit at a resort
A customer is burned from scalding beverages or plates of food at a restaurant
A customer suffers chemical burns on their scalp after the wrong hair treatment was used at a salon
An oil lamp used for ambient lighting at a restaurant gets knocked over and douses a customer with ignited oil

What If My Burn Injuries Are the Result of a Defective Product?

When a manufacturer produces a product, they are responsible for ensuring the product won't cause harm to the consumer. To have a successful claim against a manufacturer, you must prove that their product caused your burns, that you used the product as intended, and there was no way to avoid the injury.

There are a few different ways to argue that a product is defective. The first is there was an error on the part of the manufacturer. For example, suppose you purchased a butane lighter, and when you held the lighter and flicked the lighter, the body became so hot you suffered burns on your hand. That product does not work as intended, possibly due to a faulty component.

The second is a design flaw. Suppose you use the butane lighter, and it works as intended. However, you still get burned because there is no way to use it without getting burned due to the flame coming out at a weird angle.

The third is when a product doesn't provide warnings or proper instructions for use. We'll use the butane lighter reference again. Suppose the lighter has multiple settings and is set at default to the highest setting, but you're unaware of this. When you light a cigarette, flames shoot up, burning your face and scalp. In a scenario like this, the manufacturer would be responsible for failing to provide warnings or failing to give instructions on how to use the product.

While so many products are made in other countries these days, it may be difficult to sue the manufacturer. However, you may be able to sue the distributor of the defective product or even the reseller. For these reasons, having the right kind of Titusville, FL, burn injury lawyers on your side is crucial. We'll be able to research who can be held accountable and pursue them for damages.

Can I Claim Compensation for a Burn at Work?

A workers' compensation claim will most likely cover burn injuries that occur on the job. Workers' compensation can help even if you were responsible for your injuries because it's a no-fault program. This is true except if you intentionally caused your injuries.

Although a person can get burned at any job, some industries are at higher risk than others. Restaurant workers have an increased incidence of burn injuries because they work with hot surfaces, gas and wood grills, and boiling oils and other liquids used for cooking. Deep fryers cause a high percentage of burn injuries at restaurants.

Firefighters are also at risk for burn injuries during the course of their work. Between 2015 and 2019, 24,950 firefighters were hurt on the job. 8% of injuries were from burns.  

Workers in industrial or manufacturing industries have a high risk of burns from exposure to caustic or corrosive chemicals. Explosions occur more frequently in these industries than in others.

Lastly, workers like electricians and cable and satellite employees are more likely to get burned at work because of their exposure to electricity.

Workers' compensation should cover all medical bills and a percentage of lost wages. However, it doesn't compensate for things like pain and suffering. Unfortunately, there's no way to sue an employer for burn injuries unless under particular circumstances, such as they hurt you on purpose.

Suppose you are having trouble getting your workers' compensation claim approved, or you're not getting the full benefits you deserve. In that case, Morgan and Morgan's lawyers may be able to help you.

Titusville, FL Burn Injury Lawyers

We understand that burn injuries are among the worst kinds of injuries and can impact the rest of your life. You may not be able to work or return to a position you had before your burns. You may even need special equipment or assistance to continue with your life. You deserve to be compensated for your injuries when it's due to some other person's negligence. While nothing can erase the damage, compensation can help you get better medical care and set you up for a more comfortable future. The lawyers at Morgan and Morgan understand it's not easy to live with a life-altering injury. Still, you don't need to add the worry of financial instability to your other concerns.

We will fight to ensure you get the compensation you need to live a better life. Contact us today for a free case evaluation. You have rights that we'll work to protect.
Scroll down for more
Load More