The Fee Is Free™. Only pay if we win.
America's Largest Injury Law Firm
Protecting Families Since 1988
$15 Billion+ Won
800+ Lawyers Nationwide
Free Case Evaluation
Tell us about your situation so we can get started fighting for you. We tailor each case to meet our clients' needs.
Results may vary depending on your particular facts and legal circumstances.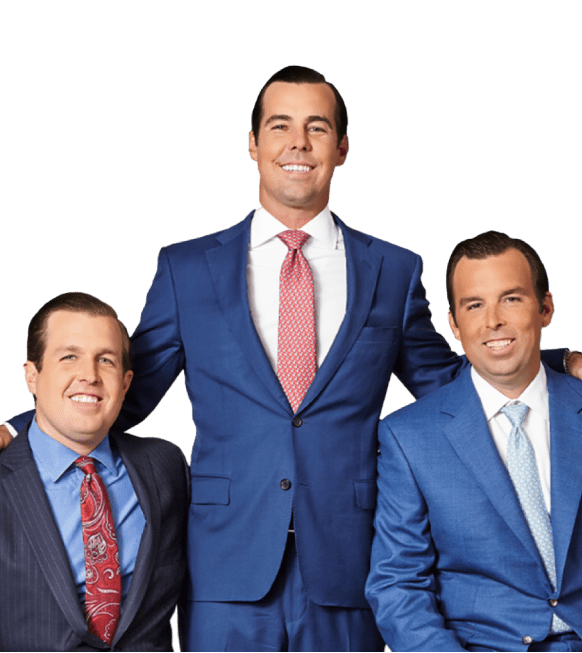 Pensacola Slip and Fall Lawyer
Property owners in Pensacola, Florida, have a duty to maintain their premises so that it remains reasonably safe for anyone who may spend time on the property. When they fail to live up to the expected standards, and you sustain an injury as a result of their negligence, you may be able to pursue them for compensation.
 
Slip and fall cases fall under premises liability, and typically, when people think of a slip and fall accident, the general consensus is that it automatically means the property owner is liable. However, it's not as simple as that. There are a lot of factors that go into a successful slip and fall claim. The Pensacola slip and fall lawyers at Morgan and Morgan have extensive experience in this area of law and the requirements to prevail in a legal action.
 
We'll try to answer your questions. However, all cases are unique, so we recommend you contact us for a free case evaluation so we can cater our responses to your individual matter. Here are some common questions, points, and issues you may be contemplating.
Scroll down for more
Recent verdicts & settlements
Results may vary depending on your particular facts and legal circumstances.
Scroll down for more
Results may vary depending on your particular facts and legal circumstances.
How it works
It's easy to get started.
The Fee Is Free™. Only pay if we win.
Results may vary depending on your particular facts and legal circumstances.
Step 1

Submit
your claim

With a free case evaluation, submitting your case is easy with Morgan & Morgan.

Step 2

We take
action

Our dedicated team gets to work investigating your claim.

Step 3

We fight
for you

If we take on the case, our team fights to get you the results you deserve.
---
Client success
stories that inspire and drive change
Explore over 122,576 5-star reviews and 800 client testimonials to discover why people trust Morgan & Morgan.
Results may vary depending on your particular facts and legal circumstances. Based on Select nationwide reviews
FAQ
Get answers to commonly asked questions about our legal services and learn how we may assist you with your case.
Morgan & Morgan
How Do You Win a Slip and Fall Case in Pensacola, Florida?

Florida law requires plaintiffs to prove specific elements in slip and fall cases in order to hold property owners liable for their injuries. One of the most challenging aspects is proving the property owner created or knew about hazards on their property that could lead to an accident yet didn't take steps to remedy it. For example, if you slipped and fell because of some liquid on the floor in a department store that was the result of another shopper spilling their drink right ahead of you, that would be difficult because the store employees wouldn't have sufficient time to recognize or address the hazard.
 
On the other hand, if you slipped and fell because an AC unit in the department store was leaking liquid, and we could substantiate the leak had been ongoing, then you would have a strong case for premises liability.
 
Here is another scenario. Suppose you were at a busy fast-food restaurant during Florida's rainy season. Likely, the restaurant manager would be aware of people tracking in water all day. Yet, they still didn't take precautions to put floor mats down or warn of the slippery hazard with signs. As a result, you slipped and fell. In that case, you could get compensation because the store manager should have been aware that it was reasonably likely someone could get injured.
 
Generally, the property owner or the entity in possession of the property had to have constructive knowledge of the hazard and did not take appropriate measures. Here are the elements of a premises liability case:

The property owner or possessor owed you a duty of care.
The property owner or possessor violated the duty of care (The property owner created a hazard, or if the danger was created by someone else, it wasn't addressed in a timely manner.)
The property owner or possessor's violation of said duty resulted in your injury.
You suffered real damages because of your injury (Damages, in this case, means financial losses such as medical expenses, lost income from missed days at work, you broke your glasses, phone, etc.)  

 In Florida, you may be assigned the fault for your own accident or some share of it. If a jury decides you are at fault for your accident, you may not be successful. Likewise, if they decide you share the responsibility, any award you may receive can be reduced by the percentage of fault you were assigned.
 
For example, suppose you were enjoying a celebration at a restaurant. During the course of the evening, you share several bottles of wine with friends and start showing signs of being tipsy. You excuse yourself to go to the restroom, which is right by the kitchen entryway into the dining area. Now, restaurant owners should know that kitchen traffic can track out all kinds of slippery substances. Still, it's been a particularly busy night, and no one has had time to clean up the muck on the floor. As you pass by, you're not paying much attention and end up slipping and hurting yourself.
 
In this case, the restaurant owner could argue that your alcohol intake played a factor because you weren't paying attention. If they argue their case convincingly, you may see a reduction in the amount you receive because the jury decides you bear some of the responsibility for your accident.
 
Of course, these are all hypothetical scenarios meant to demonstrate the spirit of the law. Your case will have unique factors that will dictate our strategies.

What Is the Average Payout for a Slip and Fall in Pensacola, Florida?

This, again, will depend on your individual circumstances. The amount you might receive is linked to many aspects of the case, such as how much insurance coverage the defendant carries, the extent of your injuries, whether or not you lost income due to the accident, and if you share in any responsibility. Generally, these are the damages that are possible in a Pensacola slip and fall case:
 
Medical treatment - You may be entitled to recover compensation for any medical treatment you received to treat your injuries. This can also include expenses for future medical care, as is required sometimes when the injuries are substantial.
 
Lost wages - If you missed work because of your injuries, you're entitled to include this in your damages, including things you may not think about, such as regular overtime, bonuses, tips, and benefits that would normally accrue if you had been able to work.
 
Lost earning capacity - Some slip and fall accidents result in substantial injuries that may cause a disability that would interfere with your ability to continue in the same line of work. Instead, you have to switch careers to accommodate the disability and don't earn as much. In that case, the difference in income should be compensable now and in the future.
 
Pain and suffering - Calculating pain and suffering damages should be done by the qualified Pensacola slip and fall lawyers at Morgan and Morgan. Typically, pain and suffering damages are determined by the severity of the injury, the type, and length of treatment, how long it takes to recover, and how much of an impact the ordeal has made in your life. Pain and suffering damages are frequently the most substantial.
 
Punitive damages - The amounts for punitive damages are what catch headlines because they can represent a tremendous amount of money when it's awarded. However, punitive damages are given in the rarest of cases because it's a method for the court to punish the defendant for outrageous or particularly malevolent negligence. It's not meant to be a common way to gain compensation for injuries.

What Kinds of Property Owners Can Be Pursued for Injuries Based on Premises Liability?

You can suffer a slip and fall injury on just about any property, and the owners might be liable if all the elements of a premises liability claim mentioned previously are met. Here are some common property types where slip and fall accidents can occur:

Private homes
Apartment buildings
Restaurants
Schools
Public parks
Public sidewalks and paths
Condominium buildings
Parking lots and garages
Hotels and motels
Public buildings
Businesses
Shopping malls

Any public or private space where another entity is responsible for the safety and integrity of the property
 
There are a few exceptions. For example, if you slipped and fell while at work, you would be prohibited from suing your employer for any injury. Instead, you would seek compensation for medical expenses and lost wages through your employer's workers' compensation insurance. If this scenario sounds like yours, we also offer workers' compensation claims assistance.
 
This is the only legal remedy workers have when injured on the job unless the accident resulted from a third party's negligence. For example, suppose you slipped and fell at work because a contracted commercial painter spilled paint in the hallway but neglected to clean it up. In that case, you may be able to pursue a personal injury claim against the painting company.
 
Another exception is a government-owned or operated property. When pursuing any claim against a government entity, like a public school, the post office, or even the courthouse, you must follow specific procedures to do so. You must give the relevant government agency appropriate notice of your claim and will be subject to a $200,000 cap on damages.
 
Claims against the government can be exceptionally tricky, so the guidance of an expert slip and fall lawyer is highly recommended. We can help.

How Much Time Do I Have to File a Slip and Fall Lawsuit in Pensacola, Florida?

There are time limits to file a slip and fall lawsuit against a property owner for injury, which is four years from the date of the incident. However, it makes the most sense to get started now rather than later for a variety of reasons. One of which includes preserving evidence. It would be challenging to prove a dangerous condition existed for days, weeks, or months afterward because the property owner would likely be aware of their liability and attempt to cover it up.
 
Another reason is that insurance companies view delayed claims with skepticism. Rightly so. They don't know if your injury occurred on their policyholder's property or elsewhere. The longer you wait, the easier it will be for them to claim your injuries were the result of something else unless you have solid proof.
 
Likewise, suppose you delay, and the statute of limitations has passed. In that case, you lose your right to be heard in Florida's civil court system. Once the deadline is passed, your lawsuit will be dismissed regardless of how convincing your evidence is, except under exceedingly rare circumstances.
 
When you sustain an injury on someone else's property because of negligence, it's essential to notify them of the accident, preserve evidence, and contact our Pensacola slip and fall lawyers.

What Are Common Dangerous Conditions That Lead to Slip and Fall Injuries?

Slip and fall incidents are far more common than you might think. In fact, slip and fall accidents are a leading factor in fatalities for persons over the age of 65. Some people might get away with scrapes and bruises. Still, others suffer irreparable life-altering harm, such as head trauma or an injury that causes paralysis. Here are some common dangerous conditions that cause slip and fall accidents and injuries:

Slippery surfaces
Uneven floors
Loose floorboards, broken steps, and tiles
Cluttered pathways
Broken and uneven sidewalks
Water accumulation
Icy surfaces
Staircases with missing or broken handrails
Insufficient lighting
Ragged or bunched-up carpeting
Loose cables and cords

Contact Morgan and Morgan's Pensacola Slip and Fall Lawyers

As we've outlined, slip and fall claims require a great deal of investigation, strategy, and evidence to be successful. However, suppose you've suffered an injury because of someone else's disregard and recklessness. In that case, we may be able to hold them to account. We'll work to identify the liable parties and prove fault on your behalf. You deserve to be compensated and have rights that need to be protected. That's what we aim to achieve for our clients.
 
When we take on a case, it's because we believe strongly in our ability to win. Still, we only take payment from you if we recover compensation. While it's great to be able to learn information online, the only way to truly know if you have a good case is to contact us for a free case evaluation. Our Pensacola slip and fall lawyers will conduct an interview and review the facts of your case to determine if you might be eligible for compensation.
 
While we know you have plenty of choices for legal representation, it doesn't cost any more to be represented by the best and one of the biggest law firms in the nation. Even though we've grown considerably over the past 35 years, we still cater to every client individually. Feel free to get in touch today.
Scroll down for more
Load More