The Fee Is Free™. Only pay if we win.
America's Largest Injury Law Firm
Protecting Families Since 1988
$15 Billion+ Won
800+ Lawyers Nationwide
Free Case Evaluation
Tell us about your situation so we can get started fighting for you. We tailor each case to meet our clients' needs.
Results may vary depending on your particular facts and legal circumstances.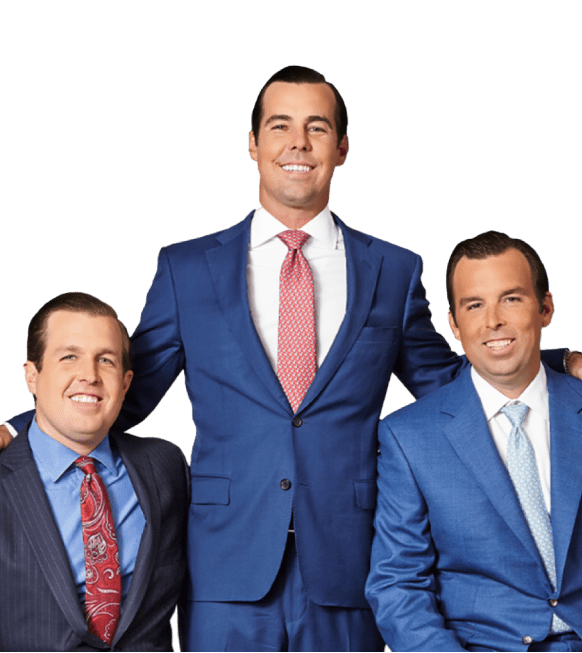 Pensacola Car Accidents
All car accidents are traumatic experiences for everyone involved, and even if you walked away from the crash under your own power and with minor physical harm, you'll likely remember the events of the situation for the rest of your life. Regardless of how you feel following your wreck, you should make sure to seek comprehensive medical treatment after you've removed yourself from the scene. 
Unfortunately, despite the importance of medical care, treatment is often expensive, and many car accident victims sustain significant financial damage while trying to pay off the expenses of their accident. Not to mention the cost to repair your vehicle, which has become exceptionally more expensive as the price of car parts rises globally. You'll likely file a claim with your insurance provider to mitigate some of the harm, but what should you do if your accident surpasses the limit of your PIP coverage or you're left with a serious injury?
A $10,000 minimum of PIP insurance is required for all motorists in Florida, but as prices rise across many industries, many people are finding that their policy doesn't protect them as much as they thought. You can sue for a car accident if you've exceeded your personal injury protection (PIP) coverage and if you weren't responsible for the crash. This can help you recover the additional compensation you need to get back on your feet if your case is successful.
However, between the mountains of paperwork and the need to prove liability, it's difficult for those without legal knowledge to find success in car accident lawsuits, especially if the opposing party uses your decision to proceed without an attorney as a vulnerability. Even if your accident was minor, it's recommended for all car accident victims to retain an attorney if they plan on filing a lawsuit, and fortunately for you, Morgan & Morgan has some of the best in the business.
In some cases, insurance companies have intentionally diminished or denied their client's rightful benefits in an attempt to capitalize on their vulnerability and profit from the relationship. While they might believe that they're only moving numbers around in a spreadsheet, their actions have real-world consequences, with some involving families who are on the verge of losing their homes. You paid into your policy every time you received a bill, so their decision to disrespect both you and the agreement is nothing short of an intolerable offense. Our Pensacola office is staffed with attorneys and team members who are knowledgeable about all aspects of car accident law, and we're prepared to advocate for the compensation you deserve in the face of any bully organization, regardless of their size or the complexity of your contract. 
If you or someone close to you was involved in a car accident, our attorneys can help you navigate through the process from beginning to end. We have what it takes to handle any car accident case, making us an undeniable asset in your pursuit of compensation. Contact us today for more information on how to get started.
Scroll down for more
Recent verdicts & settlements
Results may vary depending on your particular facts and legal circumstances.
Scroll down for more
Results may vary depending on your particular facts and legal circumstances.
How it works
It's easy to get started.
The Fee Is Free™. Only pay if we win.
Results may vary depending on your particular facts and legal circumstances.
Step 1

Submit
your claim

With a free case evaluation, submitting your case is easy with Morgan & Morgan.

Step 2

We take
action

Our dedicated team gets to work investigating your claim.

Step 3

We fight
for you

If we take on the case, our team fights to get you the results you deserve.
---
Client success
stories that inspire and drive change
Explore over 122,576 5-star reviews and 800 client testimonials to discover why people trust Morgan & Morgan.
Results may vary depending on your particular facts and legal circumstances. Based on Select nationwide reviews
FAQ
Get answers to commonly asked questions about our legal services and learn how we may assist you with your case.
Morgan & Morgan
How Does Car Insurance Work in Florida?

Florida is one of the twelve "no-fault" insurance states, meaning that all motorists are required to hold at least $10,000 worth of PIP coverage and $10,000 worth of personal injury protection insurance to operate a vehicle legally. This requirement was enacted to provide blanket coverage for all motorists on the road and eliminate the difficulty of pursuing legal action for minor car accidents. Before PIP insurance, you had to endure a lengthy process in order to receive the payout from your contract, but now you can file a claim with ease if the total amount of damage from your accident is under $10,000. However, if your accident results in more than $10,000, and you haven't elected another healthcare policy, it can force you to pay for the damage from your own pocket. 

Chances are, your medical treatment resulted in a sizeable expense, but PIP insurance will only cover $2,500 in benefits if your injuries aren't considered an "emergency medical condition," which is a designation given to those whose injuries can be "reasonably expected to long-term harm or a fatality without treatment." Unfortunately, minor car accident cases rarely result in this designation, and these individuals will have to cover their medical costs through other means, such as an additional healthcare coverage plan.

Rising auto part costs have also lessened the impact of PIP insurance for all Florida motorists. A part that previously cost $300 now costs $700, and in car accidents where your vehicle sustains significant damage, it can add up to a considerable expense. Unless you're independently wealthy or hold an additional coverage plan, you'll be forced to pay for the accident from your own pocket, which is why it's recommended for anyone who discovers they've exceeded their PIP coverage to contact a trusted attorney to discuss their options moving forward. 

Your PIP coverage will protect you against the financial consequences of an unforeseen car accident, but only up to $10,000 if you've chosen the minimum policy. If you're a passenger in another driver's car at the time of an accident and you have your own PIP coverage, Florida law states that you're covered by your policy rather than the driver's. However, this rule doesn't apply if the passenger doesn't have their own PIP coverage, and the driver's policy will extend to the uninsured person in these types of situations. If you're filing a PIP claim with your provider, you can expect to recover:

Medical Expenses: Most medical expenses stemming from an accident are covered by your PIP insurance, such as treatments, therapies, medications, and hospital stays, but only up to 80% of the total damage. If your injuries total $6,000, you'd only receive compensation for $4,800 of that damage, and you'll have to cover the remainder of the expense through an additional healthcare coverage plan or out of pocket. Additionally, you'll only receive $2,500 in benefits if your injuries aren't considered an "emergency medical condition," which is only given to more serious accidents.

Lost Wages: Your policy will pay 60% of your lost wages, up to $10,000. You should make sure to maintain accurate and detailed records of your income to prepare for a situation like this, as having more information will ensure that you receive the rightful recovery for your lost wages.
Funeral Benefits: Losing someone close to you is never easy, especially if their life was taken in an accident that could have been prevented. Florida's PIP insurance will cover all funeral expenses, including the burial and service, and compensate the next of kin with $5,000 for the relevant costs.

Florida does allow you to extend your PIP coverage to people living within your household, which is a good option for families with children who are new drivers. In fact, there are many ways that you can tailor your coverage to best fit you and your situation, so it's recommended to speak with your provider routinely to discuss any new programs or benefits you might qualify for. However, if your insurance provider chooses to act unethically during any stage of the process, you might need a lawyer to help advocate for the rights that protect you.

What Should I Do After an Accident?

The most important thing after any car accident is your health and wellbeing, so you should make sure to remove yourself from the scene and assess yourself for damage. Even if you don't notice any pain or lingering injuries at first, it's recommended for everyone to seek medical attention after a crash to determine if there are any underlying injuries that can cause problems later down the line. Also, you should remember to never admit fault at the scene of the accident, as even saying, "My bad," can potentially prevent you from recovering compensation in the future.

Once the authorities arrive and take over the scene, it's time for you to visit an experienced medical professional for a comprehensive evaluation. The doctor in charge of your care should take detailed and accurate notes about all of your injuries, making sure to perform tests to discover any evidence of internal damage. In some cases, car accidents have walked away from their wreck with injuries that they won't notice, such as internal bleeding, which can cause serious health concerns if left unchecked. By seeking medical care, not only are you ensuring that you have the necessary information for the legal process of your accident, but you're also taking a proactive step regarding your health and wellbeing. 

At this point, you'll have a solid understanding of the total damage you accrued over the course of your accident and will know whether or not you'll exceed your PIP coverage. If you haven't, you can file a claim with your insurance provider and collect your benefits, but if not, you'll have to assess your options on how to move forward. Just remember: any car accident lawsuit in Florida will require you to prove the other driver was at fault, and this is often a difficult task for someone without an attorney by their side.

Can I Sue for a Car Accident in Pensacola?

Florida law does allow you to sue for a car accident if the damage of your accident exceeds your PIP coverage, your injuries are considered severe, or if the other driver was acting negligently at the time of the crash. Negligence, by definition, is when someone acts without care or regard for the consequences of their actions, so a negligent driver could be anyone who maneuvers their vehicle on the road without thinking of how their actions affect other drivers. If their negligence resulted in your car accident, you could be eligible to recover the damage you sustained.

However, you can sue for damages not covered by your PIP insurance. If you have a basic PIP policy, your injuries required you to stay in a hospital, and your bill was $60,000, you can only seek $50,000 for recovery because your PIP coverage is $10,000. The many restrictions and rules make it difficult for anyone without legal experience to succeed in their car accident lawsuit, with the mountains of paperwork and need to prove liability furthering the problem. That's why it's so important to have an experienced attorney by your side if you want to go down this route, as they can use their knowledge and experience to help you navigate through the process with ease. Fortunately, our Pensacola office is staffed with these very attorneys, and we're prepared to fight tirelessly to ensure that your case results in the best possible outcome.

Do I Need a Car Accident Lawyer?

Although it isn't required to retain an attorney for your car accident, their involvement offers some key benefits that can prevent you from paying for the crash out of your own pocket. Regardless of how severe your injuries are, it's likely that you'll need some time to recover from the experience, whether physically or emotionally. However, with the stress of your expenses looming overhead, it can be difficult to focus on your recovery, and many car accident victims who proceed without an attorney have to handle both their physical and financial recovery all at once. Stressful is an understatement, but by teaming up with an experienced attorney, you can protect your compensation and take some much-needed time to recover. 

Proving liability and ensuring the correctness of all your legal paperwork is a car accident lawyer's specialty. They can use their legal background to establish a solid foundation for your case starting at day one, which can help protect you from unforeseen circumstances, such as your lawsuit going to trial, and give you the best possible chance of recovering what you deserve. Your attorney should also have experience at the negotiation table, as this is where the majority of car accident disputes are solved. They'll advocate for the severity of your harm in the face of the at-fault party, formally request your rightful compensation, and protect you against any unethical meddling, allowing you to take a back seat to the litigation and watch as they work their magic.

In some cases, insurance companies have attempted to capitalize off the vulnerability of someone's decision to proceed without an attorney. They'll see your individuality as a weakness, even if it's not, and try to use unethical business tactics to bully you into accepting a lower settlement. If they're successful, you can walk away from the situation feeling defeated and with compensation that doesn't fully cover the damage you've sustained, causing you to shoulder the financial burden of your accident on your own. Having an attorney by your side prevents this situation from occurring, as they can use their legal knowledge to identify the unethical organization's tactics and navigate around them.

What Can a Car Accident Lawyer Do for Me?

A car accident lawyer can help you with all the legal aspects of your car accident from the very beginning of your case until the end, always ensuring that you're on the path towards success. Our attorneys have a proven track record of recovering the full extent of damages across all of our car accident cases, and we're prepared to offer you the same results in your time of need. When you contact us for your first consultation, our attorneys will:

Investigate your case and determine fault: The first thing our team will do is assess the situation surrounding your case and determine if you meet the criteria for a formal case. If it's determined that you qualify for compensation, our attorneys will begin to establish a foundation for your case moving forward.
Gather all pertinent information and evidence: Next, our attorneys will begin to collect evidence on your behalf. Your medical records, police reports, and any photo/video from the accident itself can all help prove the severity of your injuries and clarify fault to a third party, so we'll make sure to leave no stone unturned. Also, our team works closely with subject-matter experts, and we can enlist their involvement to prove our points at the negotiation table further.
Negotiate with the at-fault party: Once we've gathered all the relevant evidence from your accident and established a foundation, we're ready to start negotiating a settlement with the at-fault party. We'll display your damages, advocate for how they affected you, and set a dollar figure for each. The at-fault party can accept our terms and agree to a settlement, or they'll disagree with certain aspects and attempt to change our minds. However, our team has already determined the rightful compensation you should receive based on your damages and your policy, so any change the at-fault party suggests could be an attempt to lower your payout. 
Bring your case to the courtroom: Although most car accident disputes are resolved through negotiations, there is a chance that no agreement can be reached. If we find ourselves in this situation, don't worry, as all of our attorneys are prepared to advocate for the compensation you deserve in the courtroom. Other law firms fear when a case goes to trial, but not us. Our attorneys relish the opportunity to litigate in a courtroom setting, making us an undeniable asset in your pursuit of compensation.

What Can I Expect to Recover in a Lawsuit?

While your specific recovery will depend on the circumstances surrounding your case, the average car accident victim can expect to recover damages for:

Medical expenses
Lost wages
Total/partial loss of earning capacity
Emotional/mental anguish
Pain and suffering
Punitive damages
Funeral expenses (in the case of wrongful death)

Some of these damages, such as emotional and mental anguish, are difficult to advocate for the severity of because most of the damage is internal. A third party won't be able to look across the table and fully understand how truly the damage is affecting you, which can cause them to offer you lower compensation amounts as a result. However, our attorneys are uniquely capable of advocating for the severity of all damages in car accident lawsuits, and we've helped our clients recover thousands of dollars for the mental pain they've endured after their accident. 

What Pensacola Neighborhoods Does Morgan & Morgan Serve?

Our firm has offices from coast to coast, but we serve the people of Pensacola in the following neighborhoods:

Bellview (32526)
Brent (32503)
East Pensacola Heights (32503)
Ensley (32534)
Ferry Pass (32514)
Gonzalez (32533)
Goulding (32503)
Gulf Breeze (32561)
Myrtle Grove (32506)
Oriole Beach (32563)
Pensacola (32501)
Tiger Point (32563)
Warrington (32507)
West Pensacola (32506)

We stand as an ally For the People of Pensacola against the powerful. If you or someone close to you was injured in a car accident, we're only a phone call away.

Why Choose Morgan & Morgan?

There are hundreds of law firms that handle car accident cases, but how do you know that the one you choose will keep your best interests in mind and give you the best chance of finding success? You don't want to make the wrong decision, as hiring the wrong law firm can result in you paying for the accident from your own pocket. In fact, Morgan & Morgan was founded after John Morgan hired the wrong lawyer for his brother, Tim, and embarked on a frustrating legal journey where they were rarely treated with dignity. Since then, we've made it our mission to ensure that no other family has to go through the same situation because, to us, you are Tim, and you are family for life.

Over the last three decades, we've helped thousands of clients escape from the consequences of accidents they didn't cause and recovered over $15 billion on their behalf, earning us the title of America's largest personal injury firm. However, despite our size, we continue to be a family firm, and we've never let our success take away from the aspects of our firm that made us who we are today. We provide a best-of-both-worlds service for all of our clients by combining the relationships of a small firm with the resources of a corporate giant, whereas other firms make you choose one or the other, allowing our clients to feel fully protected during their legal challenges.

In the most difficult moments of your life, Morgan & Morgan has your back. Our success has also earned us a reputation of never settling for less than our clients deserve, and insurance companies have come to notice. They don't want to see you've teamed up with our firm because they know that they can't offer low-ball settlement offers. Other firms might have to accept the diminished settlement because they don't have the resources to fight for the case in a courtroom setting, but not us. If they offer you anything less than you're entitled to, we'll see them in court, and we're always prepared to go the extra mile for someone's rightful compensation.

Contact Morgan & Morgan's Pensacola Car Accident Attorneys Today

The chance of walking away from a car accident without sustaining any type of damage is very low, as even minor sideswipes can result in thousands of dollars in damages under the right circumstances. Although PIP insurance does help mitigate some of these consequences, it can only do so much, and it's becoming increasingly less effective as medical costs and repair expenses rise globally. Many car accident victims exceed their coverage before they've even received medical treatment, which is why it's so important to speak with an attorney immediately after your accident to understand your options.

Our Pensacola office is staffed with attorneys and team members who make a difference in the lives of their clients. They're committed to finding the best possible resolution for any car accident victim, and if your accident calls for a lawsuit, they're all trained and ready for that scenario. We understand that your life will change dramatically without your rightful compensation, so we're prepared to do anything within our power to help you recover the compensation you deserve, regardless of the severity or complexity of your case.

If you or a loved one were injured in a car accident that wasn't your fault, our attorneys are here to stand by your side as you seek to recover damages. With over 900+ trial-ready attorneys, three decades of experience, and the resources that other firms can only dream of, Morgan & Morgan's car accident lawyers are uniquely capable of helping you find success in your legal challenge. 

Contact us today to get started.
Scroll down for more
Load More