The Fee Is Free™. Only pay if we win.
America's Largest Injury Law Firm
Protecting Families Since 1988
$15 Billion+ Won
800+ Lawyers Nationwide
Free Case Evaluation
Tell us about your situation so we can get started fighting for you. We tailor each case to meet our clients' needs.
Results may vary depending on your particular facts and legal circumstances.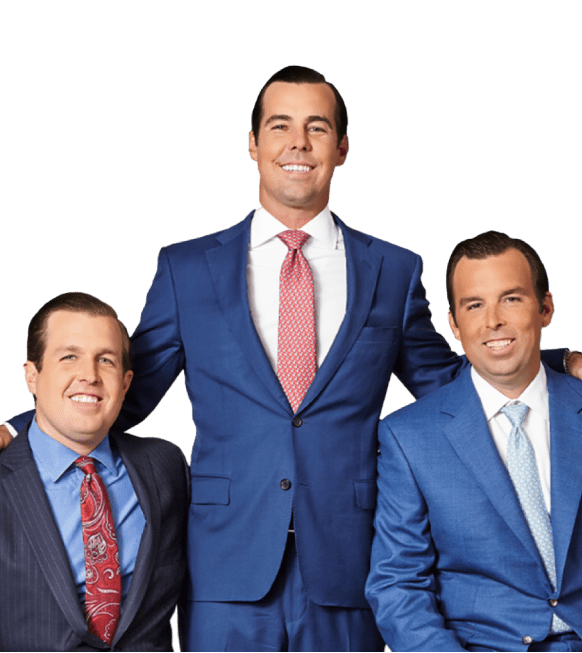 Tavares Car Accidents
On any given day, when you get into a car, you are potentially putting yourself at risk. No matter how safe a driver you are, there is always a chance that you will end up getting injured in an accident. Typically, the risk is low, and the benefits of driving are high, but it isn't something you can ever completely ignore.
Hopefully, you will be one of the lucky few who never gets injured in a car accident. But if you aren't that lucky, you need to understand how to handle the accident and your legal options. The more prepared you are for this type of situation, the better it will likely turn out.
At Morgan & Morgan, we help people like you understand their legal options every day of the year. And even more importantly, we help them get compensation for their injuries so that they recover quickly with the best medical treatment available.
If you have been involved in a car accident in central Florida, consulting with one of our Tavares car accident attorneys could be the difference between an easy recovery and years of pain and debt. There is no cost to get an initial consultation. So you have no reason to delay.
Contact us immediately to schedule your free case evaluation with one of our experienced Tavares car accident attorneys.
Tavares and Nearby Locations
Tavares is not one of the better-known cities in the state of Florida. It is a relatively small city primarily known for its beautiful lakes. Due to its proximity to Orlando, it is a popular location for tourists to get an inexpensive hotel away from the crowds if they are willing to endure long drives to see nearby attractions.
The main activities in Tavares involve the many lakes. There are plenty of places to fish, boat, or just relax in a park overlooking the water. If you are looking for additional activities, Tavares also has multiple country clubs nearby.
Tavares is home to Leesburg International Airport. While this isn't as large an airport as Orlando International or Ocala International, it is a good alternative to avoid airport crowds. However, this also means that there is a lot of extra car traffic from Tavares to nearby locations.
Orlando
The nearest major city is filled with tourist attractions. Known for being the home of Disney World, Orlando gets millions of visitors every year. And due to how the city is designed, the majority of transportation involves cars. Traveling to and from Orlando is one of the most common reasons that people need Tavares car accident attorneys.
Tampa
A trip from Tavares to Tampa takes many hours. Typically, travelers will make a weekend of it so that they don't have to spend six hours or more on the road.
Because the trip is so long, drivers are likely to zone out during parts of the trip. This increases the chance of accidents, especially on crowded I-75. If you are traveling to Tampa, take extra care and many driving breaks to stay awake. And if you get into an accident, contact the Tavares car accident attorneys at Morgan and Morgan promptly.
Wilderness Preserves
There are several wilderness preserves within a two-hour drive of Tavares. While these places are beautiful to visit, they usually have tight roads with poor visibility. Speed limits are strictly enforced, but not all visitors respect them.
Many of the accidents we see in these preserves are due to visitors who choose to ignore the speed limits. If you were in an accident because of the recklessness of another, contact Tavares car accident attorneys immediately to ensure that you get the compensation you deserve for your injuries.
Fault Usually Doesn't Matter in Florida
Fault rules are complicated legal matters that change when you travel from one state to another. In Florida, typically, your insurance policy will cover compensation for your car accident injuries, regardless of who was at fault in the accident. Though, depending on specific circumstances, you might also be eligible to sue a reckless driver for additional compensation.
Your Tavares car accident attorneys can explain more about that in the rare cases where those laws apply. Typically, though, you will get all of your compensation from your insurance company. This means that it is important to have a robust car insurance policy if you are driving in Florida.
If you are a Tavares resident, you have probably already had at least some of this explained to you by your insurance agent. And hopefully, you already have a good policy with a high limit. This will make you eligible for the maximum possible compensation after getting injured in a car accident.
However, if you are visiting Florida, your personal insurance may not be as robust since every state has different requirements for minimum insurance. There are several ways you can protect yourself, even if your car insurance doesn't have as high a limit as you'd want in Florida.
Our Tavares car accident attorneys recommend that you purchase a temporary increase in limit before visiting Florida. Almost all car insurance companies offer vacation insurance, or something similar, that lets you increase your limits for a short time. This is best because your insurance is still going through an insurer you are familiar with.
Alternatively, if you are renting a vehicle, you may be able to get additional insurance through the rental agency. It usually isn't as convenient, but you should at least look into this option, in case it is less expensive.
Insurance Companies Are Never on Your Side
Ask any Tavares car accident attorneys you can find, and they will all tell you the same thing: insurance companies are only interested in their profits. They will do anything they can to avoid paying money, and they have an army of lawyers on their side working to maximize their profits.
This is why you need an equally devoted army of Tavares car accident attorneys working to maximize your compensation. Otherwise, you will be overwhelmed by the red tape and end up receiving less money than you deserve.
The main difficulty when dealing with car insurance companies is that they have control of almost all the mechanisms during the claims process. And the business-friendly laws in Florida make it difficult to fight their decisions, even if they violate the few laws designed to protect policyholders.
If you want to receive the compensation you deserve, you need lawyers, like those at Morgan & Morgan, that understand the ways insurance companies work against you.
Red Tape
Unfortunately, the claims process is rarely simple. Typically, most insurers design their process to be as complex as possible. This offers them multiple benefits. First, it makes you likely to make mistakes during your claim, and it increases the amount of time your claim takes to complete.
If you make a mistake, that mistake will need to be fixed, but correcting an error often means starting that stage of the claim process over. Sometimes it will require you to restart the entire process from the beginning. And in other situations, the insurance company might use that mistake as an excuse to deny your claim.
And if you are looking for help navigating the red tape, you should never trust anyone associated with the insurance company. Often, you will receive incomplete or conflicting instructions. Yet, even if that happens, your insurer will usually blame you for any errors in the process.
Even when this red tape doesn't result in your claim getting denied, it delays the completion of the process. This is intentional. Insurance companies know from experience that claimants will often drop their claims if the process takes too long. And even if they don't, a long claim makes them more likely to accept a low settlement.
Investigation
The investigation is another step of the process where insurance companies have almost all the power. Typically, your insurer will send an investigator to determine what happened during the accident and where responsibility lies.
While this matters less in a no-fault state like Florida, there are still situations where it can affect your compensation or the future cost of your premiums. And unless you have an experienced car accident lawyer, like those at Morgan and Morgan, representing you, typically, this is the only investigation of the accident that happens.
Approval or Denial
Your insurance company also has complete control over the decision to approve or deny your claim. That determination is usually made by examining the evidence uncovered during the investigation. If the investigator finds evidence that you violated your policy in some way, your claim will likely be denied.
That is why it is so problematic that the investigation is performed by someone who works directly for the insurance company. Instead of looking for evidence that supports your claim, they are looking for anything that can be used to deny it. They might even ignore supporting evidence that they find.
Your insurer can also deny your claim if the circumstances of your accident aren't covered by your policy. This is tricky to contest because you likely don't understand your policy as well as the insurance company does.
That gives your insurer a lot of leeways to deny you, even when a strict reading of your policy means you should be approved. Your insurance company has experience finding loopholes that look legitimate, even when they aren't.
And even if your insurer approves your claim, it also determines how much to pay you for your injuries. This is where some of the biggest discrepancies can arise. A conservative estimate of your expenses can differ from your actual costs by tens or even hundreds of thousands of dollars.
Furthermore, the insurance company may decide that it will only pay for certain types of treatment, even if your doctor recommends something else. You could easily find yourself having to choose between treatment that doesn't help you fully recover or paying thousands of dollars out of pocket.
Also, your insurance company might put limits on how much it will pay for specific treatments, even if those values don't reflect their true cost. It usually won't explain how it comes up with these numbers, which makes it even more difficult to dispute them when they are lower than what you need.
Finally, the insurance company also has complete control of the appeals process. Supposedly, the new decision is made by unbiased individuals. But since it isn't a transparent process, there is no way to be certain. And most appeals get denied unless you are represented by Tavares car accident attorneys.
How Tavares Car Accident Attorneys at Morgan & Morgan Can Help You Get Compensation
The best way to counteract the control that the insurance company has over the claims process is to be represented by an experienced Morgan and Morgan lawyer that understands how it works. Our Tavares car accident attorneys can strip away the mystery of the process and guide you through it so that you avoid costly mistakes.
During every step of your claim, we will communicate with the insurance company on your behalf. This lets us cut through the red tape and prevent delays in the process. Just by retaining us, you can expect your claim to be completed in weeks or months less than it would have taken without legal counsel.
One of the first things we will do after taking your case is to investigate the accident and research the details of your insurance policy. The investigators at Morgan & Morgan are tasked with finding evidence that supports your case and will prevent your insurer from denying your claim.
When you are represented by Tavares car accident attorneys, it is pretty rare for an insurance company to deny your claim. It understands that your lawyer knows the law, the claims process, and the insurance company and that you are implicitly ready to go to trial if necessary.
Ensuring your claim is approved is only the beginning. Next, we need to ensure you get the maximum possible compensation for your injuries. This requires experience, research, and lots of documentation.
It is essential that you properly document every cost you incur after your injury. If you are like most clients, you won't know all of the expenses that you can legally be compensated for. We help by explaining what you can claim and how to document those expenses in the most effective way.
While you probably are aware that you can claim medical expenses, you can also get compensation for:
Lost wages due to missed work time
Lost opportunities, like a promotion
Pain and suffering
Assistance services, like a live-in nurse or transportation
Medical accommodations and devices
If you have already incurred one of these expenses, you can typically document the expense by providing your insurer with a copy of the receipt. You may also need documentation from your doctor or employer proving that the expense or cost is valid for the injury you suffered.
However, documenting future expenses is trickier. This is where the experience of your Tavares car accident attorneys from Morgan and Morgan will benefit you greatly.
Our lawyers have handled hundreds of similar cases. We can use facts from past cases to accurately determine what costs you will incur before you have fully recovered. These numbers are usually higher than the calculations of the insurer because we use real figures rather than conservative estimates.
This is the start of the negotiation process. We counter the low offer of your insurer with as much evidence as necessary to force them to make a fair settlement offer. The more documentation we provide, the more likely they will up the offer because they know we have enough evidence to win a large award if we take the case to trial.
Typically, this will be the end of the claims process. It may take a lot of work, but usually, the insurance company will eventually agree to a fair settlement rather than incur attorney's fees and risk a higher award from a trial. If you agree that the offer is fair, you will shortly get paid after the negotiations are over.
Finally, if any part of the process goes poorly, you will be better off if you are represented by an attorney during the appeals process. As with the rest of the claim process, our knowledge of procedures will serve you well and increase the odds that the insurance company reverses a decision you disagree with.
In the worst-case scenario, we will represent you at trial. Typically, we prefer to avoid trials because there is no way to be certain how a jury will rule on your case. But if we do end up in court, you can feel comfortable knowing that Morgan & Morgan has an excellent record of success at trial.
What to Do After Getting Seriously Injured in a Car Accident in Tavares, FL
It almost goes without saying, but if you have been seriously injured in a car accident, the first thing you need to do is call 911. Unless it is dangerous to stay where you are, you should avoid moving until medical personnel arrive to evaluate your condition and begin treatment.
Thankfully, this usually won't prevent you from doing many of the other activities that you should do after a major accident because you can use your phone even while remaining still. Some other activities may require assistance, but sometimes people show up to help after an accident.
After calling 911, your next phone call should be to the Tavares car accident attorneys at Morgan and Morgan. Even if you aren't certain whether you will need a lawyer, it is better to be safe than sorry. Our initial evaluation and consultation are free. So there is no cost to you for calling us. But it could cost you dearly if you don't call us immediately.
The next thing you should do is share contact information with the other drivers in the accident. This is complicated by the fact that you shouldn't be moving until cleared by medical personnel. However, if anyone else is present, they will probably be more than willing to help you in your time of need.
Whether another party helps you or you wait until you can safely move, the most important part of this step is photographing every piece of contact information that is available. You should take photos of the other driver's:
License plate
License
Insurance card
Rental vehicle contract, if applicable
Once you have this information, send it to your Tavares car accident attorneys as quickly as possible. That way, your lawyers have a digital copy of that information. Since personal items like phones often get lost at a hospital, this protects the data that you received.
At some point, police will likely arrive at the scene of the accident. Police are supposed to take a police report in any accident where someone is seriously injured. When this happens, you should also take a picture of the officer's credentials and request information about how to get a copy of the report they are writing.
The officer may also request that you provide a statement for their report. You have the right to have your lawyer present before speaking with the police. Politely provide your contact information and let them know that you will make a statement when your attorney is available.
The reason you should wait before telling your side of the story is that your statement will become a matter of public record. That information will be available to all interested parties, including the insurance company. Anything you say can potentially be used as an excuse to deny your claim or provide less compensation.
For similar reasons, you also shouldn't discuss the accident with other drivers or with witnesses. While they aren't likely to be recording what you say, their recollection of your words could come back to haunt you.
Finally, if possible, you want to begin your claim before you leave the scene of the accident. Most insurance companies these days have apps that allow you to file a claim online and attach documentation and photos of the scene using a smartphone. 
Similar to how you shouldn't give a statement to the police until your lawyer is present, you shouldn't provide the insurance company with anything other than basic information at this point. You can update your claim once your Tavares car accident attorneys have had a chance to review your case and advise you.
If, for any reason, you can't begin your claim while at the scene of the accident, file it as soon as possible afterward. The claims process can take weeks, or even months, depending on the circumstances. And you don't want to delay that by waiting to start the process.
Scroll down for more
Recent verdicts & settlements
Results may vary depending on your particular facts and legal circumstances.
Scroll down for more
Results may vary depending on your particular facts and legal circumstances.
How it works
It's easy to get started.
The Fee Is Free™. Only pay if we win.
Results may vary depending on your particular facts and legal circumstances.
Step 1

Submit
your claim

With a free case evaluation, submitting your case is easy with Morgan & Morgan.

Step 2

We take
action

Our dedicated team gets to work investigating your claim.

Step 3

We fight
for you

If we take on the case, our team fights to get you the results you deserve.
---
Client success
stories that inspire and drive change
Explore over 122,576 5-star reviews and 800 client testimonials to discover why people trust Morgan & Morgan.
Results may vary depending on your particular facts and legal circumstances. Based on Select nationwide reviews
FAQ
Get answers to commonly asked questions about our legal services and learn how we may assist you with your case.
Morgan & Morgan
How Much Will Tavares Car Accident Attorneys From Morgan & Morgan Cost Me?

At Morgan and Morgan, we take every car accident case on contingency. This means that we only get paid if we win you money. If we fail to get you compensation for your injuries, you will never receive a bill from us.

However, assuming we win money for you, you still effectively pay us nothing. We take our fee as a percentage of the compensation that we get for you. And since we get paid more if we get you more money, we have every reason to want to maximize your compensation.

When Will I Get Paid After a Car Accident?

The vast majority of our car accident cases end in a negotiated settlement. Typically, when we negotiate a settlement, the entire claims process takes a few weeks, and you will shortly get paid after an amount of money is agreed upon. Extremely complicated cases may take a few months.

However, if your case goes to trial, you will have to wait much longer before you receive compensation. The shortest trials usually take at least a year to complete. And when you include appeals, you might have to wait multiple years before you are paid.

When Can I Share Information About the Accident on Social Media?

If you want to give yourself the best chance to maximize your compensation, you should avoid sharing any information about the accident on social media until you have been paid. Anything you say on social media could potentially harm your claim.

If you feel it is necessary to share information on social media, possibly to comfort people who are concerned about you, we recommend that you share as little information as possible. It is best to say that you were in an accident and that people can contact you directly if they want to know more.

Before you post anything, consult with your Tavares car accident attorneys. They will help you craft the language of the post to ensure that it is as safe as possible.

Should I Accept a Settlement Offer From the Insurance Company?

Before you accept any money from the insurance company, discuss the offer with your lawyer from Morgan & Morgan. Many insurance companies will approve a claim and then make a lowball offer just to clear the case. If you accept the offer, this will prevent you from getting additional money in the future.

Can I Insist on a Trial Even if My Tavares Car Accident Attorneys Recommend I Accept a Settlement?

Yes. You are always the final arbiter about whether your case goes to trial. Your lawyers are trying to look out for your best interests, and you should consider their advice carefully before making a decision. But if you disagree with their recommendation, you can overrule them.

Just because you ignore our recommendation, that doesn't mean we won't continue to fight for the best possible result for you. Our attorneys have plenty of courtroom experience and an excellent record of success at trial.

I Don't Live in Florida, but I Got Into an Accident in Tavares. Can Morgan and Morgan Help Me?

We are one of your best choices if you get into an accident in Florida but live in another state. Our law firm has offices in every state in the country. This means that our Florida attorneys can work on your case while lawyers local to where you live can provide in-person updates about the progress of your claim.

What Kinds of Injuries Are Common in Car Accidents?

If you are involved in a car accident, you will most likely receive injuries related to whiplash. Whiplash is what happens when your momentum suddenly changes without warning. This often results in:

Spinal injuries
Traumatic brain injuries, including concussions
Soft tissue damage
Bone fractures

You can also suffer more serious injuries if you are thrown from the car or portions of the car are forcibly slammed into your body.

How Long Will It Take for EMS to Arrive if I Get Into an Accident in Tavares?

EMS response times are extremely good in Tavares. Typically, medical personnel will show up on the scene in about five minutes. The response time in Tavares is faster than most of the state because it is a well-populated area with plenty of emergency services nearby.

What Should I Expect During My First Meeting With Tavares Car Accident Attorneys?

During your initial meeting, we will listen to your story and answer any questions you have. Our goal is to determine whether you have a viable case and help you understand your options. By the end of that first meeting, you should understand your options and have a good idea of how much money you can potentially get with our help.

Car Accident Lawyers That Will Fight the Insurance Companies to Get You Money

If you have been injured in a car accident in Tavares, you need help from experienced litigators to fight the army of lawyers working for your insurance company. 

Contact Morgan & Morgan today to learn about your options, receive a free case evaluation, and get connected with Tavares car accident attorneys who care.
Scroll down for more
Load More