The Fee Is Free™. Only pay if we win.
America's Largest Injury Law Firm
Protecting Families Since 1988
$15 Billion+ Won
800+ Lawyers Nationwide
Free Case Evaluation
Tell us about your situation so we can get started fighting for you. We tailor each case to meet our clients' needs.
Results may vary depending on your particular facts and legal circumstances.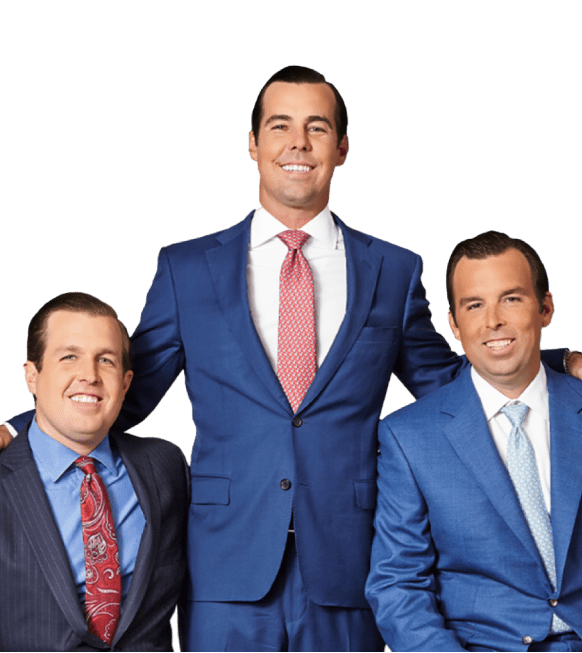 Tampa Injuries Lawyer
If you reside in Tampa, you may already know that Hillsborough County is one of the most dangerous counties in the entire country when it comes to personal injuries. For instance, there were 246 car crashes that involved a fatality in 2021, and they led to 263 fatalities in total. If you find yourself injured in Tampa due to someone else's negligence, don't end up just another statistic—work with a Tampa injuries lawyer and get the compensation you need and deserve to move forward with your life.
Personal injury cases can be long and emotionally exhausting, especially while you're dealing with the aftermath, injuries, and damages of an accident. To make matters worse, Florida state laws and regulations that govern personal injury cases can significantly impact your ability to recover compensation, which we'll go into further detail in a bit.
Whether you've been injured in a car accident, a slip-and-fall incident, or have been the victim of medical malpractice or any other personal injury caused by the negligence of another, arming yourself with a qualified Tampa injuries lawyer can help—dramatically—to achieve a successful outcome.
Contact Morgan and Morgan today for a free, no-obligation case evaluation to get started.
Scroll down for more
Recent verdicts & settlements
How it works
It's easy to get started.
The Fee Is Free™. Only pay if we win.
Results may vary depending on your particular facts and legal circumstances.
Step 1

Submit
your claim

With a free case evaluation, submitting your case is easy with Morgan & Morgan.

Step 2

We take
action

Our dedicated team gets to work investigating your claim.

Step 3

We fight
for you

If we take on the case, our team fights to get you the results you deserve.
---
Client success
stories that inspire and drive change
Explore over 55,000 5-star reviews and 800 client testimonials to discover why people trust Morgan & Morgan.
Results may vary depending on your particular facts and legal circumstances.
FAQ
Get answers to commonly asked questions about our legal services and learn how we may assist you with your case.
Morgan & Morgan
What Is the Role of Negligence in a Personal Injury Case?

Negligence plays a critical role in determining liability and establishing the responsibility of the at-fault party. Under personal injury law, negligence pertains to the failure to exercise reasonable care or the breach of a duty owed to another person that results in harm or injury.

For example, every time we get behind the wheel of a vehicle, we owe a duty to other motorists and pedestrians to use caution and reasonable judgment to prevent them from being harmed by our actions.  

Negligence is the legal structure that holds individuals and entities accountable for actions or omissions that harm another party. Here is a breakdown of key legal points related to negligence:

The Duty of Care - To establish negligence, you must first demonstrate that a duty of care existed. This is the legal obligation to act reasonably to avert harming others. Your Tampa injuries lawyer must show that the opposing party owed you a duty of care.

Breach of Duty - Once a duty of care has been demonstrated, the plaintiff in a personal injury case must show that the defendant failed to meet the standard of care they owed to the plaintiff by their actions or inaction.

Causation - Establishing negligence alone isn't enough to successfully recover compensation. The plaintiff has to show a causal link between the breach of duty and the injuries they sustained. For example, suppose you were struck by a car while walking through a designated crosswalk and suffered broken bones and internal damage. You would still need to present evidence that there is a clear link between the driver of the car and your injuries, which can be done in a variety of ways, such as through eyewitness testimony, surveillance footage, or medical records.

Foreseeability - This element is often crucial in premises liability cases. It involves demonstrating whether a reasonable person could have anticipated or expected their actions, or lack thereof, could result in someone coming to harm. For instance, during Florida's hurricane season, a store owner should expect that wet weather will lead to slippery conditions. A reasonable person would take actions to ensure the safety of customers, such as putting out caution cones and mats to absorb water that visitors undoubtedly will track into the store.

Reasonable Person Standard - In a trial case, the court applies the reasonable person standard, which is how a reasonable person would behave if they were in the same position as the defendant. It's a benchmark used to determine whether their conduct fell below the expected standard of care.

Comparative Fault Standard - Recent changes in Florida law make comparative fault less favorable to injured parties. Previously, Florida recognized the pure comparative negligence rule, which meant injured parties could recover damages from a negligent party, even if their own actions contributed to their injury.

For example, suppose you slipped and fell in a restaurant because of grease on the floor but were glued to your phone at the time of the accident. In that case, a jury might have reduced your award proportionate to your degree of fault. Now, Florida has adopted the modified comparative negligence standard, which means if you are found to be 50% or more at fault, regardless of the other party's negligence, you are barred from seeking compensation.

For a successful resolution to your legal issue, establishing negligence is an essential component for any Tampa injuries lawyer. Your Morgan and Morgan attorney is well-versed in the Florida court requirements to prevail in a personal injury lawsuit, including the most recent laws that have made it more difficult.

How Can a Tampa Injuries Lawyer Help Me?

Protecting your rights is a crucial obligation that your Tampa injuries lawyer assumes once they take you on as a client. Although the unique facts of your legal matter will dictate how your case is handled, here is an overview of what you can expect:

Initial Consultation- The first step is to take advantage of our free case evaluation, where we will learn the details of your case, including your injuries and the circumstances surrounding your personal injury situation.

Investigation - Once your Morgan and Morgan attorney has committed to your case, they will conduct a detailed inquiry to compile evidence, gather medical records, interview witnesses, and determine liable parties.

Legal Analysis - An analysis of the applicable laws and regulations will assist in determining your rights and the basis of any legal claims you may have.

Calculate Damages - An incredibly important task is to calculate your damages. Your Tampa injuries lawyer has knowledge and experience that will help them understand where to look to ensure you get the maximum payout for the entirety of your losses.

Insurance Claims - Your lawyer will also help file an insurance claim against the responsible parties and lead negotiations to ensure you're fairly compensated for medical expenses, lost wages, and any other damages.

Documentation - The coherent organization of your medical records, expenses, and other evidence is crucial to illustrate and support your case effectively. This is true when presenting to insurance adjusters and courts alike.

Expert Collaboration - In many instances, the input of specialists is required to drive the case home. This may include collaboration with accident reconstructionists, financial experts, and medical professionals to strengthen your case.

Litigation Preparation - Although the majority of legal disputes involving personal injury are resolved through negotiations, competent lawyers prepare their cases as if they will end up in court. This includes drafting legal documents, digging up additional evidence, and identifying potential witnesses.

Court Representation - Should negotiations fail, your Morgan and Morgan lawyer will be prepared to represent you at trial, including presenting a solid case, examining witnesses, and advocating for your right to collect compensation.

Post-Trial Matters - If needed, your lawyer will handle post-trial proceedings, such as appeals or enforcing the judgment.

What New Florida Laws Could Impact My Personal Injury Case?

It's unfortunate, but Gov. Ron DeSantis signed a handful of new pro-insurance company laws that significantly impede your options when someone has harmed you. Besides the change in Florida's comparative fault rule barring individuals from collecting compensation if they are 50% or more at fault for their injuries, here are the other laws that may impact your case:

Shortened Statute of Limitations - The statute of limitations for bringing personal injury lawsuits has been shortened from four to two years. Four years can seem like a very long time in which to get a case together. Still, it's a reasonable amount of time, considering the effort it takes to investigate complex cases thoroughly. Likewise, negotiations can take years in some instances. If the two-year deadline is looming, it puts undue pressure on an injured party to cease negotiation talks and pursue litigation. Instead of lightening the burden of the judicial system, the shortened statute of limitations will force the hands of many claimants to file a lawsuit in an effort to preserve their rights to win compensation.

Bad Faith Insurance Actions - When insurance companies refuse to pay on legitimate claims, make the claims process ridiculously complicated, or use stall tactics to make claimants "go away," injured parties can consider a bad faith insurance action. DeSantis laws now eliminate a plaintiff's lawyer's fees in successful actions against a bad-faith insurer, making these kinds of cases far less attractive for lawyers. At the same time, bad-faith insurers are emboldened to continue their business model of duping the public, knowing they will pay less for their transgressions when they're caught.
 
Negligent Security Actions - Negligent security actions are the result of an individual coming to harm because the owner of a business, the operators of a facility, or an entity did not take adequate security measures, although they were aware of the risks. For instance, a hotel that doesn't employ a sufficient number of security guards, even though there has been a rash of assaults on the grounds, might be liable for a guest's injuries if they were mugged on the property.

Claimants in negligent security actions have always been able to sue their attackers. However, these individuals rarely have assets worth pursuing, and insurance companies don't pay for intentional acts, even if the attacker were insured. Instead, victims of negligent security typically go after the property owner that allowed conditions that made them vulnerable.
 
Now, under DeSantis, jurors can assign some of the responsibility to the assailant, regardless of whether they are named in the lawsuit. The result could significantly reduce the compensation a victim could feasibly collect, considering the perpetrator likely has no wealth.   

Since these changes have only been in effect since March 2023, the actual impact on Florida's legal landscape has yet to play out. Still, working with a highly experienced Tampa injuries lawyer is more important than ever.

What Are the Advantages of Working With Morgan and Morgan?

Morgan and Morgan is one of the country's largest personal injury law firms, but our headquarters are here, and we call it home. We've been fighting for the rights of injured individuals for more than 35 years and have recovered billions for our clients. Although you get an individualized, tailored experience with us, you also get the advantage of working with a large law firm.
 
Your lawyer will have access to significant resources, including paralegals, investigators, and support staff, allowing them to work your case more effectively. Morgan and Morgan also offer specialized expertise to your specific legal matter. We provide experts in a wide range of legal issues, including medical malpractice, workplace disputes, amusement park accidents, nursing home abuse, sexual abuse, and toxic and environmental injuries, as well as motor vehicle accidents and slip and fall injuries, among others.

Our financial capacity outshines many of our competitors, which could have a dramatic impact on your case. For example, we are capable of footing expert witness fees, court costs, and medical record recovery expenses, which may be a struggle for smaller firms.

Being in operations for as long as we have has allowed us to develop a strong reputation that commands respect in Florida's legal space, including prior dealings with many insurance and defense lawyers who know we mean business. Our longevity has also enabled us to develop an expansive network of connections that can prove valuable to your case.

Our fee structure is contingent on our success, which means you don't pay for our services if we don't win compensation on your behalf. Still, our track record of successful settlements and trial verdicts should instill confidence that we'll win.

Don't put this off any longer and jeopardize your chances of getting compensated. Reach out to Morgan and Morgan today for a free case evaluation.
Scroll down for more
Load More