The Fee Is Free™. Only pay if we win.
America's Largest Injury Law Firm
Protecting Families Since 1988
$15 Billion+ Won
800+ Lawyers Nationwide
Free Case Evaluation
Tell us about your situation so we can get started fighting for you. We tailor each case to meet our clients' needs.
Results may vary depending on your particular facts and legal circumstances.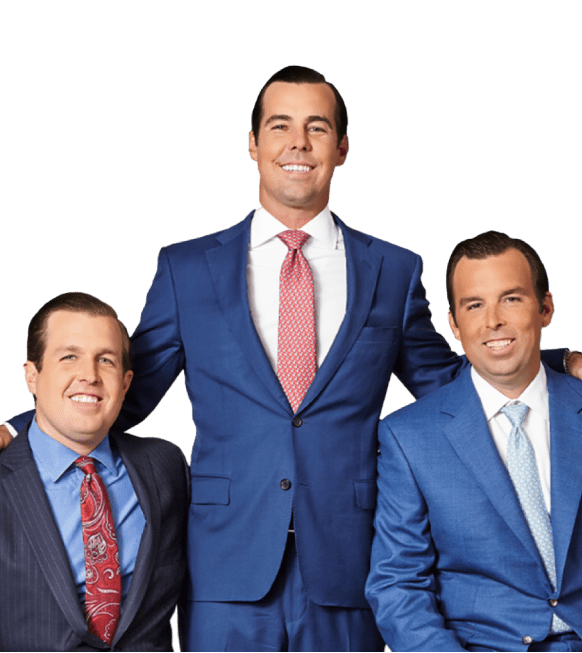 Tampa Car Accidents
Being the victim of a car accident can mean a lot of things. Injuries can require hospitalization, surgery, and post-surgery rehab. A crash can make you miss time from work or damage your vehicle beyond repair. When situations like these occur, you deserve an experienced attorney who can represent your interests fairly.
In Florida, vehicle owners are required to purchase protection which, in the event of a crash, will cover the cost of damages to a certain extent.
Unfortunately, Personal Injury Protection (PIP) may also limit your ability to take legal action, so it's important to contact an experienced lawyer immediately following a crash, especially if you have suffered a severe or disabling injury.
Were you or a loved one severely injured in an accident? If so, you may be entitled to compensation. To learn more about your rights, please complete our free case review form today.
Scroll down for more
Recent verdicts & settlements
How it works
It's easy to get started.
The Fee Is Free™. Only pay if we win.
Results may vary depending on your particular facts and legal circumstances.
Step 1

Submit
your claim

With a free case evaluation, submitting your case is easy with Morgan & Morgan.

Step 2

We take
action

Our dedicated team gets to work investigating your claim.

Step 3

We fight
for you

If we take on the case, our team fights to get you the results you deserve.
---
Client success
stories that inspire and drive change
Explore over 55,000 5-star reviews and 800 client testimonials to discover why people trust Morgan & Morgan.
Results may vary depending on your particular facts and legal circumstances.
FAQ
Get answers to commonly asked questions about our legal services and learn how we may assist you with your case.
Morgan & Morgan FAQs
What if My Initial Car Accident Claim is Denied or Inadequate?

Before filing an insurance dispute claim or negotiating with the insurance company, your attorney will gather evidence, including:

Reviewing medical records from treatment you received after the crash
Reviewing police reports, crime scene reports, and photographs of the scene
Interviewing witnesses
Using traffic camera footage, if available
Investigating the history of the other driver
Obtaining a recording of the 911 call
Examining photos of your car before and after the accident
Reviewing cell phone records
Reviewing specific information and history on the vehicles involved

Morgan & Morgan will use this information to create a claim that shows the other driver was at-fault and is therefore responsible for your losses. Insurance companies will want to limit their payout and, in many cases, will offer an amount that does not adequately cover your losses.

If this is the case, your attorney will negotiate with the insurance company on your behalf. If negotiations are unsuccessful, you may be able to collect compensation by filing a lawsuit against the insurance company and other parties involved in the crash.

What You Need to Know about PIP

If you do not seek medical treatment within fourteen days, PIP generally will not cover any of your medical bills. If you have suffered an "emergency medical condition," PIP will generally pay for 80% of your medical expenses and 60% of lost wages, subject to the limitations of the policy.

If you have not suffered an emergency medical condition, your PIP benefits are generally capped at $2,500.

An emergency medical condition is defined as a medical condition that requires immediate medical attention and could reasonably be expected to result in serious jeopardy to the patient's health.

Your Right to Sue

Our lawyers may be able to help you file a lawsuit against the at-fault driver. You must have suffered serious and permanent injuries to be eligible to file a claim, including:

Traumatic brain injuries
Back and spinal cord injuries
Paralysis
Disfigurement or permanent scarring
Amputations
Broken bones

The insurance company may attempt to categorize your injuries as temporary and non-serious in nature. The collection of this supporting evidence will help establish that your injuries are serious enough to qualify you for additional compensation through a lawsuit.

Tampa Car Crash Lawsuits

Injuries: Automobile wrecks can cause death or cause serious and life-threatening injuries, including:

Traumatic brain injuries (TBI)
Spinal cord injuries
Back injuries
Disfigurement
Amputations
Paralysis

Negligence: To successfully recover compensation under the premise that the other driver, or another party, was negligent, your attorney must prove:

The other party had some duty of care or responsibility to you
That party breached this duty through some act or omission
You sustained an injury

Negligence may refer to:

Reckless driving (road rage, failure to yield, speeding, tailgating, failure to signal turns, weaving)
Driving under the influence of drugs, alcohol
Careless driving (running a red light, speeding, cell phone use while driving)
Allowing an unfit individual to drive an automobile (under the influence, historically reckless driver, unlicensed minor, senior citizen)

Strict Liability: Strict liability is one applicable cause of action under which product liability suits may be pursued. Under this theory, the injured party must prove a defect in an automobile exists, and this defect caused their injury. If a defect exists, the manufacturer may be liable for any resulting damages, regardless of whether they exercised extreme caution in production. Individuals who purchase used cars and are involved in a crash are not eligible to pursue product liability claims.

Negligence: As with all negligence cases, the injured party must prove that the manufacturer had a duty to sell a safe product to consumers, this duty was breached as a result of knowledge of the defect, and that the product caused the injury.

Causes of Tampa Auto Accidents

Morgan & Morgan's car crash lawyers handle claims stemming from:

Distracted driving (texting, putting on makeup, rubbernecking, eating, and failing to pay proper attention to road hazard)
Fatigued driving
Impaired driving (driving under the influence of alcohol, prescription drugs, or narcotics)
Reckless or aggressive driving (speeding, unsafely switching lanes, tailgating, failure to yield, street racing, failing to signal, driving in the wrong direction, and road rage)
Defective auto parts (faulty brakes, tires, steering, suspension, and safety equipment)
Unmaintained automobiles (Improperly secured materials, bad brakes, broken signal lights, non-functional headlight, and broken or unsecured engine parts)
Roadway design (low hazard visibility, traffic flow, unmaintained road surfaces, improper striping, defective traffic control devices, and an insufficient shoulder)
Road conditions (poor maintenance, roadway debris, faulty signage, construction, and large unfixed potholes)

Pedestrian and Bicycle Accidents

Pedestrian Accidents: Tampa is the second most dangerous major metro area for pedestrians in the country, according to a report by Transportation for America. Given the vulnerability of walkers and runners on the open road, pedestrians are are risk for serious and debilitating injuries.

Bicycle Wrecks: By law, bicyclists have the same rights and responsibilities as drivers; however, in some cases, drivers may disregard their duty to operate their vehicles with reasonable care, putting bicyclists at risk for serious injury. Bicycle crashes may be caused by motorists who fail to yield right-of-way to a cyclist, turn into a bicyclist's path, or try to overtake cyclists by not allowing the proper amount of space between the car and the bicycle.

Some states have created specific protections for bicyclists. For example, Florida's "three-foot law," requires passing motorists to leave at least three feet between their vehicle and a cyclist. If a biker is injured due to the negligence of a motorist or individual, they may be able to recover compensation through a lawsuit.

A victim may be able to file a third-party claim if a party aside from the other driver contributed to the accident. In some cases, an individual can seek damages from the manufacturer if a defective or flawed vehicle component caused a crash.

Additionally, if the at-fault party was acting under their scope of employment, their employer may be liable for damages. Furthermore, victims may also file suit against a government agency or transportation authority if factors such as a poorly maintained roadway, improper signage, or irresponsible highway construction contributed to a crash.

How Much is My Tampa Car Accident Case Worth?

The law allows victims and their families the opportunity to seek compensation for damages, including:

Medical Bills: This can include current and future expenses including hospital costs, rehabilitation, transport, and medication.

Lost Wages: Compensation for the lost wages the injured party would have earned.

Future Lost Wages: If the injured party can never return to work, or must miss work for a significant amount of time, they may be entitled to wages they would have earned.

Pain and Suffering: This can include coverage for treatment of depression, anxiety, fear, and other mental injuries causing distress or mental anguish.

Loss of Consortium: If the injury negatively alters the relations of a couple, compensation for loss of intimacy or support may be available to the aggrieved party.

Funeral Costs: If a family loses a loved one in an accident, they may be able to recover some of the damages listed above, as well as funeral costs and death-related expenses.

Car Accident Settlements We've Won

Here are just a few car crash cases that Morgan & Morgan, with its track record of results has won in the Tampa area.

$5.2 million settlement after a rollover caused a cervical injury, rendering the client paraplegic.
$1.3 million settlement for a 45-year-old woman who collided with a commercial truck and sustained shoulder injuries that required multiple surgeries.
$362,000 settlement after the victim of an crash suffered cervical herniations, cervical fractures, and a lumbar fracture.
$292,587 settlement for a client who suffered herniations of the neck and the lower back.
$210,000 settlement after an accident left a 46-year-old woman with severe neck and back injuries, leading to a spinal fusion.
$150,000 settlement for our client who, after suffering herniations in his upper back after being struck by a vehicle, was unable to return to work for a period of time.

If you or a loved one was in an accident and sustained a severe injury, you may be entitled to compensation beyond that which is provided by your PIP coverage.

What Are the Most Common Causes of Car Accidents?

In Tampa, Florida, car accidents occur every single day for various reasons. If you find yourself in the unfortunate aftermath of such a collision, you can sit down with a car accident lawyer in Tampa from Morgan & Morgan, and the attorney you meet with can help determine the cause of the auto collision. The formal police report written by the responding officer should include a determination of what caused your vehicle accident, but in some cases, the section pertaining to causation is left blank. Determining the cause of the vehicle crash represents the first step towards receiving just compensation for your injuries.

Let's take a look at the five most common causes of car accidents in Tampa, Florida.

Bad Weather

Florida gets its fair share of bad weather, especially from June through November during hurricane season. Even if a tropical storm is not lurking off the Gulf Coast, thunderstorms develop virtually every day during the rainy season. Flash flooding is a common cause of vehicle collisions, particularly on low-lying roads that run adjacent to the myriad of white sandy beaches. Hail is another weather issue because it can cause considerable damage to motor vehicles. 

Bad weather is the only common cause of car accidents that usually does not involve an act of negligence.

Speeding

Despite public service announcements on television and a focus on enforcing traffic laws. Tampa remains a hotspot for vehicle accidents that are caused by speeding. Traveling faster than the posted speed limit gives a driver less time to react to unexpected events, such as another vehicle pulling out in traffic without any warning. If a speeding driver struck your car and you sustained one or more injuries, your car accident lawyer in Tampa might be able to prove negligence.

Running Red Lights

Running a red light can lead to a disastrous car accident that produces life-threatening injuries. When drivers try to beat red lights, they typically apply more pressure on the accelerator. The result is a burst of speed that makes an impact considerably more forceful. Running a red light falls under the category of reckless driving, which if proven, assigns fault to the operator of the motor vehicle that ran the red light.

Driving Under the Influence

Driving under the influence of drugs and/or alcohol is a clear-cut example of negligence. Drugs and alcohol impair judgment, as well as slow down reaction times. Not only does consuming illegal drugs represent an act of negligence, but the same negligence principle also applies to the over-consumption of prescription medications. Your personal injury attorney reviews the accident report to determine whether the law enforcement officer who responded to the collision administered one or more sobriety tests.

Distracted Driving

Unlike many other states, Florida has not passed a tough anti-texting and driving law. For a first offense, a driver receives a slap on the wrist by paying a fine that ranges between $30 and $100. The lack of a strong anti-texting and driving law has resulted in a large number of vehicle collisions caused by distracted drivers. Distractions also include eating, applying makeup, and talking on a cell phone. Your car accident lawyer in Tampa can verify an act of distracted driving by interviewing witnesses and/or watching a video taken at the scene of a crash.

What Are the Most Frequent Types of Injuries Associated With Auto Collisions?

After determining the cause of your auto crash, the personal injury attorney you hire from Morgan & Morgan then examines your medical records and other physical evidence that show you sustained injuries. Car accidents produce a wide variety of injuries, but four types of injuries develop more often than other types of injuries.

Broken Bones

Broken bones vary in severity from a stress fracture that heals relatively quickly to a compound break that penetrates the skin. The most serious type of compound fracture takes several months to heal. Another thing about broken bones is they can happen just about anywhere in the body. Although fractured arms and legs receive most of the attention, you can experience a rib, hip, or foot fracture as well.

Bruises

Bruises represent the most common type of car accident injury because they develop for all levels of impact. For example, you can sustain several bruises from the impact caused by a rear-end collision that occurred in a parking lot. Severe bruising makes it difficult, if not impossible to move the area of the body that sustained bruises. You also might suffer from internal bruising that triggers bleeding. Diagnosing internal bruises requires the application of imaging tests.

Brain Trauma

Brain injuries range in severity from mild concussions to trauma that requires life-saving surgery. Although a vehicle airbag is supposed to cushion the blow generated by a car accident, the impact of a car accident might force your head to hit another object in the car. Time is typically the cure for brain injuries and in the worst cases, alleviating pressure in the brain can save a victim's life.

Whiplash

The human body can take a significant beating from an auto collision. This includes the neck and shoulders. When your car is struck by another vehicle, the head, neck, and shoulders move back quickly before returning to the original positions at the same dangerous rate. The trauma inflicted on your neck can tear tendons and muscles, as well as negatively impact the top section of the spinal cord. You also might sustain a separated shoulder from the violent movement of both shoulders.

What Florida Car Accident Laws Do I Need to Know?

Working with a car accident lawyer in Tampa delivers several benefits. One of the most important reasons to hire a personal injury attorney is to learn about the different statutes that refer to auto collision cases.

What is the Deadline to File a Civil Lawsuit?

Called the statute of limitations, the deadline for filing a personal injury lawsuit varies among the 50 states. Most states have established a statute of limitations for personal injury cases between two and four years. However, some states give plaintiffs as long as six years to file a civil lawsuit. A few states provide plaintiffs with just one year to submit the proper legal documents and physical evidence to litigate a personal injury case. Florida has established a statute of limitations for filing personal injury lawsuits at four years. The clock begins ticking for the statute of limitations in Florida on the day when you sustained injuries as the result of a car accident.

If you fail to meet the deadline for filing a personal injury lawsuit in Florida, the court clerk processing your lawsuit will remove it from the court docket. Consequently, you cannot receive compensation to help you recover the financial losses that are associated with the auto collision. Instead of basing the timing of a civil lawsuit on the Florida statute of limitations, you should act with a sense of urgency by hiring a car accident lawyer in Tampa to start preparing your case. You want to act fast to receive compensation as quickly as possible, as well as get the most accurate accounts of what transpired from witnesses.

What Does Comparative Negligence Mean?

Many car accident cases end with one party assuming 100 percent of the legal liability for causing an accident. For example, another vehicle struck your car because the driver drove under the influence of alcohol. The other driver must assume 100 percent of the legal liability for causing you harm. However, some car accidents involve a legal principle called shared liability, which means both parties share a percentage of the negligence for causing a car accident.

Florida operates under the comparative fault legal doctrine, which assigns a percentage of blame to parties that deserve it. Let's say you got involved in a car accident because the other driver was texting and driving at the time of the collision. What appears to be a slam dunk case of solo negligence is a case that requires a judge to assign you part of the blame for causing the crash. Maybe you rolled a stop sign or failed to use the turn signal. Whatever the reason, the judge hearing your case places 20 percent of the blame on you for causing the accident. If the judge awards you $100,000 in monetary damages, your compensation decreases by 20 percent to $80,000.

No-Fault Car Insurance in Florida

No-fault car insurance in Florida is a legal principle that applies regardless of which party caused an auto collision. If another party caused you to sustain minor injuries as a result of a car accident, your insurance company's Personal Injury Protection (PIP) kicks in to pay for expenses such as medical bills and the receipts generated by repairing property damage. No-fault car insurance coverage changes if you sustained serious injuries that resulted from a vehicle crash. Florida defines "serious injury" in three ways. You have to suffer either a permanent injury, significant and permanent scarring, or the permanent loss of a bodily function such as the use of a limb.

By hiring a car accident lawyer in Tampa, you should discover whether your injuries meet the severity standards imposed by the State of Florida.

What Does My Personal Injury Attorney Need to Do to Prove Negligence?

Proving negligence is at the heart of every civil lawsuit that seeks monetary damages to recover from the financial losses associated with car accident injuries. Your car accident lawyer in Tampa must prove the existence of the four elements that define negligence for personal injury cases.

Duty of Care

Duty of care represents a legal principle that requires one party to assume responsibility for taking care of the mental and physical health of another party. Healthcare providers owe a duty of care to patients when treating injuries and diseases. For auto collision cases, proving duty of care is the easiest negligence element to prove. Every operator of a motor vehicle has a duty of care to take steps to prevent harming other drivers and passengers.

Violating the Duty of Care Principle

Your car accident lawyer in Tampa gathers and organizes evidence that demonstrates another party violated the duty of care principle. For a car accident case, evidence can include photographs of the crash scene, as well as video footage recovered from cameras installed at intersections and along a busy stretch of road or highway. Let's say another driver failed to stop at an intersection and struck your car. The other driver breached the duty of care principle by committing an act of reckless driving.

Causation

Causation means the violation of the duty of care principle must have caused your injuries. Another driver might have breached the duty of care doctrine by committing an act of reckless driving, but the impact of the car accident was not the reason why you sustained a concussion. You might have sustained the concussion earlier in the week from the impact of a hard slide during a softball game. Your personal injury attorney refers to medical records to verify the timing of your injury to prove the third element of negligence called causation.

Financial Losses

Copies of medical bills and the receipts from repairing property damage typically help a plaintiff's attorney prove the fourth element of negligence, which is damages. The injuries caused by a breach of the duty of care principle must produce financial losses. If you cannot prove a car accident caused you to lose money, you can expect the judge hearing your case to deny your request for compensation.

Why Should I Hire a Car Accident Attorney to Help With an Insurance Claim?

When you meet with a car accident lawyer in Tampa, FL from Morgan & Morgan, you want to determine whether negligence played a role in causing the auto collision. Even if the other driver did not commit one or more acts of negligence, you should still consider hiring a personal injury attorney to help you file a persuasive car insurance claim.

Submit Convincing Physical Evidence

The key to getting a car insurance claim approved involves collecting and submitting convincing physical evidence. Witnesses provide legal support for physical evidence, which means your car accident lawyer in Tampa focuses on gathering the physical evidence you need before interviewing witnesses. Although an official police report includes physical evidence, the investigator that we assign to your case conducts a thorough investigation that includes reviewing traffic camera footage and taking photographs of the accident scene.

Calculate Compensation

Calculating a value for an insurance claim starts with adding up the tangible expenses, such as medical bills, property damage repairs, and lost wages. Your personal injury attorney also calculates a value for non-economic damages, which includes pain and suffering, as well as loss of consortium. The value of the compensation request by your car accident lawyer in Tampa should be reasonable enough for at least the insurance company to participate in negotiations. If your legal counsel submits an unreasonable value for compensation, you can expect your insurance company to deny your claim. 

Find Common Ground

Most initial car insurance claims come back denied not because they do not present a reasonable value for compensation, but because insurance companies prefer to negotiate a settlement that both sides agree is fair. One of the most compelling reasons to hire a personal injury attorney from Morgan & Morgan is to retain the legal services of an experienced negotiator. Morgan & Morgan personal injury attorneys have more than 30 years of experience negotiating settlements with auto insurance companies. Our attorneys have developed positive professional relationships with insurance adjusters working throughout the United States.

Acts as a Buffer

One of the biggest mistakes victims of vehicle collisions make is contacting their insurance companies before seeking legal guidance from a car accident lawyer in Tampa. Insurance companies are notorious for taking advantage of unsuspecting policyholders by offering insurance claim payments that are well below the value that policyholders deserve. A Florida-licensed car accident lawyer acts as an intermediary between you and your auto insurance company.

This gives you more time to concentrate on recovering from your injuries.

How Does a Morgan & Morgan Attorney Settle a Civil Lawsuit?

The settlement process for a civil lawsuit differs somewhat from the settlement process with an insurance company. However, the goal of both settlement processes is to avoid a prolonged delay in receiving compensation for the injuries sustained from a vehicle collision. 

Calculate a Value for Monetary Damages

During the free case evaluation with a car accident lawyer in Tampa from Morgan & Morgan, you should present the copies of every medical bill, as well as the copies of receipts that demonstrate the cost of making repairs for property damage. You also should give the personal injury attorney from Morgan & Morgan the copies of bank statements and timekeeping records that determine how much you have lost in wages.

Non-economic damages play a much more significant role when calculating the value of monetary damages for a civil lawsuit. Your lawyer refers to a formula that includes the value of economic damages such as medical expenses. Non-economic damages include the toll of mental anguish and emotional distress. Many car accident victims experience recurring nightmares, as well as develop a fear of riding in a motor vehicle.

Send a Demand Letter

After calculating a reasonable value for monetary damages, your attorney then sends the lawyer representing the other party a demand letter. The demand letter contains the value requested for monetary damages, as well as a detailed description of how your lawyer determined the value of the settlement offer. Your lawyer also describes the events that took place before, during, and after the car accident, with the goal to show the other party committed at least one act of negligence.

You should send the demand letter through the United States Postal System (USPS) after it is certified.

Participate in Negotiations

The demand letter is how your car accident lawyer in Tampa submits the offer for monetary damages. After receiving the demand letter, the other party's lawyer can either accept the offer, submit a counteroffer, or cease negotiations by taking your case to trial. If the other party submits a counteroffer, your personal injury attorney either accepts the counteroffer or submits another counteroffer to the other side's legal team. The back and forth of counteroffers can go through several rounds before both parties reach a resolution or decide to litigate the case in front of a civil court judge.

Negotiating a favorable outcome is the preferred outcome to avoid a costly and time-consuming civil trial.

The lawyers representing both parties can negotiate a settlement at any time during the litigation process, but the most common point of the litigation process when negotiations take place is during the discovery phase. During discovery, both parties share evidence and the statements made by witnesses.

What Criteria Should I Consider When Hiring a Personal Injury Attorney?

The time has come to hire a car accident lawyer in Tampa. What should you consider before you hire the best litigator?

Proven Record of Success

Experience matters, but only if it is considerable experience getting the best outcome for clients. Morgan & Morgan personal injury attorneys have recovered more than $14 billion for clients since we opened our first office in 1988. Many of our personal injury cases involved car accidents. Whether we reach a favorable settlement or win a legal judgment for monetary damages, the team of personal injury attorneys at Morgan & Morgan has compiled a record of success that is unmatched among American personal injury law firms.

Responsive Communicator

A car accident case can last more than a year, especially if you and your attorney agree to file a civil lawsuit that seeks monetary damages. During the time it takes to resolve your case, you can expect to ask many questions regarding legal issues. You want to partner with a litigator that promptly responds to all forms of communication. Whether you send an email or leave a voice message, you should receive a response within 24 hours.

Specializes in Litigating Car Accident Cases

No law firm can match the large number of highly-rated personal injury attorneys that represent Morgan & Morgan. Because of our presence throughout the United States, we offer personal injury lawyers that specialize in handling one type of personal injury law. For example, we have attorneys that specialize in litigating product liability, slip and fall, and car accident cases.

The Attorney You See Is the Attorney You Get

Many law firms and lawyers in private practice delegate some of the legal responsibilities required to litigate personal injury cases. For example, a personal injury lawyer attends a free case evaluation only to delegate the caseload to a paralegal and/or a less experienced litigator. When you hire a car accident lawyer in Tampa from Morgan & Morgan, you can expect the attorney to handle every aspect of your case from the day of the free case evaluation to the day when your case reaches a resolution.

Positive Client Reviews

Virtually every law firm uploads client testimonials to their websites. We recommend that every potential client read the positive reviews left on sites such as Yelp and Google in addition to reading our website testimonials. You should discover common themes such as responsive communication, transparent discussions concerning legal matters, and empathy for victims of car accidents that have a long road towards making a full recovery.

Morgan & Morgan also has received the highly-coveted A+ reputation rating from the Better Business Bureau (BBB).

What if I Have a Defective Product Claim?

It may be the case that you can sue a third party for the injuries that you have sustained in the event that a product was defective. A defective product is any product that contains a serious risk that should not have been present for a consumer. Manufacturers have a legal responsibility to do everything possible to minimize the potential for injuries. When they fail to do this, they could be held accountable in court for any injuries caused by their products. Defective products can be defective in a number of different ways. When you are working directly with a Tampa car accident lawyer, your attorney will do as much as possible to investigate the basis of your claim and to tell you more about your legal rights. Your attorney may discover that other people have suffered substantial injuries because of a defective product on your car.

Your attorney may also discover that you are the first person to suffer this kind of injury but will need to take legal action to recover compensation for the damages. This could be an important action step in holding the maker of this defective product accountable. A number of different kinds of defective products can occur throughout automobiles. And these can decrease your ability to control the vehicle in the event of an accident. Defective tires, defective door latches, defective seat belts, defective airbags, defective engines, and more can all cause devastating injuries. If you have already suffered the consequences of an accident as a result of these serious issues, you need to be prepared to identify a dedicated personal injury attorney who can help support you through each aspect of your case. There are so many different things to think about in the wake of suffering an accident that you may not realize that it was due to a defective product.

In these circumstances, you must engage a personal injury lawyer who has the right experience with defective products. It may be the case that you are filing a lawsuit against another person who caused the accident as well as a defective product manufacturer. In all of these circumstances, it pays to have a dedicated attorney who has navigated the legal complexities of these kinds of cases before, so that you can have confidence that your rights are being protected to the fullest.

Do I Really Need to Get Medical Attention?

One of the most important things you can do after a serious vehicle accident is to get medical attention. A Florida car accident lawyer can tell you more about this process, but many people underestimate the impact of their injuries. In addition to your treatment, you can get a valuable diagnosis, which can help prove your legal case. Getting medical treatment shows that you are taking your health seriously, even if you are not yet experiencing symptoms of your injuries.

Some of the most common kinds of significant injuries that can influence a car accident victim include internal bleeding, concussions, and whiplash. Many of these conditions do not present symptoms immediately at the scene of the accident. It is likely that you will develop pain and other symptoms hours or even days after the incident. And this means you need to share these concerns with a medical professional.

Should I Take Notes of All of My Appointments With My Doctor?

It is very easy to get overwhelmed in the immediate aftermath of a car accident in Tampa. It can be hard to keep track of all of the paperwork and all of the things that you have to do. You might be missing time at work, have had to arrange childcare because of the pain you're going through at home, and also may be attending doctor's appointments. These tasks are very difficult to deal with, but you must also consider the possibilities and challenges that are present with attending doctor's visits.

It is unlikely you will be able to remember all of these details in the future. So you need to take notes of any and all medical appointments. Keep track of what you said to the doctor, the time and date of when you went to the doctor, and any time that you missed work. If anything is argued by the other side regarding your medical treatments, you will have a clear timeline of everything that happened and the conversations that you had with your doctor. 

This can also help to tell an overall story of how your life was significantly changed as a result of a vehicle accident. It can be so hard to move on with your life after a devastating injury, but getting medical treatment and keeping track of your medical treatment details can make a big difference.

Do I Need to Call the Police After a Tampa Car Accident?

In Florida, there is no specific law that says you need to contact authorities after an accident when no one is significantly injured. However, it is a good idea to notify the police and to get a copy of the police report if there is damage to either vehicle. If someone is injured immediately at the scene, you should always notify local law enforcement, but it is a good idea to generally contact law enforcement for any serious accident. The details on the police report may prove helpful to you later on if you need to file a personal injury claim.

How Do My Medical Bills Get Paid After a Tampa Car Accident?

The kind of car insurance that you carry in Florida will have a significant impact on what you can recover in a vehicle accident. Of course, you will have to carry personal injury protection, which will cover payments, regardless of who was at fault for the accident. PIP coverage can pay for as much as 80% of your medical bills and up to the maximum PIP limit. If the accident was your fault, then additional bills beyond that amount come out of your checkbook. If the fault was on the other person for causing the accident, you may have a claim against that party for unpaid medical bills.

Who Covers the Cost of Damages to My Car?

After a serious car accident, you will want to keep track of any and all damage done to your car. If the car accident was your fault, then your insurance is the only option to seek payment for damages to your vehicle. If the car accident was your fault and you have no collision coverage, no one pays for your damages. However, if the other driver is responsible for the car accident, you can use their insurance. If you do have collision coverage after a car accident, you can choose to use the other person's insurance or use your own.

What Makes up a Bodily Injury Claim?

There are many different kinds of car accidents that happen in Florida every single day and not all of them will amount to the level of a bodily injury claim. A bodily injury claim is a claim for pain and suffering following a car accident. If a car accident is determined to be your fault, you have no grounds to pursue a bodily injury claim. If the other party is mostly or completely to blame, you are eligible to bring a claim against them if you have sustained a permanent injury. There are many different kinds of permanent injuries, and you can discuss these with your personal injury lawyer to learn more about whether or not you may be able to proceed with a claim.

Permanent injuries can include things such as bad scars, any injuries that require surgery, permanent burns, fractures, and even certain soft tissue injuries, such as bulges, shoulder and leg sprains, neck herniated discs, and more. You'll need to be prepared to have a qualified doctor to testify as to the percentage of permanency of the injuries you have sustained.

Fault damage and appropriate coverage all factor into the value of your bodily injury claim after a car accident. A bodily injury claim has a value of zero if there is no fault. This is true, even if you have suffered major injuries. For limited coverage, however, value can be weakened to the available coverage in spite of drastic injuries. The greater the level of injury and the clarity of who is responsible for the accident make the best value for your case.

What if I Was Working at the Time My Car Accident Occurred?

If your employer provides workers' compensation coverage, you could have a worker's comp claim supplementing any car accident claim. However, it is optional under Florida law to proceed with a worker's comp claim. You may wish to work directly with a personal injury attorney to determine whether or not you need to file a lawsuit for a worker's comp after a car accident. This kind of car accident can be very complex, but it is important to find a qualified lawyer.

Please contact our car accident attorneys at Morgan & Morgan for a free, no-obligation case evaluation to find out if you have a case today.

If you've been involved in a car accident in Tampa due to another party's negligence, don't wait to reach out to the experts at Morgan & Morgan for a free, no-obligation case evaluation to get started. We're here to help.
Scroll down for more
Load More