The Fee Is Free™. Only pay if we win.
America's Largest Injury Law Firm
Protecting Families Since 1988
$15 Billion+ Won
800+ Lawyers Nationwide
Free Case Evaluation
Tell us about your situation so we can get started fighting for you. We tailor each case to meet our clients' needs.
Results may vary depending on your particular facts and legal circumstances.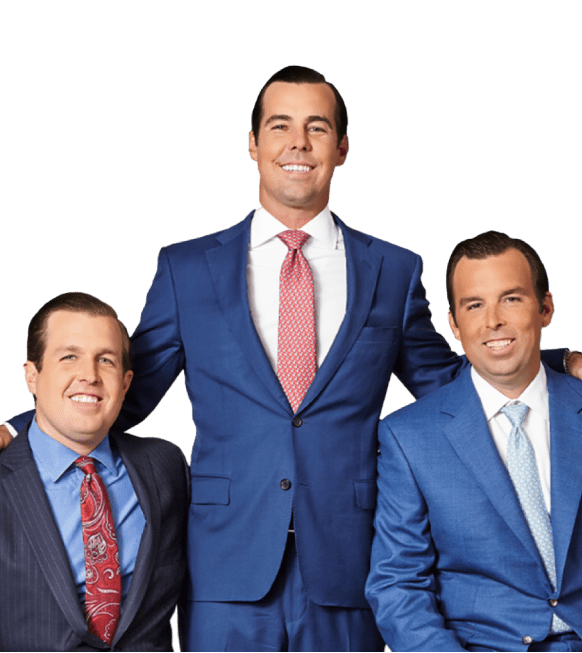 Tampa Car Wreck Lawyer
Tampa is a fantastic place to live because of the warm Gulf Coast waters, sunshine throughout the year, access to world-class seafood, and friendly people. However, every city has some rough edges, and the number of traffic accidents and fatalities are among them. 
2021 was a record-breaking year for fatalities on Hillsborough county roads averaging five deaths per week. The number of serious non-fatal injuries was reported to be 1,025, making Tampa, Florida, the 4th worst city for motor vehicle accidents in the country.
If you've been one of the unlucky ones to get into a car accident recently, you may be on the hunt for a Tampa car wreck lawyer. Morgan & Morgan Law Firm has an outstanding reputation for winning compensation for victims of car accidents. Here is a rundown of everything you need to know about hiring a car wreck lawyer. We will explain the claims process and how a Morgan & Morgan car wreck lawyer will be your best bet to recover the compensation you need.
Scroll down for more
Recent verdicts & settlements
How it works
It's easy to get started.
The Fee Is Free™. Only pay if we win.
Results may vary depending on your particular facts and legal circumstances.
Step 1

Submit
your claim

With a free case evaluation, submitting your case is easy with Morgan & Morgan.

Step 2

We take
action

Our dedicated team gets to work investigating your claim.

Step 3

We fight
for you

If we take on the case, our team fights to get you the results you deserve.
---
Client success
stories that inspire and drive change
Explore over 55,000 5-star reviews and 800 client testimonials to discover why people trust Morgan & Morgan.
Results may vary depending on your particular facts and legal circumstances.
FAQ
Get answers to commonly asked questions about our legal services and learn how we may assist you with your case.
Morgan & Morgan
What Will My Car Wreck Lawyer Do for Me?

You understand you need a car wreck lawyer, but you may wonder what exactly can we do for you. We'll go over how we bring value to the table, including:

Analyzing evidence and records to present a strong argument on your behalf
Using our expert witnesses, accident reconstructionists, and investigators to support your claim
Employing our masterful negotiating skills to maximize your compensation

Gathering of Evidence to Prove Liability

In-person inspection of the scene of the accident - Our lawyers will work vigilantly to find evidence to support your claim. While you may have been able to take pictures at the scene of the accident, we may travel to the same location to get a better sense of what occurred. Visual observation can reveal aspects of a car wreck that may have been overlooked by police, such as road lines, traffic controls, and roadway obstructions. All of these elements may have had an impact on the accident.

Eyewitness accounts - We'll also personally interview any witnesses to the accident as their statements can help prove fault. They may be able to provide crucial information such as the general speed of the vehicles, weather, and road conditions. It's very important to get this information as soon as possible after an accident because it's easy for people to forget.

Faulty motor vehicles - After the cars are removed from the scene, we can investigate to see if any underlying defective mechanical or engineering issues may have factored into the accident. For example, braking and steering systems sometimes fail, or perhaps the other party may not have maintained their vehicle as they should have. Bald tires or worn-out brake pads could easily lead to a car wreck.

Police reports - Reviewing the police report is another vital component of proving liability. Police reports should include summaries of the driver and eyewitness accounts of the accident. The report should contain information about the property damage and physical injuries sustained as well as a diagram, photos, or videos of the accident scene. Finally, the police report should indicate whether anyone was ticketed or arrested for the wreck. 

Medical records - Your medical records are another essential part of your claim and will be used as evidence. We will work with your doctor to obtain copies of your records and medical bills to understand the extent of your injuries better and if future treatment or therapy will be required. It's crucial to include future medical bills in your claim. Our experts will work with medical professionals to estimate these costs and make them part of the demand. 

How Expert Witnesses, Accident Reconstructionists, and Professional Investigators Help Your Claim

Expert witnesses - An expert witness is an expert in a specific field and may be used should your case go to trial. Our expert witnesses are seasoned professionals who have been in front of juries many times and are familiar with how the courts work. We maintain a vast network of expert witnesses that have knowledge in the medical field, automobile industry, road and traffic engineering, accident reconstruction, and more. An expert witness can explain complicated details to regular laypersons so they can understand just how the accident happened or the impact of your injuries. 

Accident reconstructionists - An accident reconstructionist can prove very valuable when a car wreck is exceptionally complicated. Sometimes evidence is hard to find, so this type of professional may be able to reveal clues that aren't apparent to an average investigator. When you're in a serious car accident, sometimes you won't be able to recall critical details on your own. An accident reconstructionist can help illustrate what happened based on the evidence. Suppose a lot of money is on the line. In that case, an accident reconstructionist's expert opinion may be able to sway the jury to your version of events to secure compensation.

Professional investigators - Your lawyer will rely on a professional investigator to help build your case. They will work to uncover evidence and provide an assessment from an investigative point of view. They may research the other driver to see if they have prior incidents and review their social media. A professional investigator may also check with businesses and private homeowners for any video footage of the accident. This type of professional investigation service from your Morgan & Morgan Tampa car wreck lawyer can make all the difference in whether you are successful or not in your claim.

How Our Strong Negotiation Skills Can Maximize Your Compensation

It's critical to work with a car accident attorney that has a strong grasp of Florida driving and insurance laws. Still, it's just as critical to work with a lawyer that has strong negotiation skills if you want to get the maximum compensation possible. We know when we've negotiated a good settlement for you, but we also know when it's time to push for more. Our key to success is experience. Morgan & Morgan has been around for more than 35 years, and we have a solid reputation as fierce negotiators that know how to act in any situation.

Your Morgan & Morgan car wreck lawyer has two sets of skills. One is the hard skills of understanding the law and filing paperwork correctly. The other is negotiation skills that can make a tremendous difference in the amount of compensation you win or are offered. 

Most car wreck claims are settled out of court through negotiation. This is often the path most people choose because it's less expensive, less stressful, and you get paid more quickly. However, we may need to go to trial when it comes to serious injuries. Even so, negotiation skills will still be an essential factor. At any time during a trial, a settlement can still be reached between you and the other party. With that being said, the ultimate decision on whether to settle or not will be up to you.

How Will Florida's No-Fault Insurance Laws Affect My Claim?

Florida is a no-fault state because we have laws requiring owners of motor vehicles with four wheels to purchase insurance that covers their own bodily injuries regardless of who is at fault. This insurance is called personal injury protection (PIP.) In the U.S., Florida is one of twelve states that follows the no-fault rules. People who ride motorcycles are not required to purchase PIP.

The no-fault law will affect your claim in two ways. The first is that your own insurance pays for your medical expenses related to the accident without considering who was at fault for the accident. The second is that you have restrictions on your right to sue the other at-fault driver. There are some exceptions to no-fault insurance law, which means certain circumstances allow you to go outside of the rule. These exceptions are as follows:

The accident caused permanent injuries - Florida's no-fault laws don't restrict victims from suing if the accident resulted in permanent injuries to the victim. The trauma must meet a specific threshold. This threshold is the injuries are permanent or have caused significant disfigurement or scarring, or the victim has lost critical bodily functions. You may still have the ability to sue the at-fault driver if the cost of your injuries exceeds $10,000.

The accident involved an uninsured driver - Florida's no-fault laws require drivers to carry a minimum of $10,000 in PIP insurance benefits. If that rule is not followed, and your own insurance doesn't cover all of your medical expenses, you have the right to sue the at-fault driver.

When you sue the other driver, you may be able to recover damages for pain and suffering, emotional distress, and other losses which are not recoverable under PIP.

What About My Property Damage?

While the no-fault laws add a lot of complexity to personal injury claims, property damage is much more straightforward. The at-fault party will be liable to pay for the damage to your vehicle and any other damaged property such as a laptop or cell phone. Under Florida law, drivers are required to have at least $10,000 of property damage coverage. Typically, your insurance company will reimburse you for a wrecked car. However, if the damage is more than your coverage limits, you can go after the at-fault party's insurance.

Property damage claims can cover out-of-pocket costs, including:

Vehicle repairs - If your vehicle is repairable, your own insurance will usually cover the repairs. You have a right to use the body shop of your choice and should expect to have the repairs done with similar quality parts as the ones that were damaged in the crash.

Total vehicle replacement - More often than not, vehicles that are involved in any type of serious crash will be considered "totaled" because it's more expensive to repair them than to replace them. Insurance companies look at the cost of fixing a damaged car and its pre-crash market value to determine whether it's a total loss. A total loss decision is typical if the repair costs are more than 80 percent of the market value. Market values can vary and are based upon how much you could have sold the vehicle for locally in its pre-crash condition. Market value will also be based on the age and the vehicle's mileage. Unfortunately, victims often get saddled with a new car payment that can't be recovered in a lawsuit when a vehicle is totaled. 

Lost value - When a vehicle is repaired, it still loses market value even if it's restored to a pristine condition. You can recover this loss through a diminished value claim. Diminished value claims are meant to bridge the gap between your car's pre-crash value and post-crash value. When you go to trade in or sell a vehicle that has been in a wreck, the history is available on car value estimation and sites like CarFax. People will use the history of the vehicle to leverage a lower sales price, and car companies will offer less trade-in value. We can help you with a diminished value claim.

Rental cars - You should be eligible for compensation for the cost of a rental car while your vehicle is being repaired or while you purchase a new one. 

Fuel costs - Today's gas prices are no joke, especially if you own a gas guzzler. You may be able to get compensated for the loss of gas in your vehicle from the collision.

Miscellaneous damaged property - Other items that get destroyed in the wreck can be compensated for, such as electronic devices, children's car seats, strollers, eyeglasses, bicycles (if you were hauling one), tools, groceries, and other property that needs to be repaired or replaced.

What Kind of Medical Expenses Can a Tampa Car Wreck Lawyer Recover?

Unfortunately, when you get into a car wreck in Tampa, Florida, the insurance company is only on the hook to pay for 80% of your medical expenses and 60% of your lost wages. PIP limits combine medical expenses with lost wages which means if your medical bills go over $10,000, you get nothing for lost wages. Suppose you carry the minimum PIP insurance and have severe injuries. In that case, it's almost certain you will need to go after the other driver in a lawsuit. We may be able to help you recover medical expenses, including:

Ambulance rides
Emergency room visits
Doctors visits
Surgery
Care and assistance
Medications
Rehabilitation
Prosthetics
Medical aid devices
Home modifications

What Are Common Injuries in a Car Accident?

Car accidents can cause a wide range of injuries, from minor to life-threatening. While a minor injury can still be painful, it will likely clear up on its own. Severe injuries can result in temporary to permanent disabilities and a great deal of suffering. The severity of injuries a victim can sustain often depends on where the victim was in the vehicle, where the victim was facing, the speed at the time of impact, and where the other driver hit the vehicle. Here are common injuries people sustain from car accidents:

Soft tissue injuries - Perhaps the most common injury is soft tissue injury which is damage to muscles, tendons, and ligaments. Ankles, knees, and wrists are particularly vulnerable to this type of injury. However, in-car wrecks, whiplash is a common occurrence. Whiplash happens at the point of impact when your head is violently snapped forward and backward or from side to side. It can be very painful but usually heals with time on its own. However, in some cases, whiplash can cause long-term pain. Soft tissue injuries can take a long time to heal. Depending on your age and activity, these types of injuries could have a long-lasting impact on your body's ability to perform.

Scrapes and cuts - When you're in a collision, there may be loose items in your vehicle that all of a sudden become projectiles. Any item that is violently hurled at your body can cause scapes and cuts. While most will heal fine on their own, you may need stitches and could potentially be left with significant scarring depending on how severe the cuts were.

Head injuries - Head injuries can be moderate to severe, including traumatic brain injuries (TBIs.) The brain is perhaps the most important and complex organ we have. Serious TBIs cause a host of issues that can impact a victim's ability to think and learn, emotions, behavior, motor skills, hearing, and ability to see. TBI victims usually have a shorter life expectancy and die disproportionately from seizures, pneumonia, infections, and drug poisoning. Milder head injuries can still cause a great deal of pain, such as headaches, confusion, nausea, ringing in the ears, and lightheadedness.  

Chest injuries - When hit by another vehicle, drivers can experience chest injuries like broken ribs, a broken sternum, and internal injuries. Chest injuries are often the result of hitting the steering wheel, dashboard, airbags, or the force of restraint from a seatbelt. Internal injuries can be life-threatening, especially if the heart or lungs are damaged.

Arm and leg injuries - A sudden impact can force your knees into the dashboard or seat in front of you, causing tendons and ligaments to tear or bones to be broken. A side impact can slam your arms and legs into the side of the door, causing trauma.

When Should I See a Doctor After a Tampa Car Wreck?

Even if you don't feel injured after a car wreck, we still highly recommend seeking out medical care as soon as possible. Many injuries, such as concussions and whiplash, don't become apparent right away. A doctor's examination will reveal any hidden injuries. When you do go, be sure to let the physician know why you're there so they can document it in your medical records.

Right after a car wreck, your body is under a lot of stress, so it will release a flood of adrenaline to cope. An adrenaline rush will temporarily mask the pain so you may not perceive your injuries. Invisible injuries can include:

Brain damage
Nerve injury
Shoulder sprains
Herniated discs
Organ injury
Rotator cuff tears

To determine if you have any invisible injuries, your doctor will likely perform a battery of tests, including X-rays, MRIs, and CT scans. It's important to be very forthcoming with your doctor concerning past injuries. Just because you have a preexisting condition doesn't mean the crash didn't make it worse. It would be best if you also were very detailed in how you're feeling. Let them know how your injuries are impacting your day-to-day life. For example, if you enjoy playing golf, but can't anymore, let them know. If your pain is disrupting your sleep or love life, this all needs to be documented by a professional. All of this information will be used to make your claim stronger.

Another important note about Florida insurance laws is that you have just 14 days from the time of the accident to see a state-approved doctor. Most doctors that work at a hospital or emergency room will be state-approved. However, chiropractors and massage therapists are not covered under PIP. If you miss the 14-day deadline, your insurance company can deny your claim.

Following your doctor's treatment recommendation is critical for any successful type of car accident claim. You will need to make sure to attend all appointments and seek follow-up care if that's what the doctor recommends. Insurance companies don't look kindly on victims who say they are seriously injured but don't follow their doctor's advice. If the doctor recommends therapy, do therapy. If they recommend a specialist, see the specialist. Making your health a top priority is essential, but it's also critical for a successful lawsuit. 

Working With Morgan & Morgan Tampa Car Wreck Lawyers

Our personal injury attorneys dedicate themselves to providing the best possible legal counsel for victims of Tampa car wrecks. We want to help you get back on track financially and physically. Sometimes it takes the help of a professional to navigate the complex insurance laws of Florida. When we accept your case, you can be sure we will work tirelessly to help you win compensation. In fact, we stake our paycheck on it. We offer our services on a contingency fee basis which means we don't get paid unless you do, so there's no reason to fight the insurance companies on your own. 

With over 900 trial-ready lawyers and the resources of one of the largest law firms in the U.S. on your side, there's nothing we can't accomplish together. Our compassionate lawyers understand what is at stake, and we'll fight hard to protect your rights. Contact us today for a free case evaluation.
Scroll down for more
Load More