The Fee Is Free™. Only pay if we win.
America's Largest Injury Law Firm
Protecting Families Since 1988
$15 Billion+ Won
800+ Lawyers Nationwide
Free Case Evaluation
Tell us about your situation so we can get started fighting for you. We tailor each case to meet our clients' needs.
Results may vary depending on your particular facts and legal circumstances.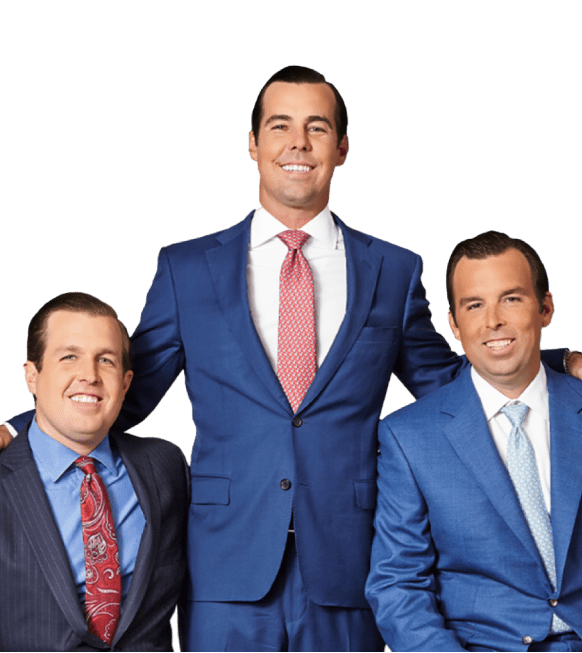 Orlando Car Accidents
Any car accident is a distressing experience, but a serious crash has the potential to change your life forever. For those who have suffered severe and permanent injuries, navigating Florida's unique insurance laws and requirements can be truly daunting. Accident lawyers must be prepared to meet these challenges on behalf of their severely injured clients, and go above and beyond to secure fair compensation in a system that often creates obstacles to doing so. At Morgan & Morgan, our legal team has an undeniable record of success for clients severely injured in Orlando auto wrecks. We will fight for you so that you and your family can get the compensation they deserve. Contact us for a free case evaluation today.
Scroll down for more
Recent verdicts & settlements
Results may vary depending on your particular facts and legal circumstances.
Scroll down for more
Results may vary depending on your particular facts and legal circumstances.
How it works
It's easy to get started.
The Fee Is Free™. Only pay if we win.
Results may vary depending on your particular facts and legal circumstances.
Step 1

Submit
your claim

With a free case evaluation, submitting your case is easy with Morgan & Morgan.

Step 2

We take
action

Our dedicated team gets to work investigating your claim.

Step 3

We fight
for you

If we take on the case, our team fights to get you the results you deserve.
---
Client success
stories that inspire and drive change
Explore over 122,576 5-star reviews and 800 client testimonials to discover why people trust Morgan & Morgan.
Results may vary depending on your particular facts and legal circumstances. Based on Select nationwide reviews
FAQ
Get answers to commonly asked questions about our legal services and learn how we may assist you with your case.
Morgan & Morgan FAQs
Challenges of Florida Auto Insurance Law

Unlike most states in the country, Florida law does not specifically require that owners of motor vehicles maintain insurance coverage to pay when their negligent operation of a vehicle causes injury to another driver, passenger, or pedestrian. Fortunately, as a practical matter, most Florida auto owners do maintain this type of insurance, called bodily injury liability (BIL).

Nevertheless, the number of drivers in Florida without BIL insurance is perhaps higher than it would otherwise be if such coverage were mandatory. Further, even drivers who do carry BIL may have insufficient coverage in the case of serious injuries.

Orlando drivers can protect themselves and their families from drivers without BIL coverage or drivers with low limits in the case of a crash by purchasing uninsured motorist (UM) and underinsured motorist (UIM) coverage through their own insurance companies.

This type of coverage is particularly important to those involved in motor vehicle wrecks in Florida because it allows your own insurance company to step in and pay for the losses you sustained for which the liable driver lacks the insurance and financial resources to compensate you.

How an Auto Accident Attorney Can Help

It may come as a surprise, but if you are seriously injured in an automobile accident, even if the other driver was clearly at fault, you likely still have a fight ahead of you to recover the compensation you deserve.

You cannot rely on the other driver's insurance company – or your own insurance company in the case of claims made under UM and UIM coverage – to place a fair value on your claim without a fight.

In fact, insurance companies will do everything they can to reduce your claim, including minimizing your injuries, claiming they were preexisting or caused by something other than the crash, claiming the treatment you received was unreasonably extensive, or even claiming that you are exaggerating or fabricating your symptoms.

This is why anyone seriously injured in an wreck should seek the assistance of an experienced and aggressive attorney, no matter how clear the other driver's fault was and not matter how seemingly undeniable the injuries and losses.

Automobile Accident Cases We've Won

When you're considering your options after a car accident, one of the most important things to consider is making sure you have an attorney with a track record for success by your side. Morgan & Morgan offers that. Here are several motor vehicle crash cases our lawyers have won, many worth millions of dollars.

$12.2 million verdict for a 15-year-old in 2009 after she had been paralyzed from the waist down in a car accident.
$2.6 million settlement for a 28-year-old man who was in a wreck with a "phantom vehicle," fracturing his skull and requiring a titanium plate insertion.
$1,050,000 verdict for our client after the defendant turned into her vehicle, requiring many expensive surgical procedures and a permanent intrathecal pump.
$950,000 settlement for a 50-year-old iron worker who was in a head-on collision and suffered a severe fracture of his right foot.
$900,000 verdict after a jury concluded that an insurance company acted in bad faith by refusing to properly cover the medical bills of a client who sustained a back injury in a crash.
$850,000 settlement for a 40-year-old man struck in a head-on collision and needing multiple surgeries to repair the fractures in his leg.

Morgan & Morgan Fights for Car Crash Victims in Florida

At Morgan & Morgan, our team of has achieved great success on behalf of people severely injured in car accidents, and their families. Our lawyers take insurance companies to task and hold negligent drivers accountable for the harm they cause.If you or a loved one has been seriously injured in a wreck, our legal team can provide a no-cost evaluation of your case.

What Should I Do After a Car Accident?

The most important thing following any car accident is your health and wellbeing, so you should make sure to remove yourself from the accident scene and assess yourself for injuries if you're able to do so. Next, it's time to seek medical treatment, which is recommended for all victims even if they believe their physical damage wasn't anything serious. In some cases, car accident victims have walked away from their accident with internal injuries that they overlooked. If they leave the injury unchecked for too long, it can cause an even bigger problem, one that might result in long-term, serious harm. By seeking medical attention, you can notice any internal injuries before they worsen, allowing you to recover in a much shorter time period. Additionally, you should also remember to never admit fault at the accident scene. Even muttering the phrase "my bad" can cause problems later on in the process, so it's best to refrain from speaking about the topic at all until you've retained an attorney. 

Once you've received medical attention, you'll have a good understanding of the total damage you sustained in your car accident. If it seems that you'll exceed your PIP coverage, then it's recommended to retain an attorney to move forward, as any car accident lawsuit is exceptionally difficult for someone without prior legal experience. However, if your total damages are covered by your PIP policy, then you likely won't need a lawyer for your situation, unless you need help filing the complicated paperwork.

How Does PIP Insurance Work in Florida?

All Florida motorists are required to hold a $10,000 minimum of personal injury protection (PIP) and at least $10,000 worth of property damage (PD) liability insurance as per the state's "No-Fault" insurance law. This requirement was enacted to provide blanket coverage to all motorists, and if they're involved in a minor car accident, they can file a claim with their provider and recover their compensation with ease. However, as both medical and repair costs rise across the nation, it's become increasingly easy to surpass the $10,000 minimum of PIP coverage, forcing those involved in more significant accidents to seek alternate ways of paying off the expenses of their crash. 

Your PIP coverage will only offer $2,500 in compensation for medical expenses unless your injuries are considered an "emergency medical condition." This designation applies to those whose injuries can require immediate medical care and can be expected to cause long-term damage or death without action, so if your injuries are minor, you'll only be eligible to collect the minimum amount of benefits. Some people choose to hold additional healthcare plans to mitigate the damage of an unforeseen accident that surpasses their PIP coverage, but this is often an expensive task that only some individuals have the luxury to afford. 

PIP coverage also offers some protection against the repair costs of your vehicle, but as the price of car parts increases rapidly, most car accident victims exceed their minimum coverage before they've removed themselves from the scene of the crash. Florida law does allow you to sue for a car accident if your accident wasn't your fault, surpasses your PIP coverage, or if you're left with severe, long-term injuries. Although this option is beneficial for those who find themselves in this position, it's very difficult to pull off on your own, and you might need an attorney to make sure that you're on the right track.

PIP coverage depends on the state the policy is purchased, but Florida coverage will offer the following benefits:

Medical Expenses: All minimum PIP coverage policies will cover the majority of medical treatments, including hospital stays, ambulatory services, medication, and surgeries. However, it won't cover any non-traditional practices, such as acupuncture and aromatherapy, and the coverage will only protect you from 80% of the total accrued costs. For example, if your injuries resulted in $8,000 worth of treatment, your PIP coverage will offer $6,400 towards that expense.
Lost Wages: Some injuries prevent you from returning to work and earning a paycheck, but PIP does offer some compensation for your lost wages. In Florida, you can recover up to 60% of your lost wages, with a maximum recovery of $10,000. Any lost wages accrued outside of the maximum limit will need to be paid through other means, which can cause a significant financial burden if you're unprepared.
Funeral Benefits: The loss of a loved one is a traumatic experience for everyone involved, especially if their life was taken in an accident that could have been prevented. Your PIP coverage allows the next of kin to recover $5,000 for funeral arrangements, wake services, and the burial itself. Although compensation can't reverse the damage, it can offer you the financial ability to recover from the situation and get back on your feet. 

When you first opt into a PIP policy, you'll have the option of extending your policy to other people in your household. While this is beneficial for those with families, anyone who lives independently won't necessarily benefit from this program, and it wouldn't make sense for these individuals to hold a group policy. However, your insurance provider could offer other programs and benefits to help your specific situation, so you should make sure to speak with them routinely to tailor your coverage to best fit your needs.

Can I Sue for a Car Accident in Orlando?

Yes, you can sue for a car accident in Florida, but only if your accident meets specific criteria. You're eligible to file a car accident lawsuit if:

The monetary damage resulting from your accident surpasses your PIP coverage
You sustained a serious, permanent, or disfiguring injury that will cause long-term problems
You weren't at fault for the accident.

However, you can only recover damages not covered by your PIP insurance policy. For example, if you needed to stay in the hospital after your accident, and your bill was $60,000, you're only eligible to recover $50,000, as the remaining $10,000 was already covered by your policy. This restriction also applies to your lost wages, as a percentage of those are covered by PIP as well.

Car accident lawsuits require the person seeking compensation to prove that the at-fault driver acted negligently leading up to the crash. Although this might seem easy to determine, it's very difficult to pull off, as this requires negotiation skills that not many people possess. Additionally, you must also make sure that all of your paperwork is correct and in order throughout the legal process, and if you don't have prior experience, this can cause a serious headache. Any mistake can potentially cost you thousands of dollars in compensation, so it's recommended that anyone who plans to file a lawsuit speak to an attorney before any final decision is made.

Do I Need an Attorney After a Car Accident?

While it's never required to have an attorney by your side after an accident, their involvement can offer some key benefits that can prevent you from running into problems down the line. By retaining an attorney, you're essentially taking a proactive approach to the legal process of your accident, as their assistance can prevent you from making mistakes within your paperwork that would have caused an issue later on. They can also prevent your compensation from being diminished or devalued by a third party, as some car accident victims have found themselves in situations where their insurance company refuses to honor their contract. Without an attorney, these individuals would have to accept the lowball offer, which is why it's so important to have a trusted attorney by your side as you navigate through the process.

In some situations, unethical insurance companies have attempted to capitalize on clients who decide to proceed without a lawyer. They'll see your individuality as a weakness, even if it's not, and they may employ shady business tactics to bully you into accepting a lower settlement offer. Many people have heard this possibility and thought they could outsmart any unethical insurance company, but remember that these organizations have extensive resources and years of experience handling claims. When push comes to shove, you don't want to find yourself on the losing end of the deal, so it's best to retain an attorney sooner rather than later to ensure you're on the right path.

Can I Afford an Attorney?

Other firms will burden you with legal fees beginning from your first consultation, which only furthers the stress of their clients. In most cases, the firms that operate in this manner profit solely from their client's legal fees rather than from successful verdicts. They know that they don't have the resources or manpower to help certain clients find success in their legal challenge, yet they'll take on the client anyway to make as much money as they can from their situation. These firms make a bad name for the rest of us, as they enforce the negative stigma that lawyers are exorbitantly expensive to hire. 

At Morgan & Morgan, we chose to take the path less traveled and create a contingency where everyone can afford skilled representation, regardless of their financial status. When you team up with us, you pay nothing out-of-pocket, and we're only paid when we win your case. Rather than burden you with legal fees, we take our fee from the favorable settlement or jury award at the end of your case. Not only does this keep the costs low on your end, but it also focuses everyone towards one goal: getting you the best possible results on your case. If we aren't successful, we don't get paid either, so we're prepared to fight tirelessly for every penny of the compensation you deserve.

What Can a Car Accident Lawyer Do for Me?

Our Orlando car accident lawyers understand that your life may dramatically change if you aren't awarded your total compensation. A financial burden is a serious one to bear, and we're here to help make sure that the whole process goes as smoothly as possible, always ensuring to put your interests at the forefront of the litigation. Once we receive your call, our attorneys will:

Determine your eligibility and investigate your case: First, our Pensacola office will evaluate the situation surrounding your case and see if you're eligible for a lawsuit. If you qualify to start a lawsuit, we'll begin to establish a case to move forward.
Collect all applicable documentation and evidence: Once it's determined that you have a case, our attorneys will begin to investigate your accident and collect evidence on your behalf. They may look at dashcam footage, security camera footage, police records, and more to help build your case, making sure to leave no stone unturned throughout. Our Pensacola office works closely with subject-matter experts, and we can enlist their help to further build your case for the negotiation table.
Negotiate with the at-fault party: Florida requires that all car accident disputes attempt negotiations before either party can file a lawsuit, and in most cases, an agreement will be reached that awards you rightful restitution. Our attorneys will display your damages, explain how each has affected you, and attempt to resolve the issue, but it's possible that no agreement is reached, and the case will have to move into the courtroom.
Advocate for your rights in the courtroom: If settlement negotiations are unsuccessful, your attorney is prepared to go to trial and present your case in the strongest possible form. Our attorneys build your case around the possibility that it could end up in trial, allowing us to always stay one step ahead of the opposing party.

At Morgan & Morgan, we pride ourselves on going above and beyond for the clients who depend on us. With over 800+ trial ready attorneys, a network of team members from coast to coast, and the resources that other firms can only dream of, we're uniquely capable of handling any car accident case, regardless of the size or complexity.
Scroll down for more
Load More