The Fee Is Free™. Only pay if we win.
America's Largest Injury Law Firm
Protecting Families Since 1988
$15 Billion+ Won
800+ Lawyers Nationwide
Free Case Evaluation
Tell us about your situation so we can get started fighting for you. We tailor each case to meet our clients' needs.
Results may vary depending on your particular facts and legal circumstances.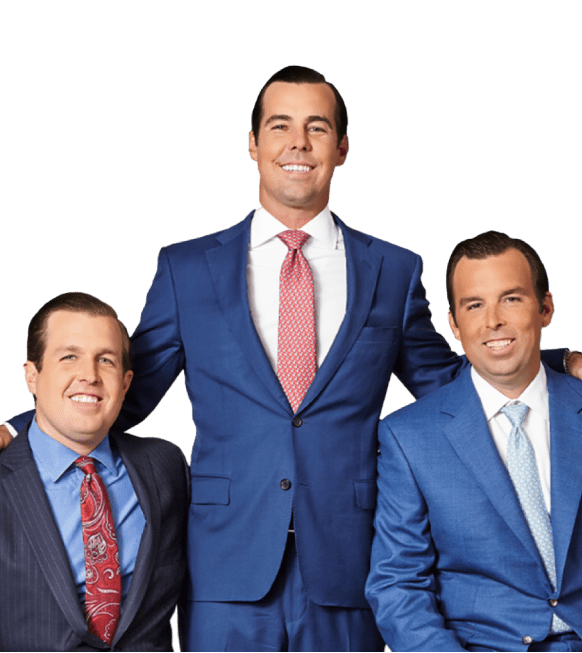 Fort Lauderdale Pedestrian Accident Lawyer
A pedestrian accident can leave you completely broken and devastated. Even worse, it can change your entire life, depending on the severity of your injuries. When that happens, you need someone who can fight for your rights and help you seek the kind of compensation that will hopefully restore you to the position you were in before the accident. If that's what you are looking for, a Fort Lauderdale pedestrian accident lawyer may be able to help. Contact us today to learn more. 
When to Hire a Fort Lauderdale Pedestrian Accident Lawyer  
The first and surest sign that you need a lawyer is when you've suffered serious injuries. This could be anything from broken bones, spinal cord injuries, head trauma, or anything along those lines. You need a lawyer to assess the extent of these injuries. Their assessment can help determine the appropriate compensation for you. 
Secondly, if the insurance company disputes your claim, you need a pedestrian accident lawyer in your corner. But such incidents are not uncommon; insurance companies only care about protecting their interests, and that's why you need a lawyer to advocate for your rights. 
The attorney will also come in handy if you're unsure of where to file a claim or even what to do after the accident. The lawyer will provide valuable guidance you need to fight for your right to compensation ( if you have a valid claim). 
Additionally, in pedestrian accidents, there's always a possibility that the driver responsible for the accident may flee the scene without providing their contact information to the injured party. In such a case, an experienced pedestrian accident lawyer can help determine where to file a claim seeking financial compensation for your injuries and damages. 
Other scenarios where hiring a pedestrian accident lawyer may be necessary include:
Cases involving multiple parties.
Cases involving complex liability issues.
When there are disputes over comparative negligence.
When the insurance coverage is insufficient.
Generally, whether or not you need an attorney after a pedestrian accident should not be debatable. That's because you have nothing to lose yet so much to gain by seeking legal counsel after an accident. 
Cases a Fort Lauderdale Pedestrian Accident Lawyer Can Handle
Pedestrian accident lawyers are not the same; some are more experienced and better equipped than others. At Morgan and Morgan, for example, our attorneys handle a wide range of pedestrian accident claims in Fort Lauderdale.
In the past, we've handled crosswalk accident cases. These cases usually involve serious injuries because pedestrians are vulnerable when crossing the street, especially in designated crosswalks. If you were hit by a vehicle while legally crossing at a crosswalk, tell us about your case — we may be able to help. 
The same applies if you were injured at an intersection, another hotspot for pedestrian accidents. These accidents usually occur due to distracted, speeding, or negligent drivers. 
We've also handled cases involving drivers who were under the influence of alcohol or drugs. In such cases, attorneys can help prove the driver was intoxicated, establish their liability for your injuries, and pursue your much-deserved compensation.
Hit-and-run accidents are also quite common in Fort Lauderdale. In 2022 alone, there were at least 10,643 cases of hit-and-run accidents in this area, leading to 2,130 injuries and 36 deaths. Get in touch with us immediately if you (or a loved one) are a victim of such recklessness. 
Some pedestrian accidents occur due to hazardous conditions on sidewalks. These dangerous conditions include but are not limited to uneven pavements, cracks, potholes, or debris. We've also witnessed accidents in school zones, which is quite heartbreaking given that these locations require special attention due to the potential involvement of children. 
 No matter the circumstances, contact Morgan and Morgan for a free case evaluation. 
Determining Fault in a Pedestrian Accident Case
Determining fault is a crucial step toward securing compensation for your injuries or damages after a pedestrian accident. That's also one of the reasons you should contact a lawyer.
In most cases, the negligent driver usually bears the biggest responsibility for such an accident. This is especially true if they:
failed to yield the right of way to pedestrians in crosswalks;
were speeding when the accident occurred;
were distracted while driving;
ran a red light or stop signs; or 
were operating a vehicle under the influence of alcohol or drugs. 
If any of the above is true, they can be held responsible for the injuries and damages you or a loved one suffered.
We've also witnessed cases where a pedestrian accident may be caused by a defect in the vehicle itself or sometimes due to improper maintenance. Say, for example, the vehicle that caused the accident had a defect, such as faulty brakes or malfunctioning headlights. Depending on the circumstances of that particular case, we may be able to hold the manufacturer or maintenance company liable.
Additionally, in Fort Lauderdale, and throughout Florida, government entities, such as municipalities or transportation departments, can be held responsible for a pedestrian accident. However, generally, these agencies usually enjoy some form of sovereign immunity, per Florida Statute 768.28. Even though you may be able to sue, the case itself must meet very strict requirements. For instance, for most claims against a government agency, you can only recover up to $300,000. So, what if your injuries and damages are worth more than that? Trust your attorney to determine the best way to approach such a complex case. 
Examples of situations where you may need to sue a government agency include accidents caused by poorly designed or maintained roads, inadequate signage, lack of proper crosswalks, or malfunctioning traffic signals. 
You may also have a premises liability case if the pedestrian accident occurred on private property or in an area where property owners have a duty to maintain safe conditions. If the accident was caused by a hazardous condition on the property, you may have a case against the property owner or other parties responsible for maintaining the property. 
Elements of a Pedestrian Accident Claim
Proving a pedestrian accident case can be challenging. While liability may seem clear on paper, that's not always the case, despite the fact that Florida uses a no-fault system when it comes to car accidents. 
In order to maximize your claim by suing other parties involved, you must be able to prove that the driver who hit you owed you a duty of care. All drivers, pedestrians, and other road users, are required by law to maintain this duty. When it comes to pedestrian accident cases, you expect the driver to act in a manner that a reasonably prudent person would under similar circumstances.  
If they fail to do so, then that amounts to a breach of duty. Note that the requirement to observe this duty works both ways; pedestrians may breach their duty of care by jaywalking or crossing against traffic signals. Proving a breach of duty is a crucial aspect of such a pedestrian accident case as it demonstrates the negligence or fault of the party responsible for the accident.
Thirdly, you must prove that you were injured in the pedestrian accident. Injuries in this context could be anything from physical injuries, such as broken bones, head trauma, spinal cord injuries, to internal injuries such as emotional distress or psychological trauma resulting from the accident.
Lastly, you must demonstrate that you suffered damages from the injuries you sustained. These refer to the losses suffered by you or a loved one as a result of the accident. Below, we've discussed the kind of damages you may be entitled to after a pedestrian accident in this part of Florida. 
Recoverable Damages After a Pedestrian Accident
Given that a pedestrian accident can result in significant medical costs, you may be able to recover medical expenses as part of the damages you may be entitled to after such an accident. Such accidents may also warrant the need for compensation for lost wages, particularly if the accident made you miss work. Our attorneys will help gather evidence of your income and employment to help you recover these lost wages.
If your injuries have long-term or permanent effects, making it difficult or even impossible for you to work and earn a living, a Morgan and Morgan pedestrian accident lawyer in Fort Lauderdale can help you seek compensation for future earning capacity.  
Physical pain, emotional distress, and mental anguish are also among the most common consequences of pedestrian accidents. The same applies to disability or disfigurement. We will consider the impact the accident has on your quality of life and psychological well-being when pursuing these damages.
Punitive damages may also be available, especially in cases where the accident occurred due to extreme negligence or intentional misconduct by the at-fault party. In Florida, punitive damages may amount to up to three times the value of compensatory damages. 
Lastly, if the accident resulted in the loss of a loved one, we may be able to assist the surviving family members in pursuing wrongful death damages. These may include but are not limited to funeral and burial expenses, loss of financial support, loss of companionship, and emotional distress.
What To Bring During the Initial Consultation With a Pedestrian Accident Lawyer
In order to help your attorney build the strongest case possible against the other party, we'll need to review accident-related documents. Examples of these documents include the following:
A copy of the police report. 
Photos or videos at the accident scene.
Copies of your medical records documenting the injuries sustained in the accident.
Details of any insurance policies you may have.
Details of any communication with insurance companies, the other party involved, or any witnesses.
Witness information, such as their names, phone numbers, and email addresses.
A list of questions or concerns you have about the legal process. 
Keep in mind that our legal team will contact you to discuss the specific information we will need from you. Also, if you don't have some of these documents, we may be able to help you find them. 
Why You Need a Pedestrian Accident Lawyer
So why exactly do you need a lawyer if you can handle this case on your own? Here are some reasons hiring an attorney isn't a waste of time or money. 
Pedestrian accidents often result in severe injuries that require extensive medical treatment, rehabilitation, and potentially long-term care. Within a few weeks, injuries can cause huge medical expenses and lost wages, including pain and suffering. That's why you need a lawyer to assess the full extent of your injuries and ensure you pursue not just any kind of compensation, but a reasonable amount for your injuries.. 
Keep in mind that insurance companies have legal teams and adjusters whose only concern is to minimize their liability and payouts. For this reason, you need an attorney in your corner to deal with the insurance company directly because they have experience negotiating fair compensation for their clients. 
The aftermath of a pedestrian accident can be overwhelming. A skilled lawyer allows you to focus on your healing and recovery while they handle the legal aspects of your case. In addition, pedestrian accident laws in Fort Lauderdale are complex, as we discussed earlier. Whether it's about no-fault insurance, the statute of limitations, sovereign immunity, or any other complex matter, you can trust a skilled attorney to navigate these issues on your behalf.
Scroll down for more
Recent verdicts & settlements
Results may vary depending on your particular facts and legal circumstances.
Scroll down for more
Results may vary depending on your particular facts and legal circumstances.
How it works
It's easy to get started.
The Fee Is Free™. Only pay if we win.
Results may vary depending on your particular facts and legal circumstances.
Step 1

Submit
your claim

With a free case evaluation, submitting your case is easy with Morgan & Morgan.

Step 2

We take
action

Our dedicated team gets to work investigating your claim.

Step 3

We fight
for you

If we take on the case, our team fights to get you the results you deserve.
---
Client success
stories that inspire and drive change
Explore over 122,576 5-star reviews and 800 client testimonials to discover why people trust Morgan & Morgan.
Results may vary depending on your particular facts and legal circumstances. Based on Select nationwide reviews
FAQ
Get answers to commonly asked questions about our legal services and learn how we may assist you with your case.
Morgan & Morgan
Is There a Deadline for Filing a Pedestrian Accident Claim in Fort Lauderdale?

In Florida, you only have two years from the accident date to file a car accident claim. You won't be eligible for compensation if you file the claim outside this window. 

How Much Will It Cost To Hire a Pedestrian Accident Lawyer?

Nothing. At Morgan and Morgan, we work on a contingency basis. In other words, we only get paid if we win.

Will the Lawyer Take My Case to Court?

Yes, although our goal is to settle out of court, which is usually the faster and better alternative, we do not hesitate to go to court if that's what is best for our clients. 

Why Should I Hire a Morgan and Morgan Pedestrian Accident Lawyer?

Morgan and Morgan is the largest injury firm in the country. We boast an army of 900+ injury attorneys, a record of winning over $15 billion as compensation for the injured, more than 300,000 happy clients, and powerful legal resources to handle even the most complex cases.

Hire a Fort Lauderdale Pedestrian Accident Lawyer

Financial compensation can help take care of crucial bills that often arise after such accidents. At Morgan and Morgan, we may be able to help you or a loved one obtain this compensation. Fill out our free case evaluation form today to learn more. 
Scroll down for more
Load More