The Fee Is Free™. Only pay if we win.
America's Largest Injury Law Firm
Protecting Families Since 1988
$15 Billion+ Won
800+ Lawyers Nationwide
Free Case Evaluation
Tell us about your situation so we can get started fighting for you. We tailor each case to meet our clients' needs.
Results may vary depending on your particular facts and legal circumstances.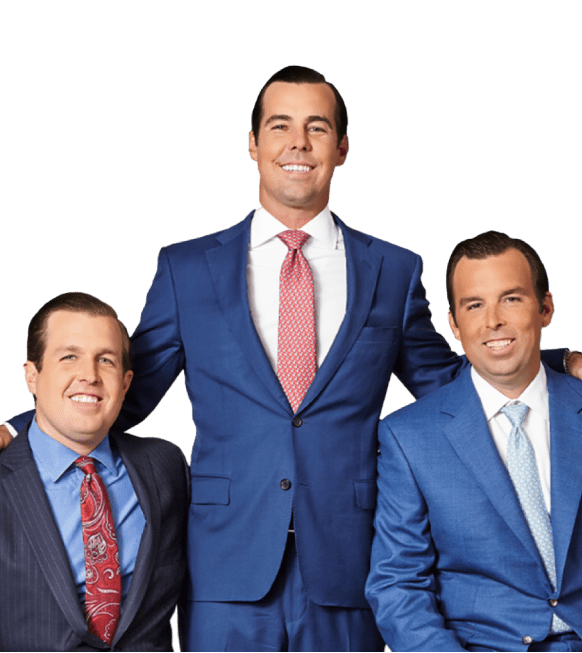 DUI Lawyers In Miami
Morgan and Morgan is the injury firm to contact if you're looking for DUI lawyers in Miami. In addition to a free case evaluation, we may be able to help you hold the other party accountable for your injuries or losses after an accident caused by a drunk driver. Read further to learn more about our DUI lawyers in Miami. 
When to Hire a DUI Injury Attorney
Many different scenarios would warrant the need for a drunk driving injury attorney in Miami. For starters, you'll likely need this attorney if the insurance company denies your claim or disputes liability. That's where an attorney comes in to review the details of your policy to find out if your claim is covered. 
After a drunk driving accident, serious questions may arise regarding liability. This is especially true if multiple parties were involved or if there is a question of shared fault warranting the need to impose Florida's pure comparative laws on the case. A skilled attorney knows how to gather key pieces of evidence to help establish liability for the accident. 
Florida's no-fault system generally limits a plaintiff's ability to sue for damages in Miami. However, the same laws also allow you to bypass the no-fault system if you: 
suffered a permanent disability;
suffered serious scarring; or
experienced a significant loss of body functions
You may also bypass these laws if the drunk driver was uninsured or if the accident happened out of state. 
In some drunk driving accidents, liability may fall on multiple parties, starting with the drunk driver all the way down to the bar that served them alcohol in the first place. Each party may have its own insurance coverage, making it even more challenging to negotiate with multiple insurance carriers. But since DUI injury lawyers are usually skilled negotiators, you can count on them to provide the legal assistance you need to file a claim with each liable party and negotiate a favorable settlement. 
No doubt that drunk driving accidents occur due to extreme negligence. That's because drinking and driving is just one of the things you'd expect any driver to avoid or at least understand its consequences. In such a case, a lawyer may be able to help you secure punitive damages to punish the at-fault party for their negligence. 
The same applies if the accident results in the death of a loved one. You'll need a lawyer to help establish negligence and file a claim for compensation for funeral expenses, medical bills (if the deceased received medical treatment before death), loss of income (if the deceased provided financial support to the survivors), and emotional distress, among others. 
Determining Liability in a Drunk Driving Accident in Miami
While the issue of liability in a drunk accident case may seem clear from the outset, given that drinking and driving is a serious offense, the goal is to ensure that you maximize your claim. To do this, your attorney will look at the primary and most obvious party:the intoxicated driver. 
Next, they'll want to find out if the establishments that served alcohol to the driver share some degree of liability. 
In Florida, the state's "dram shop" laws are designed to hold commercial establishments, such as bars, restaurants, and nightclubs, responsible for overserving alcohol to visibly intoxicated individuals. If your lawyer can prove that the establishment continued to serve alcohol to the person who later caused the drunk driving accident, the establishment may share some responsibility.
Liability may also fall on individuals who hosted a social gathering or party where alcohol was served to the driver who later caused the accident that injured you or a loved one. Although Florida does not have specific social host liability laws, under certain circumstances, a social host who knowingly provided alcohol to a minor or a person who was already visibly intoxicated could still be held liable. 
In the past, courts have ruled that employers might be held partially responsible under the legal doctrine of "vicarious liability" or "employer liability." This is especially true in situations where the employer knew or should have known that the employee in question could not operate the vehicle because they were drunk at the time.
Pure Comparative Negligence in a Drunk Driving Accident Case
At Morgan and Morgan, we've handled many cases in Florida and all over the country where the legal principle of comparative negligence has come into play countless times when determining liability and damages in drunk driving accident cases. This legal doctrine allocates fault for the accident based on the degree of negligence of each party involved in the accident. 
Just to give you some perspective, think of a situation where a drunk driver strikes a pedestrian crossing the street at a designated crosswalk. During the investigation, it is revealed that the pedestrian was wearing dark clothing at night and failed to activate the pedestrian crossing signal.
As a result, the court rules that the drunk driver was primarily responsible for the accident for obvious reasons but also concludes that the pedestrian was partially negligent for not taking appropriate precautions while crossing.
So if the total value of the case is $100,000 and the driver is 80% at fault, the plaintiff can only recover $80,000 (80% of $100,000). 
The harsh reality about these rules is that insurance companies will always try to swing the liability scale towards the plaintiff's side, hoping that they will carry the larger percentage of fault. For this reason, you need a skilled attorney who understands these tricks insurance companies play to avoid liability. With such knowledge in mind, they will help you preserve and maximize your claim.
Recoverable Damages In a No-Fault Car Insurance Claim After a Drunk Driving Accident 
The kind of damages you may be able to recover will depend on various factors, including where you file your claim. Claims filed with your own insurance company under Florida's no-fault car insurance system will allow you to recover damages for medical expenses (up to 80%) and the treatment of injuries you suffered as a result of the drunk driving accident. 
If you're able to bypass the no-fault system, meaning your injuries meet the threshold we discussed earlier, that changes everything. In short, you can recover both economic and non-economic damages, and if possible, punitive damages as well from the other party.
Maximizing Your Claim After an Accident Caused By a Drunk Driver
Even though you may be eligible for compensation after an accident caused by a drunk driver, your actions will also determine the actual value of your claim. In other words, what you do after the accident will ultimately decide whether you'll just win the case for the sake of winning or actually take home an amount that truly represents what you've suffered since the accident occurred. 
Let's look at some of the things you should do after such an accident. 
First, take care of your health and well-being by seeking immediate medical attention for any injuries you sustained, no matter how minor they may seem. The same applies even if you don't feel any pain or discomfort at that particular moment. Some of these injuries usually take time to reveal their symptoms, and you want to be on the safe side just by getting checked by a doctor within 72 hours of the accident. 
You can help your lawyer build a strong case to support your claim by gathering as much evidence as possible. Evidence in this context could be anything relevant to the case, from photographs of the accident scene, damage to vehicles, injuries you sustained, skid marks showing the direction of each vehicle when the accident occurred, and so on.
Keep records of your injuries, medical treatments, and related expenses. Here, we're talking about medical bills, doctor's reports, x-ray results, prescriptions, receipts, and anything else along those lines. 
Importantly, contact a reputable and experienced drunk driving accident lawyer in Miami as soon as possible to protect your rights and maximize your claim for compensation.
The buck doesn't stop at knowing what to do; you should also have an idea of things to avoid if you truly care about preserving your claim. 
To begin with, avoid giving recorded statements to insurance companies or other parties without legal counsel. That's because anything you say could be used against you to jeopardize your claim. 
Secondly, don't be in a rush to settle, especially without a lawyer's guidance. The only reason insurance companies may try to settle early is because they want to offer less than what you deserve.
Refrain from discussing the accident on social media, even if you just want to let your friends or family know what happened and probably keep up with your recovery process. Insurance companies and defense lawyers may monitor your social media activity to try and find any reason to question the legitimacy of your claim or the severity of your injuries. To protect your claim, you should maintain privacy and only discuss the accident with your doctor and attorney. 
Always be honest about your injuries and their impact on your life. Exaggerating or fabricating injuries for the purposes of maximizing your claim could raise serious questions about your credibility, and, in most cases, it could amount to insurance fraud.
Lastly, don't delay taking legal action. In Miami, you only have four years from the date of the drunk driving accident to take legal action. If your loved one died in the accident, you'll only have two years to file a wrongful death claim.
What Are Some Qualities of a Good Miami DUI Injury Lawyer?
When looking for the right DUI injury lawyer in Miami to represent you or a loved one, consider their experience handling drunk driving accident cases. The more experienced they are, the more likely it is that they can obtain a favorable outcome. 
You also need a lawyer with access to powerful resources to handle your case effectively. That's the only way they'll be able to build a solid case to support your claim. 
The lawyer's reputation is also critical; you can learn more about this by reading their reviews on Google and attorney directories. 
Consider the results they've had in previous drunk driving accident cases. Have they won any big cases for their clients, or are they going to use your case as an experiment?
Scroll down for more
Recent verdicts & settlements
Results may vary depending on your particular facts and legal circumstances.
Scroll down for more
Results may vary depending on your particular facts and legal circumstances.
How it works
It's easy to get started.
The Fee Is Free™. Only pay if we win.
Results may vary depending on your particular facts and legal circumstances.
Step 1

Submit
your claim

With a free case evaluation, submitting your case is easy with Morgan & Morgan.

Step 2

We take
action

Our dedicated team gets to work investigating your claim.

Step 3

We fight
for you

If we take on the case, our team fights to get you the results you deserve.
---
Client success
stories that inspire and drive change
Explore over 122,576 5-star reviews and 800 client testimonials to discover why people trust Morgan & Morgan.
Results may vary depending on your particular facts and legal circumstances. Based on Select nationwide reviews
FAQ
Get answers to commonly asked questions about our legal services and learn how we may assist you with your case.
Morgan & Morgan
How Do Miami DUI Accident Lawyers Get Paid?

While we cannot speak for other attorneys or firms in Miami, Morgan and Morgan DUI accident lawyers get paid on a contingency basis. This basically means that the fee is free unless we win. If we win, we will deduct a small percentage of the settlement, usually 30 to 40 percent, which goes into covering attorney fees and other legal expenses.

Can a DUI Accident Lawyer Represent Me in Court?

Not every DUI accident lawyer you see out there can represent you in court. But that's not something you should be worried about when you hire a Morgan and Morgan lawyer; all our attorneys are always ready to fight in court if negotiating a settlement out of court is no longer feasible, especially due to the other party's unwillingness to cooperate. 

How Much Is My Case Worth?

It depends on the facts and circumstances of the case. The best way to discover the value of your case is by having it reviewed by a legal representative at Morgan and Morgan.

Why Should I Hire a Morgan and Morgan DUI Injury Lawyer?

Morgan and Morgan is America's largest injury firm boasting an army of over 900 attorneys, a record of winning over $15 billion, and working with over 300,000 happy clients. In addition, our attorneys do not settle for less unless it is your best offer. 

Can I Press Criminal Charges Against the Drunk Driver?

Yes, you can, but going that route won't lead to financial compensation for your injuries. If you need to recover damages, which you should, filing a personal injury lawsuit is the best pathway.

Let Morgan and Morgan DUI Lawyers In Miami Handle Your Case

The feeling of having your case handled by America's largest injury firm gives you the hope you need to look continue making progress while healing from your injuries. Whether you are nursing serious injuries, mourning the death of a loved one killed in the accident, or both, Morgan and Morgan understands your pain. If you have a valid claim, we may be able to help you seek compensation for your damages.

Fill out this form to tell us about your case.
Scroll down for more
Load More