The Fee Is Free™. Only pay if we win.
America's Largest Injury Law Firm
Protecting Families Since 1988
$15 Billion+ Won
800+ Lawyers Nationwide
Free Case Evaluation
Tell us about your situation so we can get started fighting for you. We tailor each case to meet our clients' needs.
Results may vary depending on your particular facts and legal circumstances.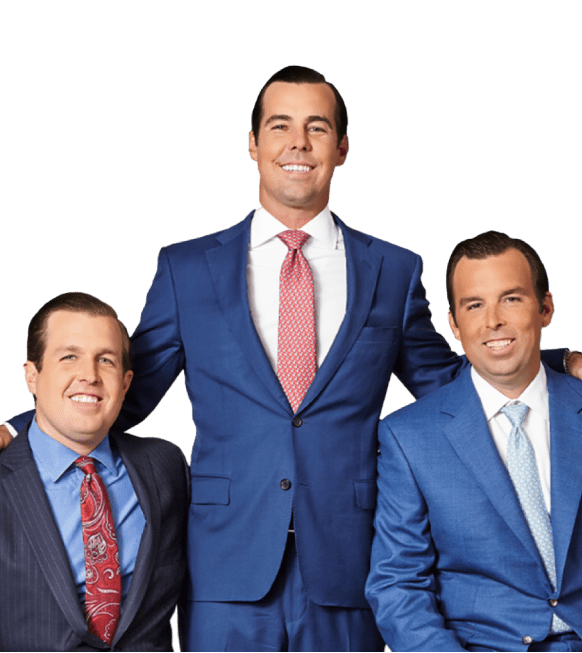 How to Find the Best Hurricane Damages Lawyers in Alpharetta, GA
Seeing your home destroyed or damaged by a hurricane can be traumatic, even if you have adequate homeowners insurance coverage. At least you can expect to recover the necessary funds to fix the damage, right? Unfortunately, it does not always work like this. Often, homeowners file a claim and end up underpaid or having their claim denied altogether. 
Some insurance companies put profits before the needs and rights of their policyholders. They may deny a claim outright in an attempt to wear you down, hoping you will give up. Morgan & Morgan thinks it is wrong that homeowners have to fight to recover the compensation they are entitled to and need to rebuild their homes and lives after a storm. 
You do not have to accept a claim denial. Our determined and experienced hurricane damages lawyers in Alpharetta, GA, could help. Contact us now to find out how to get your insurance claim paid.
When You Need a Hurricane Damages Lawyer
According to the Georgia Emergency Management and Homeland Security Agency (GEMA), hurricanes can pose a significant threat to the state. Georgia is threatened by hurricanes forming in the Gulf of Mexico, southern Atlantic, and the Caribbean. While you are unlikely to see the most destructive winds and flooding from a hurricane in Alpharetta, even an inland city could see damaging winds and abnormally high rainfall. 
A hurricane or tropical storm can wreak havoc with your house and possessions. Most homeowners' insurance policies cover damage caused by windstorm events such as tropical storms, hurricanes, and tornadoes but generally exclude flood damage. However, if you purchased separate flood insurance, you should also be covered in the event of flooding. Having adequate insurance generally entitles you to a settlement when damage occurs that is covered in your policy. However, the reality can be quite different.
Insurances are quick to deny valid claims and leave you out in the cold if you suffered significant damage. They may offer an amount that barely covers more than repainting the inside of your home while you have extensive damage. Insurers can also simply deny your claim. This is where a hurricane damage attorney can step in and help you out. They can review your policy, determine your options, and fight for the settlement you deserve.
Tactics Insurers Employ to Avoid Paying Claims
Some insurers can make it next to impossible to recover an adequate settlement for storm damage. Some of their manipulative tactics can include: 
Alleging your damages are excluded under the policy
Deliberately minimizing and underpaying your claim
Delaying a settlement unreasonably
Offering a lowball settlement amount
If you encounter any manipulative tactics by an insurance company, it is time to talk to a hurricane damages lawyer in Alpharetta, GA, and find out about your options. Morgan & Morgan is here for you and can help you hold an insurance company to account so you can fix your house and move on with your life.
Your Next Best Steps After Hurricane Damage
Most homeowners go to lengths to protect their properties when a storm is approaching. However, hurricanes unleash forces that can damage the most protected homes in unforeseeable ways. If your property sustained damage, there are some steps you can take to limit any further adverse effects and help move your insurance claim forward.
Protect Your Property From Deterioration 
If your roof or other parts of your property suffered damage and water intrusion, make sure to cover up the area to prevent further water damage. An insurance company will look for reasons to deny or reduce your claim. They could argue that your property suffered additional damage due to you failing to protect the structure.
Collect Evidence of Damages
No matter the extent of your damage, you should document everything meticulously, including the outside and inside of your home and your yard area, if applicable. Take pictures of all the damages from every possible angle. If your roof is damaged, try to get good pictures from the outside and inside, if possible. 
If your home suffered damage to the floors, walls, furniture, and fittings, take photos of the entire room and then focus on the individual damaged items. Keeping a written inventory can also be an excellent idea. Proving your losses is essential for filing a successful insurance claim. Ensure to keep all receipts of repair expenses.
File a Claim Promptly
The sooner you contact your insurance company after suffering property damage in a storm, the better for the outcome of your claim. Storm damage can be costly. Moreover, you may have to use your own funds to fix some issues immediately or risk further damage to your home. Receiving a settlement will not be instant. However, the sooner you get the claims process started, the sooner you could receive funds for further repair, as well as reimbursement of the expenses you already incurred. 
Contact a Hurricane Damages Lawyer in Alpharetta, GA
If your property sustained significant damage in a storm, and an insurance company is lowballing, denying, or unreasonably dragging out your claim, you should take action as soon as possible. Get one of our experienced insurance dispute lawyers on your side who can work tirelessly to fight for you the settlement you deserve.
Finding the Best Hurricane Damages Lawyers in Alpharetta, GA
Suffering significant damage to the home you love can be traumatizing and upsetting. Moreover, your property is most likely the biggest asset you will ever own. Seeing it damaged can feel stressful and overwhelming. If you are struggling to get your due from your insurer, you need a seasoned attorney by your side. The best hurricane damages lawyers have compassion for what you are going through and the necessary legal knowledge and determination to take on powerful insurance companies. How do you go about finding them?
Ask Friends and Family for Referrals 
It can be a good idea to find out whether any of your friends or family ever had trouble getting their due from an insurance company. The issue is much more common than you might think. Your connections may be able to offer you the names of lawyers you can contact for free consultations. Word-of-mouth is still one of the best options to find trustworthy professionals in most fields.
Use Online Research 
You could simply "Google" the names of insurance disputes lawyers in Alpharetta to see what the internet comes up with. There are some great online databases, such as Avvo, where potential clients can check attorneys' credentials and client reviews, which can be invaluable for pre-selecting suitable attorneys to meet personally.  
Schedule Consultations
A critical step when looking for the best hurricane damages lawyer is to schedule free consultations with law firms and attorneys. Consultations allow you to get to know the lawyer and legal team and ask your most pressing questions. Ensure to quiz the attorney about their track record and experience with handling insurance disputes. Questions can include:
How many years have you handled hurricane insurance disputes?
Have you won an insurance dispute case at trial?
How long does it normally take to get a settlement?
Will you handle my case?
Does it cost something to hire you?
While experience and knowledge are vital when selecting the best attorney for your case, pay attention to the lawyer's personality and communication style too. You will want an attorney that listens to your concerns and seems enthusiastic about taking on your case. 
 
Scroll down for more
Recent verdicts & settlements
How it works
It's easy to get started.
The Fee Is Free™. Only pay if we win.
Results may vary depending on your particular facts and legal circumstances.
Step 1

Submit
your claim

With a free case evaluation, submitting your case is easy with Morgan & Morgan.

Step 2

We take
action

Our dedicated team gets to work investigating your claim.

Step 3

We fight
for you

If we take on the case, our team fights to get you the results you deserve.
---
Client success
stories that inspire and drive change
Explore over 55,000 5-star reviews and 800 client testimonials to discover why people trust Morgan & Morgan.
Results may vary depending on your particular facts and legal circumstances.
FAQ
Get answers to commonly asked questions about our legal services and learn how we may assist you with your case.
Morgan & Morgan
What Is a Hurricane Deductible?

Deductibles in insurance policies refer to a set amount of money, for example, $2,000, that a homeowner will have to pay before the insurance coverage kicks in.

According to the Insurance Information Institute (III), insurance companies generally determine the amount of a hurricane or windstorm deductible and when it applies.

The state of Georgia generally includes hurricane deductibles in homeowner insurance policies. While policies can vary, the deductible usually ranges from one to five percent of the home's insured value. While this may not sound like a lot, consider that one percent of a $500,000 home is $5,000, and five percent totals $25,000. 

Policyholders typically cannot get around paying these deductibles. Consider that you may have to pay the deductible upfront before receiving any coverage for your hurricane damage. 

Does Homeowner Insurance Cover Hurricane Damage in Alpharetta?

In most cases, yes. Homeowners insurance generally covers damage to your home from high winds and rain. However, a standard homeowners policy typically excludes any damages arising from a flood or storm surge. If you live in an area prone to flooding during periods of heavy rain or storms in Alpharetta, consider purchasing additional flood insurance.

How Long Does the Claims Process Take?

Unfortunately, it can take a while before you hold a check in your hands. Insurance claims can take many months after a major storm hits an area. Most insurance companies are unable to handle the flood of claims promptly after a significant hurricane. They may simply not have enough adjusters and administrators to deal with all the property inspections and paperwork. Therefore, it is crucial that you file a claim as soon as possible when experiencing damage. You will want to get ahead of the long line of claims.

Should I Carry Out Minor Repairs After a Hurricane?

Carrying out minor repairs can be crucial, especially if not doing so could lead to further damage. You may not be able to get any contractors to fix issues immediately after a storm. However, making an attempt at damage limitation can protect your rights to an adequate insurance settlement.

For example, if you lost some shingles, try to make good the damage in any way you can, such as by fitting a tarp.  Another storm or persistent rain could damage your roof and house further. It is important to note that doing nothing could lead to a denial of your claim for further damage. The insurance could also offer you less money, arguing that you should have prevented additional damage from occurring. 

Ensure to document everything and take pictures of the original damage immediately after it occurred. Take pictures of any temporary repairs too. If you want to be reimbursed adequately, save any receipts from materials and other amounts spent on repairs.

What Should I Do if My Claim Is Denied or Underpaid?

Do not be surprised or panicked if an insurer denies your claim in the first instance, as this is quite a common occurrence. Often, an insurance company's first step is to deny any claims.  The insurer might allege that you are not covered under your policy. If your claim is denied, an attorney can determine why and help with recovering your due if the denial was unreasonable. 

Moreover, having a hurricane damages lawyer by your side in Alpharetta, GA, will signal to the insurer that you are serious and determined to fight for what you deserve. Our attorneys can advocate for you and sue the insurance company if necessary. 

Our Hurricane Damages Lawyers Are Here for You

 We understand how upsetting experiencing a hurricane and severe damage to your home and possessions can be. Having to fight for what you are entitled to further adds to the stress. However, you do not have to take on the insurance company by yourself. Our experienced hurricane damages lawyers in Alpharetta, GA, can review your policy, assess your hurricane damages, and help to hold an unreasonable insurance company to account. 

Morgan & Morgan can be here for you and take the burden off your shoulders. Our tenacious insurance dispute lawyers know the tricks insurance companies play and never settle for less. You do not have to worry about having to pay any out-of-pocket attorney's fees when working with us. We get paid when we win. Contact us now for a free consultation to learn about your options.
Scroll down for more
Load More