The Fee Is Free™. Only pay if we win.
America's Largest Injury Law Firm
Protecting Families Since 1988
$15 Billion+ Won
800+ Lawyers Nationwide
Free Case Evaluation
Tell us about your situation so we can get started fighting for you. We tailor each case to meet our clients' needs.
Results may vary depending on your particular facts and legal circumstances.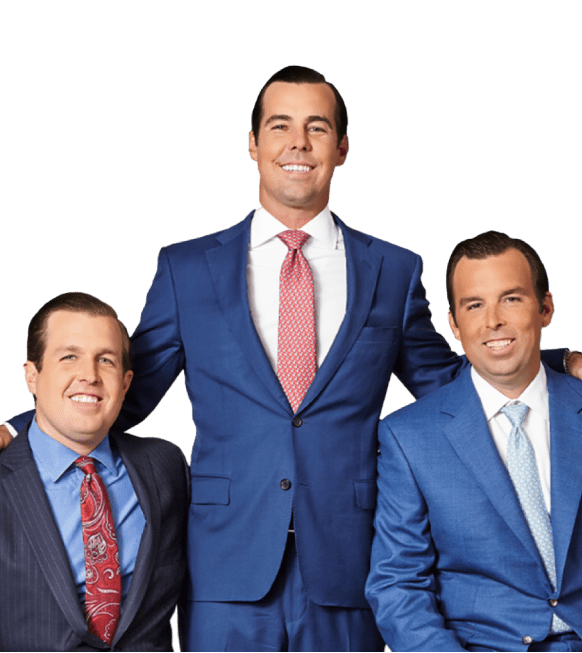 Alpharetta Overtime Attorneys
Successful companies make profits because of the labor of their workers. When employees provide corporations with work, they deserve certain assurances. 
Under U.S. federal law, most employees have the right to receive an overtime pay rate. You're probably owed overtime pay if you work more than 40 hours in a single week in Georgia.
However, some unscrupulous businesses attempt to deny employees the pay to which they're entitled. If you haven't been compensated adequately for your work, consider contacting a team of overtime attorneys in Alpharetta to pursue a legal claim. 
The accomplished legal experts at Morgan & Morgan can help you determine the amount of overtime pay you're owed. Don't let a greedy employer illegally downplay the value of your labor. 
Morgan and Morgan's overtime attorneys in Alpharetta can help you start the process of seeking compensation. We know what it takes to hold unscrupulous employers and businesses accountable. 
In some instances, wage and hour claimants can recover additional compensation for their foregone payments. Victims of wage theft in Georgia are typically unaware of their legal options for pursuing justice. A skilled employment lawyer can help you resolve disputes and claims related to overtime wages.
Schedule a free consultation with the compassionate attorneys at Morgan & Morgan by completing the brief contact form on our website.
Overtime Payment Requirements and Statutes
The U.S. federal government has passed several major pieces of legislation aimed at protecting employees. These statutes are intended to ensure that workers receive fair compensation for their labor.  
Most employees in Georgia are covered by the Fair Labor Standards Act (FLSA). This important piece of federal worker protection regulation requires businesses to provide overtime pay to employees who work more than 40 hours a week.
Overtime pay rates must be at least one-and-a-half times the person's normal hourly wage. Employers are not required to provide overtime pay on holidays, weekends, or other specific occasions.  
The sole measure of which hours qualify for overtime pay is the amount of work provided in a given week. If you've worked more than 40 hours in a single week without adequate pay, overtime attorneys in Alpharetta can review your case. 
Suppose that you're paid $10 per hour throughout your regular work week. If your supervisor requires you to work 50 hours one week, ten of those hours should be paid at an overtime rate. In this case, you would be owed $15 for each additional hour you provide. 
In a normal 40-hour work week, you would earn $400. If you worked 50 hours, however, ten of which were overtime, you would earn $550.
The minimum wage in the state of Georgia is the same as that specified by federal law. As of 2022, the federal minimum wage is $7.25. This means the minimum wage for overtime hours is $10.88. 
Underpaid workers may be able to pursue civil claims showing that their employers violated federal employment regulations. When you've been under-compensated in Georgia, a skilled legal professional will help you recover the money that's yours by right.
Overtime Exemptions in Georgia
Most employees are covered by the overtime regulations detailed in the FLSA. However, there are exemptions for some types of workers.
In certain positions and occupations, employees are not eligible for overtime pay. Some of the categories of work that involve overtime exemptions include:
Administrative Positions
In these roles, workers use their own judgment regarding the completion of various tasks. Administrative employees also engage in non-manual work (office work).  
This type of work is related to general business operations or the management of other employees. Workers who have authority over daily business operations or company policy are classified as "administrative."
To qualify for an overtime exemption under federal regulation, these workers must have some administrative authority. They must also earn at least $684 per week.
Executive Positions
Executive employees manage full businesses or specific departments within a company. Executives have the ability to hire, fire, and promote other employees.  
Even when they don't have direct hiring power, their recommendations are given weight within the company. Executives usually direct the work of at least two other full-time employees.
To qualify for overtime exemption, executives must make at least $684 per week. If you believe that you were wrongfully denied overtime pay in Georgia, it's strongly recommended that you seek the services of overtime attorneys in Alpharetta.
Computer-Related Positions
Some computer-based positions are exempt from overtime pay requirements as well. This exemption is described in the FLSA and usually applies to workers with extensive technical knowledge and experience.
Common examples of exempt positions related to computer work include: 
Software engineers
Software architects
Digital systems analysts
Computer programmers 
These employees must earn at least $684 per week or an hourly rate of $27.63 to be exempt from overtime requirements.
The Department of Labor details additional skills and responsibilities computer employees must hold to qualify for an overtime exemption, such as:
Determining the functional specifications of systems, software, or hardware
Engaging in the development, design, testing, or analysis of programs
Designing or testing digital programs needed for machine operating systems
Any duties related to those above requiring similar skills 
Employees who provide manual labor related to computers, including manufacturing or repair, do not qualify as exempt.
Outside Sales Positions
Outside sales jobs are often exempt from regulatory overtime requirements. To be exempt, salespeople must typically engage in business away from the office or store. 
Outside sales employees' primary duties must be: 
Meeting with prospective customers or clients
Negotiating sales
Securing contractual agreements or orders for their business 
Minimum weekly salary requirements don't apply to these positions.
Professional Positions
Professional workers are often exempt from overtime pay requirements. Those employees who qualify for this exemption are usually either creative professionals or learned professionals.  
Some common examples of positions that fall under this exemption include: 
Actuaries
Actors
Accountants
Architects
Cartoonists
Chemists
Biologists
Medical doctors
Graphic designers
Musicians
Painters
Engineers
Attorneys
Professors
Teachers 
These employees provide labor involving designing, brainstorming, inventing, and other innovative activities.  
There may be other positions that make workers exempt from overtime pay requirements. To determine the amount of compensation you're legally owed, consult a team of overtime attorneys in Alpharetta, GA. 
The team at Morgan and Morgan has a thorough knowledge of the state and federal regulations related to wage and hour claims. We'll fight diligently to recover every cent to which your work entitles you. 
Don't let miserly business owners or operators deny you the payment you've earned by sacrificing your valuable time and energy. When businesses undervalue the labor their workers provide, victims have the right to pursue legal claims for recovery.
Independent Contractor Misclassification
Independent contractors, also called "1099 employees," are workers who can decide the method and timing of the work they provide. These employees are hired for a specific job or task rather than on an ongoing basis.
Under federal and state law, independent contractors are not entitled to overtime pay. If an independent contractor works more than 40 hours in a single week, their pay won't be affected.  
However, some employers attempt to skirt overtime payment requirements by misclassifying their workers. Businesses are not permitted to call just any of their employees "independent contractors" in hopes of denying them a fair wage—doing so is illegal.
There's no single or universal definition for the term "independent contractor" in Georgia. Speak with Morgan & Morgan's overtime attorneys in Alpharetta to determine the appropriate classification of your position.
Those appropriately classified as "independent contractors" are only eligible for compensation specifically stated in their contract. A lawyer can help you understand your rights and legal options if you've been misclassified unjustly.
Scroll down for more
Recent verdicts & settlements
How it works
It's easy to get started.
The Fee Is Free™. Only pay if we win.
Results may vary depending on your particular facts and legal circumstances.
Step 1

Submit
your claim

With a free case evaluation, submitting your case is easy with Morgan & Morgan.

Step 2

We take
action

Our dedicated team gets to work investigating your claim.

Step 3

We fight
for you

If we take on the case, our team fights to get you the results you deserve.
---
Client success
stories that inspire and drive change
Explore over 55,000 5-star reviews and 800 client testimonials to discover why people trust Morgan & Morgan.
Results may vary depending on your particular facts and legal circumstances.
FAQ
Get answers to commonly asked questions about our legal services and learn how we may assist you with your case.
Morgan & Morgan
How Long Do I Have to File an Overtime Claim in Alpharetta, GA?

The legal deadline for filing civil claims is known as the "statute of limitations." The statute of limitations for hour and wage claims is determined at the state level.

In Georgia, the state government adheres to the regulations set out in the FLSA. In other words, you must file an overtime wages lawsuit within two years of the initial wage regulation violation.

For this reason, it's critical to speak with overtime attorneys in Alpharetta as soon as possible. Failing to pursue financial recovery before the statute of limitations expires may result in the courts dismissing your case.

In some instances, the two-year statute may be extended by an additional year. If the employer willfully violated the overtime requirements in the FLSA, the claimant could file within three years. This is also true if the company showed reckless disregard for the law.

Consulting with a wage and hour attorney is the surest way to recover the money your employer owes you. Don't allow tightfisted businesses to commit wage theft with no repercussions.

The attorneys at Morgan and Morgan have a history of fighting successfully for workers. We believe corporations and businesses must be held accountable for any harm they cause or injustice they commit.

What Types of Financial Compensation Can I Recover in an Overtime Lawsuit?

Successful overtime payment lawsuits may result in several kinds of financial recovery for the plaintiff. First and foremost, wage theft victims can hope to recover the income they've been denied. 

You should be paid the full value of your labor, especially when federal regulations mandate an overtime rate. In addition to unpaid overtime, Georgia businesses may also be required to pay wage theft victims liquidated damages.

These payments make up for associated costs that are difficult to quantify, such as:

Fees for bounced checks
Late charge fees
Other miscellaneous losses from being underpaid 

Morgan & Morgan's overtime attorneys in Alpharetta can determine the total value of your case and pursue remuneration on your behalf.

Will My Overtime Claim Result in a Trial?

Most civil claims don't result in a courtroom trial. However, some do. That's why it's critical to have a seasoned litigator to represent you. 

Morgan and Morgan boasts a team of over 900 attorneys, all of whom possess extensive trial experience. Let our tenacious lawyers fight to recover the funds you have coming to you.

Contact Overtime Attorneys in Alpharetta, GA

Your employer shouldn't be able to deny you the overtime payments you've earned with your labor. Fortunately, the skilled Georgia tort lawyers at Morgan & Morgan have the leverage needed to pressure them to provide the full value of your labor.

Schedule a free consultation with our legal team today by completing our quick online contact form. Don't settle for less than the combined power of America's largest tort law firm, Morgan and Morgan.
Scroll down for more
Load More