The Fee Is Free™. Only pay if we win.
America's Largest Injury Law Firm
Protecting Families Since 1988
$15 Billion+ Won
800+ Lawyers Nationwide
Free Case Evaluation
Tell us about your situation so we can get started fighting for you. We tailor each case to meet our clients' needs.
Results may vary depending on your particular facts and legal circumstances.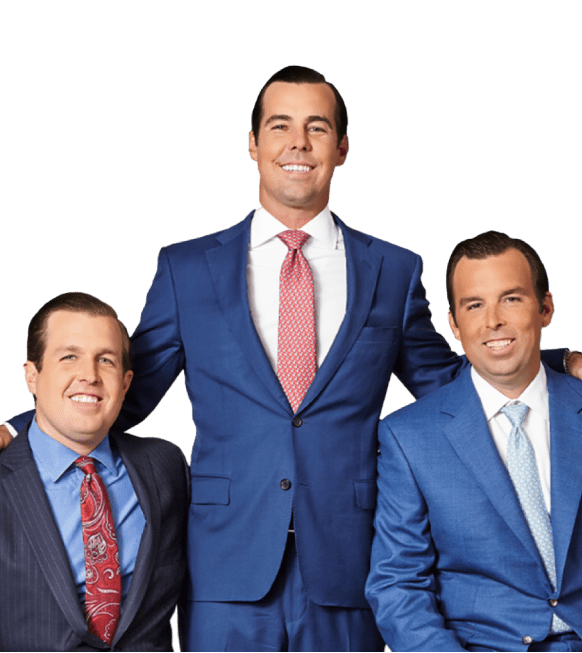 Labor and Employment Lawyer in Alpharetta
Alpharetta's workers are entitled to fair pay and respectful treatment. Federal and state laws protect employees from illegal acts such as discrimination, wage theft, retaliation, wrongful terminations, and others. If an employer fails to pay you adequately, subjects you to unlawful harassment, or breaks any other labor laws, you could be entitled to compensation.
Exploitation and mistreatment at work are not only illegal but also immoral. Morgan & Morgan fights tirelessly on behalf of wronged workers. Our labor and employment lawyers in Alpharetta could help you stand up to an unethical employer and receive the compensation to which you are entitled. Contact us now for a free, confidential consultation to discover whether you have a case against your employer.
Scroll down for more
Recent verdicts & settlements
How it works
It's easy to get started.
The Fee Is Free™. Only pay if we win.
Results may vary depending on your particular facts and legal circumstances.
Step 1

Submit
your claim

With a free case evaluation, submitting your case is easy with Morgan & Morgan.

Step 2

We take
action

Our dedicated team gets to work investigating your claim.

Step 3

We fight
for you

If we take on the case, our team fights to get you the results you deserve.
---
Client success
stories that inspire and drive change
Explore over 55,000 5-star reviews and 800 client testimonials to discover why people trust Morgan & Morgan.
Results may vary depending on your particular facts and legal circumstances.
FAQ
Get answers to commonly asked questions about our legal services and learn how we may assist you with your case.
Morgan & Morgan
When Do You Need a Labor and Employment Lawyer?

As an employee, you have not only responsibilities but also rights. If you experience any violation of wage and hour laws or discrimination at work, you could be entitled to damages such as unpaid

Wages
Overtime
Breaks
Tips, commissions, and bonuses
Vacation and sick days

Depending on your case, you may also receive other or additional compensation. If you believe you have a claim, speaking to an Alpharetta labor and employment attorney can help you determine your legal options and the next best steps for holding your employer accountable.

What are Examples of Unlawful Workplace Practices in Alpharetta?

Some employers intentionally withhold wages to preserve their profits. In other cases, companies make genuine mistakes, such as incorrectly calculating overtime compensation. That said, whether your employer accidentally or deliberately infringes on employees' rights makes no difference in the eyes of the law.

While many illegal work situations may exist in Alpharetta, discrimination and wage and hour law violations are some of the more common infringements on workers' rights.

Violations of Wage and Hour Laws

Federal and Georgia state laws determine employers' responsibilities regarding minimum wage, overtime pay, and other topics related to employee compensation.

Failure to Pay Minimum Wage or Overtime Pay

The minimum wage in Georgia is currently $5.15 per hour. However, federal laws supersede state laws if the federal minimum wage is higher. Therefore, Georgia employees are generally entitled to receive the minimum federal rate, which is currently $7.25 an hour. Exceptions include:

Tipped employees, who are entitled to $2.13 per hour before tips
Workers under 20 years of age who may be paid a lower training wage in the first 90 days of employment
Students in full-time education may earn $6.16, provided they work no more than 20 hours per week

Overtime

Alpharetta workers are entitled to overtime pay for any hours over 40 worked per week. Overtime pay is usually one and a half times regular hourly pay. It is important to note that certain employees, such as company executives, IT professionals, and others are exempt from overtime. However, to save money, Alpharetta employers may misclassify workers deliberately as exempt.

You are underpaid and could have legal recourse against your employer if you receive less than minimum wage, or your employer refuses to pay you the mandated overtime rate.

Emergency Leave

The Family and Medical Leave Act (FMLA) protects employees when they are too ill to work or encounter a family emergency. Workers can take up to 12 weeks of unpaid leave. Examples of when you could be entitled to family and medical leave can include:  

Experiencing a temporary impairment or disability
The birth or adoption of a child
A significant medical condition that prevents you from working
Caring for a severely sick immediate family member (spouse, parent, child)

However, employees may not be covered under the FMLA if they have worked for their employer for less than a year or if the business employs fewer than 50 employees.  

Your Return to Work After Family and Medical Leave

It is important to note that you generally have the right to return to your previous position or an equivalent job after family and medical leave. The position must be similar to your last job regarding:

Pay and benefits
Working conditions
Duties and responsibilities
Level of skill required
Privileges

Breaks During Work

Neither Georgia nor federal law requires employers to provide employee meal breaks in Alpharetta. If your employer decides to grant you short breaks of 20 minutes or less, you must be paid for the time. However, your employer does not have to pay you for meal breaks that last 30 minutes or longer, provided you do not have to carry out work duties during that time.

Unlawful Paycheck Deductions

Employers may make legally authorized paycheck deductions or deductions you voluntarily agreed to. Legally authorized deductions can include:

Tax withholding
Court garnishments
Meals and transportation

However, the Fair Labor Standards Act (FLSA) explicitly protects employees from deductions made for the employer's benefit if the withdrawal would cause the employee to receive below minimum wage pay. Examples of deductions for the convenience or advantage of the employer can include:

Work supplies
Uniforms
Compensation for theft or loss of business revenue

Employee Misclassification

Employers in Alpharetta may misclassify employees as independent contractors to save on payroll costs, benefits, and taxes. However, this is illegal. Misclassified employees could have a legal claim against their employer and seek damages.

Workplace Discrimination

Discrimination is illegal in Alpharetta and has no place in the workplace. Discrimination occurs when an employer takes adverse employment action against an employee or job candidate due to their:

Race
Color
Age
National Origin
Religion
Disability
Gender
Marital status
Pregnancy
Sexual orientation
Gender identity
Genetic information

Retaliation against employees who have filed or assisted with a discrimination claim is also unlawful. According to the U.S. Equal Employment Opportunity Commission (EEOC), over 61,000 discrimination charges were filed with the agency in 2021 alone, with retaliation being the most common complaint.

Examples of Discrimination at Work

Workplace discrimination can be subtle or overt and aggressive. Examples of discriminatory acts workers may experience on the job include:

Failing to hire an individual due to their race or color
Refusing reasonable accommodations for a disabled employee
Firing or demoting pregnant employees
Screening out older candidates during the hiring process
Denying female employees the same pay and benefits male workers receive
Wrongfully terminating an employee

Experiencing discrimination at work can be highly distressing for victims and negatively impact their careers and personal lives. However, you do not have to stand for it. Our labor and employment lawyers in Alpharetta could help you file a charge against your employer and fight for the compensation you deserve.

What Does a Morgan & Morgan Labor and Employment Lawyer Do?

Our employment lawyers can represent workers in various employment disputes, such as:  

Wage theft
Wrongful termination
Discrimination
Sexual harassment
Employee misclassification
Retaliation
Medical or family leave violations

Handling a labor and employment claim on your own can be challenging and involve numerous administrative steps, such as filing a claim with the applicable state or federal agency. Moreover, the deadlines for filing claims can be short. Victims of discrimination generally have only 180 days to file a discrimination charge with the EEOC. Failing to file a claim within the deadline could bar you from suing an employer.

How We Can Help

In the first instance, we can assess your claim and clarify your next best steps in a free case evaluation. Our labor and employment lawyers in Alpharetta can:  

Help you learn about your legal rights
File a claim with the EEOC or another relevant government agency
Gather evidence to prove the claim against your employer
Calculate your damages such as missed overtime pay and others
Negotiate a settlement with your employer
File a lawsuit if necessary
Fight vigorously for what you deserve, whether in or out of court

Morgan & Morgan never settles for less. We believe that America's hardworking employees should receive the pay and benefits they deserve. We fight discrimination claims aggressively because all workers are entitled to be treated with respect and dignity by their employers.

Moreover, when Morgan & Morgan takes your case, you do not have to worry about upfront attorney's fees. We work on a "no-win-no-fee" basis, meaning that you pay nothing unless and until we win.

Can an Employer Require Me to Return to Work During My FMLA Leave?

An employer generally cannot force you to return to work early, even if they offer you a light-duty position. However, your employer could refuse the continuation of your leave if you fail to follow your treatment plan or refuse to provide requested medical reports or certification.

Could I Have a Legal Claim for Workplace Harassment?

Yelling at employees or making inappropriate comments does not necessarily constitute grounds for a legal case against an employer. That said, if the harassment you experience is discriminatory, you could have a legal claim and pursue compensation. Examples of unlawful harassment can include:

Negative remarks about a worker's age
Hostile comments regarding a worker's appearance or disability
Racially motivated insults and slurs
Sexual remarks and innuendoes
Derogatory comments about an employee's sexual orientation
Intimidation and physical threats

It is also illegal in Georgia to harass workers who filed a discrimination charge or participated in a discrimination lawsuit or investigation.

How Do I Know Whether an Employer Misclassified Me?

Employers can gain considerable financial advantage by employing independent contractors. Therefore, some companies skirt employment laws and misclassify regular employees to avoid paying benefits and certain taxes. If this has happened to you,  you could qualify for damages, and your employer could be charged with a crime.

The Differences Between Independent Contractors and Regular Employees

You should probably be classified as a regular employee if the following applies to you:

You receive a regular salary
You work shifts or set hours, such as 9-5
You work at the employer's offices with your employer's equipment
You receive instruction and training

By contrast, a proper independent contractor would invoice their client rather than work on an hourly or weekly wage. Moreover, contractors can generally choose where they work and when.

If you suspect your employer misclassified you, our labor attorneys can help you understand your situation and legal options.

Can I Afford a Labor and Employment Attorney?

Some Alpharetta employment lawyers charge hourly fees or request an upfront retainer to start working on a case, which can work out expensive if you have to fight a lawsuit. Moreover, you would have to pay the fee or retainer whether you win or lose the claim, potentially leaving you out of pocket.

Morgan & Morgan never charges clients anything upfront. We want you to have the best legal representation and the best shot at holding an unscrupulous employer accountable. You only pay us if and when we win, and you collect compensation.

What Are My Next Best Steps if an Employer Discriminates Against Me?

Knowing what to do can be crucial for protecting your legal rights if you experience discrimination. Your best steps can include:

Reporting discrimination to your human resources department or employer
Filing a charge or complaint with Georgia's division of civil rights or the EEOC
Gathering evidence for your claim, such as emails, text messages, and witness statements
Contacting a labor and employment lawyer in Alpharetta for help and advice

Morgan & Morgan Fights for Fair Worker Treatment in Alpharetta

Experiencing mistreatment or financial exploitation at work can be depressing and aggravating. Morgan & Morgan understands how damaging discrimination or harassment can be on all aspects of your life, including your career, finances, relationships, and mental health. However, you do not have to take on an employer alone. Our experienced and dedicated labor lawyers could help you fight for what you deserve.

Get started now and contact us to determine your next best steps in a free consultation.
Scroll down for more
Load More