The Fee Is Free™. Only pay if we win.
America's Largest Injury Law Firm
Protecting Families Since 1988
$15 Billion+ Won
800+ Lawyers Nationwide
Free Case Evaluation
Tell us about your situation so we can get started fighting for you. We tailor each case to meet our clients' needs.
Results may vary depending on your particular facts and legal circumstances.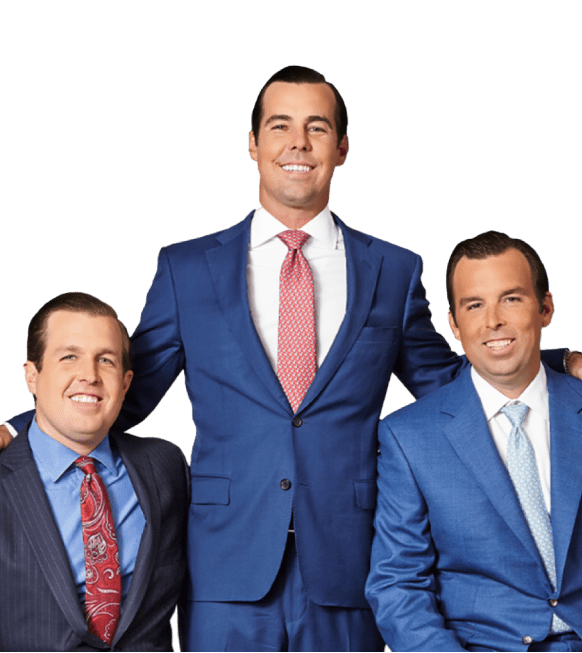 Social Security Disability Lawyers in Alpharetta
If you're unable to work due to a disability or illness, you're likely wondering how you will make ends meet without a paycheck. The world doesn't stop for people with disabilities; you're still responsible for having enough money to pay rent and buy food.
Social Security Disability benefits can help support your fundamental needs while you recover from an injury or disability. The program assists disabled individuals who can't work by granting them a certain amount of money each month. 
However, obtaining benefits from the Social Security program is complex. There are a lot of qualifications you'll need to meet before being approved for the program. 
Social Security Disability lawyers in Alpharetta can assist you during the claims process. Schedule a free case review with Morgan & Morgan today to get the help you need.
Scroll down for more
Recent verdicts & settlements
How it works
It's easy to get started.
The Fee Is Free™. Only pay if we win.
Results may vary depending on your particular facts and legal circumstances.
Step 1

Submit
your claim

With a free case evaluation, submitting your case is easy with Morgan & Morgan.

Step 2

We take
action

Our dedicated team gets to work investigating your claim.

Step 3

We fight
for you

If we take on the case, our team fights to get you the results you deserve.
---
Client success
stories that inspire and drive change
Explore over 55,000 5-star reviews and 800 client testimonials to discover why people trust Morgan & Morgan.
Results may vary depending on your particular facts and legal circumstances.
FAQ
Get answers to commonly asked questions about our legal services and learn how we may assist you with your case.
Morgan & Morgan
What Social Security Programs Are Available for People With Disabilities?

Two types of benefits are available to individuals unable to work due to a disability. They include Social Security Disability Insurance (SSDI) and Social Security Insurance (SSI). Anyone with a job pays into both programs through their taxes each year. 

People who work for a certain period become eligible for Social Security Disability Insurance if they develop a disability or illness that prevents them from further employment. 

Social Security Insurance is available for individuals who don't have the work credits necessary to collect SSDI and cannot work because of disability or illness. 

You can receive both SSDI and SSI simultaneously if you meet specific guidelines. Social Security Disability lawyers in Alpharetta can help you determine which benefits you may qualify for.

How Long Do I Have to Work to Collect Social Security Disability Insurance?

Your qualification for SSDI depends on your age, your time working, and your disability. The Social Security Administration (SSA) calculates your eligibility based on the number of work credits you have. You earn a work credit for every full quarter you spend working. Thus, you gain four credits for each full year you work.

Using your age, the SSA determines how many work credits you must have to get benefits. The requirements are different for each age. For example, someone 23 years old will initially need six work credits to qualify for benefits. On the other hand, an individual who is 56 will need 34 work credits. 

If you do not have enough work credits to qualify for SSDI, you may be eligible for SSI. People who receive only SSI have not worked long enough to receive SSDI. They have very few assets. However, payments received from SSI are limited, and recipients will likely need additional assistance to get by.

What Conditions Qualify for SSDI or SSI?

The SSA uses three sets of criteria to determine whether you can receive Social Security benefits based on your medical condition. You must show either of the following:

You have a condition that automatically qualifies you for disability benefits
You meet the requirements of a medical listing in the Social Security Blue Book
You have a medical condition that prevents you from doing any full-time work

The SSA will automatically allow you to collect benefits if you have any of these diagnoses:

Early-onset Alzheimer's disease
ALS (Lou Gehrig's disease)
Certain types of aggressive cancers

According to the Social Security Blue Book, thousands of illnesses and disabilities may qualify you for SSDI or SSI. Chances are that if you have a diagnosis or symptoms similar to a disability in the Social Security Blue Book, you may be eligible for benefits.

However, having a disability is not enough for automatic qualification for benefits in many cases. You'll also need to prove that you cannot work. 

The SSA carefully evaluates your medical condition when determining whether you can work. Keep in mind that many seated positions may not impact your medical condition. The SSA will be hesitant to qualify you for benefits if it appears that you may be able to perform some type of work given your experience and education.

Social Security Disability lawyers in Alpharetta will evaluate your disability and determine the best way to present it to the SSA to meet their eligibility requirements for SSDI or SSI.

How Can Social Security Disability Lawyers in Alpharetta Help Me?

Social Security attorneys assist potential SSDI and SSI recipients with their application for benefits. If you've already applied for Social Security benefits and the SSA denies your claim, a Social Security lawyer can help you appeal their decision. 

Working with a Social Security disability lawyer from the beginning of the application process is ideal. Social Security attorneys know the ins and outs of claiming Social Security benefits. They can make sure that your application is complete, error-free, and contains the support necessary for your claim.

If you handled your Social Security disability claim independently and the SSA denied your claim, a lawyer can help you in the appeals process. It's essential to seek legal assistance as quickly as possible since the SSA allows a limited amount of time for your appeal—usually only 60 days.

There are four basic types of appeals allowed by the SSA:

Reconsideration

Under a reconsideration, the SSA sends your original claim to an administrator who had no part in the initial decision for denial. You can further support your claim with additional evidence if you have any. The new administrator will review your application and supporting evidence before making a decision.

Administrative Law Court Appeal

In an administrative law appeal, you appear in court and provide your claim to the judge. The judge reviews the claim and evidence before making a decision. The SSA tries to make it easy for applicants to have an administrative appeal by choosing a location within 75 miles of the individual's home.

Appeals Council Review

If your hearing with an administrative law judge results in another denial, you may seek an appeals council review. However, the appeals council has the right to decide whether they will review your case. If they decide that the decision by the administrative court was fair, they can deny your claim. 

In some situations, the appeals council may send your claim back to the administrative court for further review. 

Federal Court Review

The final type of appeal is with the federal court. You can file a lawsuit in federal court if the appeals council refuses to review your claim or you disagree with their denial. 

If you decide to file a case in federal court, you'll need the assistance of Social Security Disability lawyers in Alpharetta. Representing yourself or asking for the help of a Social Security advocate will likely end in a negative outcome for your case.

What Should You Look for in a Social Security Lawyer?

If you're looking for a Social Security lawyer to help you with your claim or assist you in an appeal, you'll want someone with experience in Social Security law. 

Social Security advocates are helpful for individuals who don't understand the basics of SSDI and SSI, but they typically don't have experience in law. They likely won't know when the SSA violates your rights or how to represent your case effectively before a judge.

A Social Security lawyer will work with you no matter what stage of the application process you're in. They'll help you with your application, assemble the appropriate medical documentation, and establish evidence that you cannot work. 

If the SSA denies your claim, a Social Security lawyer will prepare you for a hearing and represent you in court. Your lawyer will fight hard to make the decision-makers understand why your condition warrants SSDI or SSI.

When seeking a Social Security lawyer, look for one who is sympathetic to your condition and wants the best outcome for you. You'll find a highly qualified, compassionate team of Social Security Disability lawyers in Alpharetta at Morgan and Morgan.

When Will I Begin Receiving Social Security Disability Benefits?

If the SSA approves your application for disability benefits, you'll begin receiving SSDI after a five-month waiting period from the initial date of your claim. In most cases, it takes six months to a year to obtain approval for benefits. 

If you don't receive approval until after the five months pass, you may receive back pay for any months between the five-month waiting period and the date of your approval.

For instance, if you apply for SSDI on February 1, you won't be eligible to receive benefits until July 1. However, if the SSA approves your claim on September 1, you'll receive back pay for two months of benefits (July and August).

How Much Money Can I Receive From SSDI or SSI?

The maximum an individual can receive from SSI in 2022 is $841 per month. If you qualify for SSDI, the highest monthly amount you can get is $3,148.

However, your benefit amounts will vary depending on several factors. SSI recipients cannot have more than $2,000 in assets. The SSA will reduce its monthly payments if you have earned or unearned income sources.

The amount of your SSDI benefits depends on your prior earnings from work. The SSA may reduce your benefits by certain other income types, like workers' compensation payments or employment income. 

Calculating potential SSDI benefits is complex. Social Security Disability lawyers in Alpharetta can determine how much you may be eligible to receive each month.

How Long Can I Receive Social Security Benefits?

Once you qualify for SSDI or SSI, you'll receive them until your situation changes. If your disability or illness improves to a level where you can pursue gainful employment, your benefits may stop or decrease. 

If you continue to receive SSDI or SSI until retirement age, your benefits will change to SSA retirement income. 

Is Hiring a Social Security Disability Lawyer Expensive?

Morgan & Morgan offers free consultations to all of our prospective clients. At your consultation, we'll discuss the fees for our services. 

If your case involves a hearing with a Social Security judge, you'll want a legal expert who can argue on your behalf and understands the nuances of Social Security law. You'll find that with Morgan and Morgan.

Social Security Disability Lawyers in Alpharetta: Morgan & Morgan

Morgan and Morgan is the largest personal injury firm in the nation. We have a team of over 900 attorneys specializing in all types of personal injury law, including Social Security Disability. 

To meet with one of our qualified attorneys, fill out our convenient online form to schedule a free case review.
Scroll down for more
Load More