The Fee Is Free™. Only pay if we win.
America's Largest Injury Law Firm
Protecting Families Since 1988
$15 Billion+ Won
800+ Lawyers Nationwide
Free Case Evaluation
Tell us about your situation so we can get started fighting for you. We tailor each case to meet our clients' needs.
Results may vary depending on your particular facts and legal circumstances.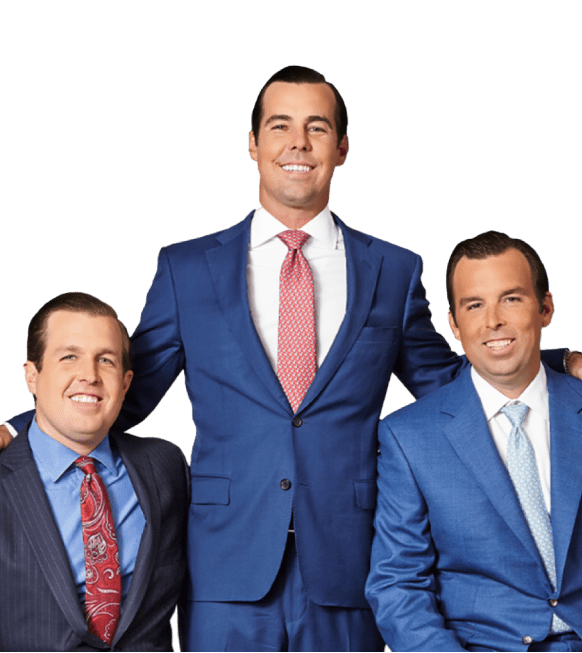 Class Action Lawyers in Alpharetta
In a class action lawsuit, many individuals with similar damages and injuries come together to sue the responsible party, typically a corporation. In a successful claim, plaintiffs share the compensation equally among themselves.
Class action lawsuits can be an excellent way to get justice as plaintiffs have no costs and no hassle. They can simply get on with their lives and wait for the lawsuit's outcome while the lead plaintiff and law firm fight the case.  
If you suffered harm due to a corporation's negligence, you could file or join a class action lawsuit and recover compensation. Morgan & Morgan's class action lawyers in Alpharetta can help you identify the best way to get what you deserve. Find out now if you are eligible for a class action lawsuit in a free and confidential consultation.
Scroll down for more
Recent verdicts & settlements
How it works
It's easy to get started.
The Fee Is Free™. Only pay if we win.
Results may vary depending on your particular facts and legal circumstances.
Step 1

Submit
your claim

With a free case evaluation, submitting your case is easy with Morgan & Morgan.

Step 2

We take
action

Our dedicated team gets to work investigating your claim.

Step 3

We fight
for you

If we take on the case, our team fights to get you the results you deserve.
---
Client success
stories that inspire and drive change
Explore over 55,000 5-star reviews and 800 client testimonials to discover why people trust Morgan & Morgan.
Results may vary depending on your particular facts and legal circumstances.
FAQ
Get answers to commonly asked questions about our legal services and learn how we may assist you with your case.
Morgan & Morgan
Class action lawsuits can help plaintiffs with similar injuries and damages take on a powerful corporation or business and pursue compensation. Common defendants in class actions include:

Retailers
Manufacturers of medical devices
Employers
Pharmaceutical companies
Car makers
Financial institutions

Examples of class action lawsuits can include, among others: defective products, false advertising, discrimination, and illegal employment practices.

The Advantages of Class Action Lawsuits

Class actions are preferred when it makes little sense for each litigant to bring their own action. A class action can be much more efficient than filing multiple individual cases, especially if all plaintiffs suffer similar damages. Other benefits include:

Practicality

Class actions can be convenient for plaintiffs as they have to do nothing but wait for the result of the claim. The lead plaintiff and attorney bring the claim and take all the necessary steps, such as:

Preparing the necessary paperwork
Filing the court case
Attending hearings
Negotiating with the other side
Deciding whether to accept a settlement

Efficiency

Class actions can handle many plaintiffs' claims in a streamlined way. For example, one law firm and one set of experts generally deal with the claim and the investigation required. Filing a single case makes it less expensive and more efficient than having multiple law firms handle individual claims.

Moreover, in many cases, individual plaintiffs' damages may be small and may not warrant filing a separate lawsuit. A class action lawsuit provides even those with small financial losses a way to recover their due.

Strength in Numbers

Large corporations are well equipped financially to fight a single lawsuit. However, class action lawsuits can level the playing field somewhat. For example, when a prestigious law firm brings a class action lawsuit involving hundreds or thousands of plaintiffs, the dispute will be more evenly balanced. Having to fight a class action lawsuit can incentivize a company to settle and address its wrongdoing or negligence to avoid future legal actions.

The Disadvantages of Class Actions

There are only a few disadvantages to class action lawsuits. Importantly, if plaintiffs have extensive damages, they may not be able to recover what they deserve in a class action and may want to sue a corporation individually. Other disadvantages include:

Lack of Control

While it can be convenient to sit back and let someone else, namely the lead plaintiff, handle the claim, it can also be disadvantageous. The lead plaintiff and the attorney will make all the critical decisions, including when to settle with the other side. Individual plaintiffs have no say in whether to continue litigating or accepting a settlement.  

Moreover, once you opt into a class action, you can generally not sue the defendant individually. Therefore, if the class action is unsuccessful, you lose your chance to recover compensation.

Smaller Individual Recovery

While class-action lawsuits can benefit those plaintiffs with minor damages, individuals with significant losses due to a corporation's negligence are unlikely to recover what they deserve. Therefore, consider whether you should file an individual lawsuit before opting in for a class action. Our class action lawyers in Alpharetta can assess your claim, help you understand your options, and advise you on your next best steps.

Claims Can Be Lengthy

While some class actions can be resolved in a few short months, a short timeline is not typical. Since filing and litigating a class action is more complex than an individual lawsuit, it can take a very long time to conclude, sometimes two years or longer.

What is The Class Action Lawsuit Process in Alpharetta?

A class action generally starts with the lead plaintiff filing a complaint on behalf of the entire class of harmed individuals. The simplified process of a class action is as follows:

Assessing the Claim

As a first step, an attorney will assess the claim and determine whether it is valid by:

Identifying how many individuals suffered similar damages
Researching whether similar claims have already been filed
Determine whether the statute of limitation has run out or whether there is still time to file a lawsuit

Filing the Lawsuit

Once the attorney determines that the claim is valid, they will begin to draft a complaint against the defendant. The complaint is a document outlining the case's facts, the damages plaintiffs seek, and the proposed class of plaintiffs.

Certifying the Class

The next step is to seek class certification, which is the official ruling by a judge giving the lawsuit class-action status. For the certification, the attorney and lead plaintiff must show that there is a valid legal claim against the defendant. They must also prove that there are enough plaintiffs with similar damages to make individual lawsuits impractical.

Providing Notice to the Class

Once the case is certified, the attorney and lead plaintiff must send notices to all individuals who could be members of the class.

Opting in or Out

Typically, membership in a class action is automatic. However, class members can usually opt in or out of the case. Injured victims with more significant damages or different injuries from the rest of the class may want to opt out of the class action and file an individual lawsuit.

Resolving the Case Through a Settlement or Trial

After the notice period, the lead plaintiff and attorney will negotiate with the defendant to obtain an adequate settlement for the class. If the other side refuses a fair payout, the case will go to trial for a judge or jury to decide.

All class members must receive notice when a settlement or verdict is reached. Plaintiffs may opt out of the payment, provided they do so during the opt-out period.

Distributing the Damages

Once the defendant pays the settlement, the lead plaintiff and attorney arrange the distribution of funds. First, the law firm will take its fee from the settlement. In most class actions, the lead plaintiff is paid more than other class members to recognize the extra effort and time invested while handling the case. As the final next step, all other class members receive their share of the settlement.

Why Is Hiring the Right Law Firm for a Class-Action Lawsuit Critical?

Not all law firms and attorneys are equal. Some do not have the expertise and resources to handle class action lawsuits efficiently. In contrast, corporations often have teams of lawyers on hand to fight such claims. Moreover, class action lawsuits can be extremely costly to pursue. Solo attorneys or small law firms may lack the financial resources to deal with such claims. To have the best chance of success, a law firm must have:

Experience in Handling Class Actions

Standing up to a global manufacturer or corporation requires excellent legal knowledge, experience, and tenacity. Claimants hoping to file a class action should focus on finding a lawyer who has previously served as lead counsel in class actions. It is best to opt for a law firm that has a reputation for successfully handling class action lawsuits. A seasoned attorney can assess your case, guide you through the legal process, and move forward with your class action lawsuit.

Track Record With Similar Claims

No two class actions are the same. Cases and subjects can vary considerably and may include:

Personal injuries from defective products
Violations of civil rights
Unfair business practices
Exposure to hazardous chemicals (asbestos, polluted water, and others)
Employment or housing discrimination

Therefore, the lawyer handling your claim should not only be experienced in fighting class actions but must have an intimate understanding of matters pertaining to your specific case. You do not want to hire a "Jack of all trades" who may fail to fully understand the facts of the claim and flounder when taking on a powerful organization.

Why Hire Morgan & Morgan for Your Alpharetta Class Action Lawsuit?

As the largest personal injury firm in America, Morgan & Morgan has the resources, expertise, and knowledge required to handle class actions successfully. Moreover, we have a team of over 900 attorneys and can match you up with the best attorneys for your claim. Some class action lawsuits Morgan & Morgan currently handles relate to:

Dangerous medications
Employment law violations
Faulty medical devices
Data breaches
Consumer rights
Car insurance
Toxic substances
Vehicle manufacturers
Environmental contamination

However, this list is not exclusive. If you believe you have a class action lawsuit in Alpharetta, we could help.

Size Matters in Class Actions

Large corporations have the financial resources to fight class actions for years, potentially dragging out cases with appeals. Morgan & Morgan can level the playing field and has the resources to handle complex and costly class actions.

We Can Identify All Options for Getting Justice

When individuals come to us wanting to file a class action lawsuit, we start by assessing and examining the claim in detail to give them the best chance of receiving compensation. We can determine the advantages and disadvantages of filing a class action lawsuit in your specific case and examine the alternatives, such as filing an individual personal injury lawsuit.  

Morgan & Morgan Stands up to Bullies

Whether a company endangers the health of its customers, disregards the rights of consumers, or manufactures a dangerous product, Morgan & Morgan can hold them accountable. We fight aggressively for the compensation injured victims deserve because we firmly believe that no business should ever get away scot-free when putting profits over the lives and health of individuals.

When Will I Receive Payment After Joining a Class Action Lawsuit?

The length of class actions can be impossible to predict. If the claim settles before going to court, you may receive payment after a few short weeks or months. However, if your class action case goes to trial, it could take years before class members receive damages.

Do I Have to Pay to Join or Initiate a Class-Action Lawsuit in Alpharetta?

You do not have to pay anything to join a class action lawsuit. If you win the case, the attorney's fee will be a percentage of the settlement. If you lose, neither you nor the attorney will get paid anything. However, before joining a class action, you should consider your specific circumstances. Contact an attorney to determine whether you should join a class action. You may be better off filing an individual lawsuit if you have significant damages.

We Can Fight Your Alpharetta Class Action Lawsuit

Experiencing injuries and financial losses due to a company's negligence or deliberate actions can be frustrating. Taking on a large business or global corporation can feel hopeless and intimidating. However, you do not have to go it alone. If you want to know whether your claim qualifies for a class action lawsuit, Morgan & Morgan is here for you.

Our experienced and tenacious class action lawyers in Alpharetta are waiting to hear from you and are ready to assess your claim. We can fight tirelessly for what you and other class members deserve. Contact us now for a free consultation to find out more.
Scroll down for more
Load More