The Fee Is Free™. Only pay if we win.
America's Largest Injury Law Firm
Protecting Families Since 1988
$15 Billion+ Won
800+ Lawyers Nationwide
Free Case Evaluation
Tell us about your situation so we can get started fighting for you. We tailor each case to meet our clients' needs.
Results may vary depending on your particular facts and legal circumstances.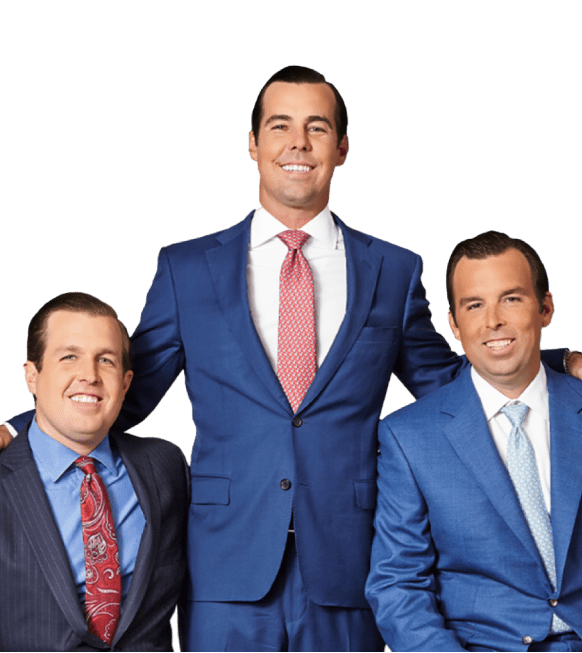 Rideshare Lawyers in Atlanta
Recent reports have revealed worrying trends in the rideshare industry. From sexual assault cases to car accidents, the rideshare industry has caused some individuals immense pain and suffering. The saddest thing is that since this industry is relatively new, many victims do not always know what to do when injured in such situations.
That is where Morgan and Morgan, the largest personal injury law firm in the United States, comes in. Our rideshare lawyers in Atlanta can fight for you or your loved one in this and many other situations. Read on to learn more.
Scroll down for more
Recent verdicts & settlements
How it works
It's easy to get started.
The Fee Is Free™. Only pay if we win.
Results may vary depending on your particular facts and legal circumstances.
Step 1

Submit
your claim

With a free case evaluation, submitting your case is easy with Morgan & Morgan.

Step 2

We take
action

Our dedicated team gets to work investigating your claim.

Step 3

We fight
for you

If we take on the case, our team fights to get you the results you deserve.
---
Client success
stories that inspire and drive change
Explore over 55,000 5-star reviews and 800 client testimonials to discover why people trust Morgan & Morgan.
Results may vary depending on your particular facts and legal circumstances.
FAQ
Get answers to commonly asked questions about our legal services and learn how we may assist you with your case.
Morgan & Morgan
What Are Some Reasons for Suing a Rideshare Company?

Some common reasons people sue rideshare companies include:

Accidents

This is the most common reason for filing a lawsuit against rideshare companies in Atlanta. Although these companies are always quick to deny liability primarily because their drivers are considered independent contractors, there are cases where rideshare companies might be responsible for compensation after an accident. More on that shortly.

Assault

There have been numerous cases of assault by rideshare companies over the past few years. If you were assaulted by a rideshare driver, you might be eligible for compensation. Contact an experienced rideshare lawyer to learn more about your options.

Rape

Unfortunately, rape cases involving rideshare drivers are not uncommon. To put into perspective, Uber was recently sued by over 500 women who had allegedly been raped by the company's drivers.

In 2017, an Uber driver was charged with raping a 16-year-old passenger a few miles northwest of Atlanta.

A shocking report released by the company revealed at least 141 rape and 998 sexual assault incidents involving their rideshare drivers in 2020. This is even more shocking given that Atlanta was on lockdown around that time due to the Covid-19 pandemic.

In total, the rideshare company received 3,824 reports of sexual assault and misconduct between 2019 and 2020.

Lyft's numbers were even more outrageous. The company's first-ever safety report revealed that they had received at least 4,158 sexual assault reports between 2017 and 2019.

Who Is Responsible for Compensation After an Accident Involving a Rideshare Driver?

Although rideshare companies have been around for years, the issue of liability is still largely undefined. For this reason, it is difficult to determine liability, especially without an experienced rideshare attorney.

Rideshare drivers usually operate as independent contractors, making it difficult to sue these companies for their driver's conduct. However, there are some exceptions.

Say, for example, an Uber driver causes an accident, and you suffer severe injuries. Then, a background check on the driver reveals that they had violated traffic laws several times in the past, including driving while drunk. In that case, such a record would automatically disqualify the individual from working as a rideshare driver.

But as a passenger, it is not your duty to scrutinize the driver's record. Instead, when you request transportation from Uber, Lyft, or any other rideshare company, you expect to be driven around by a qualified driver. You expect the company to prioritize your safety. Precisely, you expect the rideshare company to conduct background checks on their drivers to ensure they are not only qualified but also legally allowed to drive.

For this reason, you may be able to bring a negligence lawsuit against the rideshare company if they failed to conduct a background check on the driver, causing you injuries as a result.

The same applies if you were sexually assaulted by a rideshare driver. You may be able to sue the company if they knew or should have known that the driver had a history of assault but still hired them.

What Insurance Covers Me if I Get Injured in a Rideshare Accident?

This will depend on many factors, including the party that caused the accident. Say, for instance, the rideshare driver caused the accident. In that case, the following could happen:

You may be able to file a claim with the rideshare driver's personal automobile insurance provider. In Atlanta and throughout Georgia, all drivers must have minimum liability insurance coverage of:

$25,000 per driver
$50,000 per accident
$25,000 for property damage

Suppose the driver had clocked into the app but was not actively driving a client. In that case, you may be able to file an additional claim through the rideshare company's contingency liability policy. For instance, Uber's contingency liability policy offers:

$50,000 in coverage per individual
$100,000 per accident
$25,000 for property damage

Lastly, if the rideshare company caused the accident on their way to pick up a passenger or while actively carrying a passenger, the compensation could be much higher. Take Uber as an example. The company offers a liability policy of up to $1 million for personal injury and property damage.

It is important to note that the issue of liability is very complex, especially where rideshare companies are involved. Even though you may be entitled to compensation, this is still a gray area that often requires further legal interpretation. Consulting an experienced rideshare attorney is one of the best ways to navigate these legal hurdles in your pursuit of compensation.

How Much Compensation Can I Recover After a Rideshare Accident in Atlanta?

Georgia does not impose caps on economic and non-economic damages. As a result, you may recover full compensation for your losses, especially when you work with an experienced attorney.

Depending on the circumstances of your case, you may be able to recover the following damages:

Medical expenses: These include any medical-related expenses you incurred due to the accident.

Lost wages: This applies if you cannot work due to the injuries you sustained in the accident. You will need to provide copies of your pay stubs, tax records, bank statements, and other relevant financial records to prove this.

Property damage: This covers any repairs or replacement needed for damaged property, such as a car, during the accident.

Loss of earning potential: You may be able to file a loss of earning capacity claim if the accident prevents you from earning a living in the future.

Under non-economic damages, you may claim:

Pain and suffering
Loss of enjoyment of life
Emotional distress
Incontinence
Loss of companionship
Permanent disfigurement

If the accident ruined your relationship with your spouse, they could file a loss of consortium claim. This is usually a standalone claim filed by the spouse of the injured individual claiming compensation for the negative effects of the accident on their relationship. For instance, your spouse can file such a claim if you suffered permanent paralysis, preventing you from having sexual relations with them.

What Makes Rideshare Accidents Different From Standard Accidents?

There is no doubt that rideshare accidents are very much different from standard accidents. This is partly because of the following reasons:

Rideshare companies have not been in business longer than many other companies in the transport industry. For instance, Uber officially began its operations in 2011. Lyft, on the other hand, was launched in 2014. As a result, this industry is still widely unregulated.

Secondly, the issue of liability is not as straightforward when it comes to rideshare companies. As mentioned earlier, the party responsible for compensation will depend on several factors, such as the at-fault driver's actions before the accident. Questions such as whether the driver was carrying a passenger or had logged into the rideshare app will definitely arise in such situations. This makes it even more complex to solve such cases.

The unclear insurance policies aside, many rideshare drivers are hugely untrained. Most companies require their drivers to have a good record and a driver's license but do not usually conduct driving tests before hiring. As a result, there is an increasing number of accidents involving rideshare drivers, and yet the issue of compensation is still unclear.

What Happens if You Get Into an Accident When Driving for a Rideshare Company?

This will depend on how the accident occurred and whether you were in 'drive mode.' For instance, Uber offers a Driver Injury Protection Program for drivers who get into accidents. However, this coverage only applies if any of the following conditions are true:

The driver had logged into the Uber app when the accident occurred
The driver was on their way to pick up a passenger when the accident occurred
The driver was carrying a passenger when the accident occurred

So what happens if you get into an accident when your rideshare app is off? In that case, you will need to file a claim with your personal insurance provider. The same applies if you dropped off a driver and were driving alone.

That said, keep in mind that these policies vary from one rideshare company to another. For this reason, consider speaking with an experienced rideshare attorney to learn more about your options.

Can You File a Worker's Compensation Claim if You Get Injured While Working as a Rideshare Driver?

It depends. Rideshare companies consider their drivers as independent contractors and not employees. Therefore, you can only file a worker's compensation claim if you are an employee of the company and you got injured while on shift.

What Should I Do After an Accident Involving a Rideshare Driver?

If injured in an accident involving a rideshare driver, follow these steps:

Call 911 immediately and request an ambulance if you have suffered serious injuries
You should still call 911 even if you do not show any signs of serious injuries – you need a police officer to document the accident scene
Take pictures and videos of the accident scene, documenting the physical injuries and property damage
Seek immediate medical attention if you do not need an ambulance
Do not accept liability for the accident even if you feel partly responsible
Notify your insurance company about the accident but do not discuss further details other than the date, time, and location
Do not sign any paperwork from an insurance provider, especially without consulting an attorney
Contact an experienced rideshare lawyer in Atlanta for a free case evaluation

How Do I Find the Best Rideshare Lawyers in Atlanta?

When looking for the best Atlanta rideshare lawyers, you need to ask the following questions.

Does the attorney have experience handling rideshare cases? Earlier, we discussed how rideshare cases are unique. For this reason, you should not hire just any car accident attorney if you have been injured in an accident involving a rideshare driver or assaulted by such a driver. Instead, you need someone with experience handling rideshare cases specifically.

Does the attorney have the resources to fight for you? Rideshare companies are worth billions—Uber is worth around $52 billion as of 2022, while Lyft is valued at $4.6 billion. Because they can afford some of the best attorneys to defend them in court., you should also have an attorney with powerful resources to fight back against these rideshare giants.

Does the attorney have a track record of winning such lawsuits? Do not opt for an attorney or law firm that wants to use your case as an experiment. If they do not have a track record of winning such cases, you should not work with them in the first place—they will settle for anything just to win.

What is the attorney's reputation? Think about what other clients say about the company. Precisely, what was their experience working with their attorneys?

Is the attorney court-ready? Although most personal injury cases settle out of court, there is always a possibility that the other party might refuse to cooperate with your attorney. But that should not be the end of the case. Rather, it should mark the beginning of a new battle in court. If your attorney does not have courtroom experience, they may not put up a strong fight for you in court.

Free Case Evaluation for Your Rideshare Claim

Our rideshare lawyers in Atlanta handle a wide range of cases. Whether it is about assault, misclassification, car accidents, or anything in between, we might be able to help. It takes just a few minutes to get started. All you need to do is fill out our free case evaluation form.
Scroll down for more
Load More