The Fee Is Free™. Only pay if we win.
America's Largest Injury Law Firm
Protecting Families Since 1988
$15 Billion+ Won
800+ Lawyers Nationwide
Free Case Evaluation
Tell us about your situation so we can get started fighting for you. We tailor each case to meet our clients' needs.
Results may vary depending on your particular facts and legal circumstances.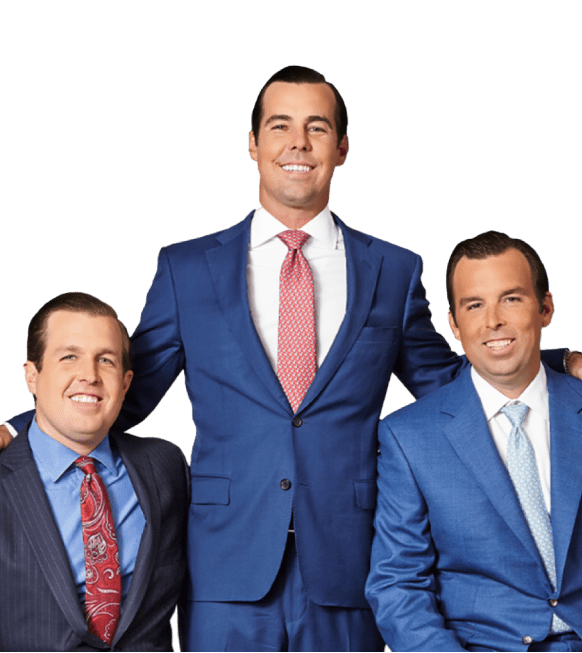 Atlanta Car Accident Lawyer
At Morgan & Morgan, our Atlanta attorneys understand car crash victims may have questions about their legal rights following a wreck. We are committed to helping injured drivers, passengers, and pedestrians understand these rights and how they may be able to obtain compensation to cover damages such as medical bills and lost wages.
Depending on the details of your accident, you may be able to seek compensation through insurance claims or a lawsuit against a negligent driver.
Scroll down for more
Recent verdicts & settlements
How it works
It's easy to get started.
The Fee Is Free™. Only pay if we win.
Results may vary depending on your particular facts and legal circumstances.
Step 1

Submit
your claim

With a free case evaluation, submitting your case is easy with Morgan & Morgan.

Step 2

We take
action

Our dedicated team gets to work investigating your claim.

Step 3

We fight
for you

If we take on the case, our team fights to get you the results you deserve.
---
Client success
stories that inspire and drive change
Explore over 55,000 5-star reviews and 800 client testimonials to discover why people trust Morgan & Morgan.
Results may vary depending on your particular facts and legal circumstances.
FAQ
Get answers to commonly asked questions about our legal services and learn how we may assist you with your case.
Morgan & Morgan
Atlanta Car Accident Lawsuit Process: An Initial Investigation

The at-fault party's insurance company will immediately launch an investigation into the wreck in an attempt to reduce the amount they may have to pay out. While this investigation proceeds, it is important for your lawyer to complete a thorough investigation of his or her own.

In the investigation, it must be determined the defendant:

Failed to pay attention to their surroundings
Drove while distracted
Drove under the influence
Violated traffic laws
Drove without a license

Your lawyer's investigation to determine fault may include:

Reviewing Atlanta police reports and photographs
Interviewing witness statements
Reviewing video footage of the accident, if available
Researching the history of both parties' driving records
Analyzing your medical reports with experts to determine the most likely scenario of how you sustained your injury and
Recreating the scene of the accident

Evaluating Your Damages

To determine the amount of compensation you will request, and for which expenses, your attorney will work with experts to pinpoint your injuries and project your crash-related expenses. Damages to which you may be entitled include, but are not limited to:

Current and future medical expenses
Lost wages
Loss of future earning capacity
Property damage
Pain and suffering
Loss of enjoyment of life
Loss of intimacy and support

Creating a Car Accident Claim

Your attorney will review the information obtained during his or her investigation to create a claim, which will serve as the basis for your lawsuit. It will state your injury and damages, the alleged negligent behavior of the other driver, and request compensation for your damages.

Typically, both parties will attempt to negotiate for a settlement while preparing their cases for trial to keep the case from proceeding to court. If negotiations are still unsuccessful, your lawsuit will proceed to court where your lawyer will present your case. The judge or jury will then determine the amount of compensation to which you are entitled if any.

Handling Discussions With Insurance Companies

Georgia is a "fault" car insurance state, which means that automobile wreck victims are allowed to seek compensation directly from the at-fault party, the at-fault party's insurance company or their own insurance company. Typically, claimants will first seek compensation from the at-fault party's insurance company.

If you are involved in a crash, it is important to remember that these insurance companies are for-profit businesses and may attempt to confuse you or compel you into to agreeing to a settlement that is insufficient to cover your losses.

It is also imperative that you do not discuss the or disclose any details any party—except for your attorney and treating physician. Any statements or comments you make can potentially harm your pursuit of compensation during negotiations or at trial.

Proving Distracted Driving in Atlanta

Negligence refers to an individual or entity's failure to meet the standard level of acceptable behavior which includes paying proper attention while operating a vehicle to ensure the safety of others. In recent years, with an increase in the use of technology, the number of distracted drivers is on the rise.

Distracted driving may refer to eating or drinking while driving, using the car's electronic system, attempting to program a GPS device, talking on the phone, texting while driving, and checking other electronic media. If you are injured in a car wreck and believe it was caused by a distracted driver, your attorney can launch an investigation into the crash to identify any indications of negligence.

Your lawyer may be able to prove distracted driving by:

Reviewing traffic camera and video footage
Requesting official cell phone records
Examining the time of phone usage
Analyzing past tickets the driver may have been issued
Determining where (and if possible, when) a GPS was used
Retracing the driver's steps to determine whether food or a beverage was purchased

How Much Does a Car Accident Lawyer Cost in Atlanta?

It's normal to be concerned with costs when considering legal help. After all, you're probably already looking at mounting medical debt and may have missed a few paychecks recovering from your injuries. The good news is that our services cost nothing upfront because we work on a contingency fee basis. That means we only collect payment for our services once we've resolved your claim favorably. Our fees are a percentage of your settlement or award only after we've won, which will be outlined in an agreement once we've accepted your case. If we cannot recover compensation on your behalf, you'll owe us nothing.

Something else to consider when considering costs is the quality of the lawyer you'll be working with on your claim. While Morgan and Morgan's fees are on par with lesser-known law firms, our car accident lawyers in Atlanta, GA, are specialists in their field. Furthermore, our lawyers are empowered with state-of-the-art technology and abundant resources to provide clients with an edge over the opposition of insurance companies.

It doesn't cost you any more to work with lawyers from one of the top-rated law firms in the nation, so why risk your financial future working with a lawyer whose main selling point is a gimmicky radio advertisement slogan?

How Does Fault in a Car Accident Matter Under Georgia Laws?

Georgia is an at-fault state, meaning drivers that cause accidents are liable to pay for the damages. This is based on negligence. Disputes over who is at fault are common reasons people reach out to us for help. Establishing liability can be challenging in some cases. For instance, if multiple parties are involved, more than one driver can share the blame.

The goal of an insurance company is to reduce its losses and maximize profit. This frequently leads to arguments concerning who is to blame for the accident. Our goal as your law firm is to prove the other driver's liability so you can recover compensation.

How Can Fault Be Proven in a Car Accident?

While every accident has unique factors, here are some general rules that indicate fault:

Traffic law violations - Suppose one driver was exceeding the speed limit when the collision occurred. In that case, the driver who broke the law would be at fault. Generally, if police are involved, they will perform an investigation at the scene. If laws were obviously violated, the driver would receive a citation. If both drivers are ticketed, it makes things more complicated. Our car accident lawyers in Atlanta, GA, can review the specifics of your case and offer legal advice for a path forward.

Negligent driving - If one driver behaved negligently at the time of the accident, this would establish fault. For example, in cases where one driver is operating a vehicle while under the influence, they would almost certainly be at fault for any accident. Likewise, behaviors like texting while driving, racing, or driving while overly tired would indicate fault.

Improperly maintained vehicles - Broken brake lights, bald tires, worn brake pads, or burned-out headlights are all signs of an improperly maintained and dangerous vehicle. If a driver chooses to operate a vehicle that is unsafe and causes an accident, they would likely bear the burden of the expenses incurred by other individuals involved in the crash.

Rear-end accidents - There are rarely legitimate defenses to rear-ending another vehicle. Typically this is caused by following too closely or not paying attention. Exceptions to fault for a rear-end accident require evidence that the driver in front was driving erratically or unexpectedly changed lanes and slammed on their brakes, for example. 

Who Decides Fault in a Car Accident?

In Georgia, you're required to file a police report for all car accidents that involve any injuries, even slight ones, or when $500 or more damage is done to an individual's property. This practically encompasses any accident these days, even with no injuries. If you're outside the city of Atlanta, you should call the state highway patrol instead of the Atlanta police.

While the police may determine fault at the scene, police reports cannot be used as evidence of negligence should your case go to trial. Instead, an adjuster from an insurance company will conduct an investigation and deliver their opinion on who is at fault. Typically, they'll consider the following evidence:

A police report
Driver and witness statements
An examination of the accident scene (they'll be looking for skid marks, obstructions, and road conditions)
Environmental conditions at the time of the accident, such as rain, wind, or ice on the road
An examination of property damage and injuries

While insurance adjusters are professionals, they are also employees, and it's hard to assume they won't be biased toward their employer's interests. If an insurance adjuster concludes fault for your accident unfavorably, you have the option to hire an independent insurance adjuster. Morgan and Morgan can put you in touch with some of the most respected in the industry.

What Happens if Both Drivers Are at Fault for a Car Accident in Georgia?

When a car accident happens, it's possible that both drivers share in the blame. For instance, suppose you're late to pick your kids up from school, so you step on the gas pedal a bit to make sure you arrive on schedule. At the same time, another driver pulls out into traffic in front of you without looking. You both collide, and here you are, looking for car accident lawyers in Atlanta, GA.

How much fault you have in the accident will determine whether you can collect compensation from the other driver. This often comes down to how the evidence is presented. When you share fault for an accident, it's crucial to have the experts at Morgan and Morgan on your side. Here's how comparative fault is handled in Georgia.

Car accident cases fall under negligence laws, where drivers owe others on the road a duty of care to exercise caution and obey traffic laws. For instance, individuals can breach their duty of care by driving erratically, breaking traffic laws, or making unsafe lane changes. When a driver causes an accident that results in another person's injury, they can be liable for the damages because they breached the duty of care.

However, as illustrated earlier, both drivers can bear some responsibility. Therefore, they will each be assigned a percentage of fault. This is generally known as comparative negligence, or in car accident cases, comparative fault.

Suppose a jury finds you equally or more at fault for the accident. In that case, you are barred from collecting compensation under Georgia law. Still, if you are found 49% at fault and the other party 51%, you can collect damages based on the 51%. That means if you were awarded $1,000,0000 for your injuries and losses, you would still be able to collect $510,000.

How Does Insurance Pay for Car Accidents in Atlanta, GA?

If everything goes smoothly, the at-fault driver's insurance will pay for your medical bills and property losses resulting from the car accident. However, the amount available for these expenses is only as much as the policy limit covers. The minimum requirements for insurance under Georgia law are $25,000 per person for bodily injury liability and $50,000 per accident. The minimum for property damage liability is $25,000 per incident.

Suppose your injuries and losses exceed that amount. In that case, you may be able to look for other insurance coverage, such as if the other driver carried any additional liability insurance. Yet, if the at-fault driver only took the minimum car accident liability insurance, it's unlikely they'll have splurged on supplementary protection.

However, if your accident involved a commercial vehicle or a driver who was operating in a commercial capacity, like an Uber driver, additional policies may be at play. This is particularly true if you were hit by a large truck. Trucking companies typically carry substantial insurance policies because accidents that involve tractor-trailers frequently cause catastrophic injuries.

If your accident just involved another private individual, you may look to your own insurance policy next. Many people have uninsured and underinsured motorist coverage and don't even realize it. This extra layer of protection bridges the gap when an at-fault driver either has no insurance or does not have enough. You can find out if you have this coverage through your insurance provider.

However, to collect from your own insurance policy, you must demonstrate the other party was at fault for the accident. We know it sounds crazy, but in this scenario, you're up against the same fight as you would be if you were applying to get compensation from the other party's insurer. Since you want to collect from your own carrier, they'll use the same tactics they employ on others to argue against paying for your damages. In this case, our car accident lawyers in Atlanta, GA, will be on your side when your insurance company is not.

To learn what kind of insurance is available, you might need the help of an attorney. We may need to file official documents that compel involved parties to divulge all possible means of compensation.

Can I Seek Medical Care After a Car Accident if I Don't Have Health Insurance?

These days, many people don't have health insurance, and it's a national problem. However, suppose you need urgent medical attention. In that case, you can go to an emergency room, and they cannot legally turn you away if your needs are profound. If you're concerned about an injury, don't delay.

Contact us if you're not in an emergency situation but still need to see a doctor. We may be able to make arrangements with a healthcare provider that is willing to accept payment once your claim is settled. This is known as a lien, meaning their expenses will come from the settlement proceeds. Typically, medical providers will only agree to these terms if they trust the judgment and reliability of the lawyer approaching them with a client in need.

Am I Eligible to Collect Pain and Suffering From My Car Accident?

Georgia allows victims of car accidents that are not their fault to claim pain and suffering as part of their damages. It's only fitting that you should be compensated when you have to deal with pain, discomfort, and inability to live your life fully when someone else's negligent actions are the cause. Pain and suffering damages are typically calculated by multiplying medical expenses by a factor of one through five. If your injuries are minor, they may be multiplied by one or two. Catastrophic injuries would be at the high end of the scale. Generally, pain and suffering awards will be the most substantial part of your award.

Should I Hire a Lawyer for My Atlanta Car Accident?

It's always a good idea to run the facts of your case by a lawyer. Typically, they can quickly tell you if legal counsel is recommended. We may give you some good advice for fender benders and minor injuries, but pass on taking the case. If you sustained serious injuries, a lawyer could help you get the most out of your case. Remember that you'll be negotiating with trained professionals during the claims process. Their job is to minimize your injuries and losses and undermine your arguments that their client is at fault. It's unlikely they would be working for the insurance company if they weren't good at what they do, so you need an advocate who will work just as hard.

We understand that you want fast results, but car accident claims take time. Some settlements may take a few months. While we'll do our best to deliver prompt results, factors outside our control may dictate the timeline. For instance, should the insurance company refuse a fair settlement, we may have to escalate the matter to the court system. Trials can take as many as two years to resolve successfully. Sometimes, even longer. However, what you accept is always up to you. If you want to put the event behind you and move on, we'll still work to get you as much as possible on the shorter deadline.

At Morgan and Morgan, we always put our clients first. Contact us for reliable expert advice when you need car accident lawyers in Atlanta, GA.
Scroll down for more
Load More