The Fee Is Free™. Only pay if we win.
America's Largest Injury Law Firm
Protecting Families Since 1988
$15 Billion+ Won
800+ Lawyers Nationwide
Free Case Evaluation
Tell us about your situation so we can get started fighting for you. We tailor each case to meet our clients' needs.
Results may vary depending on your particular facts and legal circumstances.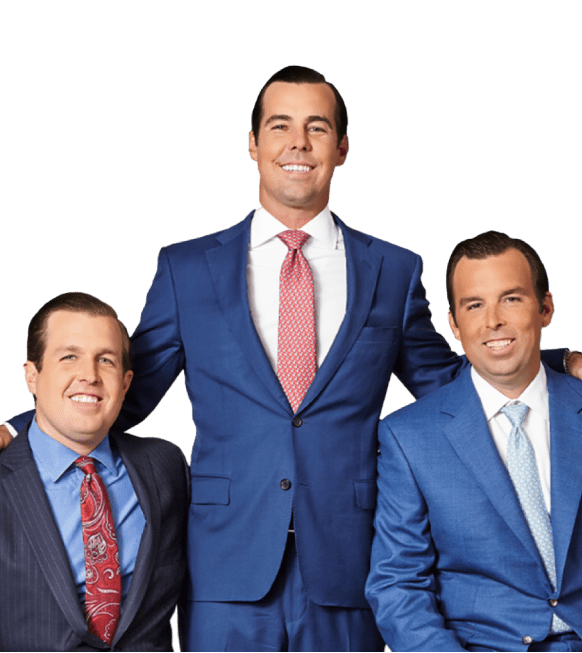 Atlanta Car Wreck Lawyer
Atlanta is Georgia's largest and most populated city with a rich history, historic homes and buildings, and a fast-paced community. As with every highly populated city, you can expect a high rate of traffic incidents. Navigating Atlanta's streets can be a harrowing experience, especially during rush hours when drivers can become more aggressive. In fact, Atlanta's been ranked as one of the top cities for aggressive driving in the country. Atlanta drivers are 20.26 percent more aggressive behind the wheel than the average American driver. 
Fulton county sees an average of 4,593 car accidents every month, most of which happen within Atlanta's city limits. That's six-car accidents every hour. In 2019, 144 of those ended up causing fatalities. Fulton county drivers are a serious problem, and holding careless drivers accountable is how our law firm hopes to make a difference for victims.
If you're looking for an Atlanta car wreck lawyer, you may have had the misfortune of recently getting hit by an aggressive or irresponsible driver. Morgan & Morgan car wreck lawyers are here to help. We'll go over everything you need to understand how to approach a car wreck claim, our method of proving liability, and how we bring value to our clients. Getting you the compensation you deserve is our top priority.
Scroll down for more
Recent verdicts & settlements
How it works
It's easy to get started.
The Fee Is Free™. Only pay if we win.
Results may vary depending on your particular facts and legal circumstances.
Step 1

Submit
your claim

With a free case evaluation, submitting your case is easy with Morgan & Morgan.

Step 2

We take
action

Our dedicated team gets to work investigating your claim.

Step 3

We fight
for you

If we take on the case, our team fights to get you the results you deserve.
---
Client success
stories that inspire and drive change
Explore over 55,000 5-star reviews and 800 client testimonials to discover why people trust Morgan & Morgan.
Results may vary depending on your particular facts and legal circumstances.
FAQ
Get answers to commonly asked questions about our legal services and learn how we may assist you with your case.
Morgan & Morgan
What Will My Atlanta Car Wreck Lawyer Do for Me?

We understand when you're in a car wreck, it can be a confusing and stressful time. You need someone who will stand up for you and protect your rights. That's what we aim to do. When we accept a case, we recognize the tremendous responsibility we're taking on. We're fighting for your future, and we have a reputation to uphold. Here are some strategies we use to ensure you get the maximum compensation possible for your claim:

An analysis of documentation, records, and evidence to formulate a legal strategy
Recruiting expert witnesses, investigators, and industry experts to reveal hidden evidence
Using our extensive experience with car wreck claims to negotiate the highest settlement

How We Gather Evidence to Prove Liability in Atlanta Car Accident Claims

On-site inspection of the accident scene - To prove liability, sometimes it requires a first-hand assessment of the scene where your collision occurred. Pictures are said to be worth a thousand words, but we believe seeing the scene in person is even better. Sometimes vital clues can be overlooked by police and even yourself. After an accident, you may be in shock, seriously injured, or too stressed to note things like traffic controls, roadway obstructions, or road conditions that may have been a factor in the accident. That's why an on-site inspection is an investigative tactic we frequently use to help your claim.

Eyewitness accounts - Many times, you will have someone who witnessed the accident. While the police report will have their account, we believe in the value of our own interviewing techniques. They may have valuable information proving the other driver was liable for the accident, including how fast the other driver was traveling, weather and road conditions, and if they saw the other driver doing something illegal like holding their phone. It's important to have corroborating statements to bolster your claim against the other driver. 

Defective car parts - Once cars are removed from the scene of an accident, we may use vehicle industry experts to investigate whether any defective car parts or engineering issues could have played a role in the accident. Recalls happen all the time in the automotive industry because manufacturers later learn that some system is faulty and may cause accidents. Additionally, poorly maintained cars are often dangerous. If the other driver was driving on bald tires or their brakes were worn down, they should have done something to correct the issue instead of putting other drivers at risk.

Analyzing police reports - An analysis of the police report is crucial in proving liability. Police reports will include witness and driver statements and may include pictures, video, or diagrams of the accident. It should also include descriptions of any injuries and damage to vehicles. If the other driver were ticketed or arrested, this would prove valuable in establishing liability. 

Medical records - We will use your medical records in part to calculate the number of damages to demand from the insurance company. We will work with your doctor to obtain your medical records and bills with your permission. Sometimes it's not as easy as a simple phone call, so we follow up until we have everything we need to satisfy the insurance companies as to the extent of your injuries, including a future prognosis. Often people don't factor in future medical expenses, which can be even more costly than the initial bills, especially if you've been seriously hurt.  

How Can Our Expert Witnesses and Skilled Investigators Help Your Claim?

When a case is complicated, and many are, your lawyer will use a team of professionals to help build a rock-solid case which may include the following:

Expert witnesses - An expert witness is a highly respected professional in a specific field. We have a vast network of expert witnesses that can explain complex issues in a manner that ordinary persons, like members of a jury, can easily understand. These experts are seasoned pros and know how the courts work and how to persuade a jury. For example, a medical expert witness may be able to attest to the extent of your injuries and how they will impact your life moving forward. If faulty car parts were at play, an automobile industry expert would explain how the defective part caused the accident.    

Accident reconstructionists - An accident reconstructionist may be used if the accident scene is very complicated. Their approach is scientific and aims to explain how and why the accident occurred. They can be instrumental in proving who caused the accident. Essentially, they work in reverse, rebuilding the scene of the accident to reveal hidden clues and come to a conclusion that fits the evidence. In some cases involving commercial trucks, an accident reconstructionist may use data from the vehicle's black box to assess events that led to the crash. Accident reconstructionists have an incredibly diverse set of skills, including physics, engineering, mathematics, car dynamics, photogrammetry, and knowledge of computer applications such as simulation software. Many have a background in law enforcement and an in-depth knowledge of accident investigation, making their testimony valuable and credible.

Expert investigators - We employ skillful investigators to help build your claim. Our investigators work with your lawyer to uncover and analyze evidence. Although insurance companies do their own investigation, it's beneficial to do our own investigation independently. This is because the insurance company investigators may not discover all of the evidence or may not put as much weight on some evidence as they should. Our investigators provide the fuel needed to come up with valid counterarguments to their findings. 

How Our Negotiation Skills Help Your Claim

Many studies show you're more likely to get a favorable settlement if you work with a car wreck lawyer. The same studies also show your settlement is usually higher as well. That's because our lawyers won't necessarily take the first offer unless we feel it adequately addresses all of your damages. In most instances, the first offer is not the best offer. The reason we know this is through experience. Handling tens of thousands of car accident claims a year provides us with a lot of information that we use as leverage for our clients.

Negotiating with insurance companies requires us to know when more money should be on the table and when to apply more pressure to respect your rights. Our experience tells us to question every step of the process and not expect insurance companies to be open about anything. Once we have determined the full value of your damages, we send and demand a letter to the insurance company. If they don't want to play ball, the next step is to file a personal injury lawsuit. While most car wreck claims do end in a settlement, the threat of a lawsuit makes insurance companies understand we're not playing games. 

Negotiations are often a pull-and-push scenario. Sometimes it requires creativity. Other times, it requires aggressiveness. Our seasoned attorneys have the wisdom to recognize which strategy is going to win you the maximum compensation possible. Persuasion, focus, and influence are the name of the game when it comes to significant settlements. 

What Kind of Compensation Could I Get for My Atlanta Car Wreck?

Georgia is an "at-fault" state which means car wreck victims have to prove the other driver was at-fault to win compensation for their damages. However, Georgia is also a "modified comparative negligence" state which means you can still claim damages if you're partially at fault. Still, your responsibility has to be less than the other driver, and you must be less than 50% at fault. 

Your damages will be reduced by the percentage of fault you share if you're partially at fault. For example, if you were 40% at fault for the accident, whatever award you're eligible for would be reduced by 40%. Here is an illustration. Suppose your claim went to trial, and after reviewing all the evidence and damages, a judge or jury decides you should get $160,000 for the accident. In that case, your award would be reduced by 40% so that you would get $114,000 instead of $160,000.

Georgia requires motorists to carry a minimum insurance policy that covers $25,000 bodily injury per person and $50,000 per incident. So if the at-fault driver only carries the minimum and your injuries exceed the policy limits, we'll have to look at other possibilities to get your expenses covered. Additionally, the minimum for property injury liability is $25,000 per accident, so if you were driving a higher-end vehicle that was totaled, we might look at your own insurance policy to cover the difference. The other option will be to sue the at-fault property if they have assets that could make up the difference. 

Medical bills and medical expenses
Vehicle repair or replacement
Lost wages
Pain and suffering
Rental car expenses
Loss of companionship or affection
Wrongful death

Currently, there are no Georgia laws that put a cap on recoverable compensatory damages you can claim for a car accident like in other states. However, punitive damages are limited to $250,000. Punitive damages are meant to punish the other driver for reprehensible conduct. For example, suppose you were hit by a repeat offending drunk driver. The courts may wish to see that person financially punished in an effort to deter that kind of behavior in the future. However, Georgia laws cap that at $250,000.

In any case, the amount you can recover will depend on many factors such as your damages, insurance policy limits, and whether the at-fault driver has any assets worth pursuing. All of these factors will be explained and reviewed when we take on your case. 

How Can a Car Wreck Lawyer Prove Fault Lies With the Other Driver?

We look at a variety of aspects when trying to prove fault. Some fundamental rules tend to indicate who is at fault, which are as follows:

If one driver violates traffic laws and the other does not, it's usually the lawbreaker that is at fault.
If one driver drove negligently, such as by texting or talking on the phone, that party is usually at fault.
If one car wasn't adequately maintained, such as a broken signal or brake lights, the individual driving the inadequately maintained car will likely be at fault.
If another driver rear-ended you, they would be at fault in almost all incidents unless you erratically slammed on your brakes for no reason or made an improper lane change.

Proving liability isn't always as simple as this. In complex cases that involve more than two parties, it often takes the help of a car wreck lawyer to untangle the confusion.

What Should I Do Directly After a Car Accident in Atlanta?

Unless you are critically injured, the first thing you should do after an Atlanta car accident is to call the police. A police report provides invaluable evidence for the insurance companies and any lawyer that may work with you. Georgia law requires you to call the police after an accident that results in injury, death, or property damage over $500, which is just about any accident these days. 

Once you've called the police, you should document evidence at the scene by taking pictures of your injuries, the position of the cars, and vehicle damage. Ask any eyewitnesses for their contact information, including names and phone numbers. 

It's natural to be concerned with other parties at the scene of an accident but be careful not to admit fault even if you think you had anything to do with what happened. You may be giving away your chances of compensation if you do.

Seek medical care right away, even if you're not sure if you're hurt. Some injuries don't present themselves right away, and you may even have hidden internal injuries. Furthermore, a doctor's exam provides evidence that can be helpful in how much compensation you can receive. Be sure to be very thorough when talking to the doctor about how you're feeling. If you can't enjoy things you usually would because of pain or injuries, this should be documented on your records. Little things can add up.

We recommend you get in touch with us as soon as possible after any car wreck because we can get busy securing evidence and talking to witnesses before their memories fade. Additionally, you have just two years from the date of the car wreck to file a lawsuit for a personal injury case due to Georgia's statute of limitation. The timeframe is a little more lenient for property damages lawsuits, which is four years from the date of the car wreck. 

What Are Hidden Injuries to Watch out For After a Car Wreck?

When you're in a car wreck, the body has its own defenses to help you deal with pain and stress. Your body will release a flood of adrenaline that allows you to function in a fight or flight scenario, which initially masks pain so you can deal with the situation at hand. After that adrenaline wears off, pain may set in. That's why it's essential to see a doctor quickly after any car wreck. Only a professional can determine your injuries. Here are some hidden injuries that may only become apparent after some time:

Soft-tissue injuries - A hard tissue injury is often obvious such as a broken bone. However, soft-tissue injuries may not be felt until later. They can present with feelings of pain, soreness, stiffness, and mobility issues. Soft-tissue injuries involve damage to ligaments, tendons, and muscles. Frequently, in the event of a car wreck, you may have muscle damage and dislocations. Areas that are vulnerable to soft-tissue injury are the elbows, wrists, knees, ankles, back, and shoulders. 

Whiplash - Whiplash is a common injury that people sustain after a collision. It can be very painful and involves harm to the muscles and tendons in your neck, shoulders, and upper back. While the effects of whiplash can go away after a few days, some people experience more severe whiplash that can take weeks or even months to subside. In the meanwhile, they may not be able to work or manage on their own. 

Brain injuries - A violent jolt or impact to the head can cause your brain to slam into the inside of your skull, causing brain injuries. Serious brain injuries are called traumatic brain injuries (TBIs). They can impact a victim's ability to reason and handle everyday affairs we take for granted. A TBI can affect mobility, speech, hearing, and sight and can cause changes in moods and behaviors.

Herniated discs - Frequently, the impact of a collision can cause a rupture or slipped spinal cord disc, which can cause a great deal of pain and may even require surgery to repair in rare cases. The pain is often described as sharp, burning, numb, or tingling sensations.

Spinal cord injuries - While a herniated disc is associated with spinal cord injuries, other back injuries can include nerve damage, spinal concussions, and spinal cord fractures. The most serious spinal cord injuries can result in paralysis. Spinal cord injuries need to be treated quickly so the damage doesn't increase over time.

Internal organ injury - A car wreck can cause a variety of internal injuries that affect organs like the lungs, heart, liver, kidney, and intestines. Internal injuries should be treated immediately, but they are often hard to detect until it becomes an emergency situation. That's why it's critical to get medical care after a car accident. 

Working With Morgan & Morgan Atlanta Car Wreck Lawyers

When we accept your case, our Atlanta car wreck lawyers will work tirelessly to be an advocate for you. We believe in your right to seek compensation for your injuries and will dedicate the time and resources needed to make sure you get it. We believe in our abilities to deliver satisfaction to our clients. That's why we don't charge an upfront fee. Only after you win compensation do we get paid for our services. When you're ready to get back on track, we're here to help you do that. Our goal is to make sure you get the help you need to recover physically and financially after a car wreck that wasn't your fault. Contact us today for a free case evaluation.
Scroll down for more
Load More