The Fee Is Free™. Only pay if we win.
America's Largest Injury Law Firm
Protecting Families Since 1988
$15 Billion+ Won
800+ Lawyers Nationwide
Free Case Evaluation
Tell us about your situation so we can get started fighting for you. We tailor each case to meet our clients' needs.
Results may vary depending on your particular facts and legal circumstances.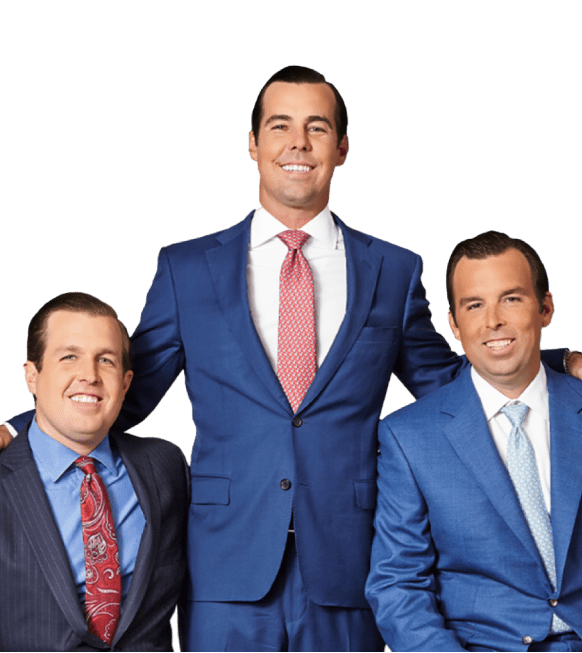 Hire a Car Accident Lawyer
According to a 2019 report by a LendingTree-owned insurance company, Fort Myers drivers are among the best and safest in the United States. However, accidents still happen. You may remember a recent story where a Fort Myers woman was recorded watching a film while behind the wheel. In fact, she was so engrossed watching the movie she didn't even realize she was being recorded. Or another story where a Fort Myers woman followed another driver for 45 minutes slamming into the back of the car three times in a fit of road rage. When it comes to car crashes, drivers are most often the weakest link, whether it's because of driver error, inattention, impairment, aggression, or speeding.
In 2021, Lee County had 14,335 accidents, including vehicles, motorcycles, bicycles, and pedestrians resulting in 8,448 injuries and 119 fatalities. Suppose you've been a victim of a Fort Myers car crash. In that case, you may be wondering when is the best time to hire a lawyer or if professional legal help is even needed. We're here to answer all your questions on Florida laws and how to get compensation for a car accident. 
Florida and the "no-fault" law
If you've been in Florida for any length of time, you've probably heard the phrase "no-fault state," but what does that mean? Florida became a no-fault state in the 1970s. In the event of an accident, each party puts in a claim to their insurance company for the damage to their property regardless of who caused the accident. Because of this, Florida drivers must also carry Personal Injury Protection (PIP) insurance on their policies. 
PIP insurance covers medical expenses and lost wages from an auto accident, and the legal minimum is $10,000 in coverage. But with the skyrocketing costs of medical care these days, $10,000 may not even cover the costs of a few hours in the emergency room, much less cover the costs associated with a serious injury that requires long-term treatment. 
Suppose your accident has left you permanently disabled, or you suffered significant scarring or disfigurement, lost a body function, or a loved one was killed. In that case, you can step out of the no-fault system and file a lawsuit against the other driver. If any of the above has happened to you, now is the time to hire a Fort Myers car accident lawyer. These kinds of lawsuits can be quite complicated, and time is of the essence. 
Scroll down for more
Recent verdicts & settlements
Results may vary depending on your particular facts and legal circumstances.
How it works
It's easy to get started.
The Fee Is Free™. Only pay if we win.
Results may vary depending on your particular facts and legal circumstances.
Step 1

Submit
your claim

With a free case evaluation, submitting your case is easy with Morgan & Morgan.

Step 2

We take
action

Our dedicated team gets to work investigating your claim.

Step 3

We fight
for you

If we take on the case, our team fights to get you the results you deserve.
---
Client success
stories that inspire and drive change
Explore over 55,000 5-star reviews and 800 client testimonials to discover why people trust Morgan & Morgan.
Results may vary depending on your particular facts and legal circumstances.
FAQ
Get answers to commonly asked questions about our legal services and learn how we may assist you with your case.
Morgan & Morgan
What is the car accident statute of limitations in Florida?

Both criminal and civil cases have statutes of limitation to ensure that legal disputes are resolved in a timely manner. In Florida, the statute of limitations to bring a car crash injury lawsuit against the at-fault party is four years from the date of the crash. The same limitation applies if you wish to file a lawsuit for damage or a total loss of your vehicle. 

If someone dies as a result of an accident, you have just two years from the date of your loved one's death. If either deadline has passed, there is virtually no legal option to gain compensation for your losses.

How does comparative negligence work in Florida car accident claims?

When you're able to prove the other driver was totally at fault for the car accident, it's probable that the at-fault driver will have to pay medical costs and other expenses you've incurred from the accident. However, perhaps you had some fault in the accident. In that case, the jury will be asked to apply the "pure comparative fault" rule that Florida follows. The pure comparative fault rule will require the jury to look at the evidence and assign a percentage of fault to both parties, and you'll be compensated accordingly. Here's an example of how that would work.

Suppose the jury looks at all the damages and decides the claim should be worth $200,000, but based on the evidence, they assign 30% of the blame on you. It may be that you were going a little over the speed limit or a turn signal bulb was out. In that case, your award would be $200,000 - 30% = $140,000 under the comparative fault rule. On the other side of the coin, if you were found to be 80% at fault, you would be entitled to 20% of the damages, but the other driver could be eligible to sue you for the other 80%. 

Is it worth getting a car accident lawyer?

After calling the police and getting medical care, the first thing you should do after a car accident in Florida is to contact your insurance company to give them a full account of what happened. However, if the other party's insurance company wants to talk to you, it may be time to consult an attorney. That's because insurance companies can use the most innocent of statements to deny future claims you may make. 

A personal injury lawyer can protect you from many common pitfalls when it comes to insurance negotiations. While there are no laws that dictate the need for an attorney after a car accident in Florida, the legal counsel they offer can go a long way towards getting you the compensation you need. Suppose your injuries have made it so that you're unable to work, or your injuries require expensive long-term rehabilitation. In that case, you may need to file a lawsuit against the other party to recover damages that will help you pay your bills and get quality medical treatment. 

Unfortunately, it's a fact of life that insurance companies routinely minimize and deny legitimate claims. That's because they are a business. While the insurance adjuster may sound sympathetic, at the end of the day, the company's bottom line is what they are protecting, not your well-being.

The problem with negotiating on your own is that insurance companies love it. That's because they know the average person won't understand they need to factor in future medical costs. Plus, they know you're also at a vulnerable stage, where medical bills are piling up, and income isn't coming in. They use the scariest time of your life to offer token settlements to get you off their books. Another issue a regular person may not understand is that when you accept that token settlement, that is it. You literally have to sign away your right to pursue future compensation to get any money regardless of how severely you were injured.

What are the most common causes of accidents in Fort Myers, Florida?

While Fort Myers drivers are considered to be better than many in the U.S., the fact that you've been injured by one shows that Fort Myers drivers still follow a national pattern. Here are the most common causes of car accidents:

Distracted driving- Without a doubt, distracted driving causes a notable amount of car accidents every year. Distracted driving can be anything from picking through a bag of french fries to responding to a text while behind the wheel. The main goal of any driver should be to get to their destination safely; however, with the temptation of today's technology, many drivers are being just plain stupid and cause other people harm.

Speeding- We all have places to go and people to see. Still, some drivers feel overconfident in their ability to avoid collisions even if they're going significantly over the speed limit. However, your ability to react to dangers ahead is dramatically reduced when you're speeding. There are reasons for speed limits; it is the maximum speed at which you should be able to navigate road conditions and other traffic safely.

Drunk driving- Driving while under the influence is illegal in all states, yet people keep doing it somehow. Likely because alcohol impairs your ability to think and reason normally. It's extremely dangerous to drink and drive because in addition to cognitive decline, your ability to control your body and, thus, control a vehicle is significantly diminished.

Reckless driving- Tailgating, cutting other drivers off, and weaving in and out of traffic is all considered reckless driving. When encountering a reckless driver, the best thing you can do is carefully and slowly remove yourself from their perimeter. 

Inclement weather- Florida is renowned for its fantastic weather. Still, the summers can bring daily thunderstorms, which can cause hazardous road conditions. Wet roads become slick and can cause even the best drivers to lose control of their vehicles if they don't slow down and pay attention.

Running red lights and stop signs- We're probably all guilty of gunning it on a yellow light to make it through an intersection, but at what risk? Saving a few minutes is never worth a car accident. Likewise, blowing through a stop sign because you think you can see all four ways has caused countless accidents because a driver missed a motorcyclist, pedestrian, or bicyclist. 

What should I look for in a car accident attorney?

Most people never think about what to look for in an attorney until they need one. When that time comes, they're likely experiencing an already very stressful situation, and the added pressure of figuring out the best time to hire an attorney can be overwhelming. Here are our recommendations on what to look for in a car accident lawyer:

Area of expertise- Finding the right lawyer is critical to receive the maximum amount of compensation. Your lawyer should have extensive experience in car accident cases. Not only that, but they need to have intricate knowledge of laws that govern Florida insurance policies. Our experienced car accident attorneys have a solid reputation in the Fort Myers area, which can impact the success of your lawsuit. 

Billing policy- Our personal injury lawyers work on a contingency fee basis which means you don't pay unless we win your case. We do this because we understand you have enough stress right now without the added pressure of coming up with lawyer's fees. This type of billing arrangement also ensures your lawyer will do everything possible to win your case and get you the highest settlement.

Trial experience- Frequently, car accident cases are settled out of court without the need for a trial. However, should negotiations fall apart, you need to work with a lawyer that is prepared to represent you in a courtroom. Many car accident lawyers will shy away from a trial and perhaps even settle for less than your claim is worth to avoid a trial. That's not how we do things at Morgan & Morgan. Our lawyers approach every case as if it will end up at trial, and we're not afraid to take on the biggest insurance companies. 

When you're ready to hire a Fort Myers car accident lawyer, Morgan & Morgan Law Firm employs some of the best and brightest. We're also one of the largest law firms in the U.S., with the resources and staff to make your case a successful one. We're ready to fight for your rights and win you the compensation you need to get on with your life. Contact us today for a free case evaluation. We'll be happy to review your case and answer any of your questions.
Scroll down for more
Load More