The Fee Is Free™. Only pay if we win.
America's Largest Injury Law Firm
Protecting Families Since 1988
$15 Billion+ Won
800+ Lawyers Nationwide
Free Case Evaluation
Tell us about your situation so we can get started fighting for you. We tailor each case to meet our clients' needs.
Results may vary depending on your particular facts and legal circumstances.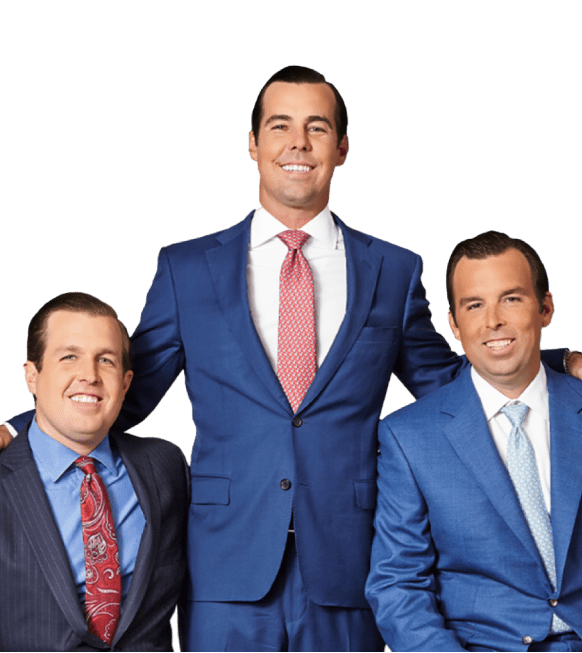 Louisville Slip and Fall Lawyer
Accidents are a fact of life. Every day, millions of people slip and fall for various reasons, whether getting in and out of the shower or just walking across the room. Most of these slips are trivial, resulting in nothing worse than a little embarrassment. But some falls are much more harmful, causing serious injuries.
If you suffer an injury due to a slip and fall, you could find yourself in the hospital for weeks—or more if you are very unlucky. Some fall injuries are impossible to fully recover from. You could face a lifetime of therapy and medical treatments in the worst circumstances.
Should this happen to you, you'd probably wonder how you're supposed to pay for your medical bills and other expenses, especially if you can't work due to the injury. But depending on where you're injured, Louisville slip and fall attorneys may be able to get you compensation for the harm you've suffered.
If you're facing a climbing stack of medical bills with no end in sight, don't give up hope. Instead, consult with the Louisville slip and fall attorneys at Morgan & Morgan. Our team of legal experts is dedicated to helping people in your situation recover quickly, so contact us today to learn more during a free case evaluation.
When Louisville Slip and Fall Attorneys Can Get You Compensation
Unfortunately, if you slip and fall at your home, you probably can't get compensation for your fall outside of what might be covered by your health insurance. However, if you fall in a public location like a business or your workplace, another party is likely liable for your injury.
Typically, another party is liable if they are responsible for creating a safe environment and fail to do so. This failure represents negligence and is usually the main thing that Louisville slip and fall attorneys will need to prove to get you compensation for your injuries and related expenses.
Where Slip and Fall Accidents Are Most Likely to Occur
While it's possible to slip anywhere, some places create a greater risk than others. And where the risk is greater, the number of accidents increases. In our decades of experience handling these types of cases, we've identified the following places as some of the most likely to see slip and fall injuries:
Locker Rooms
People are likely to slip and fall pretty much anywhere where there are tiles that get wet. While swimming pools usually have lifeguards and explicit warnings about the dangers of wet tiles, attached locker rooms often don't have the same level of risk prevention.
Property owners should post signs inside locker rooms to warn visitors of dangerous locations. They should also ensure that wet floors are regularly mopped and dried to prevent people from slipping. If they don't, they make themselves liable for injuries suffered by people using the locker room.
Bathrooms
Bathrooms are dangerous for similar reasons, though public bathrooms usually don't have wet floors unless somebody spills something. Of course, if that does happen, the property owner is responsible for quickly cleaning up the mess or setting out warning signs if that isn't possible.
Hotel and motel bathrooms are common problem areas. The showers in these bathrooms often don't have any safety mats to prevent slips. This can easily result in a fall when you are using a slippery shower that you're unfamiliar with. If you fall in a hotel or motel shower, contact Louisville slip and fall attorneys immediately.
Poorly Lit Stairs
Stairs are always risky. Unless you're carefully watching your feet, it's easy to misjudge the height of a stair and trip while walking up or slip while walking down. Either can result in a nasty fall in which there's a good chance you will hit your head or severely injure a limb.
However, when stairs are poorly lit, the chance of an accident increases drastically. Unfortunately, stairwell lighting is often poorly maintained, particularly when there are stairs and an elevator in the same structure.
Some of the more common places where stairs are poorly lit are:
Parking garages
Emergency stairs
Old apartment buildings
Office buildings in the evening
You should be particularly careful of stairs in these locations, and consider taking the elevator if it's an option. If you need to use the stairs and are injured in a fall, the Louisville slip and fall attorneys at Morgan and Morgan will help you determine whether the property owner is liable for your injuries.
Escalators
If stairs are a significant risk for fall injuries, then it only makes sense that moving stairs are an even greater risk. Most of the risks associated with stairs carry over to escalators as well, but the danger amplifies because of the moving machinery.
When stairs are moving, it's even more difficult to judge how high or low you should place your foot. And when you step on or off an escalator, you can be thrown off balance by the sudden change in momentum.
While escalators are usually in well-lit areas, there are still other safety procedures that property owners should follow. Escalators should be well maintained to prevent breakdowns, and care needs to be taken to ensure the surfaces don't get wet. There should also be plenty of warning signs at both ends of all escalators.
Entryways (Particularly in the Rain)
Entryways (particularly of businesses that see a lot of foot traffic) often get messier than other parts of a building. It's in these doorways and corridors that people track mud, dirt, leaves, grass, water, ice, snow, and anything else that sticks to the bottom of their shoes.
When this debris builds up in the entryway of a building, it creates a slipping hazard. This danger is increased by the fact that people outside the building might not be able to see the hazards directly inside.
Property owners should regularly clean their floors, particularly on rainy days when water collects just inside buildings. While snow is uncommon in Louisville, on the rare days it falls, it's an even greater risk than rain. To combat this risk, property owners should have a policy of drying the floor every few minutes or after anyone enters.
Nursing Homes
Due to their advanced age and weakened bodies, nursing home residents are at particular risk for slip and fall injuries. Even while using a cane or walker on level ground, an elderly resident might still collapse.
Staff members at nursing homes are supposed to provide 24-hour assistance to residents. However, when they are negligent in their duties, senior citizens can get into accidents. Many falls result in broken legs or hips that can cripple the resident for the rest of their life.
If you or a loved one was injured in a fall because a nursing home resident failed to properly perform their job, contact the Louisville slip and fall attorneys at Morgan & Morgan immediately. We will help you get compensation for those injuries quickly and ensure that the nursing home staff performs its duties in the future.
Construction Sites
Construction sites present a unique danger to workers and pedestrians alike, no matter how careful workers are. This is due to the dangerous equipment used in construction, heavy materials that have not yet been installed, and the debris that can gather in and around the site.
However, these risks escalate dramatically when proper safety precautions are not followed by workers. When people aren't focusing on safety, just about anything can become a hazard. 
Common falling hazards include:
Wobbly scaffolding
Unsecured workers on rooftops
Spilled items like nails, nuts, or bolts
Incorrect footwear
Falling at a construction site is particularly dangerous. If you fall on a power tool while it is turned on, you could face serious injury, loss of limb, or even death. This is why all construction sites are supposed to follow strict safety regulations at all times. When they don't, either the site owner or the construction company becomes liable for injuries suffered from falls.
Work Sites
If you've ever worked in an office building, you probably didn't think it was a particularly dangerous location. You would be correct for the most part, but an office is still a common place for slips and falls. And as it turns out, fall injuries happen most frequently when people are rushing somewhere, and office workers are often in a hurry while moving around the office—especially at the end of the workday or at lunchtime. 
Your employer should give safety seminars reminding employees to be safe. They should also ensure the building doesn't have any dangerous floors to help prevent these accidents.
How Louisville Slip and Fall Attorneys Help You Get Compensation
Just because a third party is liable for your injuries doesn't mean that they're eager to pay compensation. Typically, businesses and corporations have lawyers on retainer that are paid to help them avoid these types of costs. Those attorneys will fight your claim or try to offer you a small settlement to make it go away.
You need a lawyer to combat that effectively and get the compensation you deserve. Your attorney will investigate the accident and discover evidence that supports your claim. They understand the law and can prove that the other party had an obligation to protect you from harm and were negligent in that duty.
Your attorney also understands the value of your claim and won't let you accept a settlement offer that underpays what you need to recover. Years of experience can ensure that your lawyer is as knowledgeable about these types of injuries as the attorneys working for the other party and that your attorney knows what it takes to win your case.
Scroll down for more
Recent verdicts & settlements
How it works
It's easy to get started.
The Fee Is Free™. Only pay if we win.
Results may vary depending on your particular facts and legal circumstances.
Step 1

Submit
your claim

With a free case evaluation, submitting your case is easy with Morgan & Morgan.

Step 2

We take
action

Our dedicated team gets to work investigating your claim.

Step 3

We fight
for you

If we take on the case, our team fights to get you the results you deserve.
---
Client success
stories that inspire and drive change
Explore over 55,000 5-star reviews and 800 client testimonials to discover why people trust Morgan & Morgan.
Results may vary depending on your particular facts and legal circumstances.
FAQ
Get answers to commonly asked questions about our legal services and learn how we may assist you with your case.
Morgan & Morgan
How Much Money Can Morgan and Morgan Get Me From a Slip and Fall Lawsuit?

That depends on several factors. First, the stronger the evidence we can uncover proving that a third party was liable for your injury, the more money you are likely to receive. 

Second, the amount of money you receive will often depend on the severity of your injuries. If you have relatively minor injuries or we have difficulty proving liability, you may only get a few thousand dollars. Conversely, if you suffered major injuries and we have plenty of proof of responsibility, your case could be worth more than $1 million.

Can Morgan & Morgan Help Me Find a Good Doctor for My Fall Injury?

Our Louisville slip and fall attorneys have decades of experience handling these types of cases in the Louisville area. As part of our work, we often deal with local doctors that specialize in these types of injuries. Our lawyers will help you find a physician who understands your pain and will speed up your recovery.

Who Will Pay My Compensation?

Typically, you will get paid by the insurance company of the liable party. Since most slip and fall cases fall under premises liability laws, your attorney is typically dealing with a business of some sort, and nearly every business has liability insurance that pays compensation to victims when the business is negligent.

Do I Need to Make a Claim With the Insurance Company?

Usually, we will start by filing a claim with the insurance company of the liable business. If that claim goes well and we can negotiate a fair settlement offer with the insurer, then you will get paid through the standard claims process. However, if negotiations don't go well, you may have to file a lawsuit against the property owner.

Experienced Louisville Slip and Fall Attorneys

The biggest difficulty in most fall cases is that you need to fight your case against corporate lawyers. This means that from the start, there is a team of attorneys working against you to minimize the amount of money you will get from the accident. As such, you need an equally devoted team Louisville slip and fall working to maximize your compensation.

The law firm of Morgan and Morgan is the team of attorneys you need at your side. We have decades of experience, during which we have recovered billions of dollars for our clients. Contact us today to learn more and schedule your free case evaluation.
Scroll down for more
Load More