The Fee Is Free™. Only pay if we win.
America's Largest Injury Law Firm
Protecting Families Since 1988
$15 Billion+ Won
800+ Lawyers Nationwide
Free Case Evaluation
Tell us about your situation so we can get started fighting for you. We tailor each case to meet our clients' needs.
Results may vary depending on your particular facts and legal circumstances.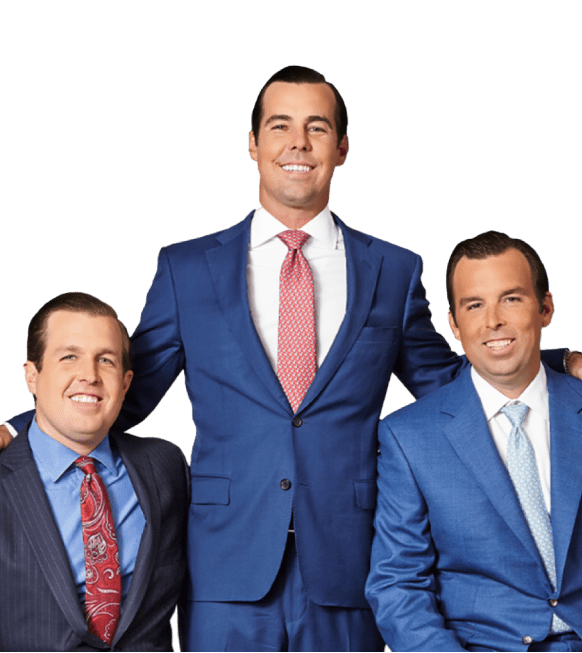 Pedestrian Accident Lawyer in Los Angeles
Los Angeles is a sprawling metropolis with a population of nearly 4 million people. It is the second-most populous city in the United States. 
With so many people calling Los Angeles home, there is a significant amount of pedestrian traffic on the city's sidewalks and walkways. Also, the city's extensive network of busy roadways and highways can make it difficult for motorists to navigate safely. 
This is particularly true during peak traffic hours. Distracted driving, drunk driving, and other considerations contribute to the high incidence of pedestrian accidents in Los Angeles.
If you or someone you love has been injured in a traffic mishap, it is critical to speak with a pedestrian accident lawyer in Los Angeles. Victims often experience a wide range of costs and losses after such an accident. 
Fortunately, the team at Morgan and Morgan knows what's necessary to file a successful pedestrian accident claim in California. As the largest personal injury law firm in the country, we have represented accident and injury victims across the U.S.
When you hire our firm, a pedestrian accident lawyer in Los Angeles can help you seek the compensation you're entitled to. Fill out the contact form on our website, and we will schedule a free case evaluation for you. 
Common Causes for Los Angeles Pedestrian Accidents
Pedestrian accidents are a serious concern in Los Angeles. These accidents can be caused by a variety of factors, but some causes of pedestrian accidents are more common than others. These include the following:
Distracted Driving
Drivers who are using their phones, eating, drinking, or otherwise distracted may fail to notice pedestrians. This is especially true when drivers are turning a corner. Distracted driving is one of the leading causes of pedestrian accidents in Los Angeles.
Speeding
Motorists who exceed the legal speed limit are more likely to hit a pedestrian and cause them severe physical damage. On busy roads and highways, speeding makes pedestrian accidents more likely.
Failure to Yield
Drivers should always yield to pedestrians. This is especially true at crosswalks. 
Failure to yield can cause serious, severe outcomes. Pedestrians have the right-of-way in crosswalks, but negligent drivers sometimes fail to observe this rule.
Drunk Driving
Those who are under the influence of drugs or alcohol are more likely to cause accidents and collisions. Drunk drivers have slower reaction times. They are not able to respond quickly to changing situations and are more likely to hit pedestrians.
Poor Lighting
Poorly lit roads, highways, and intersections can make it difficult for motorists to see pedestrians. And a lack of lighting is a common problem in some areas of Los Angeles. When drivers cannot see adequately, serious accidents may occur.
Jaywalking 
Pedestrians who cross the street outside designated crosswalks or intersections are at greater risk of getting hit by a vehicle. Motorists should not expect pedestrians to be in these areas, and because of that, drivers may not be able to stop in time to prevent an accident.
Faulty Road Design 
Some roads in Los Angeles are poorly designed. Many intersection and road designs do not account for the needs of pedestrians.  
Examples of poor road designs include: 
Lack of lighting
Narrow sidewalks
Lack of crosswalks
These factors can increase the risk of pedestrian accidents.
Weather Conditions
Rain, fog, and other adverse weather can decrease visibility for motorists. Inclement weather can also make it more difficult for pedestrians to see oncoming traffic. Low visibility is one of the leading causes of accidents. 
Inexperienced Drivers 
Motorists who lack experience or are unfamiliar with the roads in Los Angeles may be more likely to cause accidents. Further, inexperienced drivers might not know the laws and regulations governing pedestrian safety in Los Angeles.
Defective Vehicles
In some instances, pedestrian mishaps may be caused by defective vehicular components, which could include faulty brakes or tires. Design or manufacturing defects can make it more difficult for drivers to control their vehicles and avoid collisions.
How Can a Pedestrian Accident Lawyer in Los Angeles Help Me?
If you have been injured while walking, hiring a pedestrian accident lawyer in Los Angeles can be critical. Doing so will help to ensure that you receive the compensation you deserve for your losses. 
A skilled tort lawyer can help you navigate the complexities of the legal system. They will also advocate for your rights throughout the duration of your case. When you hire a Morgan and Morgan pedestrian accident lawyer in Los Angeles, we will handle the following for you:
Conduct an Investigation 
One of the first things a Morgan & Morgan tort attorney will do is conduct a thorough investigation of the incident. This can include reviewing police reports, speaking with witnesses, and gathering other evidence. 
Investigating your accident will allow us to determine who was at fault and build a strong case on your behalf. 
Determine Liability
In many pedestrian accident cases, determining liability can be a complex process. A skilled legal professional can help prove who is responsible for the accident.
Some parties who may be liable in pedestrian accidents are:
The driver of the vehicle
Vehicle manufacturers
Government agencies
The pedestrian
Once they determine liability, your Morgan & Morgan lawyer can take legal action to hold the responsible party accountable for the damage you sustained.
File an Insurance Claim
After a pedestrian accident, you may be entitled to compensation through an insurance claim. A pedestrian accident lawyer can help you file a claim with the appropriate insurance company. They will also negotiate with the insurance adjuster and ensure that you receive the maximum compensation possible.
Represent You in Court
If a settlement cannot be reached through negotiations, a pedestrian accident lawyer can represent you at trial. Your attorney will present your case to a judge or jury and argue on your behalf throughout the legal process.
Calculate Damages
A pedestrian accident lawyer in Los Angeles can calculate appropriate monetary damages in your injury case. Common examples of damages include compensation for medical bills, lost wages, emotional turmoil, and other expenses related to your injuries. 
Your legal representative can also consult with medical experts to determine the extent of your injuries. You may be able to claim damages for the expected costs of future medical care.
Negotiate a Settlement
In many pedestrian injury cases, the parties reach a settlement without going to court. A knowledgeable tort lawyer can negotiate with the other party to reach a fair settlement. This type of agreement will fairly compensate you for your injuries and other damages.
Provide Emotional Support
Suffering an injury in a pedestrian accident can be a traumatic experience. A pedestrian accident lawyer can provide emotional support throughout the process of your claim. They will answer your questions, offer guidance and reassurance, and help you take the most effective legal actions possible.
Protect Your Rights
Experienced legal specialists can protect your legal rights and ensure that your interests are represented throughout your pedestrian accident claim. When you hire the premier team at Morgan and Morgan, we will make sure that deadlines are met, paperwork is filed correctly, and your case is handled in a professional and ethical manner.
If you have been hurt in a pedestrian accident in the city of Los Angeles, make sure to seek the help of an experienced pedestrian accident lawyer. A capable Morgan and Morgan attorney will fight tirelessly to recover the compensation you deserve.
Typical Injuries Resulting From Pedestrian Accidents
Pedestrian accidents can result in a wide range of injuries. These can range from minor cuts and bruises to life-threatening injuries that require extensive medical treatment. 
The severity of the victim's injuries depends on various factors. These include the speed and size of the vehicle involved, the force of impact, and the physical condition of the pedestrian. Pedestrian accidents may result in the following types of injuries:
Broken Bones
Broken bones are a common injury in pedestrian accidents. They are particularly likely in the victim's arms, legs, and hips. The significant impact of a vehicle can cause a bone to break, fracture, or shatter. In some instances, fractures and bone breaks may require surgical intervention.
Head Injuries
Head injuries are a particularly serious type of injury that can result from pedestrian accidents. They can range from minor concussions to traumatic brain injuries (TBIs). Even mild TBIs can cause long-lasting complications. Common symptoms include persistent headaches, loss of memory, and an inability to concentrate.
Spinal Cord Injuries
This type of injury happens when the impact of a vehicle causes damage to the spinal cord. Victims may suffer partial or complete paralysis. 
These injuries can affect a person's ability to move and perform basic functions. For this reason, they are particularly devastating.
Soft Tissue Injuries
Soft tissue injuries are another common type of injury in accidents involving pedestrians. Examples of these injuries include:
Strains
Sprains
Contusions to muscles and tendons
These injuries are generally less severe than bone fractures or head injuries. But they can still be painful and require expensive medical treatments.
Internal Injuries
Internal injuries can occur when a pedestrian is struck by a vehicle. These injuries are particularly likely if the car or truck was traveling at a high speed. 
Internal injuries can include damage to a person's lungs, spleen, or liver. Victims may require emergency medical intervention to prevent further complications.
Scroll down for more
Recent verdicts & settlements
Results may vary depending on your particular facts and legal circumstances.
Scroll down for more
Results may vary depending on your particular facts and legal circumstances.
How it works
It's easy to get started.
The Fee Is Free™. Only pay if we win.
Results may vary depending on your particular facts and legal circumstances.
Step 1

Submit
your claim

With a free case evaluation, submitting your case is easy with Morgan & Morgan.

Step 2

We take
action

Our dedicated team gets to work investigating your claim.

Step 3

We fight
for you

If we take on the case, our team fights to get you the results you deserve.
---
Client success
stories that inspire and drive change
Explore over 122,576 5-star reviews and 800 client testimonials to discover why people trust Morgan & Morgan.
Results may vary depending on your particular facts and legal circumstances. Based on Select nationwide reviews
FAQ
Get answers to commonly asked questions about our legal services and learn how we may assist you with your case.
Morgan & Morgan
What Are Road Rash Injuries?

Road rash is a term used to describe abrasions and scrapes caused by friction between the victim's skin and the surface of the road. These injuries are common in pedestrian accidents, where the victim is thrown to the ground or dragged by the vehicle. 

Road rash injuries can range from mild to severe. They usually require medical attention to prevent infection.

Can I File a Claim if I Lost a Loved One in a Pedestrian Accident?

In some cases, pedestrian accidents result in fatal injuries for the victim. When this happens, their estate holders or family members may be able to recover compensation on their behalf.

This is known as a wrongful death claim. The accomplished team at Morgan & Morgan believes that the families of decedents deserve compensation for the grief and loss they experience. When you hire our firm, we will fight to recover funeral expenses, burial costs, and other associated losses for your family.

Los Angeles Pedestrian Accident Attorneys at Morgan and Morgan

Following a pedestrian accident in which you were injured, it is vital to seek a pedestrian accident lawyer in Los Angeles. The compassionate attorneys at Morgan & Morgan are ready to help.

Complete the contact form on our website to arrange a no-cost case evaluation to discuss the facts of your case. We will fight to get the money you deserve.
Scroll down for more
Load More