The Fee Is Free™. Only pay if we win.
America's Largest Injury Law Firm
Protecting Families Since 1988
$15 Billion+ Won
800+ Lawyers Nationwide
Free Case Evaluation
Tell us about your situation so we can get started fighting for you. We tailor each case to meet our clients' needs.
Results may vary depending on your particular facts and legal circumstances.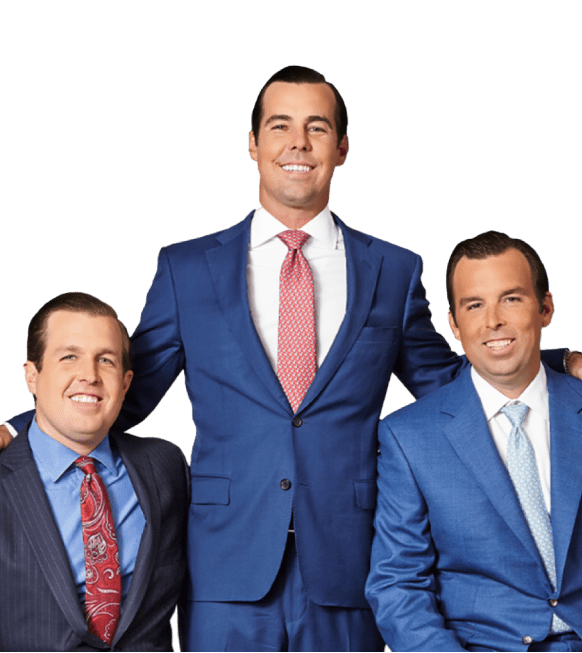 Medical Malpractice Attorney in Pittsburgh
We deserve professional, effective, and compassionate care when visiting a doctor or medical facility. However, the reality can be quite different, with data suggesting that medical malpractice is rampant in this country. According to Johns Hopkins Medicine, avoidable medical errors are now the third-leading cause of death in this country.
You have the right to expect a good standard of care from doctors, dentists, nurses, and other healthcare professionals. If you suffered an avoidable injury due to the carelessness of a medical provider in Pittsburgh, Morgan & Morgan has your back.
We see the devastating physical, emotional, and financial consequences of medical errors every day. Our medical malpractice attorneys in Pittsburgh are here to fight for victims and could help you get the compensation you deserve. Contact us today for a free consultation to determine whether you have a case.
Scroll down for more
Recent verdicts & settlements
Results may vary depending on your particular facts and legal circumstances.
How it works
It's easy to get started.
The Fee Is Free™. Only pay if we win.
Results may vary depending on your particular facts and legal circumstances.
Step 1

Submit
your claim

With a free case evaluation, submitting your case is easy with Morgan & Morgan.

Step 2

We take
action

Our dedicated team gets to work investigating your claim.

Step 3

We fight
for you

If we take on the case, our team fights to get you the results you deserve.
---
Client success
stories that inspire and drive change
Explore over 55,000 5-star reviews and 800 client testimonials to discover why people trust Morgan & Morgan.
Results may vary depending on your particular facts and legal circumstances.
FAQ
Get answers to commonly asked questions about our legal services and learn how we may assist you with your case.
Morgan & Morgan
What Is Medical Malpractice?

Medical malpractice claims can arise when a medical professional's error results in injury or death to a patient. While not all medical mistakes qualify for a malpractice claim, you could have legal recourse if a doctor, nurse, or another medical provider failed to deliver an adequate standard of care, causing your injury. Common medical malpractice claims include misdiagnosis or late diagnosis, surgical mistakes, and medication errors.

What Are Examples of Medical Malpractice Claims in Pittsburgh?

Pittsburgh medical malpractice claims typically arise from inadequate care in doctor's offices, hospitals, and emergency rooms. Common medical malpractice incidents include:

Surgery Errors

A study published by the National Center for Biotechnology Information (NCBI) shows that at least 4000 surgical errors occur nationwide yearly. Surgical errors leading to medical malpractice claims can include:

Operating on the wrong patient
Delayed surgery
Leaving surgical instruments in a patient's body
Unnecessary surgery
Unhygienic surgery
Wrong-side surgery or amputations
Severing vital blood vessels
Removal of healthy tissue or organs
Laparoscopy errors

While surgery always comes with certain risks, avoidable errors can have life-changing consequences for patients and result in permanent impairment and disability.

Misdiagnosis or Late Diagnosis

Delayed diagnosis, misdiagnosis, and failure to diagnose can all qualify as medical malpractice. Misdiagnosis and late diagnosis can occur when a doctor:

Fails to refer you to the correct specialist
Misreads your test results
Fails to examine you thoroughly
Does not take your symptoms seriously
Fails to review your medical history

Misdiagnosis can be particularly damaging to patients' health. An undiagnosed condition may worsen when a patient potentially receives the wrong medication or treatment, exposing them to unnecessary side effects. Moreover, late diagnosis can reduce a patient's life expectancy, especially with fast-progressing diseases such as aggressive cancers.

Hospital-Acquired Infections

Sometimes, infections cannot be avoided. However, doctors and hospitals are required to limit the risk of vulnerable patients contracting deadly infections. Hospital-acquired conditions can have permanent health consequences for victims and cause deaths. Diseases patients could catch in hospitals include:

COVID-19
Influenza
Sepsis
Methicillin-resistant Staphylococcus aureus (MRSA)
Wound infections
Gastrointestinal illnesses

Many infections can be avoided by implementing strict hygiene protocols and quarantining those infected with respiratory viruses. You could seek compensation if you or a loved one suffered an avoidable infection due to the negligence of a medical facility.

Birth Injuries

Birth injuries generally occur during labor and delivery and can affect both mother and child. Babies are particularly vulnerable during long and complicated births and can suffer from various injuries, including:

Broken bones
Bruising of the brain
Fetal stroke
Cerebral palsy
Oxygen deprivation
Brain damage

While mistakes can happen, some errors result from the negligence or recklessness of medical professionals. Permanent birth injuries can devastate families. If your child suffered a birth injury, our medical malpractice attorneys in Pittsburgh could help you sue a doctor or hospital and receive compensation.

Anesthesia Errors

Anesthetists have numerous responsibilities, including preparing a patient for surgery, checking their medical records, and monitoring patients during surgery. Consequences can be devastating for patients if an anesthetist delivers too little or too much anesthesia or makes other avoidable errors. Mistakes can cause severe, permanent, and life-threatening injuries. Complications and injuries from anesthesia errors can include:

Nausea and vomiting
Intubation injuries
Oxygen deprivation and brain damage
Confusion and delirium
Severe allergic reaction (anaphylaxis)
Respiratory problems
Blood clots
Heart attack

Other Common Medical Malpractice Claims

Any negligent or reckless conduct by a medical professional can potentially amount to medical malpractice, including:
Failure to order diagnostic tests
Incorrectly interpreting medical tests
Discharging a patient too soon
Failing to monitor patients before, during, and after surgery
Malpractice in the emergency room
Failing to provide correct aftercare
Medication errors

What is Dental Malpractice in Pittsburgh?

Medical malpractice does not only apply to doctors and hospitals. If you suffer a significant injury due to a negligent dentist, oral surgeon, or endodontist in Pittsburgh, you could hold them accountable and recover damages. Avoidable dental errors and injuries include but are not limited to:

Performing unnecessary dental work
Failing to diagnose a dental infection
Misdiagnosing oral cancer
Damaging facial nerves
Failing to diagnose and treat gum disease
Mistakes during oral surgery
Performing faulty and inferior dental work

The success of dental treatments is not guaranteed, and restorations such as fillings or root canals can fail and require adjustment. In these cases, patients do not necessarily have a malpractice claim. However, if you can prove that a dentist acted carelessly or recklessly in causing your injury, you could be entitled to damages.

What Compensation Pittsburgh Medical Malpractice Victims Could Receive?

Medical malpractice victims could seek a range of damages, depending on the extent and severity of their injury and financial loss. The following damages may be available if you win your malpractice claim:

Medical expenses
Past and future healthcare costs connected to your injury
Lost wages
Reduced future earning capacity
Out-of-pocket expenses
Mental anguish
Physical pain and suffering
Loss of life quality
Punitive damages

This list is not exhaustive, and you could pursue additional damages, depending on your circumstances.

Unlike other states, Pennsylvania does not impose a cap on medical malpractice compensation. Therefore, Pittsburgh claimants could recover the total value of the losses due to a healthcare provider's negligence.

What is Medical Malpractice Leading to Wrongful Death?

Unfortunately, significant medical errors can lead to death. If your loved one died due to negligent medical care, you could be entitled to damages with a wrongful death claim. Compensation can help a family recover financially during a difficult time. Damages you could pursue:

Income and financial support the deceased would have contributed
Serviced your loved one would have contributed, such as child care and yard work
Loss of inheritance
Loss of companionship
Funeral expenses

If your loved one died due to a medical professional's negligence, our compassionate and experienced medical malpractice lawyers could help you move forward with a lawsuit.

How Can a Medical Malpractice Attorney in Pittsburgh Help Me?

Medical malpractice claims should be handled by specialist attorneys who understand Pennsylvania laws and are familiar with a wide range of medical issues. Since malpractice claims are complex and can involve hiring several expert witnesses, an attorney should also be well-connected in the medical field. Morgan & Morgan's medical malpractice attorneys can:

Help you receive appropriate medical care
Assess your claim and determine your options for recovering compensation
Liaise with your doctors and gather medical records to build your case
Identify all liable parties in your claim
Gather evidence to prove negligence
Hire reputable medical expert witnesses
Fight for the maximum possible compensation

Having an experienced and tenacious attorney by your side is critical in a medical malpractice lawsuit. Morgan & Morgan knows how to fight for what you deserve. We have helped injured individuals receive fair compensation for over three decades, recovering over $15 billion in damages. We could help you recover the settlement you need to get your life back on track.

How Can I Prove a Medical Malpractice Claim?

Proving a medical malpractice claim can be challenging and usually requires expert witnesses. An attorney will seek to establish, with the help of expert witness testimony, that the healthcare professional failed to perform according to the accepted medical standard of care. Specifically, the following four elements must be shown:

There was a doctor-patient relationship
The healthcare provider breached their duty by delivering substandard medical care
The patient suffered an injury due to negligent care
The injury resulted in damages, such as medical costs or others

Victims will have to prove, usually with expert witness testimony, that they would not have been harmed if the medical professional had delivered appropriate care. Having a seasoned attorney in your corner can be critical for prevailing in a medical malpractice case.

What Is the Time Limit for a Medical Malpractice Claim in Pittsburgh?

Victims of medical malpractice generally have two years to file their claim in Pennsylvania but could have much longer, depending on the specific case. In some claims, the time starts ticking on the day the malpractice occurred, while in others, the statute only begins when they discover their injury, which could be years later. For wrongful death claims, the clock starts running on the day the patient passes away.

Who Could I Sue with a Medical Malpractice Lawsuit?

You could potentially hold any healthcare professional and facility liable for your injury and losses. Moreover, you could have several defendants in your claim, including:

Emergency room staff
Doctors
Surgeons
Nurses
Physiotherapists
Anesthesiologists
Dentists
Hospitals and clinics
Nursing homes
Government institutions
Pharmaceutical companies
Manufacturers of medical devices

A medical malpractice attorney at Morgan & Morgan can analyze your claim and identify all responsible parties.

Do I Have to Go to Court for a Medical Malpractice Claim?

Medical malpractice cases rarely go to trial, and most are settled out of court. If the liability of a healthcare provider is evident, their insurer may offer a settlement instead of risking an expensive and lengthy trial. However, there is no guarantee that a claim will settle out of court. Medical malpractice cases with significant damages may be more likely to go to trial.

Either way, having an experienced attorney by your side can be critical for getting what you deserve. Our medical malpractice lawyers could negotiate a fair out-of-court settlement with the defendant. If the other side refuses to agree to a settlement, our experienced trial attorneys can fight for the best possible outcome of your case at trial.

How Much Does a Medical Malpractice Attorney in Pittsburgh Cost?

Most medical malpractice lawyers work on contingency, also called a "no-win-no-fee" agreement. With a contingency agreement, you do not pay any attorney's fees out of your own pocket. If you win the case, your attorney will receive a percentage of your compensation as their payment. If you lose, you do not have to pay any attorney's fees.

However, it is vital that you discuss fees with your potential attorney as charges vary between law firms. Some lawyers work on contingency but charge you for legal expenses as and when they become due, which can be a financial burden, especially in medical malpractice claims. Legal costs may include:

Court filing fees
Deposition costs
Expert witness fees
Costs for pulling legal documents
Mailing expenses

Morgan & Morgan never charge clients a dime upfront. We only get paid when we resolve the case in your favor, and you receive compensation.

Get Started with a Medical Malpractice Claim Today

We could help if a medical professional's negligent conduct caused your injury. Morgan & Morgan understand the hardship, pain, and emotional distress that medical errors can cause for victims and families. When we take your case, we aim to deliver the best results for you and your family.

Unlike some other law firms, we have the resources, stamina, and tenacity to fight even complex and demanding medical malpractice claims. Our medical malpractice attorneys in Pittsburgh work tirelessly to get medical malpractice victims the settlement they need to put their lives back together. Contact us now for a free case evaluation.
Scroll down for more
Load More