The Fee Is Free™. Only pay if we win.
America's Largest Injury Law Firm
Protecting Families Since 1988
$15 Billion+ Won
800+ Lawyers Nationwide
Free Case Evaluation
Tell us about your situation so we can get started fighting for you. We tailor each case to meet our clients' needs.
Results may vary depending on your particular facts and legal circumstances.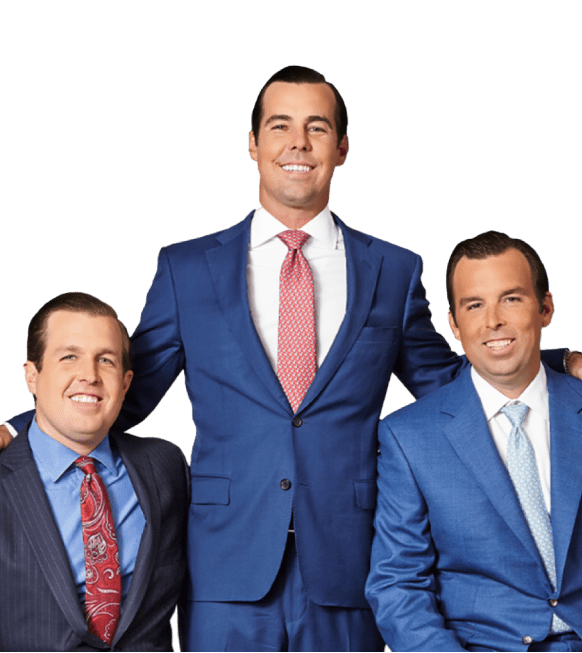 Best Brain Injury Lawyers in Pittsburgh – Morgan & Morgan
Brain injuries can occur in many circumstances, including car accidents, falls, and attacks or assaults. If someone else is responsible for your injury, finding the best brain injury lawyer in Pittsburgh could help you pursue damages such as healthcare costs, pain and suffering, wage losses, and others. 
Brain injuries can be debilitating and costly. If your injury happened in an avoidable accident or incident due to another's fault, you should not have to shoulder the financial burden. Contact us now to find out whether you have a case and could recover damages.
Common Types of Brain Injuries 
Traumatic brain injury is an umbrella term describing several common brain injuries that can occur as a result of various accidents and incidents.
Traumatic Brain Injury (TBI)
According to the Centers for Disease Control and Prevention (CDC), TBI is a major cause of death and disability in the United States, with roughly 166 deaths occurring from the condition each day. The most common reasons for a TBI are:
Falls 
Motor vehicle accidents
Firearms-related injuries
Assaults
Sports injuries
TBIs can come in many forms, including but not limited to:
Concussions
A concussion is a mild type of TBI and one of the most common injuries in accidents. Concussions can be caused by a sudden blow to the head or by a forceful jolt, such as during impact in a car accident.  
Concussions can be mild, moderate, or severe. While a mild concussion is generally harmless and can heal on its own, a serious concussion could cause lifelong brain damage. Individuals experiencing several concussions, such as footballers, are at risk of developing permanent effects, including mood changes, behavioral problems, and deterioration of brain function.
Coup-Contrecoup Injury
A coup-contrecoup injury can occur with a forceful impact to the head, causing the brain to slam into the opposite side of the head. This injury typically causes damage on the impact side and the opposite side of the brain. Since coup-contrecoup injuries are usually severe, victims require emergency medical help and could be permanently impaired. Whether or not an individual fully recovers will depend on the location and severity of impact, age, and other factors. Serious car accidents, violent acts, and significant falls can lead to coup-contrecoup injuries.
Penetrating Brain Injuries
Penetrating brain injuries occur when an object pierces the skull and brain. These types of injuries are generally serious, can cause severe bleeding, and can be fatal if not treated immediately. Removing the object can cause further complications. Therefore, doctors often choose to leave small objects, such as bullets, in place. While the most common cause of such injuries is gunshot wounds, they can also be caused by:
Slip and fall accidents
Car accidents
Sports injuries
Brain Contusion
A brain contusion is a bruise affecting brain tissue. While a skin bruise is relatively harmless, a brain bruise can cause serious health problems. If the contusion does not stop bleeding on its own, surgery may be needed. Brain contusions often occur together with concussions and could be caused by any type of impact to the head, such as in a car crash or fall.
Signs and Symptoms of Brain Injuries
Symptoms of brain injuries will depend on the type and severity of the injury. However, some common symptoms and signs of brain injuries can include:
Debilitating headaches
Memory and concentration problems
Nausea and vomiting
Insomnia
Mental confusion
Seizures
Loss of consciousness
If you or someone you love experiences any symptoms after a fall or car accident, you should seek medical help immediately. 
The Consequences of Brain Injuries
A severe brain injury can have devastating and permanent consequences for a victim, potentially leading to a reduced quality of life, inability to work, and having to be dependent on the help of others. Individuals could also develop other conditions as a result of a catastrophic brain injury, such as: 
Epilepsy
Cerebral palsy
Permanent brain damage and atrophy
Chronic headaches
Alzheimer disease
If you experienced a brain injury such as a TBI due to another person's carelessness or recklessness, you deserve compensation. Our tenacious and compassionate brain injury lawyers in Pittsburgh could help you get your life back on track after suffering a devastating injury. 
Damages You Could Receive in a Brain Injury Lawsuit
Patients who suffered a brain injury in an avoidable accident and their families generally have the right to seek damages from the responsible party. The compensation you could recover can include:
Medical bills
Lost wages
Rehabilitation 
Pain and suffering
Permanent disability
Future Damages
Injured individuals may have to deal with the consequences of a debilitating brain injury for the rest of their lives. If someone else is responsible, the victims could also pursue estimated future damages for healthcare costs, loss of income, reduced earning potential, and other losses. 
How to Find the Best Brain Injury Lawyer in Pittsburgh 
Finding an excellent brain injury lawyer in Pittsburgh can involve some effort on your behalf. However, having an experienced and dedicated brain injury lawyer by your side, fighting for what you deserve, can be crucial for the outcome of your case. A great brain injury lawyer should:
Offer free consultations
Work on a no-win-no-fee agreement
Have relevant experience with litigating brain injury cases
Have won cases at trial
Have access to accident investigators and expert witnesses 
You could ask friends and family for the names of attorneys they have worked with or search the internet for lawyers in your area. After you have made a shortlist of potential attorneys, start by scheduling some free consultations to get to know your potential attorney and law firm.
Questions to Ask Your Brain Injury Lawyer at the First Consultation
Asking questions in a first consultation can be crucial for finding the best brain injury lawyer for you. Questions you could ask can include:
Do I have a good case?
What is your experience with brain injury accident claims?
Do you charge upfront attorney's fees?
Do I have to pay something if I lose the case?
Have you won brain injury cases at trial?
Will you or someone else at your office handle my case?
Let Your Feelings Be Your Guide When Choosing an Attorney
While working with someone who has a proven track record and years of experience is advisable, your attorney or law firm should also inspire your trust. If an attorney ticks all the right boxes on paper but seems disinterested or evasive at the first meeting, you are better off looking elsewhere. The best attorneys will answer your questions honestly, make time for you, and make you feel comfortable. 
Morgan & Morgan's Brain Injury Attorneys Are Here for You
If you are looking for the best brain injury lawyer in Pittsburgh, Morgan & Morgan can help. Our determined attorneys never settle for less and have access to the resources that you would expect from America's largest personal injury firm. Our brain injury attorneys can be by your side from the beginning of your case until the end and ensure that you receive the help and attention you deserve. We can fight for the best possible outcome of your case and fair compensation for your present and future damages.
Cases Our Pittsburgh Brain Injury Lawyers Handle
Our Pittsburgh brain injury attorneys are experienced in handling a wide variety of brain injury lawsuits, including but not limited to: 
Motor vehicle accidents
Bicycle and pedestrian accidents
Slips and falls
Assaults and attacks
Sports accidents
Workplace accidents
Defective products accidents
If you or a loved one is affected by a brain injury resulting from an accident, do not hesitate to contact us to find out about your legal options. You could be entitled to compensation for your suffering and financial losses. 
Scroll down for more
Recent verdicts & settlements
Results may vary depending on your particular facts and legal circumstances.
How it works
It's easy to get started.
The Fee Is Free™. Only pay if we win.
Results may vary depending on your particular facts and legal circumstances.
Step 1

Submit
your claim

With a free case evaluation, submitting your case is easy with Morgan & Morgan.

Step 2

We take
action

Our dedicated team gets to work investigating your claim.

Step 3

We fight
for you

If we take on the case, our team fights to get you the results you deserve.
---
Client success
stories that inspire and drive change
Explore over 55,000 5-star reviews and 800 client testimonials to discover why people trust Morgan & Morgan.
Results may vary depending on your particular facts and legal circumstances.
FAQ
Get answers to commonly asked questions about our legal services and learn how we may assist you with your case.
Morgan & Morgan
How Do I Prove That Someone Else Caused My Brain Injury?

If you want to recover compensation for a brain injury, you will have to prove that another caused your accident carelessly or recklessly. In a lawsuit, your Pittsburgh brain injury lawyer must prove:

The Defendant Had a Duty of Care

Duty of care implies that the defendant should have acted reasonably and prudently. For example, motor vehicle drivers have a duty of care towards other road users and must obey road laws. 

Breach of Duty of Care

A breach of duty can occur in numerous circumstances where a person fails to act with reasonable care. A speeding or drunk driver, for example, is breaching their duty of care. A property owner who does not fix a hazardous condition on their premises could also be breaching their duty of care.  

Causation 

The victim's accident and injury must be caused as a direct result of the responsible party's breach of duty.

Damages

There is no personal injury claim without damages such as injuries, medical bills, or other financial losses. The victim must have suffered damages as a direct result of the defendant's negligent or deliberately wrongful action or inaction. 

How Much Time Do I Have to File a Brain Injury Lawsuit in Pittsburgh?

It is important to note that the time for filing a personal injury lawsuit in Pennsylvania is generally limited to two years, according to the Statutes of Pennsylvania, Title 42, §552. There are rare cases when the statute could be paused, for example, if you were incapacitated and unable to sue or did not discover your injuries until later on.

However, it is best to seek legal advice as soon as possible after your brain injury, as filing too late could prevent you from recovering compensation. A Pittsburgh brain injury lawyer at Morgan & Morgan can inform you of your legal rights and help you move forward with a lawsuit in the appropriate time frame. 

What Are My Next Best Steps After Suffering a Brain Injury in a Car Accident?

Timely action is crucial if you are hoping to pursue damages after getting hurt in a car accident. Taking the following steps could help you hold the responsible party to account and recover damages:

See a Doctor Immediately After the Accident

While you may experience symptoms of a brain injury directly after the accident, symptoms might not show up for days or even weeks. Failing to seek medical advice immediately can be problematic for your health as well as your personal injury claim. Prompt diagnosis and treatment will give you the best chance of a speedy recovery. Moreover, having a medical report for your accident injuries will be essential evidence if you intend to take the responsible party to account for your losses. 

Contact Our Pittsburgh Brain Injury Lawyers

Once your injuries have been evaluated and you are receiving medical treatment, think about protecting your legal rights. Our Pittsburgh brain injury lawyers can walk you through your options for pursuing compensation. A lawyer can also start to gather the relevant evidence to prove your claim, leaving you free to heal from your brain injury.  

How Much Do the Best Brain Injury Attorneys in Pittsburgh Charge?

The best brain injury lawyers tend to work on a contingency fee basis, which means you pay no attorney's fees upfront. You are also not responsible for paying your attorney if you lose the case. If you win, your lawyer will receive a percentage of the settlement. 

However, not all attorneys work on a contingency basis, and some that do may still charge you upfront for court expenses. When Morgan & Morgan takes your case, there are no hidden costs or upfront fees. You only pay if and when we win.

Contact Us Today to Get Started  

A severe brain injury can turn your entire life upside down in a split second. We understand the difficulties brain injury sufferers can face, trying to pick up the pieces of their lives while enduring painful and costly medical therapies. 

You should not have to go through this on your own. Morgan & Morgan's seasoned brain injury lawyers can work tirelessly to fight for what you deserve. Contact us today to discover your options and best next steps for free by calling (888) 893-6949 or by filling in our online form. 
Scroll down for more
Load More