The Fee Is Free™. Only pay if we win.
America's Largest Injury Law Firm
Protecting Families Since 1988
$15 Billion+ Won
800+ Lawyers Nationwide
Free Case Evaluation
Tell us about your situation so we can get started fighting for you. We tailor each case to meet our clients' needs.
Results may vary depending on your particular facts and legal circumstances.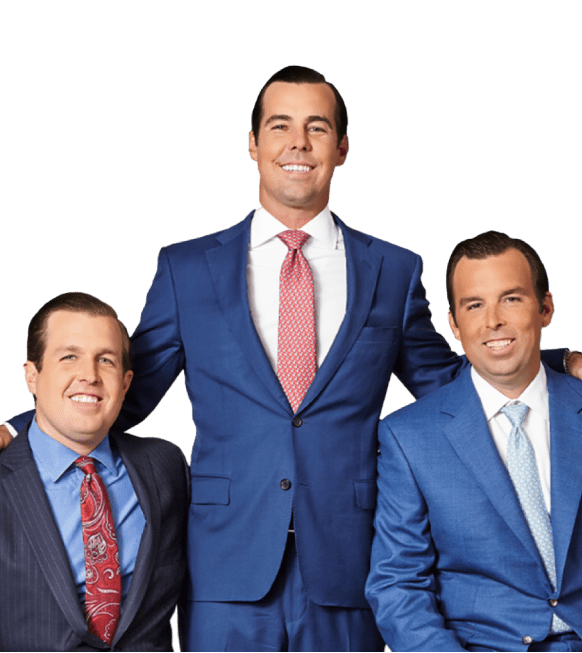 Lawyers for Identity Theft Victims in New York
Identity theft is one of the most violating types of crimes a person can experience. 
Victims of identity theft may find that criminals use their information to steal their money, open new financial accounts in their name, or even pose as them on social media or other platforms. There's virtually no end to what a criminal may do with your personal information.
Unfortunately, identity theft is widespread. According to the National Council on Identity Theft Protection, almost half of U.S. citizens were victims of identity theft in 2020. While the severity of cases varied, over 5.7 million people reported identity theft or fraud to government agencies, nearly double the number reported in 2017. 
If you've been the victim of identity theft, you'll likely need legal counsel to repair your reputation with financial institutions and other entities. Lawyers for identity theft victims in New York at Morgan & Morgan can help. Contact us today to schedule your free consultation.
Scroll down for more
Recent verdicts & settlements
Results may vary depending on your particular facts and legal circumstances.
How it works
It's easy to get started.
The Fee Is Free™. Only pay if we win.
Results may vary depending on your particular facts and legal circumstances.
Step 1

Submit
your claim

With a free case evaluation, submitting your case is easy with Morgan & Morgan.

Step 2

We take
action

Our dedicated team gets to work investigating your claim.

Step 3

We fight
for you

If we take on the case, our team fights to get you the results you deserve.
---
Client success
stories that inspire and drive change
Explore over 55,000 5-star reviews and 800 client testimonials to discover why people trust Morgan & Morgan.
Results may vary depending on your particular facts and legal circumstances.
FAQ
Get answers to commonly asked questions about our legal services and learn how we may assist you with your case.
Morgan & Morgan
How to Define Identity Theft and Fraud?

Identity theft occurs when someone uses your personal information for private gain. With more and more people using the internet to conduct their affairs, criminals are seizing the opportunity to obtain consumers' identifying information and use it for their own gain.

Identity theft can happen when a criminal hacks into a consumer database and obtains details like your name, address, and Social Security number. Criminals can also get critical information through social media accounts, especially if you often post publicly. 

Using the information they obtain, criminals can use your identity for illegal acts, such as:

Obtaining money through fraudulent means
Opening accounts in your name
Representing themselves as you to potential employers or other entities

At worst, identity theft and fraud can result in more severe crimes, like cyberterrorism or wire fraud.

If you're the victim of identity theft and fraud, you'll want to take action immediately. The longer you wait, the greater the potential for severe crimes to be committed under your name. It can take time to restore your identity, and you'll likely need to notify various governmental agencies like the FTC, credit card bureaus, and local authorities. 

Working with lawyers for identity theft victims in New York can help streamline the process and ensure that you take the appropriate steps to protect yourself.

What are The Identity Theft Laws in New York?

New York has multiple laws against identity theft, ranging from misdemeanors to felonies. New York classifies identity theft in degrees. Identity theft in the third degree is the least serious of the charges, while identity theft in the first degree is the most serious.

Identity theft can include any of the following:

Attempting to defraud another person by using their personal information
Obtaining goods, property, or services using another person's information
Using credit cards or bank loans in someone else's name
Causing financial loss to another person
Holding another person's information illegally
Unlawfully possessing a skimmer device

Determining whether a person has committed identity theft largely depends on the type of information they have and how they intend to use it. Common information criminals seek to obtain includes:

Bank account information
Credit card details and codes
Social Security numbers
Mothers' maiden names
Computer passwords
Electronic signatures
Biometric data like fingerprints

People who commit identity theft may face up to seven years in prison in New York, along with stiff financial penalties. 

What are The Federal Identity Theft Laws?

Under federal identity theft laws, it's illegal to use another individual's personal information to commit a crime. The Identity Theft and Assumption Deterrence Act of 1998 specifically prohibits identity theft in all its many forms.

Congress has enacted other identity theft laws, including the Identity Theft Penalty Enhancement Act (ITPEA) and the Identity Theft Enforcement and Restitution Act (ITERA).

Under ITPEA, criminals who steal consumer information face more penalties for their actions. Its sister act, ITERA, allows victims to pursue federal action against identity theft criminals even if they live in the same state. 

The Federal Trade Commission is responsible for handling reports of identity theft at the national level. 

Other laws monitor how financial institutions and credit reporting bureaus handle cases of identity theft. The Fair Debt Collection Practices Act, the Fair Credit Reporting Act, and the Fair and Accurate Credit Transactions Act all serve to protect consumers from criminals who steal their identities.

What Steps to Take if Your Identity Is Stolen?

If you have reason to believe that your identity has been stolen, take the following steps immediately:

Notify Creditors of Misuse of Your Accounts

You'll want to inform your creditors if you notice charges you didn't make on your accounts. They can freeze your accounts to ensure that no further fraudulent charges get through. They'll also investigate the fraudulent charges to determine whether they can obtain additional information about the perpetrator.

Change All of Your Passwords Immediately

Change the passwords for all the accounts you regularly use, including your bank account, credit card accounts, and email addresses. Never use the same password for multiple accounts.

Try to use passwords that people won't easily guess, like a mix of letters and numbers. Avoid using identifying information in your passwords, like your child's name or the title of your favorite movie.

Contact a Credit Bureau to Notify Them of Identity Theft

Next, call or write any of the three major reporting bureaus to notify them of the theft.

 Experian, Equifax, and Transunion will place a fraud alert on your credit file, preventing criminals from using your information to open additional accounts. You just need to contact one credit reporting bureau. By law, each credit bureau must report your fraud notification to the other two.

Order a Copy of Your Credit Report

You can obtain a free copy of your current credit report. When you do, review it in detail and note any inaccurate particulars. Look for critical information like accounts you didn't open and applications for credit you didn't make. Note any incorrect information.

Report the Identity Theft to the FTC

The FTC is responsible for monitoring identity theft claims. File a report with the FTC and include all the evidence you have, including copies of bills for items you didn't order and incorrect information on your credit report. The more information you can provide, the better. 

Contact Authorities in New York

Make a copy of the identity theft report you file with the FTC and take it to your local police precinct. Bring copies of all the evidence you've gathered, including bills that aren't yours and your credit report, with the incorrect information highlighted. Once you file the report, ask the officers for a copy.

Get Legal Assistance

Identity theft is a grave crime and can result in severe repercussions for individuals. Often, identity theft victims believe that the problem is solved once they report the theft. However, criminals can hold onto your information for years, potentially causing new issues in the future. They may also use your details for other crimes, like forging your passport.

Lawyers for identity theft victims in New York have processes to help individuals recover. They understand what actions you need to take to protect yourself from further legal and financial challenges.

Who Do I Sue for Identity Theft?

Many times, police are unable to catch criminals who commit identity theft. They often hide behind their computer screens, using various protections that make it difficult for authorities to track them. 

Even if law enforcement can't locate the criminal who stole your identity, you can still file a lawsuit if a third party shares your information. Anyone with access to your details, like your Social Security number or credit card number, may be partially responsible for your losses. 

Lawyers for identity theft victims in New York can file a claim against banks, creditors, government entities, and employers. We'll start building your case as soon as we understand the circumstances of the crime.

What Can an Identity Theft Victim Sue for?

An identity theft victim can sue for multiple infractions, including negligence, publication of private facts, breach of contract, and breach of fiduciary duty. If another individual or entity doesn't take the appropriate safeguards to protect your personal information, you may have a case against them.

When you schedule a consultation with your lawyer, gather as much information about your case as possible. Recount anyone you provided your details to, including banks, financial institutions, your employer, medical providers, and other entities.

Sometimes, more than one entity compromises your information. If this has happened to you, multiple lawsuits may be possible.

Why Should I Hire Morgan & Morgan for My Identity Theft Case?

Finding a lawyer with experience handling identity theft cases is essential. Identity theft can be very complex, involving numerous entities, financial institutions, and other parties. Morgan and Morgan are known for their experience handling identity theft claims.

Some of our notable victories include:

A $60M class action settlement against Morgan Stanley for data privacy breaches
A $7.5M class action settlement against Google for software bugs that exposed consumer data
A $4.2M class action settlement against Kalispell Regional Healthcare for exposing client details
A $2.28M class action settlement against Citrix for a data breach of consumer information

We take consumer privacy very seriously and work hard to recover damages for identity theft victims.

What Are Examples of Identity Theft?

Common types of identity theft include opening new accounts in another person's name, using their existing accounts to purchase goods or services, and receiving medical services using someone else's identity.

In other cases, criminals can take identity theft further. They may open social media accounts in your name, use your information when applying for jobs, and even interact with your friends and family to obtain more details about you.

Anyone who has a bank account or uses technology regularly should take the threat of identity theft seriously. Don't ignore evidence of theft, and be proactive about safeguarding your information.

What Are Common Signs of Identity Theft?

If you're concerned about identity theft, look out for the following suspicious signs:

Unknown banking activity on your account
Errors in your credit report
Receiving unfamiliar bills
Calls from debt collectors concerning bills you're not aware of
Reduced medical benefits
Inability to file your tax return
Warrant for your arrest for activities you're unaware of

If you've noticed any of these signs, take immediate action to protect your identity.

Lawyers for Identity Theft Victims in New York: Morgan & Morgan

If someone steals your identity, it's crucial that you take action right away to prevent further damage. If you don't do anything to stop the activity, it will likely only get worse. Failing to report possible identity theft could damage your reputation and make it more difficult for you to recover from financial problems. 

The attorneys at Morgan and Morgan have decades of experience handling identity theft cases. We're confident we can help you obtain compensation for your financial losses. Contact us today to schedule your free case review.
Scroll down for more
Load More