The Fee Is Free™. Only pay if we win.
America's Largest Injury Law Firm
Protecting Families Since 1988
$15 Billion+ Won
800+ Lawyers Nationwide
Free Case Evaluation
Tell us about your situation so we can get started fighting for you. We tailor each case to meet our clients' needs.
Results may vary depending on your particular facts and legal circumstances.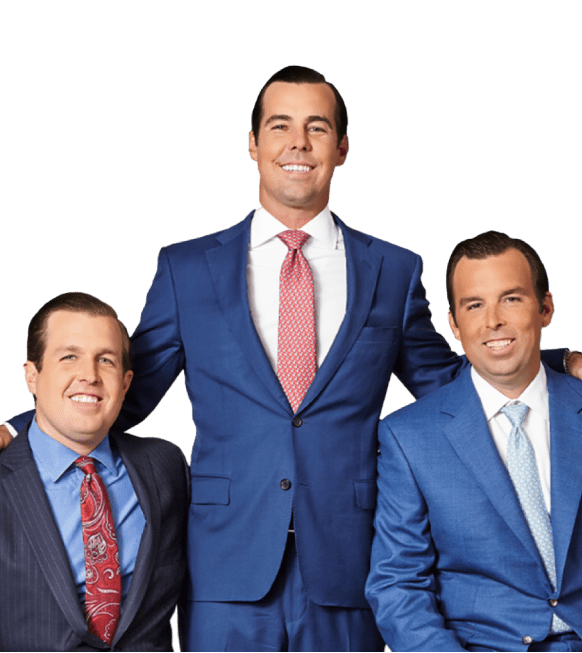 Where Do I Go to File a Case Against My Landlord in New York City?
Proud Sponsor of the New York Yankees.
Disputes with a landlord can negatively affect your entire life. If you are illegally evicted, for example, you could end up homeless or in a hotel room, which can be devastating for your career and home life. While you can get justice, knowing where to go to file a case against your landlord in NYC can be confusing. Tenants may be able to file a lawsuit in a small claims court, the regular civil court, or with a NYC government agency such as the Housing Court. 
If a landlord turns your entire life upside down, you do not have to fight for justice alone. Morgan & Morgan can help you understand the legal process for getting justice. We can help you learn about your legal rights as a tenant, determine the best way to file a lawsuit in your specific case, and handle your claim from beginning to end. Get answers now by scheduling a free consultation with our legal team.
Where to File Your Case Against a Landlord in NYC
Knowing where to file your case in NYC can be tricky, as it will depend on the type of claim you have against your landlord. Examples of cases and how to file them include:
Housing Discrimination 
If you have been trying to rent a home and experienced unlawful discrimination by a landlord, you could file a lawsuit and hold them accountable. Discrimination can occur due to a person's nationality, age, disability, color, and other reasons.
According to the City of New York, you should first file a complaint with the Law Enforcement Bureau of the NYC Commission on Human Rights if you are affected. However, you will have to act quickly as the complaint must be filed within one year of the alleged discrimination, per NYC human rights laws. You could also file a complaint directly with the U.S. Department of Housing and Urban Development (HUD). Another option could be filing a lawsuit against your landlord in civil court. 
Since you could have various options for getting justice, going it alone can be tricky and confusing. Consider speaking with our tenant attorneys to determine the best course of action in your specific situation. Our lawyers can help you file a complaint with the relevant federal or state authority and file a lawsuit to pursue damages from a landlord. 
Illegal Eviction
Landlords or rental management companies who want to evict a tenant in NYC legally must obtain a court order. A law enforcement officer will then serve the tenant with a warrant of eviction, after which they have at least 14 days to move out of the property. If a landlord tries to evict you in another way, they act unlawfully. Examples of illegal evictions include:
Removing locks
Shutting off water, heating, or electricity
Threats
Removing the tenant's property 
If this has happened to you, contact NYC Housing Court to get assistance and file a complaint. Be prepared to show proof of your expenses from the illegal eviction, such as loss of property, costs for a hotel room, and others. You could be entitled to triple the costs you sustained. It is important to note that illegally evicting a tenant is also a criminal offense in NYC, per Real Property Actions and Proceedings Law Section 768. Therefore, a landlord could get charged with a criminal offense. 
It can be in your best interests to consult with an attorney immediately after getting illegally evicted, threatened, or harassed by a landlord. An attorney from Morgan & Morgan can explain your next best steps and fight for your best interests. 
Failure to Make Repairs
Every tenant in NYC has the right to live in safe, livable, and sanitary rental accommodation. You are entitled to working services such as water, electricity, plumbing, and heating. Moreover, your rental property should be free from pest infestations such as insects or vermin. If there is a significant repair issue, such as a leaking pipe, and your landlord fails to fix the problem after you informed them, you could have various options, including taking them to court. 
In the first instance, you can file a case in the NYC Housing Court. The Housing Court can force your landlord to make the repairs needed to make your property habitable, such as restoring hot water and heating or dealing with mold or a pest infestation. 
You could also withhold rent or "repair and deduct," which means that you pay to fix the issue and deduct the money you spent from the rent. However, withholding rent must be done in a certain way to be legal. Therefore, contact an attorney to determine how to protect your rights and get what you are owed.
Premises Liability
Landlords in NYC have a legal obligation to keep their properties free from unreasonable dangers. If a landlord fails to maintain an apartment building properly, they could be negligent and responsible for injured tenants' damages. Examples of premises liability cases can include inadequate security and slip and fall claims.
Negligent Security
Negligent security occurs when a landlord fails to protect tenants or visitors from a foreseeable criminal act such as an assault, shooting, or robbery. 
A tenant might be able to file a lawsuit against a property owner, rental management company, or security company if they got injured in a negligent security incident. 
Inadequate security in rental complexes can arise due to:
Poor lighting
Broken locks
No fencing
Broken security cameras
Not hiring enough security guards. 
If you got hurt due to the negligence of an NYC landlord, an attorney could help you receive damages by bringing a negligent security claim in civil court.  
Slip and Falls
If you suffered a fall due to your own fault, you would not be able to hold a landlord responsible for your expenses. However, if you slipped and fell due to a hazardous situation in the common areas of your apartment complex, such as a pothole, slippery floors, or bulging carpets, you could have a case against your landlord.
With a lawsuit, you could seek damages such as medical bills, loss of wages, pain and suffering, and others. However, a premises liability claim can be challenging to prove and may require a considerable amount of evidence and expert witness testimony. An attorney from Morgan & Morgan could help you file a legal claim and hold your landlord to account for negligently causing your injury. 
Morgan & Morgan Is Here for You
Rental properties are hard to come by in NYC, which can leave landlords with the misconception that they can get away with murder. Some want to maximize profits without considering the needs and dignity of their tenants. Landlords may try to illegally throw you out of your apartment or cut costs by refusing to make necessary repairs, leaving you to live in squalor. At Morgan & Morgan, we know this is wrong, and we can fight for your rights.
If you are wondering, "where do I go to file a case against my landlord in New York City?" get in touch with us. We could help defend your legal rights as a renter and fight for compensation for your losses due to an unethical, criminal, or negligent landlord. If you believe that your landlord has violated the law, let us assess your case in a free evaluation and discover your options for getting what you deserve. Our attorneys can stand beside you every step of the way when suing a landlord. 
When we take your case, you do not have to worry about out-of-pocket legal expenses or attorney's fees. Our fee is free until we win. 
Scroll down for more
Recent verdicts & settlements
Results may vary depending on your particular facts and legal circumstances.
How it works
It's easy to get started.
The Fee Is Free™. Only pay if we win.
Results may vary depending on your particular facts and legal circumstances.
Step 1

Submit
your claim

With a free case evaluation, submitting your case is easy with Morgan & Morgan.

Step 2

We take
action

Our dedicated team gets to work investigating your claim.

Step 3

We fight
for you

If we take on the case, our team fights to get you the results you deserve.
---
Client success
stories that inspire and drive change
Explore over 55,000 5-star reviews and 800 client testimonials to discover why people trust Morgan & Morgan.
Results may vary depending on your particular facts and legal circumstances.
FAQ
Get answers to commonly asked questions about our legal services and learn how we may assist you with your case.
Morgan & Morgan
Is It Worth Suing a Landlord in New York City?

If your landlord has acted unlawfully or negligently and you have evidence and damages, filing a lawsuit can be a good idea. In some cases, tenants try to come to an agreement with a landlord to no avail. Filing legal action against your landlord can motivate them to settle with you and reimburse you for damages. Most landlords shy away from lengthy and expensive lawsuits, and when you hire a lawyer, your landlord will understand that you are serious about getting justice and recovering your due. 

If you cannot come to an out-of-court agreement and proceed to file and win a lawsuit, a landlord could owe you considerable damages. If they have acted particularly maliciously, for example, when illegally evicting you, you could receive punitive damages and compensation. 

However, New York City tenant and landlord laws can be complex. Filing a lawsuit is no guarantee that you will win and receive compensation. Coming to an agreement before taking legal action can avert the risk associated with filing a lawsuit. Before deciding on your next best step, you should talk your situation through with an experienced tenant-landlord attorney who can advise you on all the options for holding a landlord to account. 

My Landlord Told Me That I Am Evicted; Do I Have to Leave My Apartment?

In New York City, a landlord cannot simply tell you that you are evicted for any reason. They have to follow the law and either provide you with an official written notice or a court order of eviction. Either way, you do not have to leave immediately and generally have 14 days' notice after receiving a written statement from a landlord or a court-ordered eviction notice. 

Moreover, the official notice must follow some legal regulations to be valid, which include:

It must be in writing
The notice must contain your full name and property address
If you owe rent, the notice must state how much you owe and for which dates 
The notice must define the property and its use

If you are worried about getting evicted or a landlord is harassing you, contact an attorney for assistance, as you could have legal recourse. 

What Are the Responsibilities of a Landlord in NYC?

Landlords must ensure that their rental properties are safe, sanitary, and adequately maintained. A landlord's responsibilities include, among others:

Maintain adequate security measures such as locks, gates, and others.
Provide running cold and hot water.
Ensure that lighting in and around the property is adequate
Provide heating
Ensure the property is free from pests and hazardous substances such as asbestos and mold

In addition, landlords must comply with state housing maintenance codes, comply with anti-discrimination laws, and follow certain procedures for evicting tenants.

Can My Landlord Enter My Apartment Without Notice?

Generally, a landlord cannot just turn up and demand to be let into your apartment as you are entitled to privacy and peace and quiet. The only time a landlord could enter your home legally without giving notice would be to deal with an emergency. However, there can be other situations in which a landlord could enter your apartment, provided they give "reasonable" notice (generally 24 hours or longer):

To show the property to potential renters or buyers
To make necessary repairs or provide services
If the entry is in accordance with your lease

My Landlord Changed the Locks on My Apartment While I Was Away; What Can I Do?

If your landlord changed the locks on your home while you were away, they illegally locked you out, which is a criminal offense. You should contact an attorney as soon as possible to determine how to proceed, as you could sue your landlord. In some cases, tenants can recover treble damages if they experience an "illegal lockout." 

Trying to determine where to go to file a case against your landlord can be challenging and overwhelming. However, as a tenant, you have a number of rights and do not have to stand for harassment, discrimination, or other violations of the law. Let us help. Our attorneys know NYC tenant-landlord law and can hold landlords accountable for their actions. Contact us today to find out if you have a case and qualify for compensation. 
 
Scroll down for more
Load More