The Fee Is Free™. Only pay if we win.
America's Largest Injury Law Firm
Protecting Families Since 1988
$15 Billion+ Won
800+ Lawyers Nationwide
Free Case Evaluation
Tell us about your situation so we can get started fighting for you. We tailor each case to meet our clients' needs.
Results may vary depending on your particular facts and legal circumstances.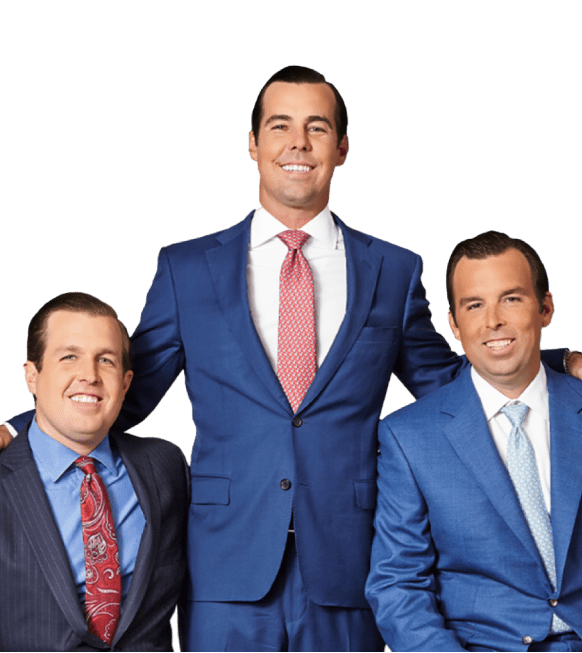 Elevator Accident Lawyer in New York
Proud sponsor of the New York Yankees.
In New York, elevators are an undeniable necessity due to the enormous number of high-rise buildings. Every year in the U.S., people travel more than 2.55 billion miles on elevators and escalators, surpassing the entirety of miles traveled on rail or in the air. On average, each elevator will carry about 20,000 people per year to their destination. While generally considered a safe form of transportation, accidents are bound to occur, especially if maintenance is missed or elevator machinery fails. When accidents do happen, the probability of serious injury or worse is high.
If you're wondering how to handle a New York elevator accident, you or someone you love has probably had the misfortune of being injured recently. Our compassionate personal injury lawyers understand this is a difficult time. We know you're probably worried about how you're going to handle your medical bills and lost wages due to your injury. We're here to help answer all the questions you may have about elevator accidents and how to get compensated for your accident.
Scroll down for more
Recent verdicts & settlements
How it works
It's easy to get started.
The Fee Is Free™. Only pay if we win.
Results may vary depending on your particular facts and legal circumstances.
Step 1

Submit
your claim

With a free case evaluation, submitting your case is easy with Morgan & Morgan.

Step 2

We take
action

Our dedicated team gets to work investigating your claim.

Step 3

We fight
for you

If we take on the case, our team fights to get you the results you deserve.
---
Client success
stories that inspire and drive change
Explore over 55,000 5-star reviews and 800 client testimonials to discover why people trust Morgan & Morgan.
Results may vary depending on your particular facts and legal circumstances.
FAQ
Get answers to commonly asked questions about our legal services and learn how we may assist you with your case.
Morgan & Morgan
What should I do right after an elevator accident?

Obviously, you should seek medical attention right away if you're injured. Even if you think you're not hurt too badly, you should still see a doctor. Some internal injuries can go unnoticed for a period of time, like internal bleeding, broken ribs, and punctured lungs. Brain and neck injuries can take up to eight days to become evident and can be deadly. Only your doctor is qualified to determine if you're genuinely okay. The other benefit of seeking medical care is that you have documentation of your injuries which is very helpful when seeking compensation.

If you are able, get the contact information of any other passengers or witnesses to the accident. Their statements can prove invaluable when it comes to negotiating with insurance companies or providing testimony in a court case.

Document the scene of the accident with pictures or video if possible. Details are crucial to bolstering your claim as it's hard to argue against solid evidence of mechanical failure.

Contact one of our New York elevator accident lawyers. It's vital to work with someone who specializes in personal injury law and who also is familiar with how the local court system operates. Your chances of a favorable settlement significantly increase when you have a defective elevator lawyer on your side.

How do you determine who is at fault for an elevator accident?

In New York, elevators are so common that individuals hardly think twice about stepping in to get to their location more conveniently. Still, people are dependent upon the building managers and maintenance crew to make sure the elevator is safe and functioning correctly. New York has strict regulations on elevators and escalators for the sake of protecting the public. When responsible parties fail in their duty to protect people using their elevators, they leave themselves open to premise liability for accidents.

Property owners are responsible for exercising a degree of care that a reasonably prudent person would have used under the same circumstances to ensure visitors to the property don't come to harm. "Visitors" are generally categorized as follows:

Invitee- Someone who has been invited to the property which could be a friend, family, tourist, customer, client, employee, etc.

Licensee- Someone who lives or works at the property like a tenant or someone who leases office space.

Social guest- A person invited as a guest by the property owner.

Trespasser- Someone who is on the property without authorization or a right to be there.

The trespasser category can be tricky, especially as regards children. Property owners still have to warn if they know there are hidden dangers on their property, and there is the likelihood of trespassers. For example, say a building is being renovated next to a school. The property owner must assume children will be curious and doors to the building may remain open as workers go about the renovations. If an elevator shaft is left unguarded or marked, an unsuspecting child may fall in and be killed. In that case, the parents may be able to file a lawsuit even though their child was trespassing.

How do you prove premise liability for an elevator accident?

Premise liability is a form of negligence, and to have a successful lawsuit, the plaintiff must prove the following:

The plaintiff was lawfully on the property, such as being an invitee or licensee
The property owner was negligent, meaning the owner knew or should have known there was a dangerous condition that the property owner failed to address or didn't have the issue fixed properly
The property owner's negligence caused the plaintiff's injury

How common are elevator accidents?

According to data provided by the U.S. Bureau of Labor Statistics and the Consumer Product Safety Commission, elevator and escalator accidents injure about 17,000 and kill about 30 people every year in the United States. Elevators are responsible for 90 percent of deaths and 60 percent of injuries. Workers that work on or near elevators account for almost half of those killed every year. 

How do elevator accidents happen?

The primary cause of death is falling into an open elevator shaft; however other injuries can occur when an elevator stops before reaching the correct level between floors. Elevators may suddenly stop, start, or speed up, causing passengers to fall, or a door may close too quickly, and body parts become entangled. A cable failure or another elevator malfunction can cause devastating injuries. Here are the leading causes for elevator accidents:

Mis-leveling - By far, one of the most common reasons for elevator injuries is mis-leveling which is when the elevator car isn't level with the landing floor, which may cause a passenger to trip while entering or exiting. A hard fall can cause broken bones, brain injury, and sprains and scrapes.

Mis-leveling is usually the result of older elevators that have brake issues. Newer buildings use hydraulic or traction elevators that do not rely on brakes to stop. Mis-leveling can be caused because the brakes are worn out or there is a faulty spring or brake drum. However, moisture, temperature, overcrowding, and voltage problems can also cause mis-leveling. An expert elevator accident lawyer will be able to determine what kind of elevator caused your mis-leveling injury and the circumstances behind it.

Faulty sliding doors - Injury can occur when a passenger is struck by a closing door. The cause is generally malfunctioning door protective devices that are in place to prevent a door strike, such as electric eyes or detector edges. Some older apartments even have heavy swing-style doors that can crush hands and fingers if the door closer is faulty. 

Over-speed - When an elevator moves at excessive speeds, passengers can be injured from falling or slamming into the walls of the elevator compartment. This generally happens when a control system malfunctions and fails to detect excessive speed. Injuries from over-speed can be similar to those of a car accident.

Falls into the elevator shaft - The most dangerous of all, a fall into an elevator shaft can result in severe injuries and death. Most elevator shaft falls happen to workers that are installing or doing maintenance in or around the elevator. However, regular passengers can fall into an elevator shaft if they force open doors or are being rescued from a stalled elevator.

Electrocution - As with anything that relies on electricity for power, passengers using an elevator can be injured by electrocution if the elevator system's wiring is installed or maintained by an untrained individual. 

This list is not exhaustive; there are many ways a passenger can come to harm using an elevator, whether by mechanical malfunction or improper maintenance. 

What kind of compensation can I get for a New York elevator accident?

The worth of elevator accident cases will vary depending on many factors, such as if you had any personal responsibility for your injury. Some accident settlements can be substantial if you can prove the property owner was grossly negligent or the elevator's design was faulty. In general, you could seek damages for the following:

Medical expenses for your injury as well as compensation for any future medical bills you will incur as the result of your injuries, such as surgery, physical therapy, or other rehabilitation.
Property damage if your personal property was damaged during the accident, such as a broken laptop, phone, glasses, etc.
Lost income if your injuries caused you to miss work or you are disabled.
Pain and suffering can cover any resulting PTSD, mental anguish, trauma, or emotional distress from your accident.

Deadline to file a lawsuit for an elevator accident in New York

In New York, you will generally have three years to file a premise liability lawsuit from the time of the accident. However, suppose the accident resulted in a death. In that case, family members have just two years to file a claim on behalf of the deceased. If the property owner is a city in New York or New York State, you have substantially less time, and there are strict rules about how to go about it. For an insurance claim, you may have as little as 90 days to file. 

In any kind of premise liability claim, time is of the essence. It's crucial to get expert legal counsel as soon as possible to ensure evidence is preserved before it can disappear or be altered and make sure critical deadlines are not missed.

How can elevator accidents be prevented?

As stated previously, many elevator deaths and serious injuries are sustained by workers performing repairs, maintenance, or installation. One critical safety measure to prevent elevator accidents is for workers to follow lockout/tagout procedures. Workers can become seriously injured or killed if someone accidentally turns on the power while the worker is performing the work. They could be electrocuted, struck by moving parts, or get crushed. 

Lockout/tagout procedure for elevator workers is to shut off the power, then lockout mechanical and electrical components, and keep the keys on their person to prevent someone else accidentally turning the elevator on.

Proper maintenance and inspections are critical to the safety of elevators. They can prevent many accidents from happening in the first place. This work should only be performed by licensed professionals who are trained in safe work practices. 

Why hire Morgan & Morgan for my elevator accident?

You've already suffered a serious accident and are likely worried about how to pay your medical bills and other expenses. The last thing you want to pile on top of that worry is the cost of a lawyer. Well, that's one thing you don't have to worry about because our elevator accident lawyers work on a contingency fee basis meaning you don't pay unless we win. With that worry out of the way, you may wonder how else can one of our lawyers help you.

Our experts will work with you and review your medical records, perform investigations into the maintenance records of the property owner, and find out if the elevator manufacturer has any liability for your injuries. We have access to accident reconstructionists and other experts in the field of elevator malfunctions which can shore up your case. 

We've been helping people win compensation for personal injury for over 30 years, with billions recovered for our clients. You deserve the chance to move forward with your life without worrying about the costs of medical care, and you should recover money for the pain and inconvenience caused by someone's negligence. Contact us today for a free, no-risk case evaluation. We're waiting to hear from you any time of the day or night. 
Scroll down for more
Load More