Truck Accident Attorney in Santa Ana
The Fee Is Free™. Only pay if we win.
America's Largest Injury Law Firm
Protecting Families Since 1988
$15 Billion+ Won
800+ Lawyers Nationwide
Free Case Evaluation
Tell us about your situation so we can get started fighting for you. We tailor each case to meet our clients' needs.
Results may vary depending on your particular facts and legal circumstances.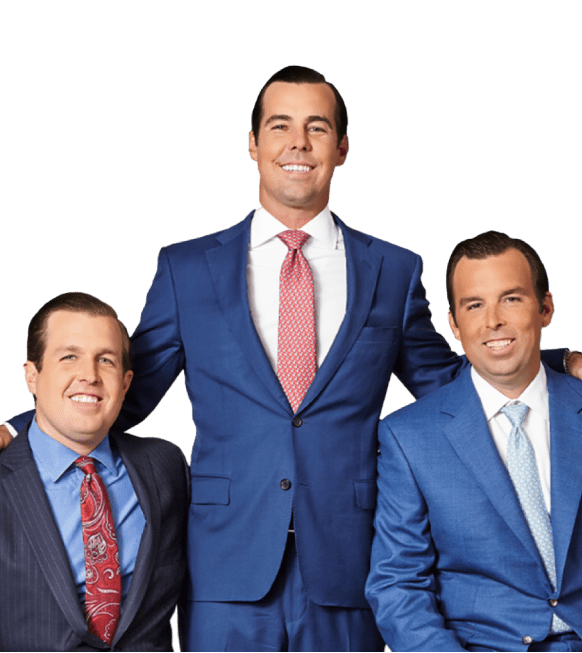 Santa Ana Truck Accident Lawyer
Injuries caused by truck accidents in Santa Ana are some of the worst we've ever seen. That's because trucks are more dangerous on the road than standard vehicles, especially when driven by a negligent driver. If you have sustained serious injuries in this kind of accident or lost your beloved, contact Morgan and Morgan immediately for a free case evaluation. We will review your case and connect you with an experienced Santa Ana truck accident lawyer if the case is valid. 
Why You Should Hire a Truck Accident Lawyer
So why is hiring a truck accident lawyer so crucial for you or your loved one? Well, the reasons are countless.
Don't Risk Dealing With Insurance Companies Without a Lawyer
For starters, dealing with insurance companies can be not only stressful but also frustrating, especially while nursing your injuries or mourning a loved one whose life was tragically cut short by a negligent truck driver. After such an accident, when you file a claim, insurance companies often prioritize their own interests.
These companies may try to minimize the compensation you deserve, and that's because, to them, money is what matters the most. Having a skilled lawyer on your side sends a strong message to insurance providers that you're serious about fighting for your rights, and you won't be manipulated into settling for less than you deserve. 
Truck Accident Cases Are Even More Complex Than Car Accidents
Speaking of complexities, truck accident cases can be particularly difficult to navigate. Just to give you some perspective, a typical truck accident case usually involves various parties, such as the truck driver, trucking company, vehicle manufacturer, and more. To begin with, that makes determining liability very challenging, especially when multiple factors contribute to the accident. Secondly, California's traffic laws can be complicated depending on the circumstances of that particular accident. You need someone experienced in handling these kinds of cases, and that's where a truck accident attorney comes in. 
You Need Powerful and Relevant Evidence 
Gathering evidence is a crucial aspect of any personal injury claim. Truck accidents are no exception. You need a lawyer to help collect the most relevant evidence and preserve it before it gets lost or destroyed. That's one way to ensure a strong footing for your case.  
Your Claim Could Be Worth More Than You Think
While an attorney can help in many different ways, the ultimate goal is to maximize your claim. You don't want to receive just any kind of settlement; you need something that truly reflects the severity of your injuries and losses. A seasoned attorney will assess the damages you've suffered, place a befitting monetary value on them, and fight for the compensation you deserve.  
You Need an Attorney To Take the Fight to Court
If the liable party refuses to offer a fair settlement, the right truck accident lawyer will always be ready to represent you in a trial. That said, you need a lawyer to represent you before a judge and jury, fill out complex court-related paperwork, skillfully present evidence, cross-examine witnesses, and argue on your behalf. 
Why Truck Accidents Are Different From Car Accidents
Truck accidents cases are very much different from car accidents. Here's why. 
Trucks Are Massive and More Intimidating  
Firstly, just think about the sheer size and weight of commercial trucks. That alone makes the damages caused by truck accidents far more serious than typical car accidents. Trucks can weigh up to 80,000 pounds or more. As a result, when these road monsters get involved in accidents, they can cause severe damage, catastrophic injuries, and, even worse, death.
Numbers Don't Lie  
True to the word, numbers never lie. For context, data from the National Safety Council shows that in 2021 alone, more than 437 people died due to truck accidents in California. Keep in mind that only Texas had a higher number of deaths (806) that year. Florida came third with 373 deaths.  
Liability Can Swing In Either Direction 
Secondly, truck accidents often involve multiple parties when the uncomfortable yet critical question of liability comes into play. While all fingers may point toward the direction of the truck driver, there may be room for more. 
Determining who is at fault and responsible for your injuries and losses resulting from the accident can be challenging. That's yet another reason to contact Morgan and Morgan for a free case evaluation and possible connection with a seasoned accident lawyer with the expertise to investigate the accident thoroughly, identify all liable parties, and hold them accountable.
Trucks Must Observe Strict Regulations Than Regular Vehicles 
Certain federal and state regulations govern the trucking industry in California and everywhere else throughout the nation. These regulations, such as hours of service, weight restrictions, and maintenance requirements, have everything to do with determining liability and negligence in these kinds of accidents. 
Just to give you an idea of the kind of situation you'll be dealing with, Interstate drivers are also required to observe federal traffic laws on top of the state laws where the accident occurred. We haven't even mentioned city-specific laws. All these factors will come into play when determining the outcome of the case. 
Truck Insurance Is Different From Regular Vehicle Insurance 
Because commercial trucking companies carry substantial insurance coverage, insurance companies in the trucking industry are notorious for using various attempts to minimize payouts. For example, a truck transporting general freight in California must have a minimum of $750,000 worth of liability insurance. Trucks driving hazardous materials need at least $million worth of liability insurance. 
The Evidence Collection Process Isn't As Straightforward 
The investigation and evidence collection process in truck accidents isn't usually what you'd expect from regular car accidents. That's because there's so much at stake for the trucking company if they lose the case. We're talking about millions of dollars in most cases.
That's why they'll deploy their response teams to the accident scene promptly to gather evidence that protects their own interests. To counter that, you need a lawyer on your side to conduct independent investigations, preserve crucial evidence, and counteract any attempts by the other party to manipulate the facts of the case.
Injuries From Trucks Are Usually More Severe 
Lastly, truck accident injuries tend to be more severe and catastrophic (that is, you're even lucky to be alive) compared to car accidents. If seriously injured, you or a loved one will need expensive medical treatment, long-term rehabilitation, or even stare at the risk of suffering permanent disabilities.  
What To Do If Injured In a Truck Accident In Santa Ana 
If you find yourself injured in a truck accident, call 911 immediately. Report the accident and, if you can, provide them with all the necessary information, such as the location of the accident, the number of vehicles involved, and the nature of the injuries you or a loved one (including the other driver) has sustained. Emergency responders will arrive at the scene and provide medical assistance to anyone who needs it. 
Once that's done, you should plan on getting checked by a doctor even further, even if you believe your injuries are minor. Not every truck accident injury shows up immediately; some take time. So even if the signs and symptoms are not immediately apparent, a medical professional can assess your condition, document your injuries, provide necessary treatment, and determine whether you need further treatment. 
Gather evidence from the accident scene, but only if possible. Think of anything that could be relevant to your case, from photographs and videos of the vehicles involved, the damages sustained by both parties, the surrounding road conditions, and any visible injuries to the names and contact information of any witnesses. 
Finally, whenever you get a moment, you should contact a Santa Ana truck accident lawyer. That's because time is of the essence in these cases; you must beat certain legal deadlines to even be able to open a case against the other party. We'll discuss these deadlines shortly. 
For now, let's go over the issue of liability and how it could play out in such a case. 
Liability In Truck Accident Cases In Santa Ana
When it comes to these kinds of accidents, liability can extend to different parties involved in the operation, maintenance, and regulation of commercial trucks, either directly or indirectly. The truck driver is often the first liable party, but only if they were negligent or reckless when operating the truck. Liability may also fall on:
the trucking company if failed to properly screen and train the truck driver, maintain their fleet, enforce safety regulations, or if they overworked their workers.  
a separate entity or individual that owns the truck in question. 
the truck manufacturer if a defect or malfunction in the truck's design, parts, or manufacturing caused the accident. 
third-party contractors if inadequate maintenance or negligent repairs caused the accident. 
cargo loading companies if the accident stemmed from an improperly loaded or secured cargo.
government entities responsible for road design, maintenance, or proper road signage. 
Since determining liability in a truck accident is a process that needs thorough investigation and a lot of resources, you should consult with a truck accident lawyer to help build a strong case on your behalf.
Scroll down for more
Recent verdicts & settlements
Results may vary depending on your particular facts and legal circumstances.
Scroll down for more
Results may vary depending on your particular facts and legal circumstances.
How it works
It's easy to get started.
The Fee Is Free™. Only pay if we win.
Results may vary depending on your particular facts and legal circumstances.
Step 1

Submit
your claim

With a free case evaluation, submitting your case is easy with Morgan & Morgan.

Step 2

We take
action

Our dedicated team gets to work investigating your claim.

Step 3

We fight
for you

If we take on the case, our team fights to get you the results you deserve.
---
Client success
stories that inspire and drive change
Explore over 122,576 5-star reviews and 800 client testimonials to discover why people trust Morgan & Morgan.
Results may vary depending on your particular facts and legal circumstances. Based on Select nationwide reviews
FAQ
Get answers to commonly asked questions about our legal services and learn how we may assist you with your case.
Morgan & Morgan
What Is the Deadline for Filing a Car Accident Claim in Santa Ana?

The statute of limitations for truck accident lawsuits in California is two years from the date of the accident. You will lose your right to compensation if you file a claim outside this window.

What Damages Can I Recover After a Truck Accident in Santa Ana, CA?

It depends on the specific details that make your case unique. In general, you may recover compensation for current and future medical expenses, the income you lost during your recovery period, and the cost of repairs or replacement of any damages to your vehicle or personal property.

Because these accidents often lead to serious injuries, a skilled attorney can also help you recover compensation for physical pain, emotional distress, mental anguish, and loss of enjoyment of life. 

Your spouse or family members may also be eligible for compensation for the loss of a family relationship, also known as 'loss of consortium.' This only applies if the accident has negatively affected your relationship with your spouse or family members, such as being unable to go on a walk with your spouse, have a sexual relationship with them, and so on. 

Can You Recover Punitive Damages in a Truck Accident Case in California?

You can pursue punitive damages in this state, but only if you can demonstrate, with clear and convincing evidence, that the defendant's actions were marked by oppression, fraud, or malice.

How Can a Morgan and Morgan Truck Accident Attorney Help?

Now that you know how complex truck accident cases can be, you probably understand why hiring a lawyer is crucial. But you shouldn't just go for any lawyer you come across in Santa Ana; you need lawyers uniquely qualified and equipped to handle your case. 

That's what defines Morgan and Morgan, America's largest injury firm. We have powerful legal resources and a solid history of fighting hard for the rights of the injured. With over $15 billion already recovered, our track record speaks for itself.

Need a Truck Accident Lawyer In Santa Ana, CA?

Our Santa Ana truck accident lawyer will never settle for less unless it is your best offer. That's because they understand the importance of maximizing your claims to cover all your injuries and losses. Contact us now for a free case evaluation.
Scroll down for more
Load More