The Fee Is Free™. Only pay if we win.
America's Largest Injury Law Firm
Protecting Families Since 1988
$15 Billion+ Won
800+ Lawyers Nationwide
Free Case Evaluation
Tell us about your situation so we can get started fighting for you. We tailor each case to meet our clients' needs.
Results may vary depending on your particular facts and legal circumstances.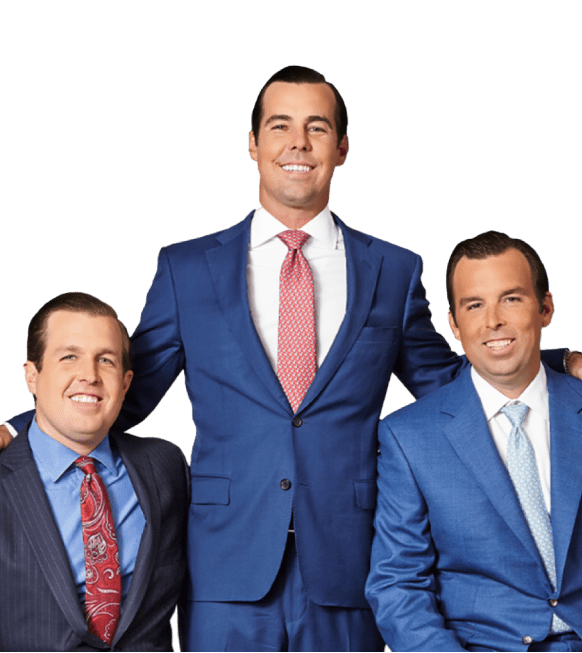 Best Workers' Compensation Lawyer in Pittsburgh – Morgan & Morgan
The Pennsylvania workers' compensation program provides those injured at work with medical and income loss benefits. Surviving family members of a worker who died in a work accident could also qualify for death benefits from workers' compensation.  
Unfortunately, getting workers' compensation benefits can be challenging without an experienced attorney in your corner. If your claim was already denied or you have a complex case, you may be looking for the best workers' compensation attorney in Pittsburgh.  Morgan & Morgan is here to help. Our committed and motivated workers' compensation lawyers can leave no stone unturned in fighting for the benefits you need to rebuild your life after a work injury or illness. 
Injuries Qualifying for Workers' Compensation Claims in Pittsburgh
According to the National Safety Council (NSC), workers in construction and transportation are particularly prone to suffering accidents and injuries on the job. However, injuries and work-related conditions can potentially occur in any industry and work environment. 
Some of the most common work injuries include tears, sprains, and strains. However, workers' compensation attorneys in Pittsburgh can handle all types of work-related injury claims, including but not limited to: 
Head and brain injuries
Bone fractures
Burns
Back injuries
Loss of limbs
Loss of hearing or sight
Injuries due to exposure to toxic chemicals
Workers can get injured in accidents or suffer from conditions arising due to their daily work activities. Employees can experience painful chronic conditions due to repeated heavy lifting, bad posture, or repetitive movements, for example. 
Your Next Best Steps After Getting Injured at Work
Knowing exactly what to do after getting hurt at work can be crucial for getting the benefits you need. Take the following steps as soon as you can to protect your legal rights and help with getting a workers' compensation claim approved:
Report Your Injury 
Make sure to report your work injury to your employer or manager immediately. If possible, file an accident report with work. Reporting your injury will provide you with part of the evidence you need to receive workers' compensation benefits.
Seek Medical Advice Immediately
Unless you got badly injured and treated by emergency services or rushed to hospital, you could be tempted to leave a doctor's visit for later. However, seeking medical help as soon as possible can be vital for your worker's compensation claim. You should also consult with your employer as you might have to visit a designated doctor to qualify for workers' compensation benefits. 
File a Workers' Compensation Claim
Although your employer is generally responsible for filing your claim with their insurer, they should provide you with the forms to fill in. If necessary, ask your employer rather than waiting for them to initiate filing the claim. Missing the filing deadline could lead to missing out on your benefits.
What to Do if Your Workers' Compensation Claim Is Denied
Do not despair if you received a denial notice. Having a workers' compensation claim denied, although upsetting, is nothing unusual. You can appeal against the decision. 
 
Morgan & Morgan's experienced attorneys can explain the appeals process and help you move forward. 
Finding the Best Workers' Compensation Lawyers in Pittsburgh
Finding a great workers' compensation lawyer can involve a little homework on your part. Try the following first steps to find suitable attorneys near you:
An online search for workers' compensation attorneys in Pittsburgh
Asking coworkers, family members, and friends for attorney referrals
Contacting the Pennsylvania Bar Association for help with your search
Morgan & Morgan's Workers' Compensation Lawyers Can Help
Our workers' compensation attorneys have the experience and determination required to fight for the workers' compensation benefits you deserve. We never settle for less and want to help injured workers receive the benefits they need to put their lives back together after getting injured on the job. 
When you work with Morgan & Morgan, you have the largest personal injury law firm on your side, including hundreds of lawyers and a wealth of resources that few law firms can match. You do not have to look any further to find the best workers' compensation lawyers in Pittsburgh. We can fight your claim tirelessly through all the stages of the appeals process.
Scroll down for more
Recent verdicts & settlements
How it works
It's easy to get started.
The Fee Is Free™. Only pay if we win.
Results may vary depending on your particular facts and legal circumstances.
Step 1

Submit
your claim

With a free case evaluation, submitting your case is easy with Morgan & Morgan.

Step 2

We take
action

Our dedicated team gets to work investigating your claim.

Step 3

We fight
for you

If we take on the case, our team fights to get you the results you deserve.
---
Client success
stories that inspire and drive change
Explore over 55,000 5-star reviews and 800 client testimonials to discover why people trust Morgan & Morgan.
Results may vary depending on your particular facts and legal circumstances.
FAQ
Get answers to commonly asked questions about our legal services and learn how we may assist you with your case.
Morgan & Morgan
Should I Hire an Attorney for My Workers' Compensation Claim in Pittsburgh?

Whether or not you should hire an attorney will depend on the circumstances of your claim and the severity of your injuries. However, consider speaking to us and finding out whether an attorney could help you. Initial consultations are always free at Morgan & Morgan, and we are happy to evaluate your case. 

You may not wish to work with a lawyer if you suffered only minor injuries and recovered the benefits you need. However, hiring a lawyer could be crucial in the following scenarios:

You have a serious injury or pre-existing condition
Your workers' comp claim is complex 
Your employer or the insurance company denied your claim
Your injury prevents you from returning to your job
Your employer retaliated against you after filing a workers' comp claim
You got hurt due to a third party's recklessness or negligence

How Long Does It Take to Recover a Workers' Compensation Settlement?

It is impossible to know exactly how long your workers' compensation settlement will take as various factors are involved. Settlements can drag out considerably if an insurance company or employer is dragging their heels. In some cases, receiving a settlement can take more than a year.  

How Do I Make Ends Meet While Waiting?

Fortunately, benefits such as medical expenses will usually start within a day of filing a claim. However, workers' compensation will only start paying wage loss benefits once the claim is approved. If your claim is accepted, you should receive your wage loss benefits within a month. If your claim is denied, you have the option of appealing against the decision. 

According to the Pennsylvania Department of Labor & Industry, Pennsylvania workers' comp legislation provides that employees receive benefits for work-related conditions while employers pay for the program. As a trade-off, the employer is generally protected from direct lawsuits by employees. Therefore, in most circumstances, employees cannot sue their employers. 

However, there can be rare exceptions. If, for example, the employer was grossly negligent in causing your injury or did not have workers' comp insurance coverage at all, you could have grounds to file a personal injury lawsuit. 

Can I Get Workers' Compensation Benefits for a Pre-Existing Condition?

A pre-existing condition generally does not qualify or disqualify workers from receiving workers' compensation benefits. If the pre-existing condition is unrelated to your work injury and claim, you are responsible for the medical bills to treat the injury. However, you would receive benefits for any expenses connected to the work injury.

Having a pre-existing condition can potentially add to the complexity of your claim. An insurance company might see your pre-existing condition as a convenient excuse to reduce the benefits they have to pay out. If you have a significant pre-existing injury that is aggravated in a work accident, you could be entitled to benefits for the worsening of your condition. 

Struggling through handling a claim with a pre-existing injury can be tricky on your own.  A workers' compensation lawyer can help you straighten out any issues with pre-existing injuries. 

My Employer Has No Workers' Compensation Insurance; What Do I Do?

The majority of Pittsburgh employers are by law required to carry workers' comp. However, occasionally an employer lets their insurance policy lapse or fails to obtain workers' compensation coverage altogether. Unfortunately, when this happens, workers are generally unable to access benefits from the program. While it can be a shock to find out that your employer is uninsured, you could have other options for recovering financial help after getting hurt at work. 

Filing a Personal Injury Lawsuit

If your employer does not have workers' comp insurance, you could potentially sue them or a third party for damages. If you are considering suing your employer, consult with an attorney, as you will have to provide evidence linking your employer's negligence to your work injuries. 

Uninsured Employers Guaranty Fund

In Pennsylvania, the uninsured employers guaranty fund can provide medical and income loss benefits to those whose employer lacks workers' comp insurance. You can find details on how to apply on the Department of Labor & Industries website. 

Does Workers' Compensation Pay a Full Salary in Pittsburgh?

One of the biggest worries of injured workers is whether they will continue to receive a salary after getting hurt. The potential of losing your wages can be highly stressful for the entire family.  While workers' compensation does offer income loss benefits, the amount will not cover your whole salary. Workers' comp wage loss benefits in Pennsylvania are typically capped at two-thirds of your average weekly wage.

Losing a third of your salary can be stressful, especially if you are the main earner in your family. Consider speaking to a workers' comp attorney as there could be other avenues to recover what you deserve. You could potentially sue and recover compensation if a negligent third party caused your work injury, for example. The recovery from a lawsuit could bridge the gap in income and provide comfort and security.

How Long Can I Receive Workers' Compensation in Pittsburgh?

The length of time for receiving workers' compensation will depend on the severity of your injury or disability. 

Wage Loss Benefits

After you have received full or temporary total disability benefits for two years, the insurance company generally asks for an impairment rating evaluation. If you are totally and permanently disabled, you can collect workers' comp benefits for the rest of your life.

If your rating shows less than 50% disability due to your work injury, you could still collect partial disability benefits for up to an additional 500 weeks. 

Workers' compensation income benefits typically end when:

You return to your job
Your doctor releases you for work
Your injury has improved as much as is possible

Medical Benefits

In Pennsylvania, the workers' compensation insurance carrier should pay all your lifetime reasonable medical costs related to the work injury.

You may have to fight for your rightful benefits, as your employer or insurance company could fight your claim. Having a Pittsburgh workers compensation lawyer by your side can be advantageous.

What Does a Workers' Compensation Lawyer Do?

Our workers' compensation lawyers in Pittsburgh are here to protect your rights and work tirelessly for your best interests. Ways in which we can help include:

Providing legal advice and guidance 
Proving your disease or injury is work-related
Gathering and organizing the relevant medical records
Proving that you are unable to work
Helping you pursue damages in a third-party personal injury lawsuit 
Appealing against a denied workers' comp claim
Negotiating a fair settlement

Your attorney will investigate your claim comprehensively to try and maximize your benefits or settlement. An experienced lawyer can help level the playing field and provide you with a shoulder to lean on. Workers may get pressured to return to their job, experience unlawful retaliation, or face an unfair dismissal.  A workers' compensation lawyer understands what you are up against and can protect you accordingly. 

We Can Fight for the Workers' Compensation Benefits You Deserve

Work injuries can leave you physically, emotionally, and financially drained. However, you have the right to adequate benefits and medical care if you experience a work injury or work-related illness. If you got hurt at work and do not know where to turn, or had your claim already denied, do not struggle on your own for any longer. 

Our workers' compensation attorneys in Pittsburgh can help fight for your benefits while you are free to concentrate on getting better. Hiring us is free unless and until we win. Contact us now and schedule a free, no-obligation consultation to learn about your rights.
Scroll down for more
Load More