The Fee Is Free™. Only pay if we win.
America's Largest Injury Law Firm
Protecting Families Since 1988
$15 Billion+ Won
800+ Lawyers Nationwide
Free Case Evaluation
Tell us about your situation so we can get started fighting for you. We tailor each case to meet our clients' needs.
Results may vary depending on your particular facts and legal circumstances.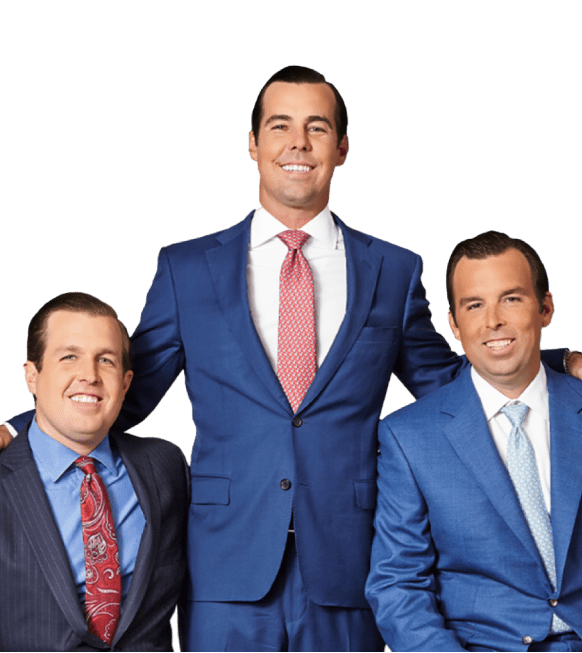 Best Hurricane Damage Lawyers in New York
Proud sponsor of the New York Yankees.
New York State is one of the finest places on Earth if you love live entertainment, free public events, the arts, and diverse culture. Of course, plenty of people live here for fantastic career opportunities that include jobs in finance, fashion, modeling, and advertising. Plus, there are simply more opportunities to experience dance, music, and the arts than in any other state. And, even though New York State once had a bad reputation for crime, that's simply not the case anymore. The FBI reports that New York now has a lower crime rate than most other states.    
Another huge draw is the four seasons. Here, you have distinct weather variations that allow residents to enjoy all the different kinds of activities that come with each. NYC is actually known for having a fifth season called Holiday Season. Every year, people flock to the streets to enjoy the city's amazing holiday decorations, events, and displays. 
However, one season that is not so popular is hurricane season. Every year from June through November, the Atlantic hurricane season causes residents to brace for the worst. During this time, people living along New York's coastline and inland are encouraged to be prepared for the dangers hurricanes can bring. You've likely already experienced what kind of destruction a hurricane can do to your property and are looking at hiring the best hurricane damage lawyers, NY. We're here to help with that.
What are typical hurricane damages to homes in New York?
It only takes one storm to devastate your community. When a hurricane approaches the coastline, it can cause significant damage to coastal towns and cities. Even areas hundreds of miles inland can expect to see an impact. Hazards at the coastline can include heavy rains, storm surges, and high winds. Storm surges can cause the sea level to rise as much as 30 feet causing extensive flooding to properties in its path. A storm surge can be powerful enough to displace huge boulders, and vast amounts of beach sand can be shifted, burying coastal homes.
Low-lying areas can be submerged, and crashing waves along with the storm surge can cause docks, homes, and property to be demolished. Some of the strongest hurricanes can produce winds of over 150 miles per hour, causing trees to be ripped out of the ground and become high-speed projectiles. Entire buildings can move from one place to another during the strongest storms. 
Hurricanes can even create tornadoes uprooting trees, cars, and homes, which cause further chaos in the form of hazardous flying debris. Flooding is a significant risk even inland as torrential rains accompany the storm as it moves its way across the land, even though hurricanes typically weaken once making landfall. Floodwaters are the most dangerous aspect of a hurricane as the storm can dump as much as 6-12 inches of rain onto the land. Heavy rainfall can cause rivers to breach banks causing mudslides since the ground simply cannot absorb that much water. 
Mudslides do not only cause obvious damage to your home; there can be subtle damages you may not even realize are happening as the moisture settles deep within the soil. The moisture can cause mold and instability to your home's foundation. 
When should I hire a hurricane damage lawyer in New York State?
You probably already experienced issues with your insurance company if you're researching hiring the best hurricane damage lawyers, NY. You might be worried about how your insurance rates will be affected by filing a claim and are not sure if it could be cheaper to fix the damages yourself. You may also worry about the cost of hiring a lawyer to fight for your interests. However, don't wait too long because every policyholder is held to critical time limits to resolve an insurance claim. 
There are state laws limiting the amount of time you have to make a claim, but there are also time limits stated in your policy. One of those time limits that are frustratingly vague is that an insurance company may require that you notify them of your loss "promptly." Who can say what is prompt after a devastating storm where you may be displaced or injured? If you've experienced something like this and are getting pushback from your insurance company about time limits, you should talk to a lawyer right away.
Submitting documentation also has a timeline and may involve numerous deadlines for filing estimates and loss lists. It's far easier for a lawyer to handle this for you as they will be vastly more familiar with all the fine details and pitfalls involving a claims process than you are.
Lastly, the costs associated with hiring a hurricane damage lawyer, NY shouldn't dissuade you from seeking legal counsel. Most hurricane damages lawyers work on a contingency fee, meaning they don't get paid unless you do. If your case has merit, you should easily be able to find an attorney to help you with negotiations. 
How do insurance companies underpay or deny claims for hurricane damage in New York?
You made a responsible decision to purchase your homeowner's insurance and may even be paying extra for flood and wind damage coverage. Your agent assured you that you would be taken care of in the event of a disaster, and you believed them. Now that disaster has come, and you're not getting the answers you were hoping to hear. 
Here's a little secret, insurance companies have found that underpaying or denying legitimate claims saves them millions every year. They are making their CEOs and shareholders happy and sticking it to the little guy. You may not want to go through the hassle of fighting them, or you simply may not even realize you're not getting the full compensation you've been paying for, and they depend on that. But when they purposefully underpay, they are acting in bad faith, which is against the law because you signed a contract.
Here are some of the tactics insurance companies use to deny or underpay claims.
Depreciating the cost of labor to fix your damages - That's right, not only do you get a depreciated value of your property, they may also calculate the labor required to fix it at a depreciated value which is an outright scheme.
Underpaying instead of denying your claim - Insurance companies have learned people are more willing to fight back when their claim is outright denied. Therefore, they'll offer you less than the total value of your damages with the hope you'll be relieved to get some money rather than no money.
Paying cash value - Depending on how your policy is written, you may find yourself being paid actual cash value rather than the full replacement or repair cost for the damage to your home.
The assessor doesn't accurately assess the value of your property - While this may not be 100% deceptive, an assessor may simply not take the time to look closely enough at the damages, so you're awarded less than you really need to be made whole again.
Delaying payment on your claim - Some insurance companies have found that some policyholders will simply move on with their lives and make the repairs out of pocket by dragging the process out. This is acting in bad faith and is against the law.
The damage was preexisting - Imagine having a cracked foundation and a subsequent mold problem that you've been working on getting fixed. Now your home gets hit by a hurricane, and flood waters cause even more mold. Now the insurance company won't pay because they say all the mold in your house was preexisting. 
How can a hurricane damage lawyer in New York State help me?
If there's one thing to understand about the insurance companies, they are out to make as much profit as possible. If your damage is minor, it should be resolved pretty easily, perhaps even without the help of a lawyer. However, with more significant claims, the stakes are raised both for you and the insurance company.
Complex claims that come from extensive damage are harder to navigate. An experienced hurricane damage lawyer like the ones we have at Morgan & Morgan can hit the ground running and collect the documentation, evidence, and expert input to ensure your claims experience runs smoothly.
Our lawyers will review every detail of your policy and strategize how to best move forward. Some policies are not straightforward and require the eyes of a legal professional to interpret the more complex language that is often used in contracts. 
One of the most significant advantages of hiring a Morgan & Morgan hurricane damage lawyer is the peace of mind that comes with knowing you have an expert representing you. You no longer have to deal with the insurance companies one-on-one and can take a breather after your devastating experience. We ensure all the proper paperwork is filed and deadlines are met. We'll even take your claim to trial if it comes to it.
How successful is Morgan & Morgan Law Firm with cases?
In a nutshell, we've recovered billions for our clients during our long history practicing law to protect everyday people like yourself. We've grown from a small two-lawyer law firm founded in 1988 to one of the largest law firms in the country. But we're still family-owned because family is important to us.
One of the driving forces behind the establishment of Morgan & Morgan was the founder, John Morgan's, own experience fighting large companies for compensation for a legitimate claim when his brother was injured.  
We consider ourselves a consumer protection firm and are committed to getting top dollar for our clients no matter what it takes. Just this last year, we've successfully concluded over 70,000 cases and would be proud to count your claim in that number. Are you ready to get the money you deserve for your hurricane damage claim? Contact us today for a free, no-risk case evaluation. We're prepared to fight for your rights!
Scroll down for more
Recent verdicts & settlements
How it works
It's easy to get started.
The Fee Is Free™. Only pay if we win.
Results may vary depending on your particular facts and legal circumstances.
Step 1

Submit
your claim

With a free case evaluation, submitting your case is easy with Morgan & Morgan.

Step 2

We take
action

Our dedicated team gets to work investigating your claim.

Step 3

We fight
for you

If we take on the case, our team fights to get you the results you deserve.
---
Client success
stories that inspire and drive change
Explore over 55,000 5-star reviews and 800 client testimonials to discover why people trust Morgan & Morgan.
Results may vary depending on your particular facts and legal circumstances.
FAQ
Get answers to commonly asked questions about our legal services and learn how we may assist you with your case.