The Fee Is Free™. Only pay if we win.
America's Largest Injury Law Firm
Protecting Families Since 1988
$15 Billion+ Won
800+ Lawyers Nationwide
Free Case Evaluation
Tell us about your situation so we can get started fighting for you. We tailor each case to meet our clients' needs.
Results may vary depending on your particular facts and legal circumstances.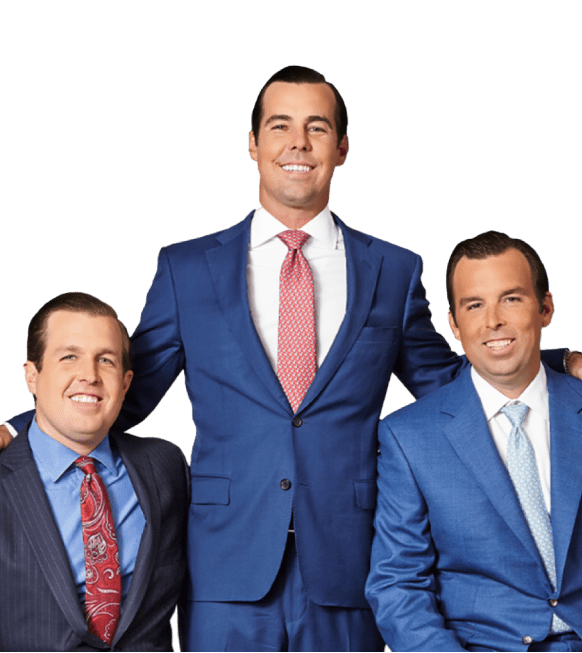 Kissimmee Slip & Fall
Property owners in Kissimmee have a duty to their guests to keep their property safe and free of hazards. When property owners fail in their responsibilities to the public, the consequences can result in serious injury or even death to guests.
Whether you're visiting a private home in Kissimmee, shopping at The Florida Mall, or visiting nearby Disney World, property owners must make sure their premises are maintained and free of hazards that could cause injury to guests like you. If there is a known dangerous condition on the property, the owner must endeavor to fix or remove the hazard, as well as warn guests that a hazard is present.
However, it can be difficult to prove that a property owner acted negligently in maintaining their property. That's where our attorneys at Morgan & Morgan's Kissimmee office can help. Our slip and fall attorneys have a proven track record of success in holding property owners liable for their neglectful conduct.
If you or someone you love was hurt on another's property, you may be entitled to compensation for your medical bills, pain and suffering, and more. Fill out our free, no-risk case evaluation form to learn what our attorneys can do for you.
The Responsibility of a Property Owner in Kissimmee
If the owner had knowledge of a dangerous condition on their property and failed to fix it or warn the injured victim about the condition, the victim would possibly have a valid claim for a slip and fall lawsuit. The following categories of guests that an owner is obligated to protect include:
Invitee: An individual who enters a property for a business-related reason, such as a patron of a restaurant or a member of a gym. The owner of this property must regularly maintain this property and repair any defects that could pose a hazard.
Licensee: A person who visits the home for non-business purposes, such as a guest visiting a friend's home to attend a dinner party. The owner of the home must warn these guests about any dangerous conditions.
Trespasser: An individual who enters a property without permission. Adult trespassers are given limited legal protection, but children are more protected under the law if the property contains an attractive nuisance that is not property secured, such as a swimming pool without a locked fence.
Common Causes of Slip and Fall Accidents
Our Kissimmee slip and fall attorneys handle a variety of premises liability cases, including causes of injuries such as:
Building code violations;
Lack of safety and warning signs;
Poor maintenance of buildings and sidewalks;
Wet surfaces;
Defective balconies;
Cluttered and hazardous pedestrian paths;
Poor lighting on premises;
Broken or malfunctioning staircases and escalators; and
Potholes.
How Much Does a Slip and Fall Attorney Cost?
Our attorneys work on a contingency-fee basis, meaning you pay no upfront costs or consultation fees. You will only pay a reasonable fee to your attorney if he or she is successful at winning your case and recovering compensation.
How Our Slip and Fall Attorneys Can Help
Our experienced slip and fall attorneys in Kissimmee will gather the evidence necessary to hold the responsible property owner liable for your injuries, determine the exact cause of your accident, and prove the extent of your injuries. As your attorney works to strengthen your claim, they may do the following:
Determine how and why you were on the premises;
Investigate the scene of the accident to collect photographic evidence;
Discover if the property owner has had similar complaints of negligence or lawsuits filed against them in the past;
Interview witnesses of the accident; or
Determine what the property owner could have done to prevent the accident and remove the hazard from their property.
If you were the victim of a slip and fall accident, we can help. Fill out our free, no-risk case evaluation form to see what our attorneys can do for you.
Scroll down for more
Recent verdicts & settlements
Results may vary depending on your particular facts and legal circumstances.
Scroll down for more
Results may vary depending on your particular facts and legal circumstances.
How it works
It's easy to get started.
The Fee Is Free™. Only pay if we win.
Results may vary depending on your particular facts and legal circumstances.
Step 1

Submit
your claim

With a free case evaluation, submitting your case is easy with Morgan & Morgan.

Step 2

We take
action

Our dedicated team gets to work investigating your claim.

Step 3

We fight
for you

If we take on the case, our team fights to get you the results you deserve.
---
Client success
stories that inspire and drive change
Explore over 122,576 5-star reviews and 800 client testimonials to discover why people trust Morgan & Morgan.
Results may vary depending on your particular facts and legal circumstances. Based on Select nationwide reviews
FAQ
Get answers to commonly asked questions about our legal services and learn how we may assist you with your case.
Morgan & Morgan
I Was Hurt in an Accident in Kissimmee. Do I Need a Slip and Fall Attorney?

If you're looking for a slip and fall lawyer, hiring the knowledgeable lawyers at Morgan & Morgan can make a big difference in the outcome of your case. Florida laws allow those people who are injured on someone else's property in preventable accidents because of a hazard to file a lawsuit. 

Slip and fall accidents are some of the most common reasons for emergency room visits around the country, and they can also lead to devastating injuries. If you were recently hurt in a slip and fall accident in Kissimmee that occurred on someone else's property, reach out to a slip and fall lawyer immediately. 

A slip and fall lawyer can tell you more about whether or not your case meets the grounds to pursue legal options for damages and what kinds of evidence may be needed to show negligence and responsibility.

How Do Duty and Breach Apply in Kissimmee Slip and Fall Accidents?

Many slip and fall accidents in Kissimmee take place in stores, hotels, and restaurants, as well as other business properties. These accidents can happen to victims who are customers or clients of the business. Florida law classifies these individuals as "invitees," meaning that they have the highest duty of care owed to them by a property owner or business owner. 

The duties owed by a property owner or business owner are to make sure that the property is reasonably free and clear of hazards and to remove any hazards or place appropriate warning signs around the area regarding any defective or dangerous conditions that could ultimately injure invitees. Someone who breaches this duty may be held responsible in court for the injuries and resulting damages from a victim. A property owner will breach their duty to invitees when the owner fails to remedy a defective or dangerous condition or, at a minimum, warn invitees about its presence. 

A property owner may know about the condition itself, but victims can also allege in slip and fall lawsuits in Kissimmee that the property owner had reason to know about it. For example, regular patrols of the property may have revealed this dangerous condition on a part of the property where multiple people travel on it, making it much more likely that the person winds up seriously injured. 

A staff member at a supermarket may not be aware of a spill in a particular aisle, but someone who slips and falls in a Kissimmee grocery store may still be able to bring a claim against that supermarket by showing that the spill had been present long enough that if reasonable efforts had been undertaken, that staff would have found it, such as doing regular maintenance checks. You need to prove that your accident would not have happened if it weren't for the property owner's breach of their duty of care, and you must be able to illustrate that the accident was a possible result of the conduct of the property owner.

What Role Do Damages Play in My Case?

In order to proceed with a slip and fall lawsuit, you also need to illustrate that there are damages in the case. 

Simply slipping and falling is not enough, even if the property owner was responsible for the hazard that caused you to fall. In order to proceed with a case filed by a slip and fall lawyer, you need to show that you have sustained damages as a result of the accident. You must indicate that some type of loss or damage, which you can be financially compensated for, is the responsibility of the property owner.

This can include physical injuries as well as mental or emotional injuries when making a claim for financial compensation. Morgan & Morgan slip and fall lawyers are highly experienced in gathering this evidence and in making strong cases against property owners who should have done more to remove a hazard and may be held accountable in court. 

What Are My Biggest Risks in a Slip and Fall?

Remember that an insurance agency representative has plenty of experience with slip and fall claims, but you do not. You need someone to help you protect your rights at each stage of the case. 

At Morgan & Morgan, we work hard to make sure that you are not taken advantage of and have clarity about each step of the legal process. There is a good chance that you have plenty of questions about this process, and we spring into action quickly to investigate the scene of the incident as well as to file a lawsuit if you decide to do so. 

In the state of Florida, as in many other states, there is a statute of limitations that places a strict time limit on how long you have to file a lawsuit after the incident happens. It is never in your best interests to wait too long to file a suit, as your best chance of gathering evidence and contacting people who may have seen the accident happen is early on immediately after the incident has occurred. 

This puts you in a challenging position if you wait too long and cannot remember the details of the accident. There is a good chance that you may not have all of the evidence at your disposal immediately after getting hurt, but our Morgan & Morgan slip and fall lawyers can take what details you do have and weave this together with additional evidence.

You have a maximum of four years from the date of a slip and fall accident in Kissimmee to file a lawsuit in your case. Don't wait too long to talk to an attorney about your case, since the sooner you file, the sooner you can start receiving benefits if you're able to achieve case resolution. At Morgan and Morgan, we look for all opportunities to resolve your case effectively, including in settlement conversations outside of court. Although each case is unique, it's our goal to look at the best way to resolve a case based on what our client needs. 

What Is Comparative Fault?

One of the most common challenges that victims face in these cases is that they may be held responsible for some portion of the losses that they incurred as a result of their injuries. This is because of Florida's comparative fault system. 

The other party, namely the person who you are alleging is responsible for your injury, could argue that you at least are partially at fault for the accident and the damages you would have received in the claim can be reduced by the percentage of fault you have for your injuries in the accident. Florida uses what is known as a pure comparative fault system, meaning that there are no restrictions on your right to file claims calculated on the assigned percentage of fault. Even if you are found to be 90% responsible for a slip and fall accident, you can still pursue a claim to recover at least 10% of your losses. You may not be able to recover compensation if you are found to be more than 50% at fault for the accident.

When Should I Hire a Lawyer?

Hire a lawyer as soon as possible after you've been hurt in a slip and fall accident. Your primary concern should be getting medical care after you get hurt, but you should promptly also turn your attention to hiring a slip and fall lawyer. 

A slip and fall lawyer can tell you more about what it takes to bring a lawsuit in the state of Florida, as well as some of the common challenges you may wish to avoid early on in your case. For example, the owner of the property may come to you with a settlement offer that seems tempting at the moment but may be too small based on your expected future costs. 

Having a lawyer who knows when an insurance company is trying to take advantage of you or minimizing the severity of your claim is essential for supporting you through the legal process. We are here to answer your questions and know what to anticipate at each phase of the case.

What if the Property Owner or Insurance Company Won't Return My Calls?

Another common challenge that slip and fall victims face in these cases is radio silence from the insurance company. As our Morgan & Morgan slip and fall lawyers can tell you, we undertake this responsibility ourselves and hold these individuals accountable so that your case can move forward in a timely manner. 

We know that you have an uphill battle ahead of you and are primarily concerned about how to get compensation for your injuries so you can go on about your life. You should not have to deal with the consequences of a serious slip and fall accident caused by someone else's negligence, but far too many victims find themselves dealing with these circumstances. To find out more, contact Morgan & Morgan today for a free, no-obligation case evaluation.
Scroll down for more
Load More