The Fee Is Free™. Only pay if we win.
America's Largest Injury Law Firm
Protecting Families Since 1988
$15 Billion+ Won
800+ Lawyers Nationwide
Free Case Evaluation
Tell us about your situation so we can get started fighting for you. We tailor each case to meet our clients' needs.
Results may vary depending on your particular facts and legal circumstances.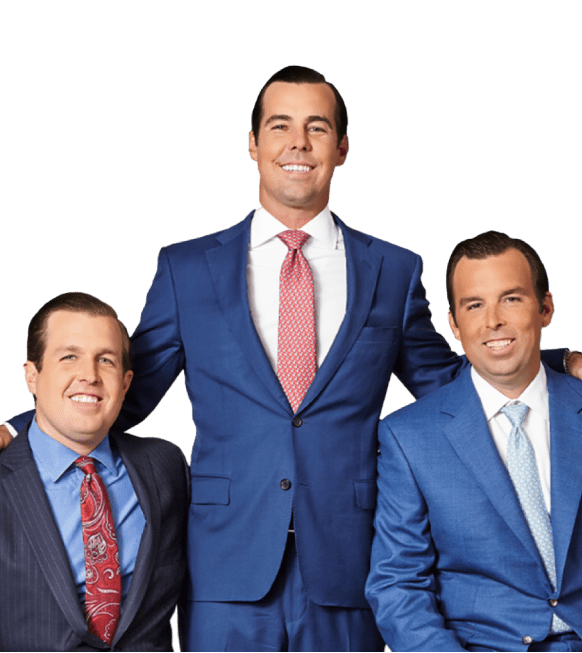 Philadelphia Car Accidents
Proud Sponsor of the Phillies.
If you're one of the lucky few who haven't suffered or had a loved one suffer from a car accident, then it might be time to count your blessings. Car accidents are one of the most prominent causes of death and injury in the United States, and that's not a statistic that seems like it'll lessen any time soon.
In 2017, more than 37,000 people died in motor vehicle crashes in the United States, and in 2016, more than 3 million people were injured. (1)
The vast majority of individuals who come to the emergency department (ED) for care after a motor vehicle collision (MVC) are only diagnosed with musculoskeletal strain and are discharged to home. A significant subset of this population will still develop persistent pain, and posttraumatic psychological trauma may play an important role in pain persistence. (2)
When it comes to automobile or car accidents, they tend to be serious events that can uproot your whole life. Everything can change in an instant, and you never know when it might happen to you.
 
But, it doesn't have to be so scary and uncertain. By reading this article, you can learn about what might occur in the wake of your accident and options that might open up to you depending on the severity of your injuries.
 
With this knowledge under your belt, you'll be able to relax, even when you learn that there are nearly 100,000 reported traffic accidents in Pennsylvania every year. Keep in mind that this is only the reported number, meaning that there are likely thousands of others that weren't reported.
 
Although it seems bleak, it doesn't have to be all doom and gloom! There are services – specifically lawyer services – that can help you in the wake of a car accident, especially if you or a loved one was injured.
The Necessity for a Car Accident Lawyer
Depending on the severity of your injury in the aftermath of a car accident, you may be wondering what can be done to improve any quality-of-life elements that may have been negatively impacted.
 
However, dealing with a new, life-changing injury isn't as easy as accepting it and moving on. There are real and undeniable financial costs that arise from the need to change how you live your life, including any medical or health changes that you need to suffer through due to your changed circumstances. On top of it all, any mental or emotional needs, such as therapy, will need to be dealt with as well to return to some version of "normal life."
 
Unless you happen to be independently wealthy, dealing with these changed circumstances will either clean out your entire savings or will force you into poverty, with nothing in between. However, if you can obtain the help of someone like a car accident lawyer in Philadelphia, you may be able to find help with some of your financials.
 
In the face of a life-changing event, having some help with sourcing money for the change can only make it go more smoothly so that you or your loved ones can focus on recovery and adapting to the new circumstances life has given you.
What a Car Accident Lawyer Does
Of course, you must now be wondering what car accident lawyers do and how they can help you if you or your loved ones find yourselves in this situation. The process and procedure of every car accident lawyer will differ from firm to firm, but across the board, you can expect certain things from your car accident lawyer.
 
How much help your car accident lawyer will be able to provide to you is heavily dependent on the complexity and specifics of your car accident situation. However, in general, your lawyer will be able to:
Discuss Terms and Specifics With Whatever Insurance Company the Other Driver Uses
This is what it sounds like on the tin. If you or a loved one has suffered a personal injury during the accident, your lawyer will reach out and contact whatever insurance adjuster(s) are in charge of the other party (or parties) who are involved in the accident.
 
Insurance adjusters are the ones who handle the money regarding who is or isn't at fault, so it is of extreme importance that your car insurance lawyer has a positive relationship with the adjuster. If they do, you will have a much higher chance of getting paid decent dividends for your injury.
Collect Any Important Evidence That's Related to Who Is at Fault in the Accident
You should be able to make a car accident claim if you're not the aggrieved party. As long as you have a good and reputable lawyer (read more on that below), they'll be able to help you obtain any evidence from the accident necessary to prove who's liable.
Everyone should take photographs of the accident scene after a crash, as those who don't often can't remember the fine details of the situation correctly. However, many people forget this important step because their adrenaline is running high or they're in pain, which is why it's so important to have a trusted car accident lawyer by your side. Once you've found one, they'll likely return to the accident scene to investigate on their own to help them get a better idea of what they're dealing with for the case and claim.
Additionally, as part of their survey of the area, they will talk with local police and officials to try and get more external information on the situation. A good lawyer won't leave any element of the scene untouched or unquestioned so that they can provide evidence of liability when the time comes.
Organize Your Medical Bills and Records if Necessary
Your car accident lawyer is going to have to ensure that they can discuss the specifics with the defense attorney. As part of their investigation, they will be sure to work closely with the doctors on staff at whatever hospital you received treatment. If they can obtain your medical bills and records, they will be able to add them to whatever file on the accident that they are compiling.
 
The hope is that the more information they can accrue that determines that the other party is at fault will go a long way towards helping your case. The more evidence they have, the more they'll be able to close any loopholes or uncertainty that the other party's attorney might attempt to trap you in.
Discuss the Situation and Act as a Liaison Between You and Your Doctors to Ensure That the Doctors Will Provide Any Necessary Information About Your Health and Wellness That Might Be Important to Proving Incurred Damages for the Case
This is in line with the previous point, but as part of gathering information, your car accident lawyer will discuss your case with your doctors. They will act as a liaison between the doctor regarding your case.
 
So long as your doctors are willing to provide information on your case (and only for your case so as not to overstep on doctor-patient confidentiality), the car accident lawyer will be able to add it to whatever case file they're creating.
 
As mentioned above, the more information they have, the better a case they will be able to present when it comes time to do so. Additionally, if they can go into more detail about your situation, which will go a long way towards helping them prove – monetarily – what damages you have incurred due to the car accident.
Organize the Evidence They Get From Their Survey of the Accident and the Information From the Doctors to Prove Liability and Negotiate With Whoever Is in Charge of Your Claim (Such as a Disability, Health, Workers' Compensation Insurers, Etc.) To Help You Lower Those Lien Amounts
One of the most important things that your car accident lawyer will do is organize all the information they've been compiling during their investigation. Hopefully, they have practice doing this, and hopefully, they're able to organize and present it in such a way that all the cards look like they're stacked in your favor. Your car accident lawyer will negotiate with whichever insurance agency is in charge of your claim to help you receive money back that can help with whatever costs the accident might force you to accrue.
 
Keep in mind that this is only applicable if you have – or will – receive benefits from a workers' compensation, health, or disability insurer. If this is you, whichever insurer you're connected to will have a lien on your claim.
 
If you're not sure if this applies to you, we'll quickly go over what a lien is. A lien is a type of security that an insurer will maintain over an item of property to ensure that they're able to receive whatever payment is due to them in the case of a predetermined obligation. The person who grants the lien (likely you or one of your loved ones) is called the lienee, and the person who has the benefit of the loan is the lien holder.
 
So, if this sounds like something you or your loved ones have had experience with – particularly in regard to receiving benefits from a disability, health, or workers' compensation insurers – this means that that insurer will have a lien on your claim. In this situation, the lien holder would get paid what they're owed before you do (assuming you receive any money from a judgment or settlement).
 
If your car accident lawyer northeast Philadelphia is a good and reputable one, they will strive to work with whatever lienholder is attached to your case in the hopes that the lien holder will reduce some element of the lien. Whatever money they reduce will be one more dollar that you can keep in your bank account towards your recovery or other fees you might be dealing with from the accident.
Negotiate a Settlement That Is in Your Best Interest With the Defense Attorney And/Or Insurance Adjuster
Once your car accident lawyer has done their due diligence and collected all the evidence they have on hand, they will need to negotiate a settlement with the defense attorney or insurance adjuster. Whoever they are working with will have the power to determine how much money – if any – they can get for your claim from a settlement.
 
If they can't come to an agreed-upon amount that seems good on your behalf, they may then decide to take the whole situation to court to try and get you a better deal. So long as you can trust that your car accident lawyer is doing their best for you, you can trust that you're in good hands.
 
Keep in mind that your personal injury lawyer or car accident lawyer needs to be good at negotiation. Negotiation is a specific art or skill that your lawyer will need to be well-versed in to assure that the car accident case is settled in your favor. A random layperson you find on the street is not going to be the right person for your case, so make sure to do your research before you settle on a lawyer.
 
A good lawyer will be well-versed in how much the case is worth to try and get the best outcome for their client (you). Additionally, they will know many – if not all – of the ins and outs of how to conduct negotiations and even find financial awards to help you on your new journey.
 
Dealing with life in the aftermath of a car accident is already complicated enough without adding legal woes on top of it. That's why it might be in your best interest to work with a car accident lawyer so that you can focus on more important things, such as your recovery. So long as they can gather enough information to prove that you are not the at-fault party, they should be able to make a case for you.
 
It is in your best interest to try and work with a car accident lawyer if you believe you are going to end up accruing additional costs from any of the following elements:
 
Getting a new vehicle if your old one comes back as totaled.

Expenses for medical treatment necessary to treat your physical injuries, emotional injuries, and other suffering (such as an onset of PTSD or anxiety).

Cost to repair or replace any additional property that was damaged in the accident.

Money to cover any lost wages you be suffering from due to the time you spend recovering.

Any money that you might – in the future – lose because of permanent loss or changes in your ability to work. This is also sometimes called "reduced earning potential."

Any other emotional pain you might be suffering from that can't be solved through normal channels.

Consortium loss.

Any funerary costs you might have to handle if there are any lives lost in the accident or if they died from injuries that were gained in the accident.
Reputable Car Accident Lawyers in Philadelphia
No matter which car accident lawyer Philadelphia, PA you look into, know that you need to choose the one that is best for you and the one who will fight for you the strongest. Each law firm has its own strengths and weaknesses, so ensure that you choose the one that will work for your unique situation.
 
Philadelphia car accidents are nothing to joke about and getting into a car accident in Philadelphia can mean that you suffer for the rest of your life from a personal injury. This is why Philadelphia car accident attorneys are your best bet for trying to get your life back in order after an accident. Even if you only need extra money to fix your vehicle, you should reach out to one of the many Philadelphia personal injury attorneys listed above or even reach out to us at Morgan & Morgan.
How to Choose a Good Car Insurance Lawyer
When it comes to a situation where you've been in an automobile accident in Philadelphia, you may be extremely confused as to where to start when discussing finding a car accident lawyer Philadelphia.
 
However, no matter who you end up working with, there are some elements to keep in mind so that you don't end up getting scammed when it comes time to work with them. Do your research when it comes to finding information on auto accident lawyers—Check in with former clients who have worked with them and see what they liked or didn't like. Reputable Philadelphia car accident lawyers will be more than willing to give you information on former clients.
 
You should do external research as well to find out information from people that the law firm picks for you. Check their reviews and read up about stories involving the chosen law firm. From there, get in contact with the few who sound good and decide if they seem legitimate.
 
If any law firm asks for money, confirm once again that they're reputable, and then decide if it's a fee you're willing to pay. However, if money is an issue, you should look into other law firms – like us at Morgan & Morgan – because we don't charge money unless we win your case.
Morgan & Morgan Testimonials
Speaking of testimonials, here at Morgan & Morgan, we strive for extreme transparency when we offer aid to our customers. Some agencies may try to give you flack for trying to contact their previous customers – and if this happens to you, run the other way!
 
There are only a few reasons why a law firm won't want you to contact their previous customers, and all those reasons are bad.
 
But not us! At Morgan & Morgan, we want to help you, and we know that you have concerns. As such, we include information on our website about our past clients and how much they liked our services. We offer both written and video testimonials, so you can get a true sense for how our customers feel about our work.
 
Some recent gems include:
 
"After being involved in a motorcycle accident in May 2017, I retained Morgan & Morgan to handle my case. From the very start, I knew I was in good hands. Not only did they address every concern I had, but they went above and beyond negotiating bills for me and even got me more money than I anticipated. I cannot tell you how pleased I am with Desiree Martinez, the paralegal for my attorney, Jason Leonard. She did an excellent job, and I would highly recommend her and Mr. Leonard." – Cindy, 2021
 
"It has been an honor to work with your firm. I am exceptionally pleased with the people you have working with me. Vickie Harris has been here for me, addressing any questions and concerns that I have. If she doesn't know on hand, she lets me know and gets back to me with the answer in a timely manner. With this type of professionalism your firm exercises, I will recommend Morgan & Morgan without any reservation." – Ramona, 2021
 
"I would just like to say that regardless of my injuries and all that I am currently going through daily isn't pleasant...I can for certain say that Mr. Boen has been absolutely wonderful to me as far as listening to my concerns and thoughts and always asking if I needed anything. He made sure that he let me know that I could call him at any time for whatever I wanted to discuss regarding my case! He is a true Godsend, and I simply love his attitude and the attention he gives to clients." – Alicia, 2021
 
These are just three out of the thousands of people we have helped achieve justice. Join their ranks and do what needs to be done to put this car accident behind you.
 
And as for our success rate, it speaks for itself. So far, in 2022, we have managed to secure $76,000,000 worth of compensation for our customers. When we say we want to help, that isn't lip service. We want to catapult you into a situation where you and your loved ones will be able to live lives that don't revolve around debt, money, and bills.
How Our Automobile Accident Lawyers May Be Able To Help
Here at Morgan & Morgan, we are staffed with premier car accident lawyer Philadelphia, PA, all of whom want to work with you.
 
If you want to ensure that you and your loved ones receive the best legal care in the wake of your car accidents, we've been in business for several decades now, and we strive to handle all legal cases in favor of our clients.
 
If you are a motor vehicle accident victim, we can help you. As detailed above, we are here to help you retrieve any funds that might be owed to you in the wake of your accident. We will use the following methodology to ensure that, if you're not at fault, you will receive what is owed to you:
 
We will first collect any evidence related to the case. This includes reviewing the site of the accident, interviewing witnesses, photographing anything of worth, reviewing any available video surveillance, checking police reports, etc.

 As part of our evidence collection, we will also work with any medical professionals involved with the situation to determine the state and severity of your (or your loved ones) injuries so as to learn about what treatments and costs you will have to take on to become as healthy as possible in the wake of the accident.

 Discuss with associated insurance companies so that they don't trick or finagle the victim into accepting a much lower settlement than they deserve. A good lawyer, like one of the 800 we employ here at Morgan & Morgan, will go above and beyond to ensure that you don't get pressured into accepting less than what you're due. Because of our long years in service across numerous cases, we are aware of the types of tricks they will try to pull to get you to accept lower than what you're worth – and we won't let them do so! Your lawyer will act as a stand-in to determine if what you're being offered is fair or if they need to negotiate more.

 If your case ends up going to trial (which is what will happen if we aren't able to find a way to settle with the insurance companies), we are prepared to do so for you. Morgan & Morgan employees are considered some of the most aggressive employees – and this is an excellent trait to have on your side when it comes to winning your case in court. We will ensure you get whatever compensation you are owed if you work with us.

 Keep in mind that, when it comes to compensation, the total you'll receive at the end of the case will be determined by several elements, like how severe your injuries are, if you have lost work or will be forced to lose work in the aftermath of the accident, and other factors that have spun out from the at-fault driver's actions.

 Another thing that sets us apart from other lawyers in the field is that the only way we take money from you is if we are the victors of your case and you receive money on your behalf. We will not charge you in any other scenario. Yes, you read that right. You will not be charged any money unless we manage to settle your case satisfactorily with a settlement or in court. This way, you'll be able to receive high-quality legal care for free. We will fight to get your money and then give you a percentage of those earnings once you receive them.
At Morgan & Morgan, we want to help you recover from whatever hurts you've received in your car accident. We want to do everything in our power to help make things right for you and your loved ones. If you're in pain or if you're suffering as a result of a car accident, reach out to us and see if we can help to get you on the right track towards a more healthy life.
Conclusion
There are millions of things that you might have to deal with in the wake of a car accident, and trying to keep a handle on all of those things can drive any person mad.
 
Especially if you're also dealing with severe injuries for you or your loved ones, you might find that things start slipping your mind as you focus on more important things (such as health and wellness). However, after the immediacy of the car accident fades, you may find that you've become buried in loads of financial fees that you're not able to pay.
 
Don't let this be you! Reach out to a Philadelphia car accident lawyer and see if you can be helped. Also, don't wait too long so that you're caught out by the statute of limitations that might be connected to your case.
 
Act fast and act smart by reaching out to our lawyers at Morgan & Morgan.
Scroll down for more
Recent verdicts & settlements
How it works
It's easy to get started.
The Fee Is Free™. Only pay if we win.
Results may vary depending on your particular facts and legal circumstances.
Step 1

Submit
your claim

With a free case evaluation, submitting your case is easy with Morgan & Morgan.

Step 2

We take
action

Our dedicated team gets to work investigating your claim.

Step 3

We fight
for you

If we take on the case, our team fights to get you the results you deserve.
---
Client success
stories that inspire and drive change
Explore over 55,000 5-star reviews and 800 client testimonials to discover why people trust Morgan & Morgan.
Results may vary depending on your particular facts and legal circumstances.
FAQ
Get answers to commonly asked questions about our legal services and learn how we may assist you with your case.
Morgan & Morgan FAQs
Is It Worth Suing After a Car Accident?

If you're wondering if it's worth suing after a car accident, there – unfortunately – isn't an easy answer to that. It really depends on the circumstances. If you are 100% certain that you are not at fault in an accident, and if you have suffered from injuries, lost work, or even just a totaled car, it can be worth it to sue the at-fault individual after a car accident. So long as you work with a competent lawyer, you may find that you're able to receive thousands of dollars that can help you get back onto your feet.

When Should I Hire an Attorney After a Car Accident?

If you're wondering when you should hire an attorney after a car accident, the simplest answer is that the sooner you hire said attorney, the better. When it comes to hiring an attorney in Pennsylvania, especially after a car accident, the best way you're going to have the best chance of getting financial reparations for any injuries you've suffered from is to hire as quickly as possible. This is to prevent any of the evidence that might help you receive more money from decaying or going missing in the intervening time. The fresher the accident is, the more helpful information your lawyer will be able to discover.

How Long Will It Take To Settle My Legal Claim?

Unfortunately, there isn't an easy answer to the question of how long it might take to settle your legal claim. Because each case is different in many ways – the severity of the injury, the location of the accident, the vehicles involved, etc. – there isn't a way to have a hard-and-fast rule for how long your specific legal claim will take to settle.
 
This is one of the many reasons you should try to work with a reputable car accident lawyer in Philadelphia, PA, especially if you've suffered a personal injury. Your lawyer will be able to figure out the facts of the case, but keep in mind that even the best personal injury lawyer will take longer if the case is particularly complicated.
 
Additionally, in most motor vehicle accident cases, realize that the case cannot even begin until you've finished all your medical treatments (since those, including any payment you've accrued, will have to be settled as part of the lawyer's case against the defendant).

Will I Have to Go to Court to Resolve My Legal Claim?

Similar to the above question, there isn't a hard and fast rule for when or if you might have to go to court to resolve your legal claim. Each case is different, and it will largely depend on if your car accident lawyer in Philadelphia, PA, is able to find a way to settle with the defense attorney or insurance company outside of court. If they are not able to settle outside of court, it is likely that you will have to go to court to resolve your legal claim.

How Long After a Car Accident Can You Sue in PA?

When it comes to how long after a car accident you can sue in PA, there are a number of things to keep in mind. One of them is that, in PA, a car accident typically falls under the umbrella of "personal injury."
 
This means that, unless you have special and unique circumstances, your lawsuit must be filed in the state of Pennsylvania within two years of the accident. However, the "discovery rule" is a rule that will allow you to extend the time within which you can file your lawsuit. The discovery rule works so that the two-year time clock will only start once the plaintiff is informed that an injury occurred after the accident (and that someone else caused it).
 
There are also specific considerations that are given to minors who suffer from an injury and who decide to file a personal injury lawsuit in the state of Pennsylvania. In this specific case, so long as the injury has happened before the minor has turned 18, the two-year time clock won't start until the minor's 18th birthday.

How Do I Settle a Car Accident Claim Without a Lawyer?

There are many ways to settle a car accident claim without a lawyer independently, but you should realize what you will be taking on during you or your loved one's recovery. You will have to gather all the evidence yourself, as well as make your claim to whatever insurance company you'll be bucking up against. You won't know what makes them tick and all the little tricks they'll throw at you to make you accept less money. There are guides online that can help you determine the best way to use your time to try and settle a car accident claim without a lawyer, but know that if you make one wrong mistake, you might be accidentally stopping yourself from receiving thousands of dollars that can make your life much easier.

What Can I Use the Settlement Money On?

The goal of the money is to help you with any additional costs you've accrued from the accident. Whether that's dealing with a vehicle that has been totaled, money for any personal injuries you might have gained, long-term injuries that you have to handle on a going-forward basis, or even bereavement services if a loved one lost their life in the accident, these are all useful things to use your money on. Theoretically, you can use it on anything else in your life but dealing with these pressing issues first and foremost is likely best for you and your loved ones.
 
The only way you'll be able to get past what has happened to you in your motor vehicle accident is if you're able to go back to living a "normal" life, no matter how your new normal looks in the wake of the accident.
Scroll down for more
Load More