The Fee Is Free™. Only pay if we win.
America's Largest Injury Law Firm
Protecting Families Since 1988
$15 Billion+ Won
800+ Lawyers Nationwide
Free Case Evaluation
Tell us about your situation so we can get started fighting for you. We tailor each case to meet our clients' needs.
Results may vary depending on your particular facts and legal circumstances.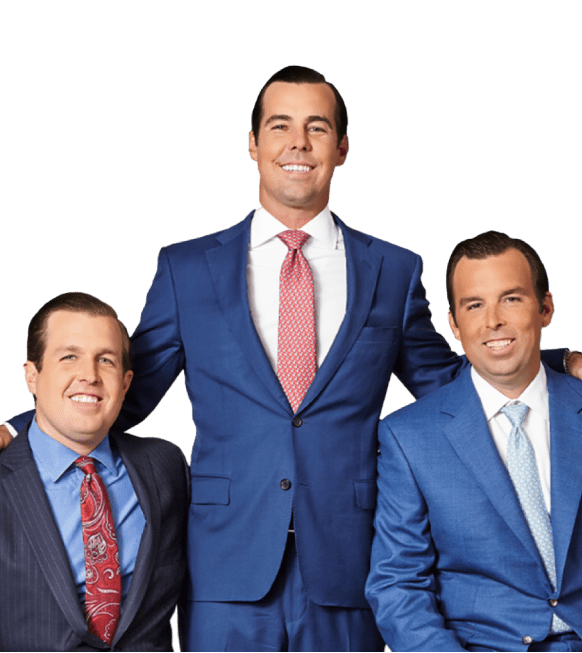 Car Wreck Lawyer in Philadelphia
Proud Sponsor of the Phillies.
Philadelphia recently was named the sixth-largest city in the U.S. and is considered one of the premier places to live due to its wide range of cultural, historical, and recreational sights. However, compared to other cities in the same league, it has some of the worst rates of traffic-related fatalities per year, surpassing even New York City and Los Angeles. 
In Philadelphia, there are six traffic-related deaths per 100,000 residents. Nearly one-quarter of the most dangerous road sections in the state of Pennsylvania originate in Philadelphia. Roosevelt Blvd. and the Delaware Expressway lead the pack. According to one study, Roosevelt Blvd. is considered the most dangerous road in the U.S. 
Traveling that roadway or others in the city significantly increased your loved one's chances of being involved with a death from a car wreck in Philadelphia: "What should I do?" may be at the top of your mind after suffering the devastating loss of a loved one from a fatal car wreck. We're here to help answer some of your questions.
What are the criminal consequences of fatal car accidents?
Car accidents happen all the time, somewhere in the world, a car accident is happening right now. However, most of these accidents are minor fender benders where no one gets injured. Conversely, there's a nightmare scenario where someone dies from a car wreck. In the U.S., about 35,000 people will die each year due to a car accident. 
Not all deaths from a car wreck lead to criminal charges, but if one of the drivers is found at fault for driving recklessly or negligently, they could be charged with vehicular manslaughter. The majority of traffic fatalities are labeled as involuntary vehicular manslaughter. And, depending on the circumstances, even those that are found to be driving under the influence may not be charged with homicide.
But suppose someone causes a traffic fatality because of gross negligence like driving 100 mph through a residential area. In that case, they could face harsher criminal consequences like being charged with vehicular homicide according to P.A. Penal Law.
What are the civil consequences of fatal car accidents?
Regardless of whether the person that caused the accident had any aggravating circumstances like drunk driving, they can still be held liable through a civil lawsuit for negligence. It's far easier to prove damages in a civil lawsuit than in criminal proceedings because the jury only has to decide fault through a preponderance of the evidence. In criminal proceedings, the plaintiff, which is usually the state, must prove guilt beyond a reasonable doubt.
One of the most famous cases that demonstrated the difference between criminal and civil legal proceedings was the O.J. Simpson case. While he beat the murder charge, he was still held liable in a civil lawsuit for the wrongful death of his wife and Ron Goldman.
What makes a fatal car accident a wrongful death?
Accidents that cause fatalities occur all the time. According to the Centers for Disease Control, unintentional injury holds the number 3 spot for leading cause of death in the U.S. Unintentional injury examples are falling off a building, electrocution, or a slip and fall in the bathroom ending in death. The most significant difference between accidents, like in the examples mentioned above, and wrongful death is the cause. The negligence of another causes wrongful death. Driver negligence must be proven in a wrongful death lawsuit for a vehicular fatality. Some examples of driver negligence are as follows:
Distracted driving - Distracted driving is anything that takes your eyes off the road, such as texting, making a phone call with a handheld phone, using a handheld navigation system, and eating while driving.
Driving under the influence of alcohol or drugs - It is illegal in all U.S. states to drive while under the influence.
Failing to yield - In a fault state, receiving a ticket for failure to yield means the wrongdoer's insurance must cover all the damages.
Speeding - Driving at higher speeds increases the chances of a driver losing control of their vehicle.
Running a stop sign or red light - It is illegal in all 50 states, and in the event of an accident, the driver is considered at fault. 
Driving without a valid license - Pennsylvania is very strict about driving without a license.
Driving at night without headlights - Driving without headlights makes the driver's car more difficult to see and causes an accident more likely to occur.
Bad weather - Drivers have to take weather conditions into account, so even if a person wasn't speeding and caused an accident, they could still be responsible for not slowing down in dangerous conditions.
Following too closely - If a driver is following the lead vehicle too closely and the person in the lead vehicle must slam on their brakes to avoid something in the road, the driver in the vehicle following too closely does not have time to adjust their speed resulting in an accident.
Road rage - Any driver found to have caused an accident because of road rage is, at the very least, negligent.
Going too fast around a corner - Every driver has a responsibility to take into account the conditions of the road as they drive. If a driver does not make adjustments to speed or control of the car around a corner and veers into oncoming traffic, that is negligent.
Neglecting maintenance - Drivers have a responsibility to maintain their cars. If a blowout caused an accident and they refused to put new tires on a recently serviced vehicle, and the danger was identified by staff at the mechanics, that driver could be considered negligent.
How do you deal with a fatal car accident?
Car accidents can be traumatic, especially when someone dies as a result of someone else's negligence. If your loved one spent any time at the hospital before succumbing to their injuries, it's important to retain as much evidence as possible, including all medical bills. You should also keep a record of all bills relating to the funeral and document any other financial loss that was related to the death of your loved one.
Call an experienced wrongful death attorney in Philadelphia to review the circumstances of the case to see if you have a claim. A wrongful death lawyer will analyze the evidence to see if any extenuating circumstances were in place that could not have prevented the death of your loved one. They will look at the other drivers driving habits, what parties were involved, and if there was any non-compliance to traffic laws in an effort to establish negligence. 
In Philadelphia, the deceased person's estate may file for a wrongful death action. It is the remaining family member's right to pursue this if the individual that died could have filed a personal injury lawsuit against the wrongdoer for their injuries and damages if they had lived. 
When reviewing your case, a wrongful death lawyer in Philadelphia will also explore the potential for other parties being held liable as well as the driver. Some examples of this are product defects. Say the accident was due to a tire blowout; your attorney might investigate if there were any issues with the tire that made it unreasonably dangerous. Another example would be if they recently had the car serviced and a mechanic failed to do the required work to make the car safe to drive.
 Restaurants and bars are prohibited from serving alcohol to an obviously intoxicated person. If a proprietor is found to have overserved the driver that was responsible for the death, they could be held liable in a civil action, too. One last example is the employer of the driver. If they were operating the vehicle in a commercial capacity and are found to have driven carelessly or recklessly, the employer could be liable.
While each case is unique and different, an expert Philadelphia wrongful death attorney should have the experience to dig deep to find all the facts that could strengthen your individual case.
What do insurance companies pay when a person dies in a car accident?
If you've experienced death from a car wreck in Philadelphia: "What should I do" is at the top of your list. Beyond the terrible grief, bills are piling up, and you are not sure how the insurance company will help. First, you have to ensure your rights are protected by consulting with a Philadelphia car accident lawyer. They will advise you on what to say to the insurance company, what questions to avoid when speaking to the insurance adjuster, and counsel you on your rights when speaking to law enforcement.
Furthermore, before accepting any settlement, a car accident attorney will be able to evaluate the payment to make sure your claim is not being undervalued. If you take a settlement, the insurance company will require you to waive your right to further compensation by signing a document. Be sure you understand the full value of your claim before doing this.
What if the person at fault for the accident is also deceased?
Even if the at-fault party also died from the car accident, their insurance is still responsible for claims. Filing this type of claim can be challenging, and it may not be limited to the insurance company. You may be able to file a claim against the deceased person's estate if the insurance settlement does not provide enough compensation. 
Why choose Morgan & Morgan for your Philadelphia wrongful death claim?
Our lawyers are compassionate and care about delivering financial relief to suffering families who've dealt with the tragedy of wrongful death. The compensation recovered from a wrongful death lawsuit can help to ease the burden of going on in life without your loved one's support. At Morgan & Morgan, we work on a contingency basis which means you don't have to worry about incurring any more debt until we solve your case successfully. Once your case is won, our fee is a percentage of the monies recovered.
We have a long track record of success, in fact, over 30-years! We've won billions for our clients, and the insurance companies know us for being fearless when it comes to taking them to court. In many instances, we've won twenty times as much as was offered pre-trial from jury verdicts. When the insurance company lowballs settlement offers, we get ready for trial! 
We have a firm belief that family comes first. That's why we're still family-owned despite being one of the largest law firms in the U.S. We fight hard for the little person every day. Contact us today for a free case evaluation if you're ready to stand up to the insurance company and get what you're entitled to for your loss.
Scroll down for more
Recent verdicts & settlements
How it works
It's easy to get started.
The Fee Is Free™. Only pay if we win.
Results may vary depending on your particular facts and legal circumstances.
Step 1

Submit
your claim

With a free case evaluation, submitting your case is easy with Morgan & Morgan.

Step 2

We take
action

Our dedicated team gets to work investigating your claim.

Step 3

We fight
for you

If we take on the case, our team fights to get you the results you deserve.
---
Client success
stories that inspire and drive change
Explore over 55,000 5-star reviews and 800 client testimonials to discover why people trust Morgan & Morgan.
Results may vary depending on your particular facts and legal circumstances.
FAQ
Get answers to commonly asked questions about our legal services and learn how we may assist you with your case.