Harrisburg Injury Lawyers
Rating Overview
Based on 1453 Reviews
The Fee Is Free™. Only pay if we win.
America's Largest Injury Law Firm
Protecting Families Since 1988
$15 Billion+ Won
800+ Lawyers Nationwide
Free Case Evaluation
Tell us about your situation so we can get started fighting for you. We tailor each case to meet our clients' needs.
Results may vary depending on your particular facts and legal circumstances.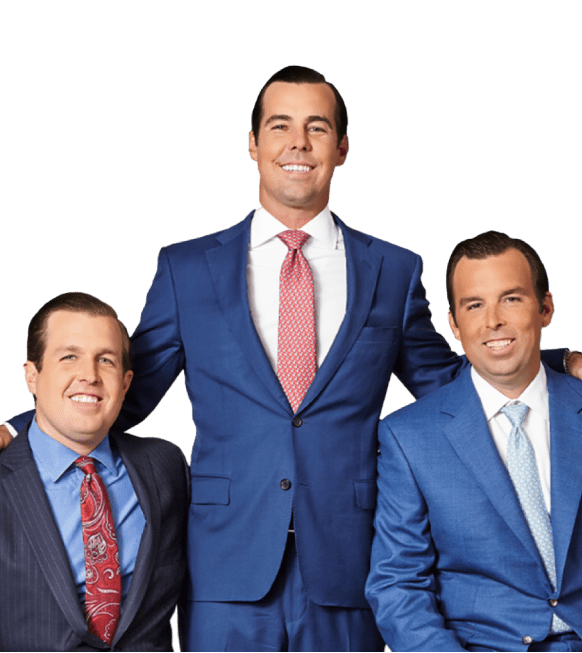 Harrisburg Injury Lawyers
Suffering an injury due to no fault of your own in Harrisburg is frustrating, upsetting, and can negatively affect all aspects of your life. You may be dealing with physical pain, emotional trauma, and financial stress. Feeling overwhelmed or scared and unsure of what to do next can be expected in this situation. However, you do not have to battle for justice and compensation alone. Let us help you regain control and confidence to move forward with your life.
Morgan & Morgan's Harrisburg injury lawyers want to help you receive the total value of your injury claim. We can be your advocates, protect your rights, and fight for the compensation and justice you deserve.
Contact us now for a free case evaluation to discover your next best steps.
When You Might Have a Personal Injury Case
Personal injury describes any harm you suffer due to another's actions, negligence, or intentional conduct. "Harm" can refer to physical and emotional injuries, such as:
Broken bones
Head injuries
Cuts and bruises
Trauma
Anxiety
Depression
For example, you may have a personal injury case if you suffered an injury in a car accident caused by someone else's reckless driving or slipped and fell on a wet floor in a Harrisburg store. However, to have a case, you will need to show that the other party:
Had a legal duty to act with reasonable care
They breached that duty
The breach caused your accident and injuries
You have damages, such as medical bills, lost wages, or others
If you can prove these four elements of a personal injury lawsuit, you may be entitled to compensation for your damages.
Examples of Common Injury Claims in Harrisburg
If you or a loved one recently suffered a personal injury, you may wonder whether you could pursue a legal case. Read on to discover the five most common types of personal injury lawsuits.
Car Accidents
Car collisions are some of the most common causes of injury lawsuits. Accidents often occur due to drivers' negligence or recklessness, such as:
Distracted driving
Speeding
Driving under the influence of drugs or alcohol
Running red lights or stop lights
Failing to obey traffic laws
To pursue compensation from the responsible party or their insurance company, you must provide evidence that the other driver was at fault, such as witness statements, police reports, and medical records. A Harrisburg injury lawyer at Morgan & Morgan can help you gather and present evidence in court and fight for the compensation you need and deserve.
Slips and Falls
Slip and fall accidents can happen anywhere, from grocery stores to workplaces. While not all falls qualify for a settlement, you could be entitled to compensation if you slipped and fell due to a property owner's carelessness. Property and business owners must ensure their premises are free of dangerous conditions. Hazards that can cause slips and falls include:
Wet floors
Loose rugs
Poorly maintained walkways
Cluttered areas
Broken and uneven flooring
To pursue a slip and fall lawsuit, you must show that the property owner was aware of the danger and failed to address it.
Medical Malpractice
According to Johns Hopkins Medicine, medical malpractice is now the country's third leading cause of death. When you visit a doctor, you are entitled to receive a certain standard of medical care. You could qualify for compensation if a healthcare provider injured you due to delivering substandard care. Examples of medical malpractice can include misdiagnosis, surgical errors, and medication errors.
Pursuing medical malpractice claims can be challenging, as you may have to stand up to a powerful health provider or hospital. Moreover, such cases often require testimony from several experts in the medical field. Morgan & Morgan's Harrisburg injury lawyers are here to help you navigate complex legal and medical issues.
Product Liability
Product liability lawsuits arise when defective products cause harm to consumers. Among many others, hazardous products can include:
Defective car parts
Dangerous children's toys
Contaminated food
Malfunctioning electrical appliances
Tainted medications
 Product liability lawsuits can be intimidating as you may be up against a global corporation and its team of lawyers. However, our experienced lawyers can level the playing field and help you recover damages.
Dog Bites and Attacks
Dog owners are responsible for ensuring that their pets do harm others. If a dog owner in Harrisburg fails to prevent their dog from biting and attacking someone else, they may be liable for any resulting injuries. If you or someone you love suffered injuries in a dog attack, speak to our Harrisburg injury lawyers. You could have legal recourse and recover compensation.
While we have discussed some of the most common injury lawsuits, many other instances may allow injured persons to recover compensation from the at-fault party, such as nursing home abuse, boating accidents, exposure to toxic chemicals, aviation accidents, and others.
Common Injuries in Personal Injury Claims
Some of the more common injuries in car accidents, slip and falls, and other accidents can include:
Whiplash: A neck injury that occurs when the head is suddenly jerked forward or backward, for example, during a car collision.
Broken Bones: Fractures of the arms, legs, and ribs can be common in personal injury incidents.
Traumatic Brain Injury (TBI): A TBI can result from a blow or jolt to the head during impact in a car accident or in a fall. Symptoms can include headaches, dizziness, confusion, and memory problems.
Back Injuries: Back injuries can range from minor strains to more severe injuries, such as herniated discs. Injuries to the back can be caused by falls, car accidents, or lifting heavy objects.
Burns: Burns can result from fires, explosions, or contact with hot objects or chemicals. Severe burns can cause permanent scarring and disfigurement.
Spinal Cord Injuries: Spinal cord injuries may cause partial or complete paralysis and can occur in car accidents, falls, or sports accidents.
No two personal injury claims are the same, and injuries can vary drastically in type and severity from one person to another.
Your Best Next Steps After Getting Injured in Harrisburg
If you get hurt, seeking medical attention right away is always your best course of action. Even if you do not feel your injury is serious, a medical professional should assess your condition to rule out underlying injuries. Seeking medical advice also documents your injuries, which provides valuable evidence in a personal injury lawsuit. After a medical evaluation, consider taking the following steps:
Document the Accident and Injury
Take photos of the scene and your injuries. Write down everything you remember about the incident, including the date, time, location, and any witnesses' names and contact information.
Report the Incident
Report the incident to the relevant person in charge. For example, if you are injured in a car accident, dial 911 to call the police. If you slip and fall in a store, report it to a store supervisor or manager and ask to fill in an incident report. If you get hurt at work, report it to your boss.
Contact a Harrisburg Injury Lawyer
Consider contacting a personal injury lawyer for help and legal advice. Morgan & Morgan's injury attorneys can help you understand your rights and options and represent you in a lawsuit.
Follow Your Treatment Plan
Always follow your doctor's orders for treatment and recovery. Doing so can help you recover faster and strengthen your case if you decide to pursue a claim.
These are just some general steps personal injury victims can take. However, every personal injury case is unique, so it can be vital to seek professional advice from our injury lawyers. The sooner you get one of our tenacious attorneys in your corner, the sooner you could receive damages, pay your bills, and move forward.
Scroll down for more
Recent verdicts & settlements
How it works
It's easy to get started.
The Fee Is Free™. Only pay if we win.
Results may vary depending on your particular facts and legal circumstances.
Step 1

Submit
your claim

With a free case evaluation, submitting your case is easy with Morgan & Morgan.

Step 2

We take
action

Our dedicated team gets to work investigating your claim.

Step 3

We fight
for you

If we take on the case, our team fights to get you the results you deserve.
---
Client success
stories that inspire and drive change
Explore over 55,000 5-star reviews and 800 client testimonials to discover why people trust Morgan & Morgan.
Results may vary depending on your particular facts and legal circumstances.
FAQ
Get answers to commonly asked questions about our legal services and learn how we may assist you with your case.
Morgan & Morgan
How Can a Harrisburg Injury Lawyer Help Me?

Morgan & Morgan is here for you if you are injured due to another's carelessness or deliberate actions. Our Harrisburg injury attorneys want to help you receive the settlement you need to recover from your accident physically, mentally, and financially. Ways in which our attorneys can progress your claim include:

Gather, organize, and present evidence to prove liability
Provide expert witnesses to strengthen your case
Liaise with medical providers to prove your injuries and damages
Negotiate with the insurance company
Fight vigorously for what you deserve at trial, if necessary

Morgan & Morgan doesn't want you to settle for less than you deserve. We never hesitate to go to court if insurance companies refuse to compensate our clients adequately.

Can I File an Injury Claim if I Was Partially Responsible for the Accident?

You could qualify for a personal injury claim even if you were partially responsible for the accident. Pennsylvania is a modified comparative negligence state, meaning you may recover damages if you are not more at fault for the accident than the other party.

However, your damages would be reduced by your degree of fault. For example, if you are 25% at fault for the accident and the other party is 75% at fault, you can recover only 75% of your damages.

Litigating a claim where the injured party is partially at fault for their accident can be tricky. The other party and their attorney may try to assign you a higher degree of fault to avoid paying a high settlement amount. Therefore, consider hiring a Harrisburg injury lawyer to protect your rights to adequate compensation. 

Is There a Time Limit for Personal Injury Lawsuits in Harrisburg?

According to the Pennsylvania Consolidated Statutes Title 42 section 5524, injured individuals generally have to file a personal injury lawsuit within two years. However, several factors could shorten the time available for filing a personal injury lawsuit. Protect your rights by seeking legal advice and protection as soon as possible after getting hurt in Harrisburg.

Which Damages Could I Recover?

If you win your injury claim or lawsuit, you could recover economic and non-economic damages, depending on the circumstances of your case. Here is a breakdown of the damages you could receive:

Economic Damages

Economic damages are losses that can be quantified in monetary terms. They should reimburse you for any financial losses you have incurred as a result of your injury, such as:

Lost pay
Medical expenses
Property damage
Out-of-pocket costs

However, the economic damages you can recover will depend on the circumstances of your case, including the severity of your injuries and the amount of insurance coverage available.

Non-Economic Damages

Non-economic damages are losses that cannot be easily quantified in monetary terms.
They should compensate you for pain and suffering and other such losses. Examples of non-economic damages include:

Chronic pain
Disfigurement
Trauma
Anxiety
Loss of life quality

Non-economic damages can be tricky to calculate, as they do not have a specific dollar value. What you can recover will depend on the impact of your injuries on your well-being, home life, career, and other aspects of your life.

Punitive Damages

In some rare cases, personal injury victims may recover punitive damages. Punitive damages punish the person or entity causing your injuries for particularly egregious or malicious conduct. Examples of behavior that may warrant punitive damages include drunk driving or causing intentional harm.

Morgan & Morgan Wants You to Win

At Morgan & Morgan, we know that putting a price on your pain is impossible. However, when we take your case, our team members take the time to understand your specific situation and fully assess the impact of your injury on all aspects of your life. This allows us to fight for the compensation you truly deserve and need to rebuild your life and avert financial instability.

Our Harrisburg injury lawyers fight tooth and nail for the injured, helping them receive maximum compensation in the fastest possible time. The fee is free until we win, and hiring us is a breeze. Get started today and find out for free how we could help you get your life back on track.
Scroll down for more
Load More