The Fee Is Free™. Only pay if we win.
America's Largest Injury Law Firm
Protecting Families Since 1988
$15 Billion+ Won
800+ Lawyers Nationwide
Free Case Evaluation
Tell us about your situation so we can get started fighting for you. We tailor each case to meet our clients' needs.
Results may vary depending on your particular facts and legal circumstances.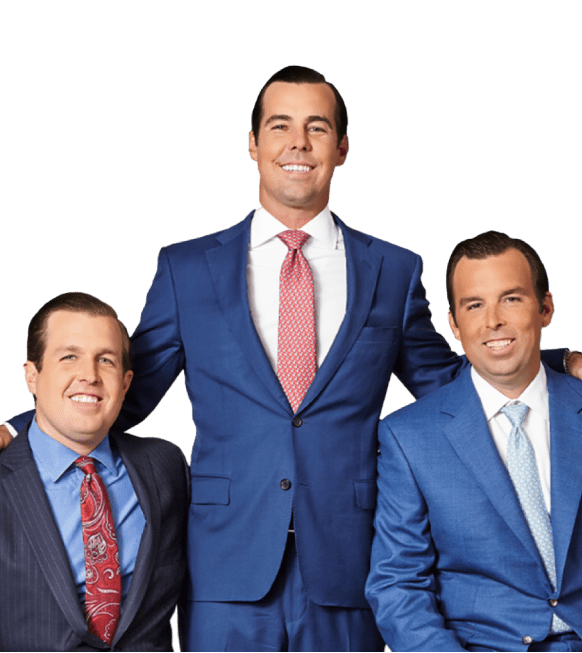 How Difficult Is Filing a Case Against Your Landlord in New York City?
Proud sponsor of the New York Yankees.
Tenants in New York City have numerous rights, including living in safe, sanitary, well-maintained rental accommodation free from hazardous conditions and pests. Tenants are further protected from discrimination and harassment, such as illegal eviction. Unfortunately, not all landlords honor their legal responsibilities, and some put profits before the well-being of their tenants.  
However, you do not have to accept substandard housing, discrimination, or getting hurt due to a lack of maintenance. If your landlord violated your rights and state or federal laws, you could have legal recourse and potentially recover compensation. Morgan & Morgan has your back. Our tenant attorneys can help you hold a landlord to account and receive damages. Get in touch with us now to determine your options in a free case evaluation.
Potential Benefits of Suing Your Landlord in New York City
While filing a lawsuit against a landlord is not a walk in the park, tenants could enjoy some potential advantages, such as: 
Settling Out-of-Court
When you hire a lawyer and file a lawsuit against your landlord, you signal that you are serious about asserting your legal rights and pursuing compensation for your damages. Getting a demand letter or summons in the mail could motivate your landlord to settle to avoid going to court and fighting a potentially expensive and lengthy lawsuit. 
Receive What You Are Owed
If your landlord withheld your security deposit for no reason, or you incurred astronomical medical costs due to an avoidable injury, you might be owed substantial amounts. If you decide to sue your landlord and win, you will receive what you are owed and possibly over and above that amount. In some states, landlords have to pay additional penalties for withholding your security deposit. You could also receive damages if your apartment was uninhabitable for some time, such as pain and suffering.
Avert an Eviction
If your landlord is unlawfully trying to evict and harass you, for example, by changing locks or removing your belongings, you could sue them. If you win the case, you can remain in your rental apartment or house. 
Filing a lawsuit against your landlord is not risk-free, however. Legal expenses, such as court filing fees, can work out to be expensive. Moreover, there is no guarantee that you will win the lawsuit. However, a professional and experienced lawyer by your side can reduce the risks of litigation and guide you through the legal system. 
Do You Have a Good Reason for Suing Your NYC Landlord?
The courts cannot solve all problems between landlords and renters. Being unhappy with your landlord, the decorative order of the property, or the rent—none of these qualify for a lawsuit. However, tenants can have legitimate reasons for filing a legal claim against their landlord in New York City, including: 
A Landlord Fails to Make Necessary Repairs
You have the right to safe, livable, and clean housing. Your rental apartment or house must meet basic requirements to be considered safe and livable, such as safe electrical wiring, working plumbing, heating, and hot water. In New York City, you can file a so-called "Housing Part" or "HP" case in the Housing Court. With an HP claim, you could force your landlord to make the necessary repairs to your rental property and provide basic services such as hot water and heating. Mold or a pest infestation could also qualify for legal action.
Harassment
In NYC, tenants can initiate a claim of harassment in the Housing Court. A case of harassment can arise when a landlord tries to evict tenants illegally. Unlawful actions by landlords can include:
Using physical force or verbal threats
Turning off essential services such as electricity and water
Filing baseless court actions
Removing tenants' possessions
Tampering with or removing locks
Any other repeated behaviors that significantly interfere with a lawful tenant's peace and quiet could also qualify as harassment. Tenants can seek a court order to stop getting harassed by their landlord. 
Negligence
If you suffered an injury due to a landlord's negligence, you could sue them under premises liability law. Common types of premises liability cases in New York City include:
Slips and Falls
If you tripped and fell due to a dangerous condition in your apartment building, you could be entitled to compensation for your medical bills and other costs you incurred as a result of your fall. Hazardous conditions can include, among others:
Faulty wiring
Broken flooring
Missing handrails
Uneven steps
Cluttered and obstructed walkways
Generally, the dangerous condition must be outside your apartment to have a case, although there are exceptions. For example, if your landlord's poor repair job inside your apartment led to your injury, you could also have a case. In a premises liability claim, you will have to prove that your landlord knew or should have known about the dangerous condition and did nothing to repair or warn of the issue. 
An attorney from Morgan & Morgan can determine whether you have a claim and help you file a case against your landlord in NYC.
Discrimination
Discrimination in housing is illegal in NYC based on federal and state laws. Therefore, if you are the victim of discrimination in housing, you could have a case against your landlord. Discrimination can occur due to: 
Age (actual or perceived)
Citizenship
Color
Race
Religion
Disability
Family status
Gender (including gender expression and gender identity)
Disabled New Yorkers have further protections and rights. For example, a landlord must provide reasonable accommodations to provide equal access to housing. You could also be entitled to keep a service animal in your rental property, such as a guide dog or emotional support animal. 
Discrimination cases can be complex. In the first instance, you should file a complaint with the Law Enforcement Bureau of the NYC Commission on Human Rights within one year of the alleged discrimination incident. You could also file a lawsuit against your landlord. 
If you want to file a case against your landlord in NYC, consider speaking to one of our experienced attorneys about your specific case. Let us walk you through your legal options and determine your next best steps. 
Is Suing a New York City Landlord Difficult?
How difficult pursuing a claim against your landlord in NYC will be can depend on your type of case. For example, you should consider professional legal representation if you have to take a landlord to court because you got injured due to their negligence. As a general rule, cases with high damages such as medical bills, wage loss, and pain and suffering can be more challenging and contested than a simple dispute about a security deposit, which could be resolved in a small claims court.
New York City landlord and tenant legal issues can be complex and involve various state and federal laws. Moreover, the administrative procedures, statutes of limitations, filing requirements, and other regulations can be confusing to navigate without a dedicated attorney experienced in landlord and tenant law.
Depending on your type of case, you may have to file a complaint with a local agency before you can sue your landlord. Strict time limits may apply. Therefore, if you intend on filing a legal dispute with a landlord, consider consulting with a lawyer and take advantage of a free consultation to determine your options. An attorney from Morgan & Morgan can explain your legal rights and determine the best course of action to get what you deserve.
 
Scroll down for more
Recent verdicts & settlements
Results may vary depending on your particular facts and legal circumstances.
How it works
It's easy to get started.
The Fee Is Free™. Only pay if we win.
Results may vary depending on your particular facts and legal circumstances.
Step 1

Submit
your claim

With a free case evaluation, submitting your case is easy with Morgan & Morgan.

Step 2

We take
action

Our dedicated team gets to work investigating your claim.

Step 3

We fight
for you

If we take on the case, our team fights to get you the results you deserve.
---
Client success
stories that inspire and drive change
Explore over 55,000 5-star reviews and 800 client testimonials to discover why people trust Morgan & Morgan.
Results may vary depending on your particular facts and legal circumstances.
FAQ
Get answers to commonly asked questions about our legal services and learn how we may assist you with your case.
Morgan & Morgan
Can I File a Lawsuit for an Unreturned Security Deposit?

Generally, NYC landlords must return security deposits within 14 days of the tenancy ending. You could have legal grounds to file a lawsuit for an unreturned deposit if your landlord:

Failed to return your deposit
Was unable to explain any security deposit deductions 
Used your deposit wrongfully to cover normal wear and tear
Made excessive deductions
Charged a cleaning fee against the deposit after you already paid a cleaning fee

However, to have a good chance of getting your security deposit, you will need relevant evidence, such as written correspondence with your landlord, witnesses who can testify regarding the apartment's condition, and other materials. Without evidence, proving that the landlord retained your deposit illegally can be tricky.

Can My Landlord Turn Off My Utilities Because I Filed a Complaint?

A landlord in NYC must not retaliate against a tenant. Moreover, by law, landlords are required to provide a safe and livable environment. Therefore, a landlord is not entitled to cut your utilities unless they have a court order allowing them to do so. Electric, heat, and hot water are basic needs; if your landlord fails to provide them, they are not fulfilling their duty and breaking the law.
 

Can I Withhold Rent if My Landlord Refuses to Make Repairs?

You may withhold rent from a landlord if they fail to provide you with a livable and safe environment. However, this does not mean that you can stop paying rent because you do not like the color of the walls or the carpet. The landlord is responsible for ensuring the fabric of the building is intact. They must also ensure that all major utility services, such as plumbing, electricity, and heating systems, are safe and in good working order. 

You should only resort to withholding rent in severe cases. However, if you have made the landlord aware of a problem and they fail to respond to your requests or refuse to undertake the repairs, you could handle the issue and deduct the money you spent from the rent. This is called "repair and deduct" and is legal per New York City state law. However, before repairing and deducting, ensure that you have given your landlord time to fix the issue.

Are Tenant Lawyers Expensive?

Tenant lawyers frequently bill by the hour, which can work out expensive as lawyers can charge hundreds of dollars per hour. Since it can be difficult to determine exactly how much time a lawyer will need to resolve your case, the costs can be astronomical and negate any gains from a lawsuit. Some lawyers charge flat fees, which can be more predictable than hourly fees. 

Morgan & Morgan believes that getting justice should not be dependent on your financial situation. Therefore, we never charge clients a dime upfront. We only get paid when you win and receive a settlement. First consultations are always free, so you can make informed decisions about your next best steps. 
 

How Can Morgan & Morgan Help Me File a Case Against My Landlord in NYC?  

If you have a dispute with a landlord, it can be critical to protect your legal rights and determine your obligations. Our attorneys are experienced in dealing with tenant law and can evaluate your case comprehensively. We will assess your situation and take the time to explain your options. If you decide to move forward with a lawsuit, we can:

Guide you through the legal process
Review, complete, and file the necessary paperwork
Gather evidence to strengthen your position against a landlord
Interview witnesses such as other tenants
Negotiate with insurers and the landlord's attorney
Fight for your rights and compensation at a trial, if necessary

Morgan & Morgan wants you to have the best chance of winning. Our attorneys can defend your rights and fight for the best possible outcome in your case.  

We Hold NYC Landlords Accountable

Morgan & Morgan fights for the people and not the powerful. If you got hurt due to a negligent landlord or faced unlawful discrimination, you are not powerless. Tenants in NYC have various rights and are entitled to be treated fairly and live in a properly maintained property. 

Our committed attorneys could hold your landlord accountable and help you get what you deserve. We are on standby and ready to evaluate your case and options. Contact us now for a free, no-obligation consultation.
Scroll down for more
Load More