The Fee Is Free™. Only pay if we win.
America's Largest Injury Law Firm
Protecting Families Since 1988
$15 Billion+ Won
800+ Lawyers Nationwide
Free Case Evaluation
Tell us about your situation so we can get started fighting for you. We tailor each case to meet our clients' needs.
Results may vary depending on your particular facts and legal circumstances.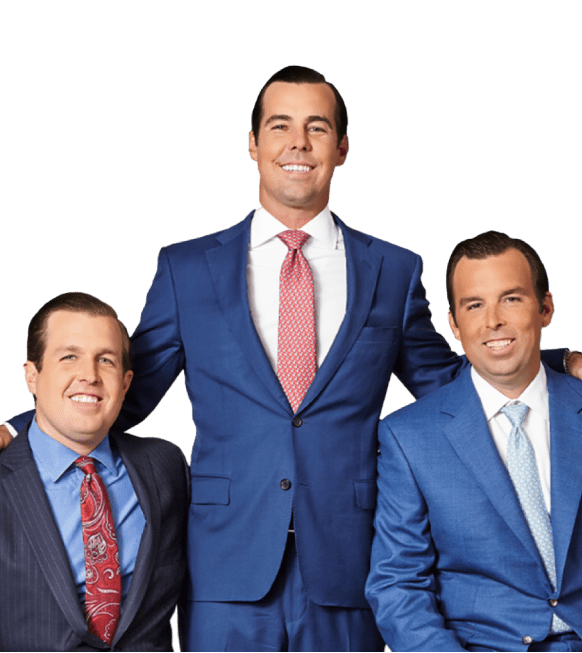 Wrongful Termination Attorneys in Philadelphia
Proud Sponsor of the Phillies.
Wrongful termination can derail your career and your life. However, if you were illegally fired, you could hold your employer accountable and receive compensation such as back pay, front pay, emotional distress, and other damages. You could also have your job reinstated. 
Proving wrongful termination can be challenging. However, you do not have to struggle with a claim on your own. Morgan & Morgan has your back. Our motivated and experienced wrongful termination attorneys in Philadelphia can help you fight back. Contact us now for a free case review to determine your options. 
What Qualifies as Wrongful Termination?
Wrongful termination occurs when an employer fires a worker illegally. While there can be many legal reasons for employment termination, in some cases, an employee could have a legal case against their employer. 
Examples of Wrongful Terminations
Sexual Harassment 
Sexual harassment is illegal. Affected employees could have legal recourse under Title VII of the Civil Rights Act of 1964. Sexual harassment at work can include: 
Repeated sexual comments, jokes, and innuendoes
Unwelcome sexual advances
Unwanted kissing or touching 
Physical sexual assault
Taking or distributing photos of a sexual nature
Requests for sexual favors
Sending sexually explicit emails or texts
If you quit due to sexual harassment or you were fired as retaliation for officially complaining about harassment, you could file a wrongful termination lawsuit. Damages you could seek include reimbursement of your financial losses and awards for emotional distress. 
Hostile Work Environment
According to a study by the Rand Corporation, nearly one in five employees face threatening or toxic work environments. For some, the constant hostility is too much to bear, and they voluntarily resign from their job. However, you could file a wrongful termination lawsuit even if you quit due to a toxic environment such as bullying, sexual harassment, or verbal abuse at work.
Discrimination
According to the US Equal Employment Opportunity Commission (EEOC), unlawful discrimination can be based on a person's race, color, national origin, sex, disability, and other attributes. However, most employers know that overt discrimination is illegal and may conceal their true motive for a dismissal. An attorney could help you prove wrongful termination due to discrimination.
Retaliation
Retaliation is the most common charge filed with the EEOC, followed by disability, race, sex, and age discrimination. If you reported discrimination, harassment, or another violation of workplace regulations and were terminated, you could have a case. Some employees are also fired for "whistleblowing," such as informing the authorities of an employers' fraudulent activities, violations of wage and hour laws, or unsafe work environments. 
Workers' Comp Claim Retaliation
If you were injured on the job or developed a work-related condition and got fired after filing a workers' compensation claim, you could be entitled to damages. Likewise, if you testified in another employee's workers' compensation claim, an employer is prohibited from firing you. 
Wage and Hour Violations
If you asked your employer for wages owed, such as overtime pay, commissions, or tips, and they fired you, you could file a lawsuit and receive compensation. Other standard wage and hour violations include:
Failing to pay minimum wage
Refusing rest or meal breaks
Misclassifying employees
Violations Of the Family And Medical Leave Act (FMLA)
The federal Family and Medical Leave Act protects employees in some family emergencies. Such instances can include:
Employee illness
Having to care for a severely ill family member
Caring for a newborn child 
Caring for an adoptive or foster child 
Employees generally have the right to be free from retaliation and return to their job after taking family or medical leave. You might have a wrongful termination lawsuit if you were fired for taking leave protected under the FMLA.
Finding a Wrongful Termination Attorney in Philadelphia
If you got fired illegally, finding an experienced wrongful termination attorney as soon as possible can be instrumental in getting what you deserve. Your first step should be asking friends and family for attorney referrals. Next, you can search for employment attorneys in Philadelphia by:
If you want to get America's largest personal injury firm on your side, contact us today to find out if we can help you with your wrongful termination claim.
What to Look for in a Great Labor Lawyer
An employer's motives for firing an employee can be complex. However, an excellent wrongful termination attorney knows how to find evidence proving a wrongful termination. They understand how Pennsylvania and federal employment law relates to your case. Most importantly, the ideal attorney will have extensive experience with wrongful termination claims and litigated cases such as yours successfully.
When you meet your potential lawyer in person, make sure to ask questions about their experience and track record. If they are proud of their achievements, they will be happy to talk about past cases and provide you with references and testimonials from previous clients. 
Scroll down for more
Recent verdicts & settlements
Results may vary depending on your particular facts and legal circumstances.
How it works
It's easy to get started.
The Fee Is Free™. Only pay if we win.
Results may vary depending on your particular facts and legal circumstances.
Step 1

Submit
your claim

With a free case evaluation, submitting your case is easy with Morgan & Morgan.

Step 2

We take
action

Our dedicated team gets to work investigating your claim.

Step 3

We fight
for you

If we take on the case, our team fights to get you the results you deserve.
---
Client success
stories that inspire and drive change
Explore over 55,000 5-star reviews and 800 client testimonials to discover why people trust Morgan & Morgan.
Results may vary depending on your particular facts and legal circumstances.
FAQ
Get answers to commonly asked questions about our legal services and learn how we may assist you with your case.
Morgan & Morgan
How Do I Know Whether I Have a Wrongful Termination Claim?

If you are not sure whether your employer fired you illegally, consider the following questions:

Was I fired due to discrimination (age, sex, race, etc.)?
Was I forced to resign due to an unbearably hostile work environment?  
Was I terminated for filing a workers' comp claim or assisting in another employee's claim? 
Did I get terminated for taking family leave? 
Was I fired due to asking for overtime pay, tips, commission, or other wages owed to me? 

If you can answer yes to any of these questions, you could have a wrongful termination case and receive compensation. 

It is important to note that an employer can fire you for many reasons, such as underperforming or violating company regulations. Moreover, in at-will states, you could get terminated for no reason at all, making it potentially difficult to prove wrongful termination. If you think you have been illegally fired, contact our wrongful termination attorneys in Philadelphia for help. We can determine whether you have a case against an employer and move forward with legal action. 

What Should I Do After Getting Wrongfully Terminated?  

Unfair dismissal from your job can be extremely upsetting. However, try to stay calm even if your emotions are running high. Expressing your anger, arguing with your boss, or sending a furious email can make things worse and be held against you when you later try to recover what you deserve. Other steps to take can include:

Seek an Explanation for the Termination

Understanding why you were fired is critical for your claim. However, few employers will give you the real reason, especially if they wrongfully fired you. An employer may make up a reason or give you a face value explanation but instead fire you due to discrimination, retaliation, or harassment. If this is the case, an attorney can examine the real motive behind your dismissal. You could have a claim against an employer and qualify for damages. 

Collect Evidence for Your Wrongful Termination Case

To have a case against an employer and receive damages, you must present evidence for wrongful termination. Evidence can include:

Emails 
Voicemail messages
Text messages
Photos
Eyewitness statements
Pay stubs
Employment contract
Company policies and regulations

Since memory fades over time, consider writing down what led to the wrongful termination, such as sexual harassment or a toxic work environment. Note down names, dates, times, and witnesses of any relevant incidents. 

File an Official Complaint

If you were fired due to discrimination, harassment, or retaliation, you could file a charge with the Equal Employment Opportunity Commission (EEOC). The EEOC is generally responsible for administering federal laws dealing with the violation of workplace rights. 

Contact a Wrongful Termination Attorney 

An experienced employment lawyer can explain your rights and determine whether you have a legal case against an employer. They can also negotiate with your employer for a fair settlement out of court, allowing you to move on with your life. If your employer is unwilling to settle, a wrongful termination attorney can help you file a lawsuit and pursue compensation. 

Which Damages Could I Receive With a Wrongful Termination?

You could qualify for economic and non-economic damages if you win your wrongful termination case. Economic damages are monetary losses such as:

Back pay
Front pay
Loss of commissions, tips, and bonuses
Loss of benefits such as health and dental insurance
Pension entitlements
Attorney's fees and legal expenses

Your employer could also be ordered to reinstate you in your former position.

Non-economic damages relate to your emotional suffering due to the wrongful dismissal. Calculating non-economic damages accurately can be tricky. However, our attorneys know what your case is worth and can accurately determine your economic and non-economic damages. 

In some cases, wrongfully terminated individuals could receive punitive damages. Punitive damages are generally only awarded by a court in particularly egregious or malicious wrongful dismissal cases.

How Can Morgan & Morgan Help With My Wrongful Termination Case?

If you were wrongfully terminated, you need a powerful and determined advocate by your side, fighting for what you deserve. Employers tend to have the experience and resources to fight such claims. Our attorneys can level the playing field and fight for the best possible outcome in your case. Ways in which we can help you get justice include:

Protect your legal rights and determine the best course of action
Advise you if you received a disappointing response from the EEOC
Collect evidence supporting your wrongful firing claim
Filing a lawsuit for wrongful dismissal
Determining your financial damages
Fighting for the settlement you deserve
Presenting your case strongly a trial 
Working for you on a no-win-no-fee basis

If your boss unfairly fired you, you are not alone. Morgan & Morgan's lawyers have helped clients like you fight for what they deserve after being dismissed for an illegal reason. Our experienced attorneys in Philadelphia are here to help if you are the victim of wrongful termination.

How Much Time Do I Have to File a Wrongful Termination Claim in Philadelphia?

In Pennsylvania, individuals can generally file a wrongful termination lawsuit up to two years after they got fired. However, the deadline for filing a suit can vary depending on the type of claim. For example, if you are filing a case for breach of contract, you have four years to file a lawsuit in the state. If you were wrongful termination due to discrimination, on the other hand, the time limit for getting justice can be prohibitively short. Before being able to sue their employer for discrimination, individuals usually have to file a charge with the EEOC within 180 days. 

Therefore, it can be in your best interests to consult with an experienced wrongful termination lawyer as soon as possible. If you miss the EEOC deadline or the deadline set by Pennsylvania's statute of limitations, you could be prohibited from filing a claim and recovering compensation.

Morgan & Morgan Fights for Illegally Fired Workers

Wrongful termination can leave you and your family in financial chaos due to no fault of your own. Unfortunately, many victims think that they are powerless and have no chance against a powerful employer or corporation. This is not necessarily the case. There are several federal and state laws protecting employees from unlawful termination, and our wrongful termination attorneys in Philadelphia are eager to hold unscrupulous employers to account. 

We can assess the full financial and emotional impact of the circumstances leading up to the wrongful termination and fight for maximum recovery so you can go on with your life. There are no financial risks for you as working with Morgan & Morgan is free until we win the case. We never charge clients upfront, and there are no hidden fees. Get started now and schedule a free case review to determine if you qualify for compensation.
Scroll down for more
Load More