The Fee Is Free™. Only pay if we win.
America's Largest Injury Law Firm
Protecting Families Since 1988
$15 Billion+ Won
800+ Lawyers Nationwide
Free Case Evaluation
Tell us about your situation so we can get started fighting for you. We tailor each case to meet our clients' needs.
Results may vary depending on your particular facts and legal circumstances.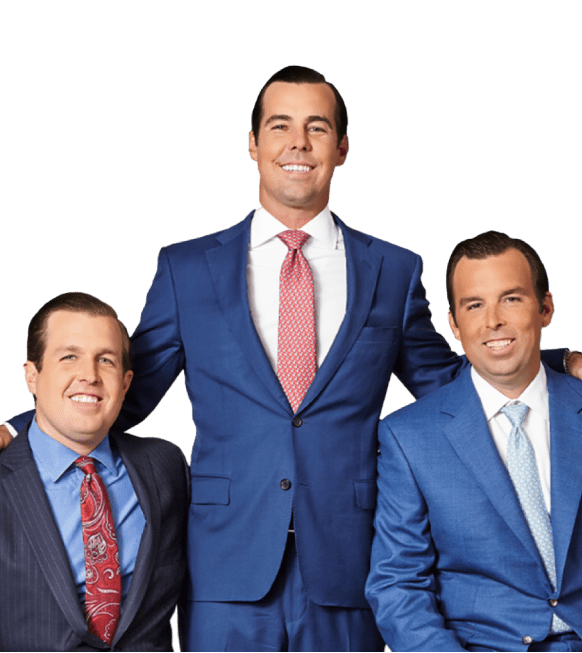 Charleston, SC Medical Malpractice Lawyers
When we seek medical care for any reason, we trust that we are going to be in the hands of competent and attentive medical providers. Medical practitioners are supposed to save lives, help the sick, and improve the general health of their patients. Unfortunately, there are those that fall short of their professional duties and cause harm rather than good.
According to the Diederich Healthcare Medical Malpractice Payout Analysis, $3,134,990,950 was paid out in medical malpractice claims in 2022. Such a staggering figure suggests there are many instances of medical malpractice, and the losses sustained by individuals deserve to be compensated. 
An epidemic of patient harm is going on, and Morgan and Morgan medical malpractice lawyers in Charleston are on a mission to set it right. Suppose you believe a health provider harmed you or a loved one. In that case, we can work to negotiate a settlement on your behalf or represent you in a courtroom if that's what it takes to get the justice and compensation you deserve. Medical negligence claims are complicated, and you have deadlines for filing a claim. The sooner you get into contact with us, the better your chances are for success.
Medical Malpractice Claims in Charleston, South Carolina
When a medical professional acts in a manner that does not meet the legal standard of care and, as a result, a patient is injured, this is medical malpractice. Furthermore, medical professionals can be guilty of medical malpractice if they fail to act in accordance with the legal standard of care. The standard of care is measured by how a medical provider with similar qualifications would have acted under the same circumstances. 
Doctors, nurses, physicians' assistants, dentists, pharmacists, and others in the medical field can be at fault for medical malpractice if they cause harm to patients. Even hospitals, practices, nursing homes, and clinics can be at fault.  
To recover compensation for a medical malpractice claim, the injured patient and their legal team must prove that:
A doctor-patient relationship was established - To file a medical malpractice lawsuit, you first need to establish a doctor-patient relationship existed. This is usually pretty easy since you'll have medical bills and records. Even being admitted to an emergency room can establish this relationship. However, if you are choking in a restaurant, and a doctor intervenes to help you and injures you, these circumstances would not warrant a medical malpractice claim.
Negligence - Like most personal injury lawsuits, there must be an element of negligence. The medical professional had to violate the standard of care that is legally required in the medical field. 
Causation - Negligence isn't the only element of a medical malpractice lawsuit. The negligence must be directly linked to the cause of your injuries. 
Losses - Losses or damages have to be present for a successful claim. Damages refer to the sum of money the legal system can impose when there is a breach in the standard of care. If there are no losses, then a medical malpractice lawsuit cannot move forward. 
Scroll down for more
Recent verdicts & settlements
Results may vary depending on your particular facts and legal circumstances.
Scroll down for more
Results may vary depending on your particular facts and legal circumstances.
How it works
It's easy to get started.
The Fee Is Free™. Only pay if we win.
Results may vary depending on your particular facts and legal circumstances.
Step 1

Submit
your claim

With a free case evaluation, submitting your case is easy with Morgan & Morgan.

Step 2

We take
action

Our dedicated team gets to work investigating your claim.

Step 3

We fight
for you

If we take on the case, our team fights to get you the results you deserve.
---
Client success
stories that inspire and drive change
Explore over 122,576 5-star reviews and 800 client testimonials to discover why people trust Morgan & Morgan.
Results may vary depending on your particular facts and legal circumstances. Based on Select nationwide reviews
FAQ
Get answers to commonly asked questions about our legal services and learn how we may assist you with your case.
Morgan & Morgan
What Evidence Do You Need for a Successful Medical Malpractice Claim?

There are many different forms of evidence that can be helpful for a successful medical malpractice claim. These can include things like medical bills for corrective procedures to address the injuries and paycheck stubs to prove the amount of income you've lost while being unable to work due to your condition. Medical evidence can include prescription records, lab reports, treatment plans, doctors' and nurses' notes, and more. 

You have a right to access your medical records and grant authority to your attorney to gain access. You should not be charged for these records or be denied access because of nonpayment. However, you may have to pay a small amount for the cost of copies and postage. You may have to access your records through several providers such as physicians, labs, and specialists.

Often, a medical malpractice claim will require the testimony of physicians who can speak to your injuries and relay to a jury why the medical professional who injured you failed to live up to the required standard of care. This type of witness is known as an expert witness. Fortunately, because of Morgan and Morgan's extensive experience with medical malpractice claims, we have a network of expert medical witnesses who can lend their authority to our client's cases. In South Carolina, you are not required to file an affidavit or certificate of merit as you do in many other states to file a medical malpractice complaint. Instead, expert witness testimony is presented in the case of a trial proceeding. 

Your own testimony can be helpful if you can describe your injuries and how the harm has impacted your ability to enjoy your life and any pain and suffering you've endured. Testimony from friends and family can also be beneficial if they can describe how your injuries have affected you.

What Parties May Be Immune From Medical Malpractice Claims in South Carolina?

Many states have laws that can impact your ability to sue individuals who get paid by the State and its municipalities. This is known as sovereign immunity. However, the South Carolina Torts Claims Act has in part waived this immunity if a state-employed physician or dentist caused your injury. Still, liability is limited to $250,000 for any claim. 

How Do You Settle a Charleston Medical Malpractice Claim?

The majority of Charleston, South Carolina medical malpractice claims will be settled out of court because South Carolina law requires parties in a medical malpractice dispute to go through mediation before going to trial. There are a few forms of alternative dispute resolutions, such as binding arbitration and nonbinding arbitration. At any point, a settlement can be agreed upon, and usually, this is when it happens. Our medical malpractice lawyers will be straightforward and tell you if you are getting a fair settlement. However, suppose we feel the other party's insurance company isn't offering you a reasonable settlement. In that case, we'll push for more or take it to trial. The final decision is always up to you. 

What Happens If My Case Goes to Trial? 

A Complaint and a civil Summons are required to initiate a case. The other party is informed, and they have 30 days to respond. The next step is the discovery process, which lets both parties know what to expect during the trial. You should anticipate that you'll answer questions from the defendant's lawyers during a deposition and provide documentation. You should also expect to have physical or mental examinations. 

During the deposition phase, you will have our expert legal guidance on how to answer questions, and we will make objections if we feel any questions are out of line. Once all admissible evidence is decided upon, either a judge or a jury will hear each side's arguments and review the evidence. 

Once both sides have finished entering evidence for review and testimony has been presented, both sides will enter into closing arguments where we explain what we believe our evidence proves. Finally, a judge will give the jury instructions where they will then deliberate and come back with their decision.

Suppose the trial is not successful for our client. In that case, we may appeal to a higher court where they will review everything to make sure the trial was fair and the laws were applied properly. An appeal must be applied for within 30 days of the lower court's decision.

What Are Examples of Negligence in the Medical Field?

Many times a hospital or its employees can be held liable for medical malpractice. Here are some common examples of negligence in the medical field. 

Failure to diagnose an injury or illness
Misdiagnosis of an injury or illness
Unneeded surgery
Wrong-site surgery
Surgical errors
Improper medication
Improper dosage of medication
Poor follow-up or aftercare
Failure to recognize symptoms
Disregarding patient history
Failure to order the right testing
Premature discharge of a patient

Hospitals can also be negligent because of their hiring practices if they fail to do adequate vetting of their staff. For example, suppose they hire a doctor with a history of negligence or incompetence. In that case, the hospital could be held liable if this doctor causes a patient harm. Another example would be if they hired a doctor with known alcohol or drug issues.

A hospital, clinic, or administration could also be liable if they have inadequate staff. Understaffing can easily lead to patient harm or worse.  

What Are the Most Common Medical Malpractice Claims?

Some instances of medical malpractice are more common than others. Here are the most common malpractice claims:

Misdiagnosis or delayed diagnosis - When a mistake is made during diagnosis, the patient can suffer terrible harm because they are not receiving the kind of treatment they need for their condition. This may happen for a variety of reasons, such as incompetence by the physician or lab mistakes. A delay in treatment or the wrong treatment can even lead to death.

Failure to treat - If a doctor fails to order the proper tests, doesn't provide a patient with the right follow-up care instructions, or releases a patient too soon from care, this can be labeled as failure to treat. 

Medication errors - Giving a patient the wrong medication can have effects such as allergic reactions, but giving a patient the wrong medication could lead to death in some instances. Mixing medications that shouldn't be mixed can have devastating consequences. Even a pharmacist's error could lead to a medical malpractice claim.

Surgical errors - A severe form of harm could happen during surgery if the surgeon performs the wrong operation, surgery on the wrong body part, or surgery on the wrong patient. There a procedures medical staff should adhere to so that these kinds of errors don't happen. 

Childbirth injuries - When mistakes are made during or after childbirth, it can have negative consequences for the baby and mother. Whether failing to perform a C-section when needed or applying excessive force to remove the baby from the birth canal, this is generally considered medical malpractice.  

What Percentage of Medical Malpractice Suits Are Successful?

Medical malpractice lawsuits are among the most challenging civil cases to pursue. Only about 37% of medical malpractice cases are actually won. Of course, this only applies to lawsuits. 61% of suits are settled out of court. It's challenging to win a medical malpractice lawsuit because while juries may be sympathetic to your harm, they also realize how difficult a physician's job can be. There are no absolutes when it comes to medical care. 

That's why it's critical for your case to have merit. Your lawyer must prove very clearly that your physician failed to measure up to the reasonable standard of care. The mistake needs to have been avoidable. But for the physician's, nurse's, or medical staff's negligence, you wouldn't have come to harm.

How to Find the Best Medical Malpractice Lawyers in Charleston

To have the best outcome for your medical malpractice claim requires securing the best possible legal counsel. You don't have to pay more for the best, so that's why we feel a Morgan and Morgan attorney would be your best chance for success. We don't pressure prospective clients into using our services. We like to think our track record speaks for itself. In the last 30 years, we've recovered billions for our clients. We have over 900 trial-ready lawyers at Morgan and Morgan, many of whom specialize in medical malpractice claims. 

Experience matters, especially when you have so much on the line. It makes no sense to go with a lawyer who doesn't have a successful record of winning medical malpractice lawsuits. You can depend on our lawyers to handle your case with compassion but with the objectivity required to make analytical decisions that will boost your chances of presenting a winning claim. Contact us at any time for a free and confidential case evaluation. 
Scroll down for more
Load More