The Fee Is Free™. Only pay if we win.
America's Largest Injury Law Firm
Protecting Families Since 1988
$15 Billion+ Won
800+ Lawyers Nationwide
Free Case Evaluation
Tell us about your situation so we can get started fighting for you. We tailor each case to meet our clients' needs.
Results may vary depending on your particular facts and legal circumstances.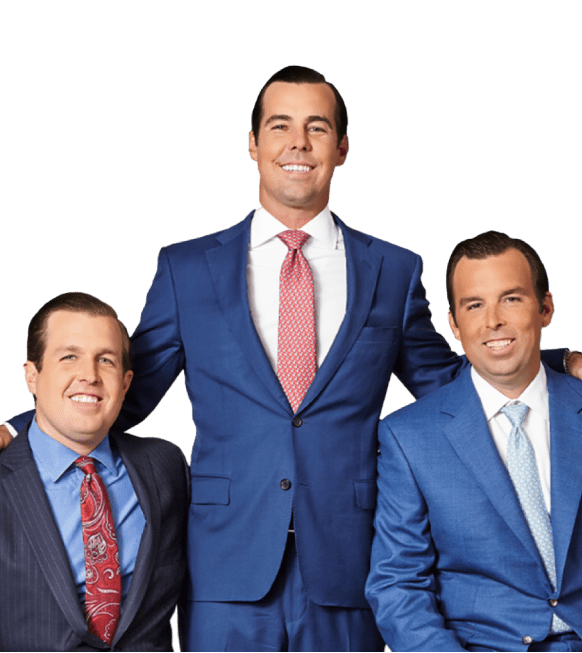 Philadelphia Broken Bone Lawyer
Proud Sponsor of the Phillies.
Although broken bones are common accident injuries, recovery can be lengthy, costly, and painful. While fractures may heal entirely in many cases, some victims could suffer from mobility problems and other impairments for the rest of their lives. 
Negligence or intentional wrongdoing often leads to accidents causing fractures and other injuries. However, if another is responsible for your broken bone, the financial burden should not fall on you. Morgan & Morgan is here to help. Our Philadelphia broken bone lawyers see the impacts of severe fractures on victims' lives every day. We want to give our clients the best chance at receiving what they truly deserve so they can recover physically, emotionally, and financially. 
If an accident injury turns your life upside down, help is only a phone call or email away. Contact us today for a free, no-obligation case review.
The Top Causes for Broken Bones in Philadelphia
According to Ohio State University, over 6 million people break a bone in the US annually. Fractures often occur due to trauma or accidents. Common causes for broken bones include: 
Slips and Falls
Slips and falls can lead to broken bones with significant health and financial consequences for a victim. Figures from the Centers for Disease Control and Prevention (CDC) show that more than 800,000 individuals require hospital treatment annually due to falls and broken bones. Older adults, in particular, can suffer the long-term adverse effects of a fracture, including loss of range of motion and reduced mobility.
Slips and falls can practically happen anywhere on private or public property, such as shopping malls, parking garages, hotels, and other locations. However, individuals hurt in a slip and fall could have legal recourse and hold a property owner or other party responsible for their medical bills and other damages. 
Property owners in Philadelphia are generally responsible for making their premises reasonably safe and should address maintenance issues promptly. You could have a case if you came to harm due to a dangerous condition such as:
Missing floorboards
Broken steps
Bulging carpets
Water or debris on walkways
Cluttered floor surfaces
Missing steps
A Morgan & Morgan personal injury attorney can assess your case and determine whether you could seek compensation.
Motor Vehicle Accidents
Traffic accidents are some of the leading causes of broken bones in Philadelphia. According to the Pennsylvania Department of Transportation, there were 7,700 crashes with 4,917 injuries in the state in 2020 alone. Many accidents are alcohol-related or happen due to other negligent behavior by drivers, such as:
Speeding
Distracted driving
Dangerous driving
Driving fatigued
Ignoring road signs and signals
However, not all traffic accidents are caused by drivers' negligence or recklessness. In some instances, poor road design, vehicle defects, and other reasons can lead to tragic accidents. A local government agency, car manufacturer, or repair shop could be responsible for victims' damages. 
If you suffered a bone fracture in a car accident due to another's negligence, you could be entitled to compensation. We can work with accident investigators and reconstruction professionals to determine who is at fault and liable for your accident. 
Workplace Injuries
Some industries, such as construction, are more hazardous than others. However, work accidents can happen in all work environments, including in offices, restaurants, and stores. Slips and falls, in particular, can occur due to hazardous work environments, wet and slippery floors, or unlit stairways. Workers can get hurt by falling objects or get trapped in-between machinery on a worksite, potentially leading to complex fractures. 
If you get hurt at work in Philadelphia, you are generally entitled to workers' compensation. However, if your accident was caused by a third party, such as another contractor on-site, you could hold the liable party legally responsible.
Nursing Home Injuries
Fractures can be common injuries in fragile older nursing home residents. However, if your loved one experienced a bone break due to physical abuse, neglect, or unsafe conditions at the premises, you could hold the nursing home to account and recover damages. 
Nursing home negligence can be tough to prove without having an experienced attorney by your side. Residents may be unable to recall incidents due to dementia, and the nursing home could try to cover up any wrongdoing.
Other Accidents Leading to Fractures
Many other avoidable accidents and incidents can lead to fractures, such as:  
Pedestrian and bicycle accidents
Dog bites and attacks
Sports accidents
Assaults and attacks
Defective product accidents
A broken bone or fracture may require extensive and costly medical care, such as surgery, physical therapy, and other treatments. Victims could also lose wages due to a prolonged recovery.
If you or a loved one suffered an injury due to another's negligence, our attorneys could assess your injury and circumstances to determine whether you are entitled to damages.
Common Types of Bone Fractures
Bones are extremely strong and have some flexibility. However, when the pressure applied is too great, for example, during an accident, bones will eventually break. A bone fracture's severity generally depends on the force that caused the injury. In a minor injury, the bone may only crack rather than break entirely. However, a bone subjected to extreme pressure could break in several places or even shatter. Common types of bone breaks include:
Compound or Open Fracture
Compound fractures may show as an open wound near the broken bone. In some cases, the bone can be seen sticking out through the skin. Compound fractures are generally severe injuries that require emergency medical care. 
Transverse Fracture
Transverse fractures run horizontally and perpendicular (in the opposite direction) to the bone. Transverse breaks usually affect the long bones such as the shin, thigh, and arm. These types of bone injuries generally require surgery. 
Comminuted Fracture
A comminuted fracture occurs when a bone breaks in at least two places. Comminuted fractures can be common in car accidents and usually require surgery and a long recovery time, potentially lasting a year or longer. Smaller bones, such as those in feet and hands, can be particularly prone to comminuted fractures. 
Incomplete Fracture
A partial or incomplete fracture occurs when the bone has a crack but is not entirely broken. An incomplete fracture, such as a hairline crack, may heal without requiring surgical treatment or other medical intervention. 
Pathologic Fracture 
Pathologic fractures occur when an underlying disease, such as cancer or osteoporosis weakens the bone. For example, the bones of people who have osteoporosis can break much easier in an accident than the bones of healthy individuals.
Although some fractures heal in six to eight weeks, complex bone breaks or multiple fractures can take months or even years of recovery. Some fractures never heal fully and cause permanent impairment. If your injury occurred due to another's negligence, a dedicated Philadelphia broken bone lawyer could help to clarify your options and move forward with a compensation claim. 
How a Lawyer Can Help You Recover Compensation for a Bone Fracture
Accident victims experiencing a broken bone due to another's negligent or willful conduct are generally entitled to pursue damages. However, getting fair compensation without a lawyer in your corner can be challenging. A lawyer from Morgan & Morgan can handle all the legal aspects of your case, leaving you free to concentrate on your health and recovery. Our personal injury lawyers can: 
Help you receive adequate medical care for your broken bones
Walk you through your options for seeking compensation
Assess your injuries and value your claim
Investigate your accident and establish liability
Identify all liable parties and avenues for compensation
Gather the necessary evidence to prove your claim
Handle the legal paperwork 
Ensure you do not miss any Pennsylvania filing deadlines
Negotiate a fair settlement with the relevant insurance company
Take your case to trial where necessary
The sooner you contact us, the sooner we can determine whether you qualify for compensation and start with the process of fighting for what you deserve. 
Compensation for Broken Bones 
If someone else is responsible for causing your bone fracture, you could be entitled to various types of damages, such as: 
Healthcare Costs
Most fractures require medical intervention such as surgery, casts, medications, and physical therapy. You could receive reimbursement for all medical expenses, including hospital stays, specialist appointments, diagnostic testing, medical devices (such as crutches or a wheelchair), and much more. You could also receive funds for household assistance or a home health aide. 
Missing Wages
Broken bones can take months to heal. If you have to miss work due to recovering from a fracture, you could qualify for compensation for lost income and future lost earning capacity. 
Pain and Suffering
Serious fractures can be life-limiting, painful, and distressing. If you suffer significant or multiple bone breaks, a considerable portion of your settlement could include awards for non-economic damages such as:  
Physical pain 
Emotional trauma
Disability
Scarring 
Loss of life quality
It is crucial to remember that compensation will vary from one case to another. Our attorneys can calculate your damages and advise you on the types of damages you could pursue in your specific case.
Scroll down for more
Recent verdicts & settlements
Results may vary depending on your particular facts and legal circumstances.
How it works
It's easy to get started.
The Fee Is Free™. Only pay if we win.
Results may vary depending on your particular facts and legal circumstances.
Step 1

Submit
your claim

With a free case evaluation, submitting your case is easy with Morgan & Morgan.

Step 2

We take
action

Our dedicated team gets to work investigating your claim.

Step 3

We fight
for you

If we take on the case, our team fights to get you the results you deserve.
---
Client success
stories that inspire and drive change
Explore over 55,000 5-star reviews and 800 client testimonials to discover why people trust Morgan & Morgan.
Results may vary depending on your particular facts and legal circumstances.
FAQ
Get answers to commonly asked questions about our legal services and learn how we may assist you with your case.
Morgan & Morgan
When Should I File a Lawsuit for a Broken Bone in Philadelphia?

In Pennsylvania, you generally have two years to file a lawsuit for a personal injury such as a bone fracture. Missing the deadline could cause your case to get thrown out, potentially barring you from pursuing compensation. Therefore, getting timely legal advice can be critical for recovering what you deserve. A personal injury attorney at Morgan & Morgan can walk you through your options, help you navigate the legal process, and ensure to file your lawsuit within all applicable deadlines.

What Is the Average Settlement for a Broken Bone?

Every personal injury case is unique. Therefore, there is no average settlement for a broken bone. What you could recover will depend on various factors, including but not limited to:

The strength of your case against the negligent party
Whether liability is clear
The extent of your injury
Your damages such as medical bills, income loss, and other expenses
Whether you are permanently impaired

Knowing the value of your claim is crucial in negotiations with an insurance company. Not knowing your damages can result in accepting a lowball settlement offer. Therefore, consider consulting with an attorney to determine the worth of your case. An experienced personal injury lawyer can protect your rights, level the playing field, and prevent you from leaving money on the table.

How Much Does a Philadelphia Broken Bone Lawyer Cost?

Attorney's fees can vary significantly from one law firm to another. While most personal injury lawyers work with a so-called contingency fee, others may charge hourly rates. With a contingency fee, clients pay no attorney's fees out of their own pockets. The attorney only gets paid if and when they win a case. If you lose the case, you would not have to pay the attorney. However, some law firms will charge you for legal expenses, such as court filing costs, expert witness fees, and others. 

Morgan & Morgan does not charge clients anything upfront. Our fee is free until and unless we recover damages for you. Our clients are like family to us, and our priority is to see you recover and receive what you deserve. We believe all injured victims should have access to excellent legal representation regardless of their financial situation.

Morgan & Morgan Fights Hard for the Injured

If you suffered a broken bone in Philadelphia, you do not have to struggle on your own to hold the responsible party accountable. You could get America's largest personal injury firm in your corner, fighting hard for what you deserve. Our Philadelphia broken bone lawyers never settle for less and want you to receive the full value of your claim. Unlike other law firms, we will take a case all the way to trial if necessary to recover adequate compensation. 

Let Morgan & Morgan take the weight off your shoulders. Get started today and contact us for a free consultation to determine whether we can help.
Scroll down for more
Load More