The Fee Is Free™. Only pay if we win.
America's Largest Injury Law Firm
Protecting Families Since 1988
$15 Billion+ Won
800+ Lawyers Nationwide
Free Case Evaluation
Tell us about your situation so we can get started fighting for you. We tailor each case to meet our clients' needs.
Results may vary depending on your particular facts and legal circumstances.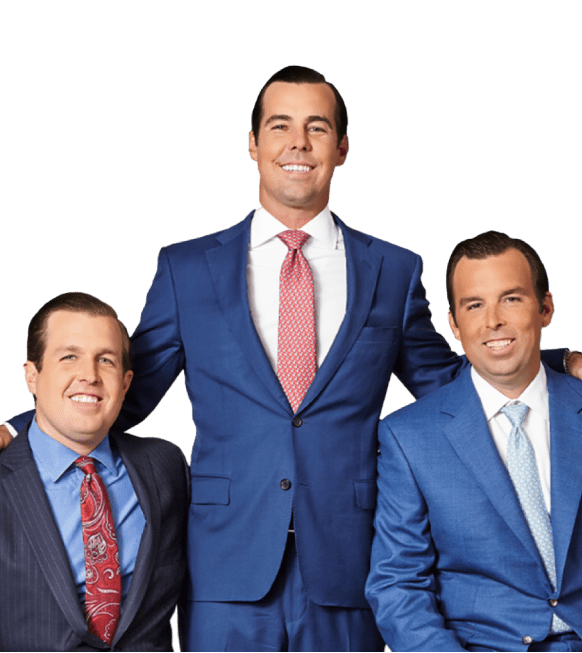 Philadelphia Broken Bone Lawyer
Proud Sponsor of the Phillies.
Some Philadelphia public health officials have compared the rash of car accidents in Philadelphia to a full-blown public health crisis. Statistics indicate the city had more car crashes in 2020 than in any year in the past 23 years. Philadelphia experienced a 54 percent increase in the number of auto accidents in 2020 than the City of Brotherly Love experienced in 2019. One hundred and nineteen drivers and pedestrians lost their lives in 2020 because of involvement in a car collision, which is nearly double the national average over the same period.
Car accidents cause a wide variety of injuries, from minor ones such as bruises and abrasions to life-threatening injuries that include severe brain trauma and spinal cord damage. Bone fractures represent one of the most common injuries sustained by victims of vehicle collisions. Fully recovering from one or more broken bones can take weeks, if not months, which can lead to time off from work and the rapid mounting of costly medical bills. How do victims that sustain broken bones caused by a car accident recover from their financial losses?
The answer is by hiring one of the car accident lawyers in Philadelphia who handles cases that involve broken bones.
Since 1988, the personal injury attorneys at Morgan & Morgan have recovered more than $14 billion in monetary damages for our clients. Car accidents represent the most common type of personal injury case that we litigate. Our more than 30 years of experience enables our team of car accident lawyers in Philadelphia to represent clients that have sustained any type of injury, including broken bones. If you have sustained one or more broken bones as a result of a car accident in Philadelphia, you should know that a car accident lawyer in Philadelphia can help you receive just compensation for your financial losses.
Schedule a free case evaluation today with one of the highly-rated Philadelphia car accident lawyers at Morgan & Morgan.
Scroll down for more
Recent verdicts & settlements
How it works
It's easy to get started.
The Fee Is Free™. Only pay if we win.
Results may vary depending on your particular facts and legal circumstances.
Step 1

Submit
your claim

With a free case evaluation, submitting your case is easy with Morgan & Morgan.

Step 2

We take
action

Our dedicated team gets to work investigating your claim.

Step 3

We fight
for you

If we take on the case, our team fights to get you the results you deserve.
---
Client success
stories that inspire and drive change
Explore over 55,000 5-star reviews and 800 client testimonials to discover why people trust Morgan & Morgan.
Results may vary depending on your particular facts and legal circumstances.
FAQ
Get answers to commonly asked questions about our legal services and learn how we may assist you with your case.
Morgan & Morgan
What Are the Types of Broken Bones?

Healthcare providers typically refer to different categories when defining a broken bone based on its features. A broken bone that breaks through the skin is called an open fracture, while a bone that does not break through the skin is classified as a closed fracture. Complete fractures occur when a bone breaks clean and thus, separates the bone into two pieces. A displaced fracture produces a gap where the bone breaks and this type of broken bone frequently requires surgery. Partial fractures do not break cleanly and often heal over time. A stress fracture is not a clean break, but instead, it is a crack in a bone that can be difficult to detect even when using imaging tests.

What Tests Do I Complete for a Bone Fracture?

One of the most important pieces of evidence for a car accident case involving a broken bone is the results of several diagnostic tests that verify the presence of a fracture. The experienced Philadelphia personal injury lawyer you work with from Morgan & Morgan must acquire persuasive medical evidence for you to receive just compensation for your financial losses.

Diagnosing broken bones requires using one or more imaging tests. X-rays generate two-dimensional images of the location where a bone has fractured. Physicians use a bone scan to detect broken bones that do not appear during an x-ray examination. A CT scan involves the use of x-rays and computers to create detailed slices of images that depict the cross-sections of a fractured bone. Finally, an MRI leverages the power of strong magnetic fields to take the most detailed images of a broken bone. Physicians use MRI examinations to detect the presence of stress fractures.

What Are the Treatment Options for a Broken Bone?

Diagnostic tests are just one component that defines how much money you rack up in medical bills. Treatments and physical therapy sessions also constitute costly medical expenses that can run into thousands of dollars. For the most serious bone fracture cases, medical bills can exceed $10,000.

A majority of broken bones heal over time. To stabilize the fracture and prevent aggravating the injury, physicians apply a splint or form a cast around the area of a broken bone. A splint protects one side of the area where a bone broke, while a cast covers the entire area surrounding the fracture with hard protection. Both types of stabilizing implements keep the bone immobilized to help it straighten out. Eventually, the bone grows back into one piece and the healing process ends.

The most serious cases of a broken bone can require one or more surgeries to heal the injury. This is especially true for an open fracture in a bone located in a leg. A victim of a car accident that resulted in a broken bone also might have to use traction to align the fractured bone properly. For fractures of smaller bones such as those located in the toes and fingers, your healthcare provider does not use a cast to mend the injury. Instead, you either wear a splint or have a sterile cloth wrapped around the injury.

What Are Pennsylvania Car Accident Laws?

If you sustained a broken bone as a result of a car accident in Philadelphia, your car accident lawyer from Morgan & Morgan ensures you follow the car accident laws passed in the State of Pennsylvania.

Pennsylvania Statute of Limitations for Personal Injury Cases

The statute of limitations represents the amount of time you have to file a civil lawsuit that seeks monetary damages. Each state establishes its statute of limitations for personal injury cases, with the average deadline set in most states between two and four years. Pennsylvania has established a deadline for filing a car accident lawsuit at two years. The clock starts ticking on the Pennsylvania statute of limitations on the date when you sustained one or more broken bones that resulted from a car accident.

Although you have two years to build a convincing case, you should act with a sense of urgency by filing a civil lawsuit as soon as possible after a Philadelphia car accident that produced one or more broken bones. The most important reason to act swiftly is because of the financial losses you have endured. You want to recover your financial losses as quickly as possible to avoid damage done to your credit score. Another compelling reason to act quickly when filing a civil lawsuit involves the legal support provided by witnesses. Accounts from witnesses tend to be more credible the closer they are given to the date of the car accident.

If you fail to file a civil lawsuit before the expiration of the statute of limitations, you can expect the court clerk processing your case to dismiss it.

Pennsylvania's Modified Comparative Fault Standard

If the driver of the other vehicle assumes 100 percent of the legal liability for causing the car accident, then the other driver must cover the entire value of the monetary damages awarded during a civil trial. However, Pennsylvania follows a legal principle called modified comparative fault, which assigns blame for an accident to both parties. The judge hearing your case must determine how much, if any, of the accident should be assigned to you. 

For example, let's assume another vehicle struck your car at an intersection. The other driver can be found partially responsible for causing the accident because of the high speed the other vehicle traveled. However, if you failed to use a turn signal while making a turn, the judge hearing your case can assign you a percentage of the blame for causing the auto collision.

Referring to our example, the judge overseeing your civil lawsuit awards you $60,000 in monetary damages. Because you had used a turn signal to make a turn at the intersection, the judge decides to place 25 percent of the blame on you for causing the accident. This means you receive compensation that totals just $45,000, which represents $60,000 in monetary damages minus the 25 percent reduction in value.

No-Fault Insurance Rule in Pennsylvania

Pennsylvania law allows residents to purchase what is referred to as no-fault insurance. This means that if you bought a no-fault car insurance policy, you must first file a claim with your insurance company for personal injury protection coverage. Nonetheless, a claim filed with the at-fault driver of the other vehicle remains a possibility. Hiring a Pennsylvania-licensed personal injury attorney from Morgan & Morgan helps you determine which insurance company you should file a claim with to receive just compensation.

What Type of Compensation Can I Receive?

The value of an insurance claim, as well as the monetary damages awarded during a civil lawsuit, depend on three factors: Economic damages, non-economic damages, and punitive damages. A car accident lawyer can help with a broken bone case in Philadelphia by ensuring you receive a fair value for compensation.

Economic Damages

Also referred to as special compensatory damages, economic damages represent the tangible costs that are associated with your car accident case. You have the right to recover from the financial losses caused by the cost of diagnostic tests, treatment programs, and physical therapy sessions. You also should ask for payments that cover the cost of prescription medications and the use of an assistive device. One or more serious broken bones in the legs can force you to use an assistive device to get around.

Economic damages also cover the cost to repair property damage, which typically involves either repairing car damage or replacing your damaged vehicle with a car close to the same value before the auto collision. If one or more broken bones forced you out of work, economic damages also pay for the value of lost wages.

Non-Economic Damages

Getting involved in a car accident can leave behind more than physical scars. You also might suffer from mental and emotional issues. Maybe you fear getting behind the wheel of a car and/or an auto collision has caused you to experience sleep-disrupting nightmares. Calculating a reasonable value for non-economic damages requires your attorney to use a formula that includes the value of economic damages.

Punitive Damages

As the term suggests, punitive damages punish the at-fault driver for causing the car accident, as well as the broken bones you sustained because of the strong impact. Although the value of punitive damages matters, the judge hearing your case might award you punitive damages to discourage the other party from committing the same acts of negligence again while operating a motor vehicle.

Get the help you deserve for the broken bones caused during a car accident by scheduling a free case evaluation with one of the Philadelphia personal injury attorneys at Morgan & Morgan.
Scroll down for more
Load More