The Fee Is Free™. Only pay if we win.
America's Largest Injury Law Firm
Protecting Families Since 1988
$15 Billion+ Won
800+ Lawyers Nationwide
Free Case Evaluation
Tell us about your situation so we can get started fighting for you. We tailor each case to meet our clients' needs.
Results may vary depending on your particular facts and legal circumstances.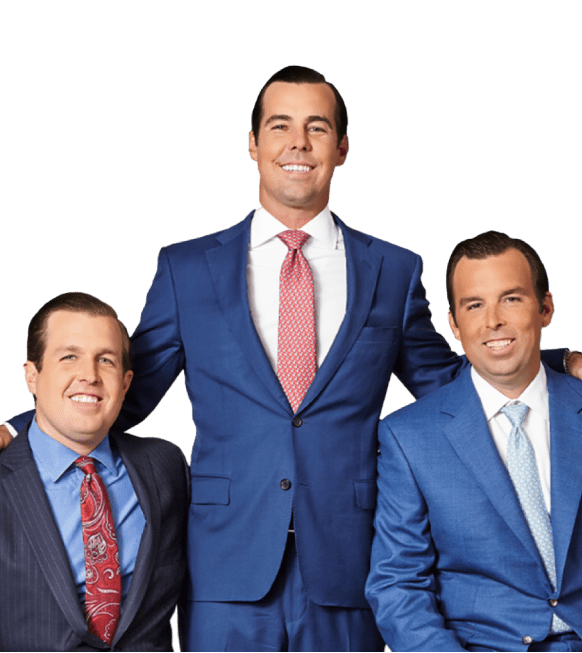 The attorneys featured above are licensed in Florida. For a full list of attorneys in your state please visit our attorney page.
Car Wreck Lawyer In Boston
A car wreck lawyer in Boston can help you or a loved one seek compensation for injuries and damages sustained in such an accident in this city. At Morgan and Morgan, we understand how such an accident can change your life. While certain losses, such as the death of a loved one, are irreversible, the last thing you want is to worry about paying hefty medical bills and other expenses out of pocket simply because of someone else's negligence. 
That's where we may be able to help. Fill out our free case evaluation form today to learn more. 
Importance of Hiring a Car Wreck Lawyer in Boston
After a car wreck in Boston, you need an attorney to carefully evaluate the details of your case to have a better understanding of what happened. This information sets the foundation for building a strong case. It also helps determine whether you have a good reason to take action in the first place. 
While Boston uses the no-fault car accident system, meaning you will file a claim with your own insurance company first before exploring other options, the case evaluation stage gives the attorney a rough idea of what your case is all about and the kind of legal options that may be available to you, assuming you have a valid claim. 
The attorney can also help determine liability in such a case. Although the no-fault system generally restricts the ability to sue for damages, these rules may not apply in cases involving severe injuries or significant medical expenses. For example, drivers in the Commonwealth of Massachusetts must have at least $20,000 worth of insurance coverage against bodily injuries.
But what happens if the cost of treating your injuries exceeds this amount? In such a case, an experienced attorney may be able to help you bypass the state's no-fault laws and explore other options for seeking compensation, including filing a lawsuit against the other driver's insurance company. 
The only way you'll be able to obtain total compensation is by understanding the full extent of your damages. That's why you need a lawyer for an evaluation, and to ensure you don't short change yourself when you file a claim with the insurer. 
And it's not just about filing a claim and getting compensation; you need a legal strategy based on the specifics of your situation. A skilled car wreck lawyer will leverage their expertise and knowledge of personal injury laws to develop a victim-centered strategy that may involve delaying negotiations with insurance companies until you fully recover from your injuries. 
Once your lawyer has a better idea of the kind of financial compensation you may be able to seek, they will fill out the complex paperwork, communicate with the insurance adjusters, formally file a claim, and then negotiate a fair settlement offer on your behalf. 
But there's no guarantee that the other party will be willing to settle. In that case, if things go south at the negotiating table, your lawyer may be able to file a lawsuit in court and present the case before a judge and jury. 
When To Hire a Car Wreck Lawyer
Car wrecks often lead to severe injuries that may cause permanent disabilities, significant scarring, disfigurement, and traumatic brain injuries.In these kinds of cases, you may be eligible to file a claim against the at-fault party outside of the no-fault system with the help of an attorney. 
The same applies if you've suffered a long-term or permanent disability. You need an experienced attorney to help you seek the kind of compensation that factors in your ongoing medical expenses, reduced earning capacity, and other challenges you face due to the disability. 
Proving liability for a car wreck case is not always that easy. This is partly because each case is different, and that's why hiring a lawyer is essential. 
A lawyer comes in handy despite the fact that in Boston, you can file a claim with your own insurance company regardless of who was at fault. This rule does not overwrite the importance of establishing liability. 
For perspective, it may be difficult to bypass the no-fault laws if liability is unclear. You need a lawyer to help establish the facts about the accident and identify the parties that may be liable for your injuries and damages. 
This attorney can also fight for you if your insurance claim has been denied. Note that even in a no-fault state like Massachusetts, insurance companies may deny claims for various reasons just to avoid paying what you may be entitled to.
For instance, they could claim that the accident was not covered by your policy or even dispute the extent of your injuries. Some will accuse you of faking your injuries or seeking medical attention you don't need. A lawyer will review the details of your policy and challenge the denial with facts or even take the matter to court if necessary. 
What To Look For In a Car Wreck Lawyer In Boston
A lawyer with vast experience in handling such cases knows how to approach your particular case. They will create the kind of strategy that aligns with your interests and increases your chances of receiving a favorable outcome. 
You also need an attorney who has access to the resources necessary for building a strong case against the other party. With powerful resources, such as accident reconstruction experts, medical experts, investigators, and support staff, the attorney is better equipped to handle complex cases because they know they have an entire team working together for a common goal — to help you pursue the compensation for your injuries.
The attorney's track record of achieving favorable results for their clients will also give you an idea of what to expect when you hire them to represent you. Just to be sure that they're the right fit, look for information on the settlements and verdicts they have secured in car wreck cases. If they've never won such cases in the past, you shouldn't count on them to handle your case effectively. In fact, chances are, if you have a strong case, they'll likely settle for anything just to get that all-important win. 
This might be a case of victory for the attorney but not the client.t. A few months down the road, you may find yourself seeking additional ways to settle your bills arising from the accident long after the case is closed. 
Finally, what do other clients and the legal community have to say about the car wreck lawyer? Have you read their reviews, testimonials, and references from past clients? If they're mostly positive, then you'll likely get proper legal representation.
Risks Of Not Hiring an Attorney After a Car Wreck 
As we discussed earlier, insurance companies only care about minimizing their payouts, even in no-fault jurisdictions like Boston. Without a lawyer, the insurance carrier may attempt to undervalue your claim or shift blame onto you. If they succeed, you'll receive inadequate compensation for your injuries and damages.
Additionally, navigating the legal process and handling all the complex paperwork involved in a car wreck case is the last thing you want to deal with without an attorney. On top of that, you must meet specific legal requirements and beat crucial deadlines, all while trying to recover from your injuries or the pain of losing a loved one in a wreck, or even both.
In such a case, you'll have a rough time trying to think straight, let alone following the state's legal requirements for filing such a claim. Hiring a lawyer is your best bet in such a situation.
Scroll down for more
Recent verdicts & settlements
Results may vary depending on your particular facts and legal circumstances.
Scroll down for more
Results may vary depending on your particular facts and legal circumstances.
How it works
It's easy to get started.
The Fee Is Free™. Only pay if we win.
Results may vary depending on your particular facts and legal circumstances.
Step 1

Submit
your claim

With a free case evaluation, submitting your case is easy with Morgan & Morgan.

Step 2

We take
action

Our dedicated team gets to work investigating your claim.

Step 3

We fight
for you

If we take on the case, our team fights to get you the results you deserve.
---
Client success
stories that inspire and drive change
Explore over 122,576 5-star reviews and 800 client testimonials to discover why people trust Morgan & Morgan.
Results may vary depending on your particular facts and legal circumstances. Based on Select nationwide reviews
FAQ
Get answers to commonly asked questions about our legal services and learn how we may assist you with your case.
Morgan & Morgan
What Damages Can a Car Wreck Lawyer in Boston Help Me Recover?

No car accident case is identical to another. This concept also applies to the damages available to victims of such cases. That said, most accident victims can recover economic damages according to Boston's no-fault laws. 

These include compensation for things like medical expenses and lost wages. However, if your economic damages exceed the minimum coverage provided by your insurance provider, you can file a lawsuit with the other party, usually through their insurance company.

By bypassing the no-fault system, you can also claim compensation for non-economic damages that are not usually covered under the no-fault umbrella. These include damages such as pain and suffering, loss of enjoyment of life, emotional distress, and so on. 

Once you've bypassed the no-fault barrier, the possibilities are endless. If the other party was extremely negligent or reckless in their actions leading to your loved one's death, you may be awarded punitive damages on top of your economic and non-economic damages.

What's the Cost of Hiring a Car Wreck Lawyer in Boston?

Most car wreck lawyers and firms, including Morgan and Morgan, do not charge any advance fees for such cases. Instead, they work on a contingency payment system, meaning they only get paid if they win the case.

What if I'm Partially at Fault for the Accident?

In Boston and all over the Commonwealth, the modified comparative negligence doctrine, as outlined in M.G.L.A. 231 § 85, comes into play in such cases. This doctrine affects a plaintiff's ability to recover compensation if they are found to be 51% or more at fault for the accident. 

Because of this law and many other reasons, it is never advisable to admit liability without consulting a lawyer. This is because whatever you say could be used against you in or out of court to jeopardize your claim, even if you may not be entirely at fault for the car wreck.

Besides the other driver, you may be able to hold their employer responsible if the driver was operating the vehicle within the scope of their employment. However, for this to work, you must have a good reason to sue the employer, such as negligent hiring or failure to maintain the company vehicle if the accident occurred due to a mechanical failure that could have been avoided through proper maintenance.

You can also sue the vehicle manufacturer if the accident occurred due to a defect in the vehicle, such as faulty brakes or defective airbags. Other entities in the supply chain, such as distributors, may be held liable for producing a defective product.

Lastly, you could have a case against other individuals or entities that contributed to the car wreck through their actions or negligence. A good example is when an incompetent mechanic performs inadequate repairs on a vehicle, resulting in a malfunction that causes an accident. 

What If the Accident Was Caused By a Government Agency?

The city of Boston enjoys what is commonly known as 'sovereign immunity' against such lawsuits. This kind of immunity protects certain government institutions and agencies from lawsuits.

However, there's no doubt that this law is quite unfair to the injured. To address this issue, the Commonwealth enacted the Massachusetts Torts Claims Act in 1978, allowing victims to seek compensation from government workers who caused the accident while carrying out their official duties.

Why Should I Hire a Car Wreck Lawyer From Morgan and Morgan?

Morgan and Morgan needs no introduction to the world of car wreck cases. For starters, we are America's largest injury firm, serving clients in Boston, throughout Massachusetts, and the entire nation. We have been fighting for the rights of individuals injured in car wrecks since 1988. To date, we have worked with over 300,000 clients and helped them secure damages exceeding $15 billion. 

Our law firm also boasts an army of over 900 attorneys specializing in different practice areas under the personal injury umbrella. So whether you need someone experienced in product liability cases to investigate a particular car part that could have potentially caused the accident, or someone who knows how to deal with bad faith insurance cases, we have everything you need all under one roof. 

With over 28,000 5-star reviews on Google alone, Morgan and Morgan's power and competence in the personal injury realm are unmatched.

Injured in a Car Wreck? Get a Free Case Evaluation

A Morgan and Morgan car wreck lawyer in Boston can help you recover damages caused by such a horrific accident. We can handle all the complex legal processes on your behalf as you focus on recovering from your injuries and healing from your pain. Contact us today for a free case evaluation.
Scroll down for more
Load More