The Fee Is Free™. Only pay if we win.
America's Largest Injury Law Firm
Protecting Families Since 1988
$15 Billion+ Won
800+ Lawyers Nationwide
Free Case Evaluation
Tell us about your situation so we can get started fighting for you. We tailor each case to meet our clients' needs.
Results may vary depending on your particular facts and legal circumstances.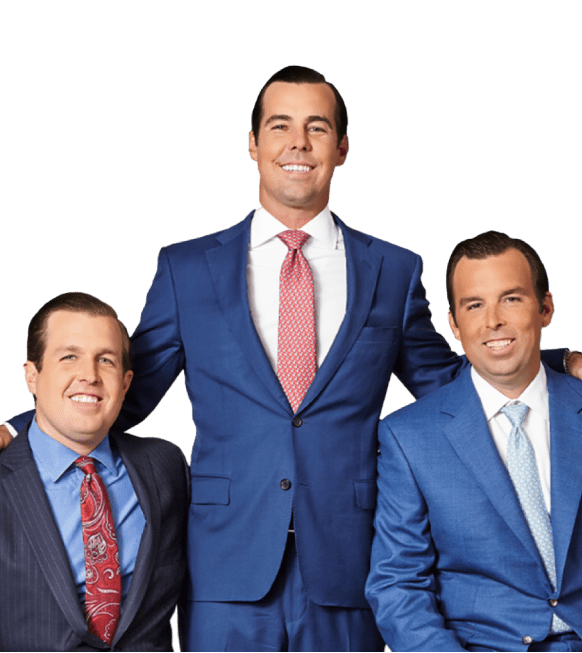 The attorneys featured above are licensed in Florida. For a full list of attorneys in your state please visit our attorney page.
Boston Drunk Driving Lawyer
Having a Boston drunk driving lawyer by your side in these difficult times can prove beneficial not only to your case but also to your overall well-being. At Morgan and Morgan, our army of attorneys boasts years of experience fighting for individuals who have been injured or lost their loved ones in accidents caused by drunk drivers. To find out whether you have a viable case and how we may be able to help, fill out our free, no-obligation case evaluation form. 
Knowing When to Hire a Lawyer
We know that each car accident case is unique, and a lawyer may be more necessary for some accident cases than for others. For instance, if you or your loved one only escaped with minor bruises and did not incur any property damages, you will need to file a claim with your own insurance provider. However, you will likely not need a lawyer for this process.
The insurance provider won't have the time to fight your claim if it does not involve significant amounts of money. Insurance companies would rather use those resources elsewhere to fight bigger claims. 
That brings us to our first point. If the insurance company disputes your claim, chances are it involves a considerable amount of compensation. That's the first reason to hire a lawyer to represent you. 
Serious injuries often lead to extensive medical bills, long-term disability, loss of income, and emotional trauma, among other damages, all of which are compensable under Boston's traffic laws. In such a case, a drunk driving accident lawyer can assist you in evaluating the true extent of your damages, and then fight for appropriate compensation.
The loss of a loved one in such an accident is yet another reason to hire an attorney to help you file a wrongful death claim with the liable party. If you win the case, you may receive compensation for medical expenses your loved one incurred before succumbing to their injuries suffered during the accident, including funeral expenses, lost earnings, and emotional distress.
Hiring an auto accident attorney specializing in drunk driving cases is also critical if the insurance company engages in bad faith practices. Examples of bad faith practices include the following:
unreasonably delaying the claims process;
offering an unfairly low settlement for the damages incurred;
denying a valid claim without proper investigation or reason;
pressuring you to accept a quick settlement to close the case; and
intentionally delaying payment for the claim. 
With a lawyer on your side, you will not have to worry about trying to learn complex legal processes and that's because they are usually familiar with the laws and regulations specific to drunk driving accidents in Boston. Instead, you can sit back and let legal experts do what they do best for the injured as you shift your attention to recovering from your injuries. 
Risks of Not Hiring a Lawyer to Represent You
So, why not represent yourself in such a case and bypass the need for an attorney? To understand the importance of working with an attorney in such cases, let's explore the risks involved in self-representation. 
No insurance company in Boston or anywhere in the Commonwealth will take your claim seriously if you don't have a lawyer, especially if you suffered serious injuries. This is because not hiring a lawyer is just one of the biggest signs that a plaintiff does not truly understand or appreciate the resources available to them when dealing with such a case. 
So don't be surprised when you begin to experience delays in processing your claim for all sorts of reasons, all of which won't make any sense. Basically, insurance carriers will not have any reason to worry because there's no one to put them in check. 
You'll have a rough time determining the true value of your case without legal expertise. As a result, you may end up undervaluing your claim and miss out on the full compensation you deserve. The saddest part is once you accept a settlement offer and sign a release, you generally cannot reopen the case or seek additional compensation. In other words, you may end up paying thousands of dollars out of pocket for your treatment, which, in the long run, could see you sink deep into debt. 
Massachusetts has complex traffic accident laws; a no-fault system is just the top layer of everything you need to learn before you even file a claim, let alone a lawsuit against the other party. Without legal guidance, you may not fully understand your rights, obligations, and the legal processes involved.
You'll also need to be aware of all deadlines involved in your case, and not just the state's statute of limitations. Some of these deadlines also vary from case to case, such as when the victim is a minor. Deep down, the insurance company will hope that you miss these key deadlines, giving them yet another reason to challenge your claim. 
Navigating the legal process without guidance is like walking a path full of landmines. Any mistake you make along the way could harm your case. Whether it's about inaccurate or incomplete information, mishandled evidence, or failure to meet procedural requirements, you won't learn everything you need to handle every aspect of your case overnight.
Evidence Required in a Boston Drunk Driving Accident Lawsuit
The kind of evidence you table against the other party in such a case will decide whether you'll win or give them yet another reason to fight back. But make no mistake; there's no standard evidence in these cases. The specifics of your case will decide what kind of evidence would work best for you. 
Among other kinds of evidence, you may need surveillance footage from establishments that served the driver alcohol. This footage might reveal the following:
certain details about the driver's behavior;
any signs of intoxication;
the number of drinks consumed;
and, most importantly, liability on the part of the establishment.
Photos and videos of the accident scene will also provide visual evidence of the aftermath of the accident. Your attorney will use this information to assess the extent of bodily and property damage, road conditions, and the direction in which the vehicles were traveling, including their speed, to demonstrate the negligence or recklessness of the other party. 
Accident reports are considered public records in Boston and throughout the Commonwealth of Massachusetts. Your lawyer can access and analyze these reports to retrieve critical information about the driver's impairment, including the results of sobriety tests conducted at the scene, any citations or charges issued, and more. 
The same strategy applies to medical records filed by the car accident doctor who treated your injuries. These records may contain doctor's notes, diagnostic test results, and details of ongoing medical care, all of which will come into to play when negotiating a settlement. 
Finally, to strengthen the case, your attorney may interview eyewitnesses or obtain testimonies from professionals such as accident reconstruction experts.
Damages a Lawyer Can Help You Recover
Economic damages are usually the most common types of recoverable damages in such cases. In Massachusetts, you can recover economic damages from your own insurance company regardless of fault.
If your injuries meet the tort threshold we discussed earlier, you may be eligible to pursue a claim against the at-fault party for both economic and non-economic damages. These damages can include but are not limited to:
Pain and suffering; 
Mental distress; 
Loss of enjoyment of life; and 
Permanent disfigurement 
While recovering punitive damages might also be a possibility, they are usally only relevant in accidents that result in death. 
How to Improve Your Chances of Winning a Drunk Driving Accident Lawsuit In Boston
Hiring a lawyer is a great step but does not guarantee automatic compensation for your injuries and damages. You can improve your chances of winning your drunk driving accident case by: 
Seeking immediate medical attention even if you feel fine initially. Since some injuries, such as internal bleeding, may not be immediately apparent, prompt medical evaluation can help ensure you're safe as far as your health is concerned. 
Avoiding any statements that could be interpreted as an admission of fault, even if you feel inclined to apologize or take responsibility for the accident. The other party could use these statements against you later in the legal proceedings to jeopardize your claim.
Gathering as much evidence as possible, such as those we've discussed above. 
Following your doctor's instructions and letting them know (including your attorney) if you intend to miss any appointments. The last thing you want when seeking financial compensation for your economic damages is an unexplained gap in your treatment plan. 
Limiting discussions about the case to your lawyer, closest family members (such as a spouse), and healthcare providers. Any statement you make publicly or online can potentially be used against you, undermining your case as a result.
Scroll down for more
Recent verdicts & settlements
Results may vary depending on your particular facts and legal circumstances.
Scroll down for more
Results may vary depending on your particular facts and legal circumstances.
How it works
It's easy to get started.
The Fee Is Free™. Only pay if we win.
Results may vary depending on your particular facts and legal circumstances.
Step 1

Submit
your claim

With a free case evaluation, submitting your case is easy with Morgan & Morgan.

Step 2

We take
action

Our dedicated team gets to work investigating your claim.

Step 3

We fight
for you

If we take on the case, our team fights to get you the results you deserve.
---
Client success
stories that inspire and drive change
Explore over 122,576 5-star reviews and 800 client testimonials to discover why people trust Morgan & Morgan.
Results may vary depending on your particular facts and legal circumstances. Based on Select nationwide reviews
FAQ
Get answers to commonly asked questions about our legal services and learn how we may assist you with your case.
Morgan & Morgan
How Soon After a Drunk Driving Accident In Boston Should I Contact a Lawyer?

The general rule is that you should get in touch with a lawyer as soon as possible after a drunk driving accident in Boston. This ensures that the legal process is initiated in a timely manner. Don't forget that the Commonwealth of Massachusetts has a three-year statute of limitations for seeking compensation for injuries sustained in a car accident case. 

If you file a claim outside this deadline, it is unlikely that the other party, including the judge or jury, will even want to hear your side of the story. Contacting a lawyer immediately after the accident gives them enough legroom to gather evidence, interview witnesses while their recollections are fresh, and handle communication with insurance companies from the outset.

How Long Will My Drunk Driving Accident Lawsuit Take To Settle?

The shorter answer to this question is it depends. The longer answer is that several factors can influence the timeline of a car accident lawsuit in Boston. They include:

Complexity of the case;
Severity of injuries and extent of damages;
Availability of evidence;
Cooperation of involved parties;
Negotiation process with insurance companies;
Need for expert testimonies or accident reconstruction;
Court's schedule and caseload; and
Possibility of settlement or need for trial;

Again, every case is different. From our experience, when the other party is willing to negotiate for a reasonable settlement, such cases tend to take shorter than when the courts are involved in adjudication. In fact, many insurance companies would rather settle out of court than face the judge or jury because that alone throws the entire case into a certain level of uncertainty no one wants to deal with. Unless it is really worth it, court battles are only secondary.

What if I'm Partly at Fault for the Accident?

That doesn't prevent you from recovering damages. In such a scenario, the modified comparative will be the ultimate decider. If you are found to be less than 50% at fault, you can still pursue compensation. 

Get a Free Evaluation By America's Largest Injury Firm

One of the biggest benefits of having your case reviewed and possibly handled by Morgan and Morgan, America's largest injury firm, is that you'll have peace of mind knowing that it is in safe and powerful hands. After all, we have an impressive track record: over $15 billion recovered, more than 300,000 happy clients, and 900+ attorneys working under the Morgan and Morgan umbrella.

So, don't hesitate to contact us for a free evaluation if you or a loved one is a victim of a drunk driving accident in Boston. If you have a valid case, our Boston drunk driving lawyer may be able to help you seek financial compensation for your injuries.
Scroll down for more
Load More