Car Accident Attorney in Orange County
The Fee Is Free™. Only pay if we win.
America's Largest Injury Law Firm
Protecting Families Since 1988
$15 Billion+ Won
800+ Lawyers Nationwide
Free Case Evaluation
Tell us about your situation so we can get started fighting for you. We tailor each case to meet our clients' needs.
Results may vary depending on your particular facts and legal circumstances.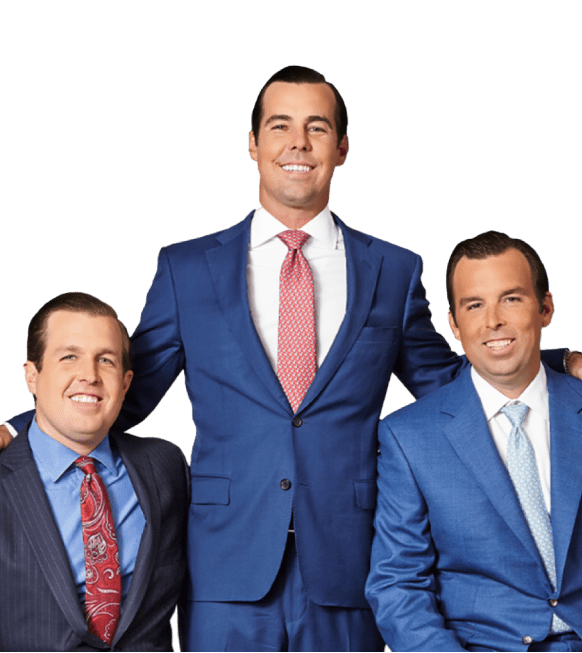 Orange County Car Accident Attorney
An Orange County car accident attorney can fight for your rights if you have been injured in such an accident. But there's no standard way of approaching such cases; each situation is unique. That explains the need for a free case evaluation with a Morgan and Morgan attorney specializing in car accident cases in Orange County.
If that sounds like what you need, fill out this form today to learn more about your legal options. We have recovered over $15 billion for the injured so far. You or your beloved could be next in line. 
Benefits of Hiring a Car Accident Attorney In Orange County 
You probably already understand the role a car accident lawyer plays in fighting for the rights of the injured. But why exactly should you consider hiring one? Here are different ways the attorney may be able to help. 
Free Case Evaluation
When involved in a car accident, one of the primary benefits of hiring a car accident attorney — particularly from Morgan and Morgan — is that we offer a free case evaluation. So, what does this mean to you, the victim or survivor of the accident? 
For starters, it means an experienced attorney will assess the details of your case and provide an initial analysis of your situation. If the claim is valid, they will evaluate its strength and the potential legal options available to you, all free of charge.
Knowledge of Orange County's Car Accident Laws
Car accident laws are complex and vary from one jurisdiction to another. For example, laws pertaining to speed limits in different parts of the county could come into play when determining liability for the accident. A seasoned local car accident attorney understands Orange County's specific laws and regulations and how they could play out in your unique situation. 
Dealing with Insurance Companies
Insurance companies are arguably among a plaintiff's worst nightmares after a car accident. Their adjusters, for example, often aim to undervalue claims, which can leave you at a disadvantage when negotiating for a fair settlement. In addition, these companies often use various tactics to avoid liability or frustrate the claims process, including acting in bad faith. By hiring a car accident attorney, you can sit back and relax because at the back of your head, you know you have someone who understands the tactics employed by insurance companies and will fight for your best interests. 
Keeping up With Tight Deadlines 
Following a car accident, you'll have many different deadlines to worry about. From communicating with insurance companies about the accident to filing a lawsuit or claim against them or a government agency, each of these processes have unique deadlines. 
If you miss any of these deadlines, you may lose your right to seek compensation. A car accident attorney usually keeps an eye on critical deadlines and can ensure that all necessary actions are taken within the required time frames. 
Filling out Complex Paperwork
Most legal procedures, not just car accident cases, often involve extensive paperwork. From insurance forms to court documents, the amount of paperwork involved along the way can be overwhelming, especially if you are unfamiliar with the process or you're recovering from injury. 
Hiring a car accident attorney is the relief you need when handling such a complex legal matter. They know what kind of paperwork is necessary for your case and can fill it out on your behalf as you focus on your recovery.
Creating a Legal Strategy
You need a concrete legal strategy for your case. Remember, the other party will also have a plan to counter your claim, either by offering a lowball settlement, denying the claim, or simply refusing to cooperate. With your attorney's expertise and experience, they can develop a comprehensive legal strategy tailored to your specific circumstances. For instance, your attorney knows when is the best time to file a claim or wait a little bit longer to maximize your settlement. 
Explaining the Dos and Don'ts of a Car Accident Claim 
Pursuing a car accident claim isn't always a walk in the park. This is especially true if you suffered serious injuries. The same applies if you're unfamiliar with the dos and don'ts of handling such a claim. For instance, did you know that some insurance carriers may monitor your social media activity just to find a reason to blame you for the accident? 
Or, did you know that failure to follow your doctor's instructions could jeopardize the entire claim? These are just some of the things you'll learn when you hire an Orange County car accident lawyer to represent you. 
Evaluating Your Damages
You need to determine the full extent of your damages if you're keen on seeking fair compensation. Because they have your best interests at heart, your attorney will evaluate your damages and calculate their monetary value, ensuring that you pursue the maximum compensation you are entitled to.
Filing a Claim
Once your attorney understands the damages you may be entitled to and the parties liable for your injuries, they will file a claim for you. This step officially kicks off negotiations between the insurance company and our legal team. 
Negotiating on Your Behalf
Since insurance companies often try to settle claims for the lowest amount possible, you need a skilled attorney to advocate for your rights. Also, you won't have to worry about dealing with insurance companies directly and getting frustrated throughout the process; your attorney's negotiation skills and knowledge of insurance practices in Orange County and throughout the state can significantly increase your chances of reaching a favorable settlement.
Filing a Lawsuit
If settlement negotiations fail, filing a lawsuit could be the next step your attorney would take to protect your rights. They will initiate the lawsuit, prepare your legal arguments, gather evidence, and present your case in front of a judge or jury.  
Qualities of a Good Car Accident Attorney in Orange County
While hiring a car accident attorney in Orange County is a great step towards obtaining the compensation you deserve, it all narrows down to the type of attorney you hire to represent you. Below, we'll discuss some of the key qualities of a good car accident attorney in this part of California. 
First, consider how long they have been practicing tort law, specifically car accident litigation. An experienced attorney brings a wealth of knowledge and expertise to the table and that's the combination you need to obtain a favorable outcome. One way to determine their level of experience is by finding out how many cases they've handled and for how long.
Their reputation also speaks volumes about their professionalism, integrity, and ability to deliver results. Don't forget to research the attorney's reputation, preferably by reading their reviews online to find out what other clients think about their services. 
Next, check their track record and results. Ask about their past cases. What were the outcomes? How much have they won for the injured so far?
These cases often require powerful legal resources to investigate. That's one of the key things to keep in mind when considering a lawyer to represent you. 
In terms of resources, we're talking about the likes of skilled support staff (such as paralegals), accident scene investigators, expert witnesses, and access to modern technology to process cases. If they have powerful resources, they can thoroughly investigate the accident, gather evidence, and build a compelling case.
Scroll down for more
Recent verdicts & settlements
Results may vary depending on your particular facts and legal circumstances.
Scroll down for more
Results may vary depending on your particular facts and legal circumstances.
How it works
It's easy to get started.
The Fee Is Free™. Only pay if we win.
Results may vary depending on your particular facts and legal circumstances.
Step 1

Submit
your claim

With a free case evaluation, submitting your case is easy with Morgan & Morgan.

Step 2

We take
action

Our dedicated team gets to work investigating your claim.

Step 3

We fight
for you

If we take on the case, our team fights to get you the results you deserve.
---
Client success
stories that inspire and drive change
Explore over 122,576 5-star reviews and 800 client testimonials to discover why people trust Morgan & Morgan.
Results may vary depending on your particular facts and legal circumstances. Based on Select nationwide reviews
FAQ
Get answers to commonly asked questions about our legal services and learn how we may assist you with your case.
Morgan & Morgan
Is There a Deadline for Filing a Personal Injury Case in Orange County?

The statute of limitations for car accidents in Orange County is set at two years from the date of the accident. However, there are exceptions to this two-year time limit. The most common exception is that if the accident involves a minor, the statute of limitations is extended until they reach the age of majority, which is 18 years old. 

This rule ensures that minors have sufficient time to pursue legal action once they become adults. However, it's crucial to understand that once the statute of limitations expires, you will lose your right to file a lawsuit. 

In addition, if the car accident occurred due to the negligence of a government employee, such as being rear-ended by a government-owned vehicle, the California Tort Claims Act requires you to provide notice of your claim to the appropriate government agency within six months from the date of the accident. This notice allows the state or municipality the opportunity to respond to your allegations. 

What Are the Recoverable Damages In a Car Accident Case in Orange County?

After a car accident in Orange County caused by another party's negligence, you may recover the following damages:

Current and future medical bills related to your accident.
Lost wages, if you missed work due to your injuries.
Property damage, especially if your vehicle was damaged or totaled in the accident. 
Physical pain, emotional distress, and mental anguish caused by the accident and its aftermath.
Loss of enjoyment of life if your quality of life has been negatively affected by the accident.
Loss of consortium, for the impact the accident has had on your relationships, particularly the loss of companionship and support from a spouse or family member.

What About Punitive Damages?

You can also recover punitive damages, but in rare cases where the negligent party's actions were particularly heinous. 

How Can I Maximize My Car Accident Claim?

There are several important steps you can take to protect your rights and strengthen your claim. Here are a few things to keep in mind.

Seek immediate medical attention and follow your doctor's instructions for treatment and recovery. Don't skip your treatment plan or ignore your doctor's instructions even if you feel fine a few days or weeks into treatment. 

Adhering to your doctor's advice not only promotes your well-being but is also one way of establishing a clear relationship between the accident and your injuries. Additionally, it is equally important to follow your lawyer's guidance and advice throughout the legal process. You can trust them to fight for your best interests.

Be cautious about what you post on these platforms after a car accident. That's because insurance companies and defense attorneys often monitor claimants' social media accounts to gather evidence that can be used to challenge their claims. 

Avoid posting any information, photos, or updates that could potentially undermine your claim. Even innocent posts, such as hanging out with your friends at a local restaurant, may be misinterpreted or used to discredit your injuries.

Accepting liability or admitting fault, even if you believe you may have contributed to the accident, can jeopardize your claim. Don't be in a rush to apologize — that alone could be considered an admission of fault. Instead, leave that aspect to professionals, such as law enforcement and legal experts. Any admission of fault can be used against you and potentially weaken your claim.

Insurance companies often request recorded statements from accident victims shortly after the incident. Don't fall for that trap. Instead, you should first consult with your attorney. 

Immediately after a car accident, it is common for adrenaline and shock to mask the symptoms of injuries. Even if you initially feel fine, don't make any statements indicating that you are not injured. That's because some injuries may take time to reveal their symptoms, and it's best to let medical professionals determine how injured you are. 

Morgan and Morgan Attorney Can Help

If you or a loved one has been injured in a car accident in Orange County, attorneys from Morgan and Morgan, America's largest injury firm, may be able to help. All you need is a free case evaluation. Fill out this form to learn more.
Scroll down for more
Load More