The Fee Is Free™. Only pay if we win.
America's Largest Injury Law Firm
Protecting Families Since 1988
$15 Billion+ Won
800+ Lawyers Nationwide
Free Case Evaluation
Tell us about your situation so we can get started fighting for you. We tailor each case to meet our clients' needs.
Results may vary depending on your particular facts and legal circumstances.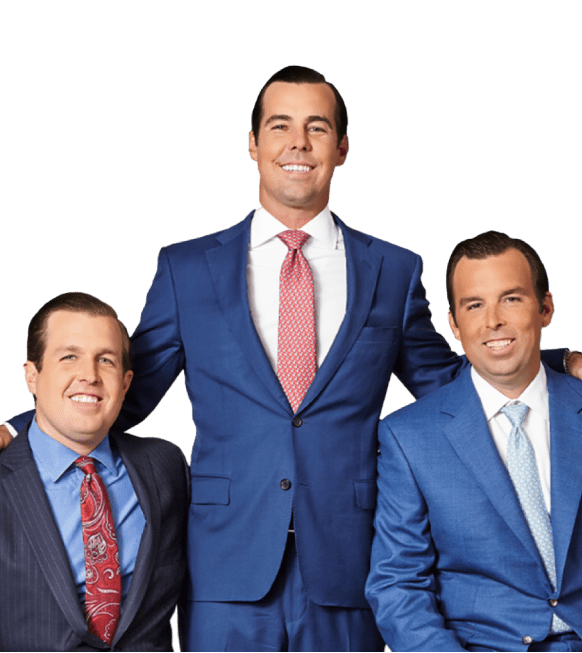 Houston Employment Lawyer Contingency
Are you facing a difficult situation in your workplace that's causing you undue stress and anxiety? If so, you're not alone. Unfortunately, many employees in Houston and throughout Texas find themselves in challenging circumstances at work that negatively impact their mental and emotional well-being. That's where a Houston employment lawyer comes in.
At Morgan & Morgan, we understand how disappointing, heartbreaking, and overwhelming it can be to face employment-related issues alone. That's why we're here in the first place. Whether you're dealing with workplace discrimination, harassment, wage and hour disputes, wrongful termination, or anything in between, you can count on us to represent you during such difficult times.
We'll take the time to understand your unique situation and develop a strategy tailored to your specific needs. So if you're looking for a compassionate and skilled Houston employment lawyer, look no further than Morgan & Morgan. And the best part is that we use the contingency payment system. Contact us today to learn more.
Scroll down for more
Recent verdicts & settlements
How it works
It's easy to get started.
The Fee Is Free™. Only pay if we win.
Results may vary depending on your particular facts and legal circumstances.
Step 1

Submit
your claim

With a free case evaluation, submitting your case is easy with Morgan & Morgan.

Step 2

We take
action

Our dedicated team gets to work investigating your claim.

Step 3

We fight
for you

If we take on the case, our team fights to get you the results you deserve.
---
Client success
stories that inspire and drive change
Explore over 55,000 5-star reviews and 800 client testimonials to discover why people trust Morgan & Morgan.
Results may vary depending on your particular facts and legal circumstances.
FAQ
Get answers to commonly asked questions about our legal services and learn how we may assist you with your case.
Morgan & Morgan
What Is the Contingency Payment System, and How Does It Work?

In a contingency payment system, the lawyer only gets paid if they win the case or obtain a favorable settlement for their client. The lawyer and client typically agree on a percentage of the settlement or judgment that the attorney will receive as their fee.

What Are the Benefits of the Contingency Payment System?

This payment system works best in such cases due to its many benefits. Here is an overview of the advantages of a contingency payment system in employment cases.

Since the payment is tied to specific outcomes, i.e., winning the case and obtaining a settlement, it motivates and incentivizes employment lawyers to work harder and more efficiently to achieve the desired results.

This payment system also helps mitigate the financial risks of pursuing such cases. For example, since plaintiffs do not spend their money out of pocket to pursue the case, they have nothing to lose—financially—if they do not win.

Another great benefit of this system is that it aligns the interests of both parties, in this case, the plaintiff and their employment attorney. On one hand, the plaintiff wants to recover compensation for their damages. On the other hand, the attorney wants to fight for the plaintiff's rights and also recover a share of the settlement to cover attorney fees and other legal expenses involved in pursuing the case.

These are just a few of the many benefits of working with a Houston employment lawyer on a contingency basis. Here is a more detailed guide on why Morgan & Morgan prefers this approach.

What if I Choose Not to Hire a Lawyer to Avoid the Contingency Payment System?

You're not obligated to hire an employment lawyer to represent you. But before you decide to pursue a claim without an attorney, you should first evaluate the possible risks of such a decision.
Here are a few things you need to know.

Employment law can be complex and vary from one jurisdiction to another. As a result, navigating the legal system without an attorney can be overwhelming and stressful.

Take workers' compensation laws in Texas as an example. Unlike other states, Texas does not require every single employer to provide workers' compensation insurance to their employees. But this does not mean you may not be able to take legal action if you or your loved one gets injured or sick in the workplace. The unique circumstances of your case will determine the best legal pathway to pursue.

The difficulty of gathering evidence and presenting a strong case before an employment law court or tribunal is yet another challenge you may face if you do not hire an attorney to represent you. For example, if you've been wrongfully terminated, you may need to gather evidence such as emails, performance evaluations, and witness statements to prove your termination was illegal. However, without legal knowledge and experience in handling such claims, it can be difficult to know what evidence is relevant to your case and how best to present it in court.

Then there's also the risk of making costly mistakes along the way. For example, you may miss important deadlines or fail to file the required paperwork correctly, resulting in a denial or dismissal of your case. Even small mistakes can have significant consequences. Without a skilled lawyer, it's easy to make errors that can be difficult, and sometimes impossible, to correct.

Keep in mind that employment law is constantly evolving. For this reason, without a Houston employment lawyer, it can be difficult to understand how a specific set of laws apply to your unique situation.

You should also think carefully about the time and resources required to pursue such claims. These cases can be time-consuming, emotionally draining, and, worse still, expensive. But that's what employment lawyers are trained to handle on their client's behalf.

How Can a Houston Employment Lawyer Help Me?

You probably know that an employment lawyer can help you pursue an employment-related claim and protect your rights. But how exactly do they do this?

One thing you need to know is that employment lawyers are never the same. And as an injury firm, we can only speak for ourselves and how we can help you or your loved ones whose rights have been violated by an employer.

At Morgan & Morgan, our experienced employment lawyers can offer the legal guidance and support you need to navigate Houston's complex employment laws and achieve a favorable outcome in your case.

Our legal team can help you understand your rights, evaluate your options, and develop a strategy to pursue your case against an employer, insurance company, or any other party. And the best part of it all is we handle everything from gathering evidence, drafting legal documents, and negotiating with the other party, to representing you in court or mediation.

What Kind of Cases Does an Employment Lawyer Handle?

Employment lawyers handle various cases relating to employer-employee relationships. These include but are not limited to:

Discrimination based on age, gender, race, national origin, disability, religion, sexual orientation, and other protected characteristics.
Cases involving harassment, such as sexual harassment or harassment based on other protected characteristics.
Wrongful termination cases, particularly those involving employment retaliation, discrimination, or in violation of public policy.
Disputes related to unpaid wages, overtime violations, and other violations of wage and hour laws.
Workplace safety issues, such as safety violations or injuries that occurred on the job.
Employment contracts, which include drafting and reviewing employment contracts, non-compete agreements, severance agreements, confidentiality agreements, and other related documents.
Whistleblower claims, which include cases where an employee may have reported illegal or unethical behavior by their employer to relevant authorities and faced retaliation as a result.
Matters related to employee benefits, such as pension plans, health insurance, and disability insurance.
Labor disputes, such as union organizing, collective bargaining negotiations, and disputes over labor contracts.

When Do You Need an Employment Lawyer?

Every situation is unique. That said, there are several common scenarios where you may need legal counsel from an experienced employment lawyer. Generally, you will need an employment lawyer if you:

have experienced discrimination or harassment in the workplace;
have been wrongfully terminated;
are a victim of employer retaliation;
have been denied wages or overtime pay; or
need help negotiating an employment contract or severance agreement, addressing workplace safety issues, or seeking whistleblower protection.  

Because each case is unique, you should consider consulting a Houston employment lawyer, even if you are unsure whether you need an attorney. Given that we offer a free, no-obligation case evaluation, you do not have anything to lose but so much to gain when you contact us about your case.

What Damages Can My Employment Lawyer Help Me Recover?

The specific recoverable damages in an employment claim depend on the unique circumstances of your case. That said, here are some common damages in such cases.

You may be able to claim lost wages if you were wrongfully terminated or suffered wage violations. Your lawyer can help you recover the wages you were owed, including overtime pay, bonuses, or other compensation you may be entitled to.

Depending on the unique circumstances of your case, you may be able to recover emotional distress damages, especially if you suffered from workplace harassment or discrimination. The compensation will cover the anxiety, depression, and other psychological harm you suffered.

You may also be awarded punitive damages, intended to punish the employer for their gross misconduct and deter them, and other employers, from engaging in similar behavior in the future. 

What Are the Qualities of a Good Employment Lawyer?

As mentioned, employment lawyers are not the same. Some are more competent than others. Also, some are competent but lack the resources to fight for their client's rights. For this and many other reasons, knowing what to look for in such an attorney is important.

What About Knowledge of Houston's Complex Employment Laws?

You need an employment lawyer who understands employment law in Houston and throughout Texas, including how such laws apply to your unique case. The right attorney also knows how to handle different areas of employment law, including but not limited to discrimination, harassment, and wage and hour disputes. 

What About The Ability to Create Effective Legal Strategies?

You also need a lawyer who can analyze complex legal issues and develop effective dispute-resolution strategies. For instance, the lawyer should know when to pursue justice out of court and when to involve the courts.

Importantly, they should be able to identify the strengths and weaknesses of their client's cases and develop a plan to achieve the best possible outcome.

What About Access to Powerful Legal Resources?

The role of powerful resources should never be overlooked when searching for a good lawyer to represent you or your loved one. This is because lawyers with access to powerful resources are better equipped to handle complex cases, including those involving big employers.

Lastly, you need an attorney with a proven track record of winning employment-related cases. If they have never won such a case, they will not know how to navigate your claim.

Why Morgan & Morgan Employment Lawyers in Houston?

If you're facing an employment dispute with your employer in Houston, knowing how to handle such a case can be difficult. That's where Morgan & Morgan employment lawyers come in. Here are some reasons why you should consider hiring Morgan & Morgan employment lawyers in Houston to represent you:

Morgan & Morgan understands the pain and frustration of dealing with employment disputes. It is even more frustrating when dealing with big employers and insurance providers who feel untouchable when violating the rights of hardworking employees. You need a powerful law firm like Morgan & Morgan to fight back on your behalf.

Secondly, we have been dealing with insurance companies since 1988. As a result, we know how to navigate the complexities of insurance coverage in the workplace.

Keep in mind that our lawyers do not settle for less unless it is your best option. They will fight for maximum compensation and will only advise you to accept a settlement offer if it is truly in your best interests.

Did you know Morgan & Morgan is the nation's largest injury firm? We have the resources and expertise to handle even the most complex employment-related cases, thanks to our team of experienced lawyers, paralegals, and support staff who work together to defend our client's rights.

Lastly, Morgan & Morgan files the most employment cases anywhere in the country, a true testimony of our experience handling such cases. With over $15 billion recovered and at least 300,000 happy clients, nothing beats the peace of mind that comes with hiring America's largest injury firm to fight for you.

Need a Houston Employment Lawyer on a Contingency Basis?

If you or your beloved is dealing with an employment dispute in Houston, Morgan & Morgan employment lawyers are ready to represent you. Our deep understanding of employment laws in this area, coupled with our experience, resources, and commitment to fighting for your rights, makes us uniquely qualified to help you obtain a favorable outcome.

Contact us today to learn more about your legal options.
Scroll down for more
Load More