Medical Malpractice
Medical Malpractice & Negligence Lawyers
The Fee Is Free™. Only pay if we win.
America's Largest Injury Law Firm
Protecting Families Since 1988
$15 Billion+ Won
800+ Lawyers Nationwide
Free Case Evaluation
Tell us about your situation so we can get started fighting for you. We tailor each case to meet our clients' needs.
Results may vary depending on your particular facts and legal circumstances.
Nationwide Results
Results may vary depending on your particular facts and legal circumstances.
Nationwide Results
Porter Ranch Gas Leak
After SoCalGas's negligent oversight led to a leak of 5.7 billion cubic feet of gas in 2015, Morgan & Morgan recovered $1.8 billion for the 30,000 affected residents of Porter Ranch.
Jacob T. Rodgers v. City of Gainesville D/B/A Gainesville Regional Utilities
In one of the first personal injury trials since the end of the Pandemic, Morgan & Morgan recovered $120 million for a client that was paralyzed by a city utility vehicle.
Estate of Frank Townsend v. RJ Reynolds, et al.
After a family lost someone to lung cancer, our compassionate attorneys took their case and recovered $91 million in the fight against Big Tobacco.
Morgan Stanley Data Security Litigation
Morgan & Morgan reached a $60 million class action settlement on behalf of those who had their data compromised by behemoth, Morgan Stanley.
Stephen Davis v. Levon Clark, Ricardo Williams, Marty Grifka and Derek Pak
McAdams v. Monier Lifetile, LLC
Morgan & Morgan's attorneys reached a $44 million settlement in a class-action lawsuit against Monier, an organization that made false claims about their faulty roofing tile products.
Coleman v. Martinez
After a delayed C-section caused a newborn to suffer a brain injury during childbirth, Morgan & Morgan recovered $38 million for the affected family.
Gold v. Lumber Liquidators
Our team represented clients who sought to recover damages from Lumbar Liquidators after the company provided faulty flooring materials, resulting in a $28 million settlement on their behalf.
Clemmons v. ECORE et. al, Philadelphia County
Our team secured a $26,202,500 verdict—an enormous victory and a strong message to trucking companies who fail to take the proper precautions when maneuvering dangerous vehicles on our roads.
Brink v. Ruiz
After a long fight for justice, Morgan & Morgan finally obtained a successful, confidential settlement for Dustin Brink with the Defendants' insurance company.
Results may vary depending on your particular facts and legal circumstances.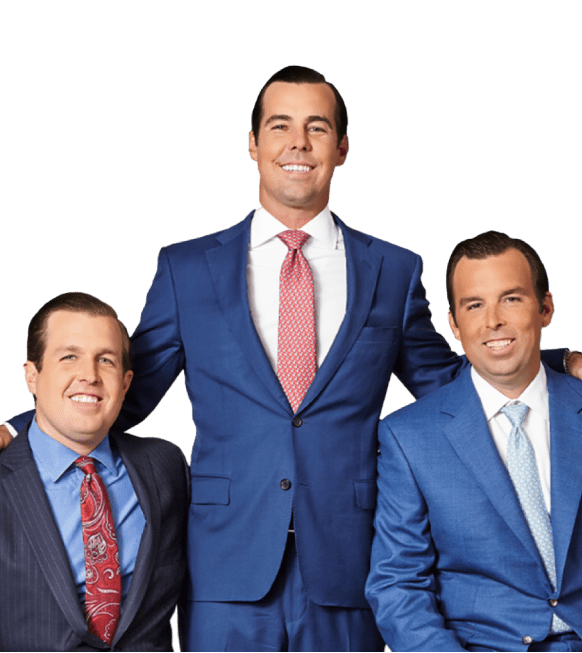 Don't Settle
For Their Mistake
You put a special kind of trust in the doctors, nurses, surgeons, and other medical professionals responsible for your well-being. Unfortunately, that trust isn't always rewarded. In some instances, the actions (or lack thereof) of a healthcare professional may rise to the level of malpractice.
Medical malpractice is alarmingly common in the United States. In fact, a Johns Hopkins study found that medical errors kill more than 250,000 Americans every year, making it the third-leading cause of death behind only heart disease and cancer.
If you believe you or someone you love were the victim of medical malpractice, contact Morgan & Morgan. Our legal team will review your situation in a free, no-obligation case evaluation. If you have a claim for compensation, we'll work tirelessly to hold the responsible party accountable and secure full restitution.
As the largest plaintiffs' law firm in America, we have the resources to take on virtually any medical malpractice case. Over the past few decades, we've recovered favorable verdicts and settlements time and again for our clients.
We may be able to help you, too. Read on to find out how.
Scroll down for more
How it works
It's easy to get started.
The Fee Is Free™. Only pay if we win.
Results may vary depending on your particular facts and legal circumstances.
Step 1

Submit
your claim

With a free case evaluation, submitting your case is easy with Morgan & Morgan.

Step 2

We take
action

Our dedicated team gets to work investigating your claim.

Step 3

We fight
for you

If we take on the case, our team fights to get you the results you deserve.
---
Client success
stories that inspire and drive change
Explore over 122,576 5-star reviews and 800 client testimonials to discover why people trust Morgan & Morgan.
Results may vary depending on your particular facts and legal circumstances. Based on Select nationwide reviews
Recent verdicts & settlements
Results may vary depending on your particular facts and legal circumstances.
Scroll down for more
Results may vary depending on your particular facts and legal circumstances.
FAQ
Get answers to commonly asked questions about our legal services and learn how we may assist you with your case.
Medical Malpractice FAQs
What Is Medical Malpractice?

Medical malpractice occurs when a healthcare professional provides treatment that deviates from accepted standards of care within the medical community, thereby causing injury to a patient. If a doctor, surgeon, hospital, or another party was medically negligent, they may be liable for any ensuing losses. Medical negligence refers to a negligent act or omission – for example, removing the wrong organ or leaving a surgical tool in a patient's body – that causes injury. If the victim can demonstrate that the negligent act was directly responsible for their injury, they may be awarded various damages (e.g., medical expenses, lost wages, and emotional suffering).

What Are Some Examples of Medical Malpractice?

Anesthesia Errors There are multiple types of anesthesia with distinct purposes: - General: In general anesthesia, the patient is unconscious and unaware of sensations. They don't feel any pain or remember the procedure afterward. - Regional: Regional anesthesia numbs a specific part of the body, such as an arm or leg. - Local: Local anesthesia numbs one small area of the body. For example, it may be given to relieve a patient's pain while a deep cut is sewn. Each type of anesthesia carries the risk of complications. One of the most common and serious complications is anesthesia awareness, also known as intraoperative awareness. This occurs when a patient regains consciousness during surgery. If anesthesia is used incorrectly and a patient is injured as a result, the negligent medical professional may be liable for the resulting damages. Some examples of negligence by an anesthesiologist include: - Administering the wrong type of dose of anesthesia - Administering anesthesia too late - Failing to put a patient under anesthesia - Failing to properly manage the administration of medications and fluids Birth Injury The birth of a child should be a joyous occasion. Unfortunately, that's not always how it turns out. That's because sometimes doctors fail to provide a safe childbirth process. The end result may be a debilitating birth injury such as cerebral palsy, Erb's palsy, or brachial plexus palsy. Birth injuries can occur for a variety of reasons, but they tend to have one thing in common: They could have been prevented with reasonable medical care. Common causes of birth injuries include: - Excessive Force: If a doctor exerts too much force on a newborn baby's neck or limb when using forceps or during vacuum extraction, it can lead to nerve damage. - Delayed C-Section: Failure to perform a C-section in a timely manner can result in injury or death to the child. - Oxygen Deprivation: Various complications can deprive a newborn of oxygen. If, for example, the umbilical cord wraps around the baby's neck, it can lead to cognitive delay or brain damage. - Failure to Monitor: If the doctor neglects to monitor the mother and baby's condition throughout, problems such as placenta previa or a ruptured uterus can occur. Emergency Room Errors Emergency rooms are hectic, but medical professionals are trained to manage difficult situations and must uphold a high standard of care no matter what. Negligence on the part of a doctor, nurse, or other staff member can lead to serious, debilitating injuries. Examples of emergency room negligence include: - Misreading charts, x-rays, or MRIs - Failing to diagnose a condition - Making an incorrect or delayed diagnosis - Making medication errors - Failing to recognize or treat postoperative infections - Neglecting to monitor a patient post-treatment Hospital Malpractice In some cases, the hospital itself may be liable in a medical malpractice lawsuit. Hospitals must adequately evaluate prospective employees. That includes evaluating their prior experience, certifications, and level of education. If a hospital hires an incompetent or underqualified staff member, it may be liable for any injuries caused by that employee. Hospitals are also responsible for appropriately staffing the hospital so that patients receive proper care and employees aren't asked to do more than can be reasonably expected. They're also charged with keeping track of patient records. Failure to meet these and other standards may be grounds for a medical malpractice lawsuit. In addition, hospitals can be held vicariously liable if an employee or staff member causes injury to a patient, provided the employee was acting within the scope of their employment at the time the negligent act took place. However, vicarious liability does not cover the actions of independent contractors. Many doctors are not hospital employees, but rather are employed on a freelance basis while they run their own private practices. (If, however, the hospital hires a contractor without the requisite experience or credentials, the hospital may be liable for any resulting injuries.) Medical Device Errors Medical devices such as MRIs are used routinely to diagnose, treat, and prevent illnesses. However, they can be misused and result in serious injuries or even death. In addition, manufacturers can be liable for manufacturing defects, design defects, and inadequate warnings. Misdiagnosis or Delayed Diagnosis A misdiagnosis can have devastating effects for a patient. They may suffer debilitating pain, lasting physical impairments, and even death due to lack of appropriate treatment. They may also endure severe side effects from receiving treatment for the wrong condition. A delayed diagnosis can have similar outcomes, particularly as the condition progresses. Whether a patient is misdiagnosed or their condition is diagnosed too late, they'll need to demonstrate negligence on the part of their doctor. For example: - Failure to listen: It's the doctor's responsibility to listen and examine the symptoms the patient is describing. - Failure to recognize key symptoms: Healthcare professionals are trained to make diagnoses based on their patients' symptoms. Failure to make a diagnosis, despite symptoms that indicate a particular illness, may constitute medical malpractice. - Failure to examine a patient's medical history: Physicians must examine their patients' personal and family medical histories. An illness can worsen that otherwise would have been easily identifiable. - Ordering an improper test: If a doctor orders incorrect tests based on the symptoms described to them, they may be liable for any ensuing injuries. - Failing to order tests: A doctor can be found negligent for failing to order standard tests after observing certain symptoms. - Failing to interpret test results correctly: Medical professionals are responsible for interpreting test results correctly. Postoperative Negligence Postoperative care refers to the monitoring and subsequent care that a patient receives following surgery. Medical professionals are responsible for monitoring their patients for complications that might arise from surgery, preventing and treating infections, monitoring vital signs, providing detailed instructions for post-surgical care, and correctly prescribing medicine to aid in the healing process. If a doctor fails to properly monitor a patient or identify symptoms after surgery, they may be liable for malpractice. Some of the common infections, illnesses, and other conditions that arise from postoperative negligence include: Sepsis Viral infections Internal bleeding Necrotizing fasciitis Infections at the site of surgery Tissue necrosis Organ perforation Urinary tract infection (UTI) Staph infection Methicillin-resistant Staphylococcus Aureus (MRSA) Bloodstream infections Blood clots or pulmonary embolism Respiratory infections such as pneumonia Peritonitis Other Examples of Malpractice The above is not an exhaustive list. There are many other examples of medical malpractice, including: Neglecting a patient Refusing to offer proper treatment Failing to refer a patient to a specialist if their physician is providing inadequate care Performing nonconsensual surgery Failing to adhere to hospital protocols Administering drugs that interact negatively with one another Giving a drug to a patient who is allergic Neglecting to monitor or act upon changes in vital signs Failing to intubate Neglecting to inform the patient of instructions regarding a procedure

You might be wondering how you'd know if you have a case or how you'd go about proving it. Our attorneys are well-versed in identifying instances of medical malpractice and achieving favorable results for our clients. We're happy to review your incident in a free, no-obligation case evaluation and let you know if you have a claim for compensation. Keep in mind that every civil claim, including those involving medical malpractice, has a statute of limitations. You must file a claim within a certain period from when the incident occured. Every state has its own deadlines, so it's important that you reach out to an attorney as quickly as possible.

How Is Medical Malpractice Proven?

To demonstrate medical malpractice, the patient must show that the healthcare provider acted negligently and that the negligence directly caused them harm. Generally, there are a few elements that go into proving this. They are: - Duty of Care: The medical professional must have owed a duty of care to the patient, that is, they were responsible for treating the patient within the accepted standards of care. - Breach of Duty: The physician must have violated their duty to the patient. - Causation: The patient must prove that the breach of duty was directly responsible for their injury. - Damages: The injury must have caused economic or non-economic damages. For example, the patient may have incurred additional medical bills or endured emotional suffering.

What Damages Are Awarded in Medical Malpractice Cases?

An injured patient or the family of a patient who has passed may be awarded damages for the harm caused by a negligent medical professional, hospital, or other party. These damages are intended to compensate the victim for losses they've suffered, and may include: Medical expenses: - Medical expenses may cover hospital stays, doctor visits, physical therapy, prescription drugs, assistive devices, and other past and future costs associated with your injury. - Lost Wages and Loss of Earning Capacity: If you're forced to take time away from work to recover from your injury, you may be eligible to collect compensation for lost wages. If you're unable to earn the same amount of money as you did prior to your injury, you may be awarded compensation for diminished earning capacity. - Pain and Suffering: Pain and suffering damages are designed to compensate the victim for physical pain caused by their injury, as well as emotional distress (e.g., anxiety, fear, depression, and other mental suffering). - Loss of Consortium: Surviving family members may be awarded compensation for the loss of aid, companionship, and other benefits of a family relationship. - Other Damages: You may be awarded other various damages including loss of life's enjoyment, disfigurement, and punitive damages (intended to punish severe negligence or recklessness).

How Can a Morgan & Morgan Attorney Help?

Medical malpractice lawsuits intertwine two areas of expertise: law and medicine. These cases are inherently complex and require the attention and skill of a lawyer who is well-versed in both areas.

You should choose an attorney who:

Has a firm understanding of various medical conditions
Can navigate complex medical records Knows which experts to consult Knows which questions to ask
Can anticipate the tactics the defendant's lawyers might employ

In addition, you need the backing of a law firm with the resources to take on major hospitals and insurance companies. You can rest assured that, as America's largest personal injury law firm, Morgan & Morgan is uniquely equipped to handle virtually any medical malpractice case.

Our attorneys can:

Help you determine if you have a claim for compensation in a free case evaluation
Collect and evaluate evidence in support of your claim
Identify the full scope of your short- and long-term losses
Determine who is liable for your losses
Clearly explain your legal rights and keep you informed throughout the process
Manage a complex legal process
Fight tirelessly to get the best results in your case

At Morgan & Morgan, we fight For The People, not the powerful. We believe that everyone is entitled to justice, no matter their financial means. For this reason, we work on a contingency; it costs nothing to hire us, and we get paid only if you win. There are no hidden fees and no upfront costs. Our payment is a fraction of the settlement or jury verdict we obtain.

Our attorneys understand how to build the strongest case possible and know what to anticipate from the defense. Our resources allow us to take on virtually any case and bring it to a successful resolution.

Our track record includes many substantial verdicts. Among them:

- A $38 million verdict for a family whose doctor failed to perform a timely C-section, which resulted in serious injuries to their infant child

- A $28.5 million verdict relating to a doctor's failure to diagnose or treat encephalitis in a timely fashion

- A $6.3 million verdict for a client after her doctor failed to treat her heart disease, leading to cardiac arrest and causing a permanent vegetative state These are just a few of many sizable verdicts we've won for our clients.

If you or a loved one suffered an injury because of a medical professional's negligence, you can count on us to deliver the best results in your case.

All law firms are not the same. They don't all have an army of 900-plus attorneys and thousands of team members collaborating to get their clients the best outcomes. They don't all have a track record that includes over $15 billion won. And they don't all offer the personalized attention you'd typically associate with a boutique firm. There's only one Morgan & Morgan. To find out if you have a case, schedule a free, no-obligation evaluation now.
Scroll down for more
Load More
5 Things To Do If You're Hurt By a Doctor
Download Your Free Copy of Our Medical Malpractice Checklist