Workers' Compensation Attorney in Texas
The Fee Is Free™. Only pay if we win.
America's Largest Injury Law Firm
Protecting Families Since 1988
$15 Billion+ Won
800+ Lawyers Nationwide
Free Case Evaluation
Tell us about your situation so we can get started fighting for you. We tailor each case to meet our clients' needs.
Results may vary depending on your particular facts and legal circumstances.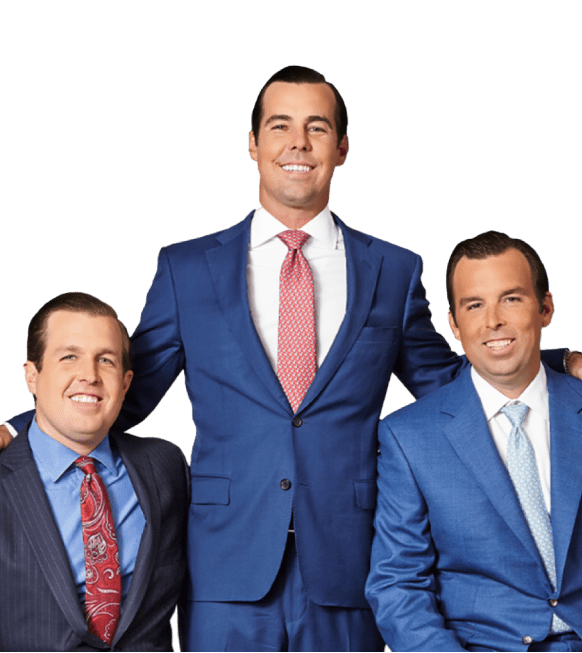 State Workers' Compensation Attorneys in Texas
Some cities in Texas have job markets ranked in the top ten of the country, with many Fortune 500 companies calling Texas their home, including industries such as health care, finance, technology, retail, and manufacturing.
While Texas may offer plenty of job opportunities for employees with widely varying skills, private employers are not required to provide workers' compensation benefits. Employers that do not offer workers' compensation coverage are called non-subscribers and lose legal protections such as immunity from lawsuits from workers injured on the job. 
Getting hurt on the job while employed in Texas can be more challenging because of the state's unique rules regarding these matters. If you've been injured on the job and are not sure what your options are, the workers' compensation attorneys at Morgan and Morgan can offer guidance and advice.
Contact us today for a free, no-obligation case evaluation to learn more.
Scroll down for more
Recent verdicts & settlements
How it works
It's easy to get started.
The Fee Is Free™. Only pay if we win.
Results may vary depending on your particular facts and legal circumstances.
Step 1

Submit
your claim

With a free case evaluation, submitting your case is easy with Morgan & Morgan.

Step 2

We take
action

Our dedicated team gets to work investigating your claim.

Step 3

We fight
for you

If we take on the case, our team fights to get you the results you deserve.
---
Client success
stories that inspire and drive change
Explore over 55,000 5-star reviews and 800 client testimonials to discover why people trust Morgan & Morgan.
Results may vary depending on your particular facts and legal circumstances.
FAQ
Get answers to commonly asked questions about our legal services and learn how we may assist you with your case.
Morgan & Morgan
Injured Employee Rights in Texas

You have many rights and a few ways to seek compensation when you're injured while on the job in Texas. How you seek compensation will depend on whether your employer chooses to be covered by workers' compensation insurance or if they're a "non-subscriber." Under the Texas Workers' Compensation System, you have the following rights:

The right to hire an attorney to represent you (contact Texas state workers' compensation attorneys at Morgan and Morgan for a free case evaluation).
You might be entitled to receive medical and wage benefits regardless of who is at fault for your injury (with a few exceptions). In the case of a fatality, dependents have the right to death and burial expenses plus wage benefits.
You might be entitled to medical care to treat your on-the-job injury as long as medically necessary.
You might be entitled to receive wage benefits while recovering from your workplace injury.
You may be entitled to dispute decisions regarding your wage benefits from your workplace injury.
You have the right to use the doctor of your choice as long as you and they are in a Workers' Compensation Health Care Network (with some exceptions).
You have the right to privacy concerning your workers' compensation claim information, excluding some parties, such as your employer and their insurance carrier.

What Are My Responsibilities Under the Texas Workers' Compensation System?

If you are injured on the job, you must notify your employer within 30 days of your injury, or when you first become aware an injury or illness may be linked to work.
You are responsible for knowing if you're in a Workers' Compensation Health Care Network and following network rules. If you need more clarification on any aspect, you must ask your employer or contact the Office of Injured Employee Counsel (1-866-393-6432).
If you work for a city, county, or school district, it is your responsibility to learn which healthcare providers are to be used to treat your injury.
You are responsible for informing the treating physician how your injury occurred and whether it was related to your job.
You are responsible for filing a completed Employee's Claim for Compensation for a Work-Related Injury or Occupational Claim Form (DWC041) within one year after your injury or when you learned that your illness or injury might be work-related. Failure to do so may result in losing your rights to benefits.
You are responsible for providing your phone number, current address, and employer information to the Division of Workers' Compensation (DWC) which can be reached at 1-800-252-7031, and your employer's insurance carrier.
You have the responsibility to notify the DWC and your employer's insurance carrier if there are any changes in your employment status or pay.
When seeking death benefits, you are responsible for sending a completed Beneficiary Claim for Death Benefits (DWC-042) to DWC within one year after the employee's death.
You may not make fraudulent or frivolous claims or demands.

What Kinds of Work-Related Injuries or Illnesses Are Covered Under Texas Workers' Comp?

If you are injured or develop a work-related illness while at work, you should be eligible for workers' compensation benefits and medical care. On-the-job injuries that are typically covered include back, neck, shoulder, knee, head, and repetitive motion injuries. If you develop an illness from exposure or an injury from an event that occurred in the workplace, or you have a pre-existing injury or disease that has been substantially aggravated by the work environment, you may be eligible for workers' compensation benefits.

What Kind of Health Issues Are Not Covered by Workers' Compensation?

Generally, if you are hurt while working, worker's compensation insurance will cover medical expenses and provide wage benefits while you recover. However, some health matters will not be compensable, such as:

An injury from an event with no human involvement (flood, earthquake, tornado, lightning strike).
Common illnesses like cold or flu.
Pre-existing conditions (with exceptions for substantial on-the-job aggravation).
Developing an ordinary naturally occurring disease (diabetes, heart disease).
Injuries that are a result of horseplay or physical assault.
Heart attack, stroke.
Injuries sustained while participating in an off-duty recreational event.
Injuries sustained while in the process of committing a crime or in violation of company policy (including drug and alcohol use).
Injuries sustained while not on the job.
Injuries requiring only basic first aid (minor cuts, scrapes, bruises).
Injuries that are caused on purpose.

What Kind of Benefits Can I Receive From Texas Workers' Compensation?

Typically, your benefits will be determined by the extent and type of injury and will be calculated based on specific formulas and schedules. For example, if you miss less than seven days of work, your medical care will be covered, but you will not see any wage benefits. If you miss more days than that, you should be eligible to collect temporary income benefits while you recover. 

In Texas, injured workers are entitled to 70% of their average weekly wages while they recover. If they make less than $10 per hour, they're entitled to 75%. There are minimums and maximums to the amount you can receive, which are adjusted yearly. Currently, as of 2022, the weekly maximum is $1,058, and the minimum is $159.

If you're seriously injured, you should be able to receive medical coverage along with wage benefits until you reach a stage of maximum medical improvement, meaning you're not going to improve further, even with more medical treatment. 

At this point, your doctor will determine whether your work injury has left you with a permanent loss of bodily function. In this case, they will rate the severity, and you will be eligible to receive benefits based on that rating, and the length of time you can receive benefits will also be determined by the rating.

For example, you'll be eligible for benefits for three additional weeks for each percentage point (between 1% and 99%). If you earned $700 per week and received a 30% impairment rating, you would receive 70% of $700 for 90 weeks (3 weeks X 30). This compensation is commonly known as impairment income. 

Once impairment income has run its course, you may be eligible for supplemental income benefits for up to 401 weeks if you meet all of these qualifications:

You have a permanent impairment rating of 15% or higher.
You are not able to return to work or make at least 80% of your pre-injury wage.
You did not take a lump sum payment.
You're presently looking for a job or taking part in vocational rehabilitation (a workers' comp benefit).
You reapply every three months with medical documentation that proves your eligibility.

Benefits for total disability in Texas

In instances of severe injury, Texas allows lifetime income benefits, but the conditions are strict. You must have sustained an injury that left you with the following:

An amputation or the total loss of use of both hands or feet or one of each.
A spinal injury that resulted in permanent paralysis of both arms, legs, or one of each.
Total blindness.
A traumatic brain injury that caused severe, incurable impairment.
Third-degree burns over 40% of your body that require a skin graft or that cover most of the hands or a hand and face.

What if My Texas Workers' Compensation Claim Is Denied or I'm Disputing the Results?

If you have suffered a workplace injury and are having a dispute with your employer or their insurance company, contact Morgan and Morgan. Our worker's compensation attorneys can help you prepare for a contested case hearing and file for an appeal if necessary.

If your worker's compensation claim has been denied or you're not receiving the full benefits you deserve, it's crucial to get the help of one of our workers' compensation attorneys. We'll work to ensure you don't miss important deadlines and come up with convincing arguments as to why the decision to deny is incorrect. 

What Liability Does an Employer in Texas Face if They're Not Covered by Workers' Compensation?

The majority of larger employers in Texas choose to carry workers' compensation insurance. However, it is the right of employers in the Lone Star state to operate without insurance. These employers fall under the status of "non-subscribers." 

In the event your employer is a non-subscriber, they are liable for injuries they cause through negligence. As in any regular personal injury claim, you would have the right to seek compensation for pain, suffering, and mental anguish (which is unavailable through workers' comp) along with medical expenses and lost income due to your injury. 

Who Are the Biggest Employers in Texas?

Texas is a massive state with a hugely diverse job market that includes everything from airlines to agriculture. Many of the largest employers naturally aggregate in the biggest metro areas because of housing, airports, and plenty of hiring options from a well-skilled population. Here are some of the most noteworthy employers in the more prominent Texas metro regions:

Dallas-Fort Worth (DFW)

Raytheon
Lockheed Martin
Amazon
State Farm Insurance
American Airlines
Southwest Airlines
Jacobs Engineering
Charles Schwab
Bank of America
AT&T
Jamba Juice
Pei Wei
Ryan
JetSuite
AMR Corporation
Texas Health Resources

Plano

Bank of America
Capital One
Fannie May
NTT Data
JCPenny
USAA McAfee
Nokia
Liberty Mutual Operations Center
PepsiCo
Ericsson North American Headquarters
Keurig Dr. Pepper
Toyota Motor of North American
Frito Lay

Austin

IBM Corp
Google
Apple
Dell
Facebook
Blizzard Entertainment
Cisco
Intel Corporation
Samsung Group
Cirrus Logic
Oracle Corporation
Silicon Laboratories
HostGator
Applied Materials
eBay
PayPal
BioWare
United Devices
Hoovers
AMD
Amazon Fulfillment Center
Internal Revenue Service
Whole Foods

Houston

Sysco
Waste Management
Enterprise Product Partners
Phillips 66
ConocoPhillips
AT&T
Chevron
Dow Chemical Co.
BP America
GE Oil and Gas
H-E-B
Houston Methodist
Memorial Hermann Health System
UT MD Anderson Cancer Center
Walmart
ExxonMobil
Shell Oil Co.
United Airlines
Kroger
Landry's
UT Medical Branch Health System
Schlumberger

San Antonio

Joint Base San Antonio
USAA
H-E-B
Toyota Motor Manufacturing
Methodist Healthcare System
Randolph Air Force Base
Wells Fargo
Harland Clarke
JP Morgan Chase
Rackspace

Contact Morgan and Morgan Workers' Compensation Attorneys

A Texas state workers' compensation attorney can provide valuable assistance and guidance to help you prevail in a dispute with your employer and their insurance company. When you're injured at the workplace, it is your right to make a workers' compensation claim and collect the benefits for medical care and lost wages. Employers must abide by Texas law and cannot discriminate or retaliate against employees for exercising their rights.

Contact us today for a free case evaluation. There is no fee unless we recover compensation on your behalf.
Scroll down for more
Load More