The Fee Is Free™. Only pay if we win.
America's Largest Injury Law Firm
Protecting Families Since 1988
$15 Billion+ Won
800+ Lawyers Nationwide
Free Case Evaluation
Tell us about your situation so we can get started fighting for you. We tailor each case to meet our clients' needs.
Results may vary depending on your particular facts and legal circumstances.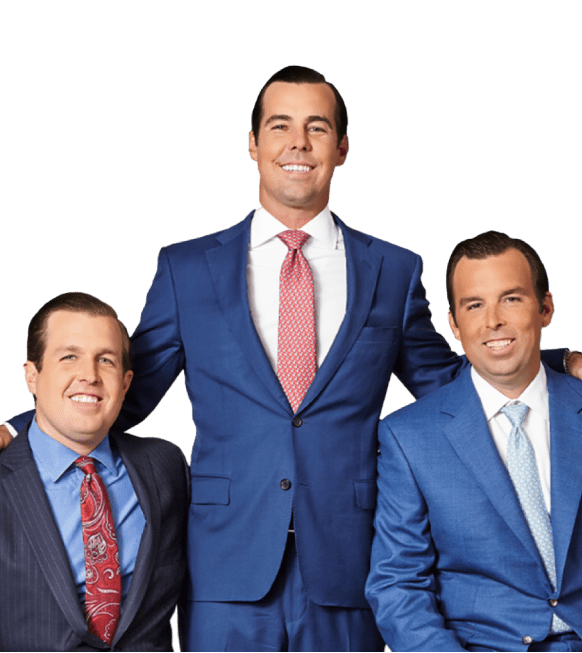 Personal Injury Settlement Check Process in St. Louis
Proud Partner of the St. Louis Cardinals.
It can take a year or more to resolve a personal injury case in St. Louis. Waiting even longer for your check can feel frustrating, especially if bills are waiting to get paid or you have delayed essential purchases. 
Unfortunately, the St. Louis personal injury settlement check process has to go through various steps before you can receive your payout. However, you should receive your check within a reasonable timeframe. Waiting for months to receive your due is simply wrong. Morgan & Morgan won't abandon you once we negotiate a settlement or win your case. We can stand by your side until you hold the check in your hands. Get in touch with us now to find out for free how we could help you with a personal injury claim. 
What Is a Personal Injury Settlement?
If you get injured in a car accident or slip and fall, for example, and another is responsible for causing the accident, you could file a personal injury lawsuit. Damages you could recover include, among others:
Medical expenses
Income loss
Pain and suffering
Loss of life quality
To start the process of getting justice, your lawyer will usually file a complaint and demand letter, which is the first step in filing a lawsuit. The demand letter is delivered to the party you are suing (the defendant) and contains the facts of the accident and a proposed settlement amount for your damages. The defendant has to respond to your demand letter and either meets your settlement demand, makes a counteroffer, or refuses to pay damages. 
Out-of-Court Settlements
Figures from the Bureau of Justice Statistics (BJS) show that most personal injury claims are settled with an "out-of-court settlement" before trial. An out-of-court settlement can be a less costly and faster way to resolve a dispute than going through the court system. However, a case only settles successfully when all parties agree to a settlement. 
It is crucial to understand that once the parties formally agree to a settlement, the legal dispute is resolved, and a plaintiff (the injured individual) generally cannot file another lawsuit for the same dispute. Therefore, plaintiffs and their attorneys must ensure that the settlement amount covers all present and future expected damages. 
The St. Louis Personal Injury Settlement Check Process 
In an ideal world, the insurance company responsible for compensating you would simply issue a check right away once the settlement is agreed upon. However, in reality, this is not the case. Knowing the personal injury settlement check process in St. Louis is essential to understand when to expect a payment. Since the process involves several steps, checks can get delayed or lost. You might have to follow up with your attorney or insurance company. The steps before you receive your check include:
1. Signing the Release Form
Before you can hold the settlement check in your hands, the most important task is completing the relevant paperwork, particularly the release form. You must sign the release form before an insurance company will issue a settlement check. 
What Is the Release Form? 
Just as the name suggests, the release form "releases" the defendant from all further legal claims in the matter and from having to pay any additional sums. Although release forms can vary slightly, they usually contain the following details: 
The facts of the accident or incident
The identification of all parties involved in the claim
Your damages (medical costs, property damage, pain and suffering, and others)
The settlement amount and terms 
Legal details governing the agreement
Consult With Your Attorney Before Signing Settlement Documents
Before signing a release form and other binding settlement documents, speak with your attorney to ensure that all damages are covered. Remember that the agreement is binding once signed, meaning that you generally cannot seek further damages later on. Once your attorney gives the go-ahead, you can sign the release form. The settlement documents will then be forwarded to the insurance company. 
2. Issuing the Settlement Check
Once the insurance company receives all the relevant paperwork and the documents are completed correctly, you should receive the settlement check within a reasonable time frame. Generally, the St. Louis settlement check process should not take more than four to six weeks. However, there can be several reasons why the processing of your check is delayed at this stage, such as: 
An incorrectly signed release form
Insurance employees off sick or on vacation
The claim involves an estate
The insurer lost your paperwork 
Your check got lost in the mail
Processing your check should not take forever. If you handled your claim on your own, and calls or emails to the insurance company go unanswered, or the insurer is making excuses for delaying your check, contact an attorney for help. If you are working with an attorney and have not received your check after a month, ask your lawyer to follow up with the insurance company to prevent further delays.
3. Receiving and Depositing the Check
Once your attorney receives the check, they typically deposit it into an escrow account until the funds are cleared. Your attorney will then go ahead and start with the disbursements. In other words, they will pay your debts and liens such as unpaid medical bills and past-due child support payments. 
If you are not working with an attorney, do not get tempted to ignore your liens and bills. Paying off your debts is a vital step in the settlement process. Failure to reimburse your health insurance or paying health providers can result in collection action against you and other legal consequences.  
Negotiating With Lienholders
Your check could be delayed at this stage of the settlement check process as your attorney will try to ensure that you can keep as much of your payout as possible. To achieve this, they will negotiate with lienholders to ensure you are not paying more than you have to. 
4. Deducting Legal Fees From Your Check
After your attorney pays all lienholders, they will deduct their fees and legal expenses from your settlement amount. Costs can vary from one personal injury claim to another and depend on how far your case moved through the courts before settling. Expenses in addition to attorney's fees can include:
Accident investigators' fees
Court filing fees
Costs for gathering evidence
Expert witness fees
Charges for pulling and mailing official documents
Deposition costs 
Once all the costs have been deducted, your attorney will send you a check for the remaining amount. 
5. Receiving Your Personal Injury Settlement Check
Receiving your check after months of fighting for what you deserve can come as a huge relief. At last, you can start to rebuild your life and recover physically and financially. Once you receive the check, you can cash it in or deposit it at your St. Louis bank.  
Victims of an accident should not have to struggle to receive their due. Let us know if you are battling to get what you deserve or an insurance company is dragging its heels. Our determined personal injury attorneys in St. Louis could help. 
Why Your Settlement Could Be Delayed
Once a settlement is agreed upon, you simply have to wait for your check in the mail. However, arriving at a settlement agreement can take some time, depending on the following factors:
The Circumstances of Your Case
If the fault for your accident is unclear, or you have a degree of fault, an insurance company will likely deny a claim or offer a significantly reduced settlement amount. Negotiations with the insurance company may be challenging and prolonged, or you may have to file a lawsuit to fight for what you deserve. A complex case can delay a resolution and settlement check considerably. 
Your Medical Condition
Claimants should wait to accept a settlement offer until they have reached maximum medical improvement. If you are still in recovery, you may not know your future medical costs and expenses. Once you sign the release form, you cannot ask for more money later on and would be responsible for any further medical bills. While waiting until you have recovered can delay your check significantly, patience could work out in your favor.
You Have High Damages 
If you were significantly or permanently injured, your damages and future expected damages could be astronomical. An insurance company will likely fight such a claim tooth and nail and try to deny or reduce your settlement. 
In all of these eventualities, having a committed personal injury attorney by your side can be essential for getting what you deserve. Morgan & Morgan's experienced lawyers will leave no stone unturned in fighting for maximum recovery.
Scroll down for more
Recent verdicts & settlements
How it works
It's easy to get started.
The Fee Is Free™. Only pay if we win.
Results may vary depending on your particular facts and legal circumstances.
Step 1

Submit
your claim

With a free case evaluation, submitting your case is easy with Morgan & Morgan.

Step 2

We take
action

Our dedicated team gets to work investigating your claim.

Step 3

We fight
for you

If we take on the case, our team fights to get you the results you deserve.
---
Client success
stories that inspire and drive change
Explore over 55,000 5-star reviews and 800 client testimonials to discover why people trust Morgan & Morgan.
Results may vary depending on your particular facts and legal circumstances.
FAQ
Get answers to commonly asked questions about our legal services and learn how we may assist you with your case.
Morgan & Morgan
How Can I Track My Check in St. Louis?

If you are working with a personal injury attorney, you can ask them to track your settlement check. After all, your attorney will receive your check before you do and knows how to follow up with an insurance company if your payout is stuck or delayed at any stage of the process. 

If you handled your claim without legal representation, it would be up to you to follow up and find out why the check is delayed. You can track your settlement check by calling or emailing the insurance company. However, consider seeking legal advice if you are not getting any answers and have waited for your check for over a month. A personal injury lawyer at Morgan & Morgan could help prevent unreasonable delays of your personal injury payout.

Where Can I Cash a Settlement Check in St. Louis? 

You could have several options for cashing your settlement check. One option is to cash in your check with your bank or the bank that issued the check. However, if you received a large amount, your bank might place a hold of up to seven days on some or all of the funds. Other options for cashing your check include:

Grocery Stores

You could cash in your check at a grocery or convenience store. However, most stores have a limit of $5,000 for cashing checks. 

Check-Cashing Stores

Check-cashing and payday loan stores can cash checks with higher amounts. However, they usually charge a percentage of the amount, which could work out costly. 

Who Pays for My Medical Bills While I Wait for the Check?

Generally, you are responsible for any medical bills, even if someone else caused your accident. However, your private health insurance or Medicare/Medicaid should pay for your medical expenses. When you receive a settlement, you would be responsible for reimbursing your health insurance or government agency accordingly. If you do not have any health insurance cover, you could ask medical providers if they accept deferred payments. You can then pay your healthcare bills when the settlement check arrives. 

Contact Morgan & Morgan for Help Today 

We understand how excruciatingly long the personal injury settlement check process in St. Louis can feel, especially when you have bills and expenses hanging over your head. Your entire life could be on hold when the insurance company unreasonably delays a payout or your check slips through the cracks. However, when our attorneys handle your case, they will not leave you to fend for yourself. We can track your settlement check, follow up with insurers, and keep you informed at all times.

Having one of our experienced personal injury attorneys in your corner can expedite your claim. As America's largest injury firm, insurance companies know that we don't let them off the hook and fight hard for our clients' rights. We can be your shoulder to lean on and fight for your due from the moment you are injured until you hold your settlement check in your hands. Get started now and contact us to schedule a free case review.
Scroll down for more
Load More